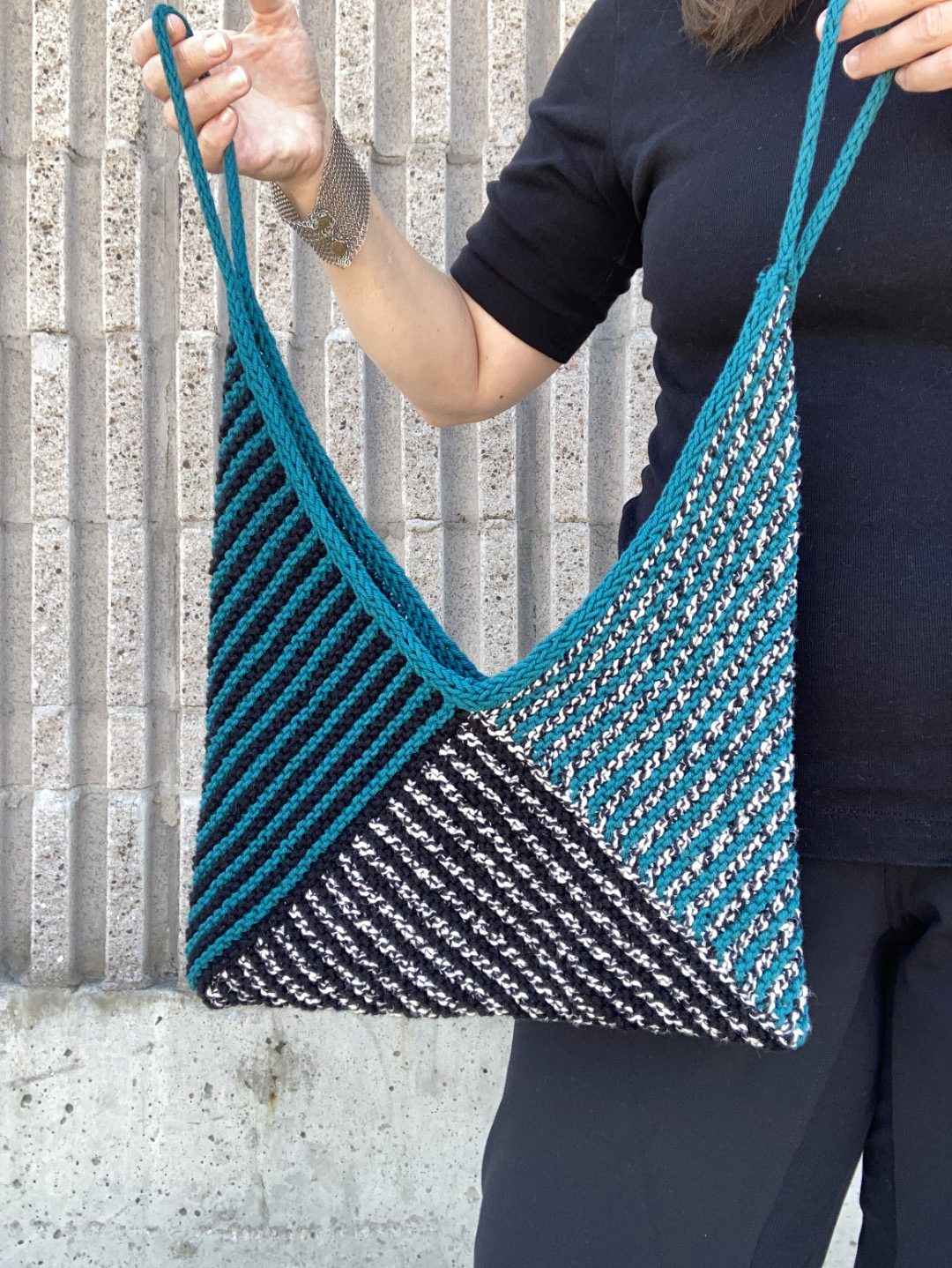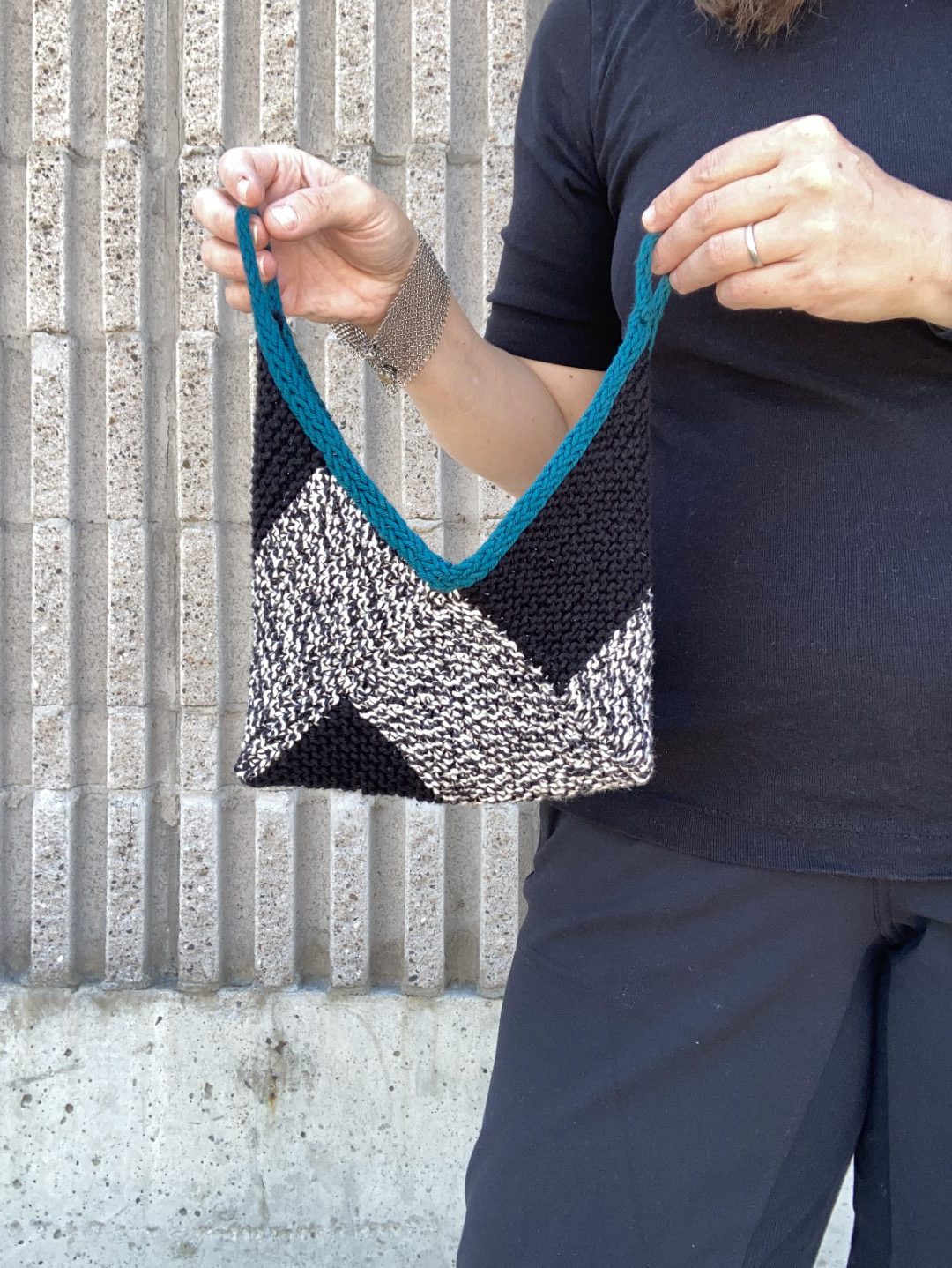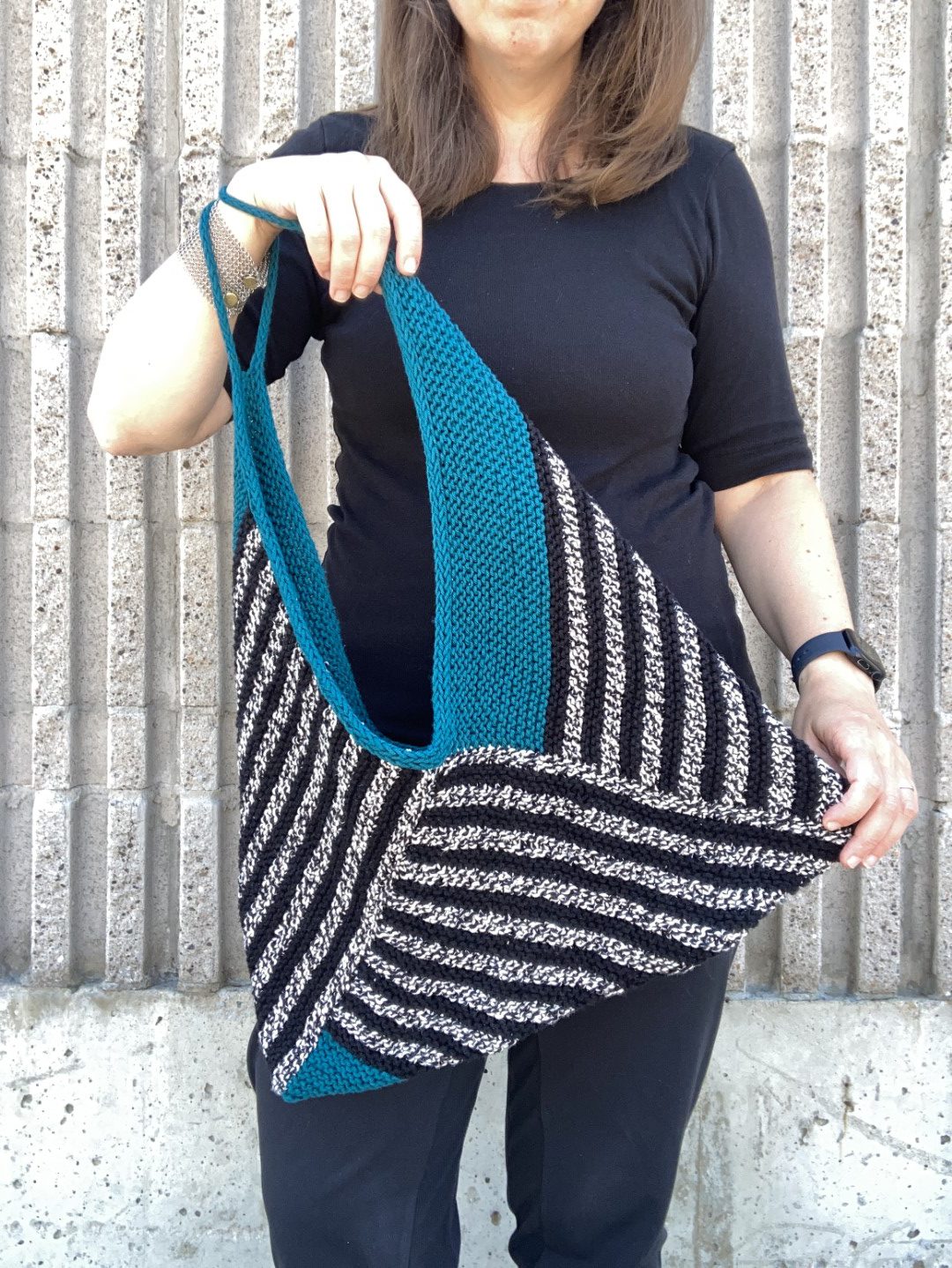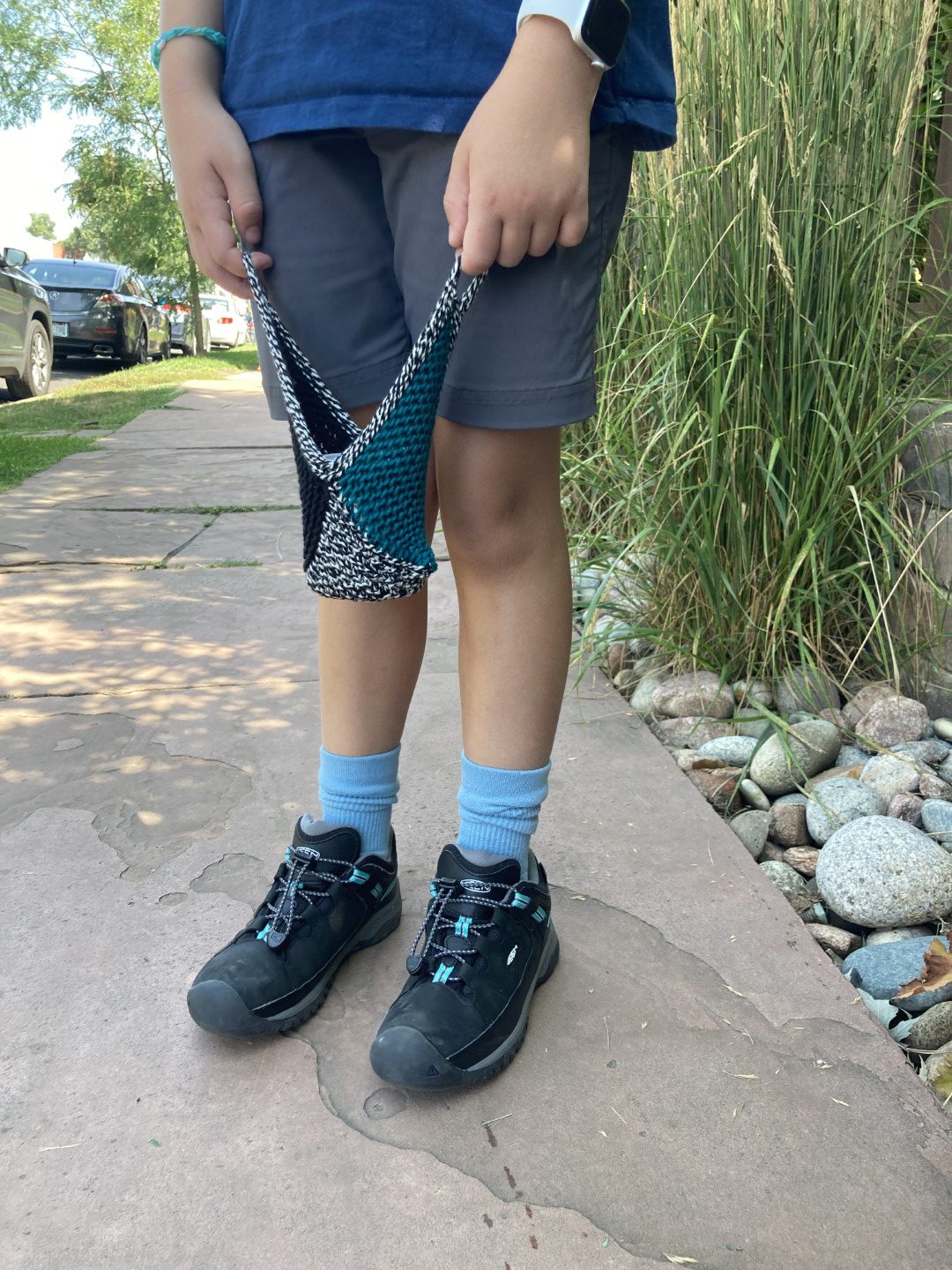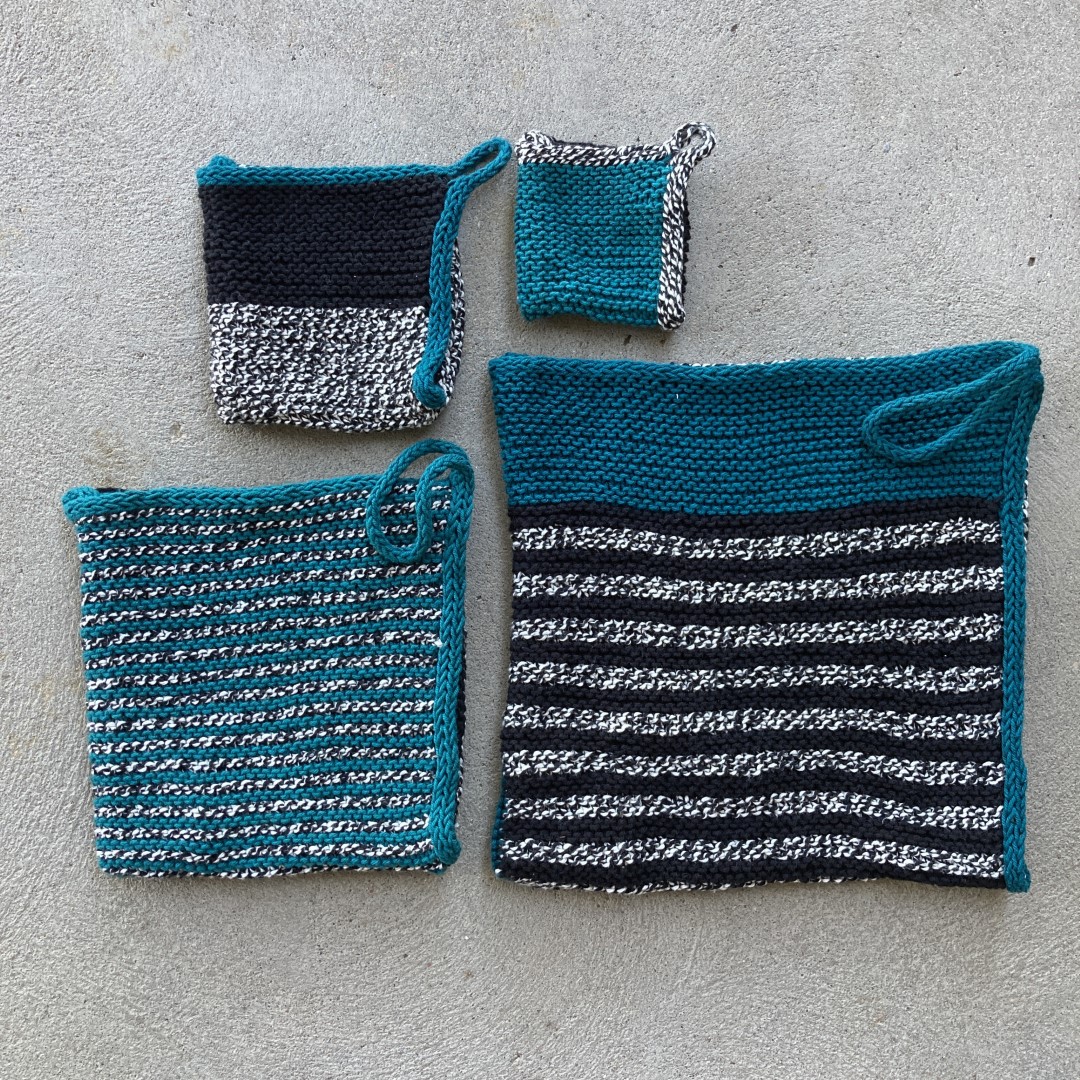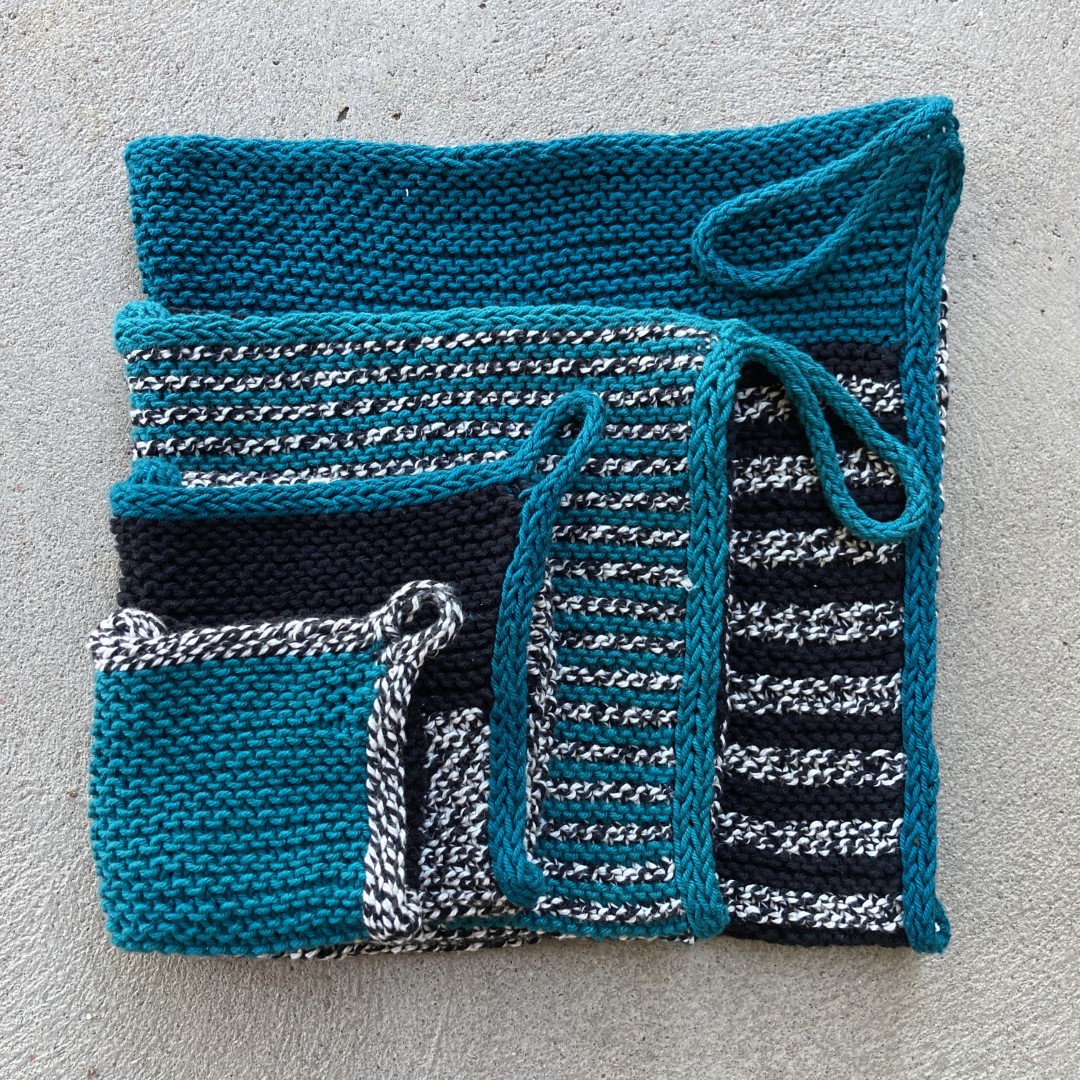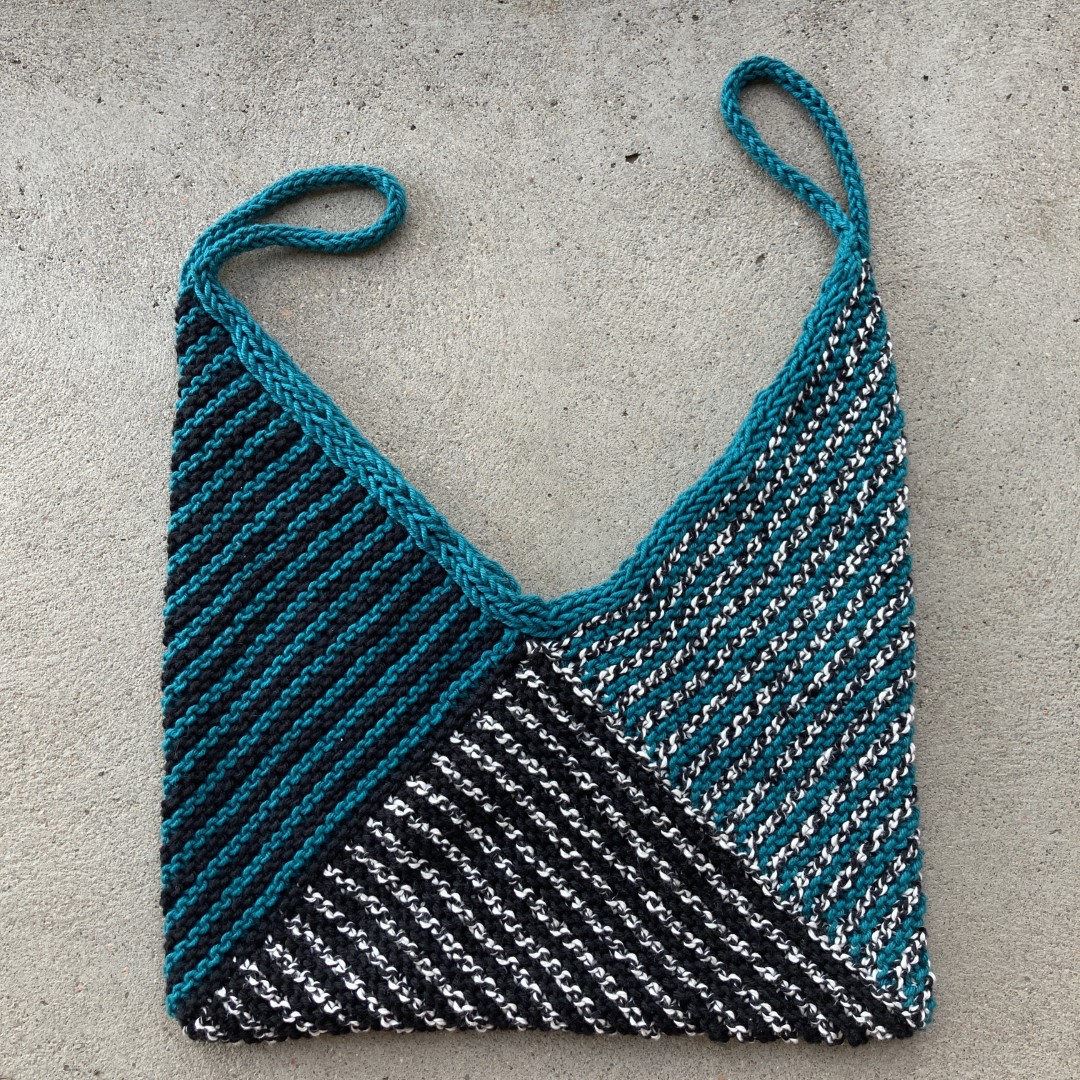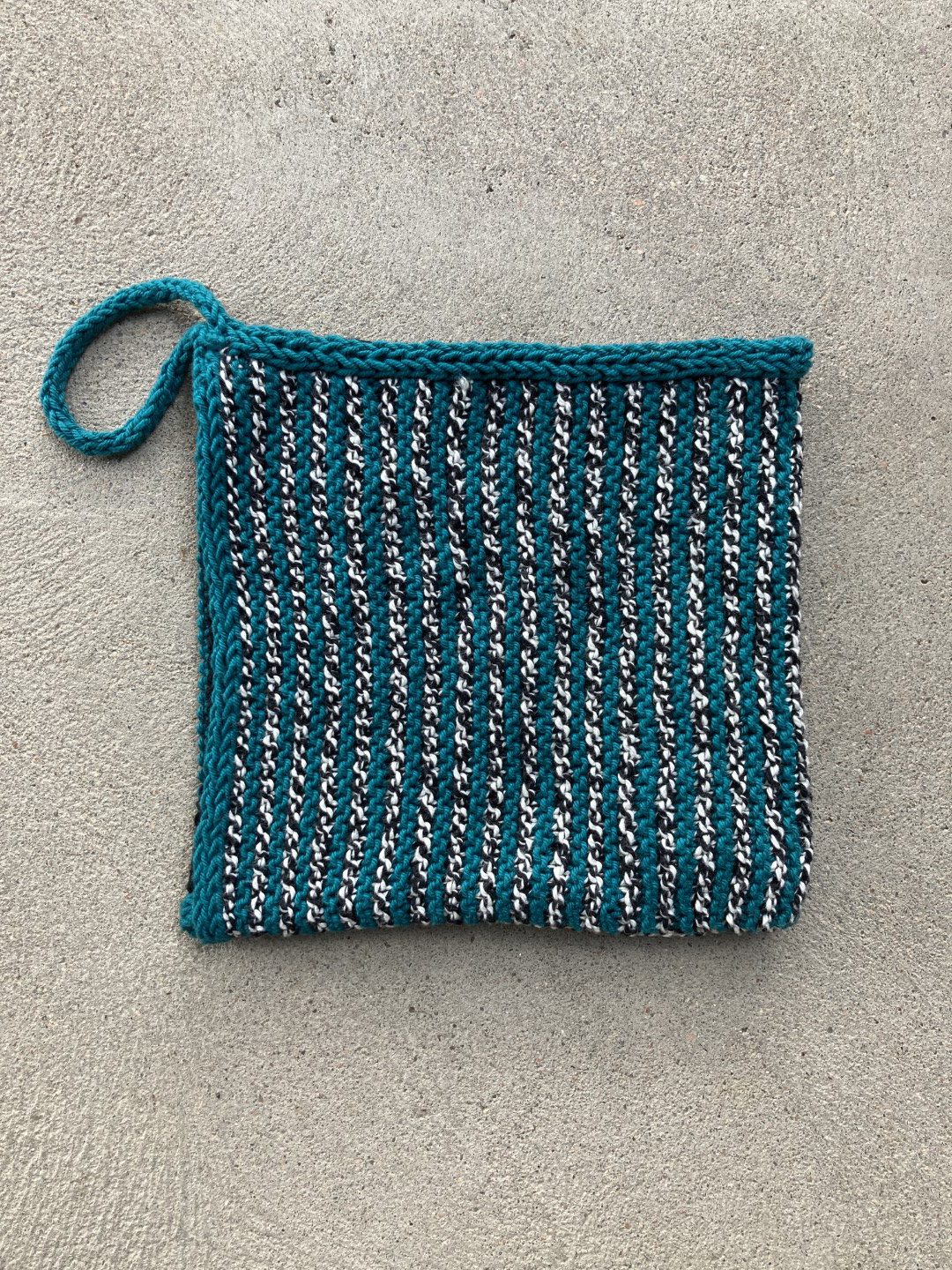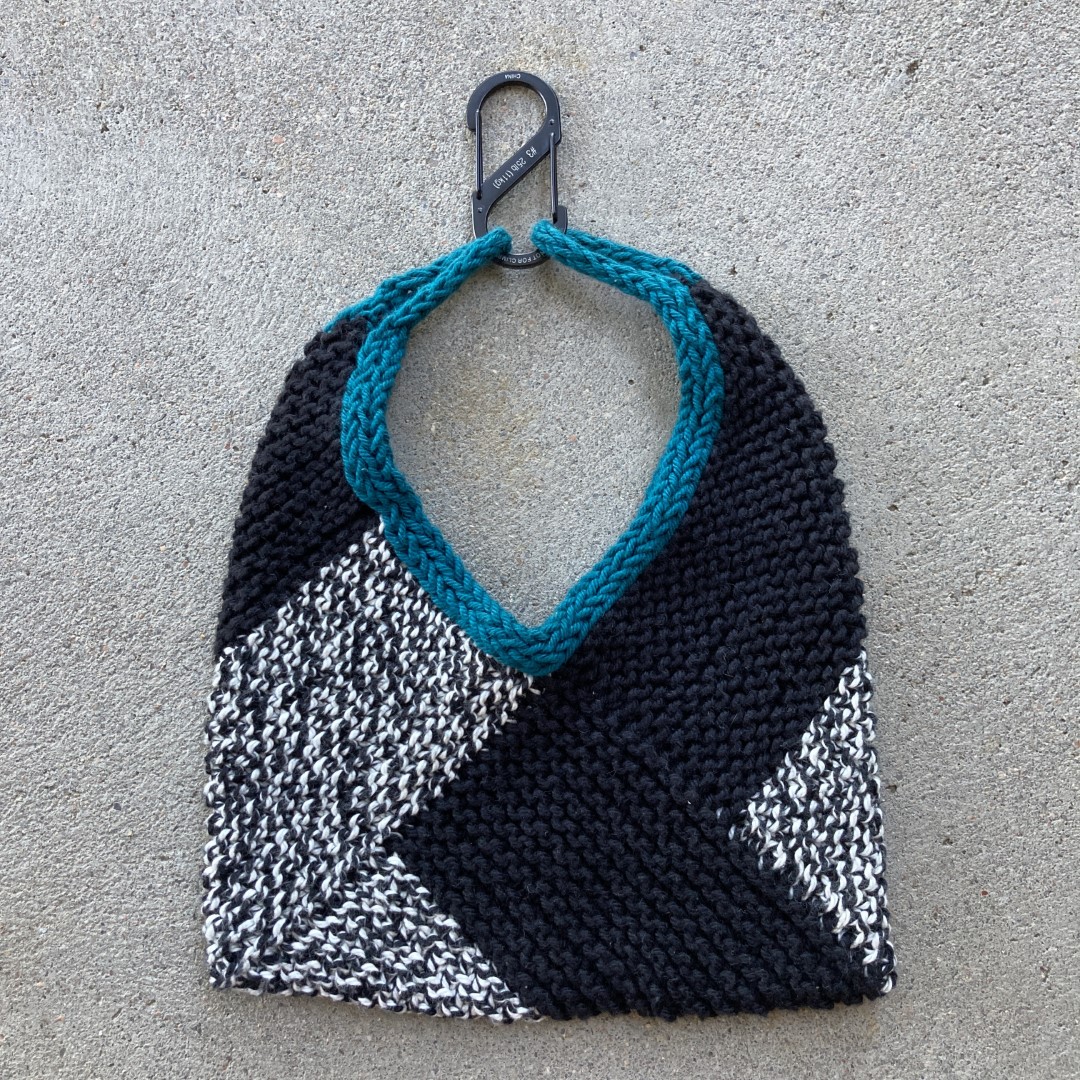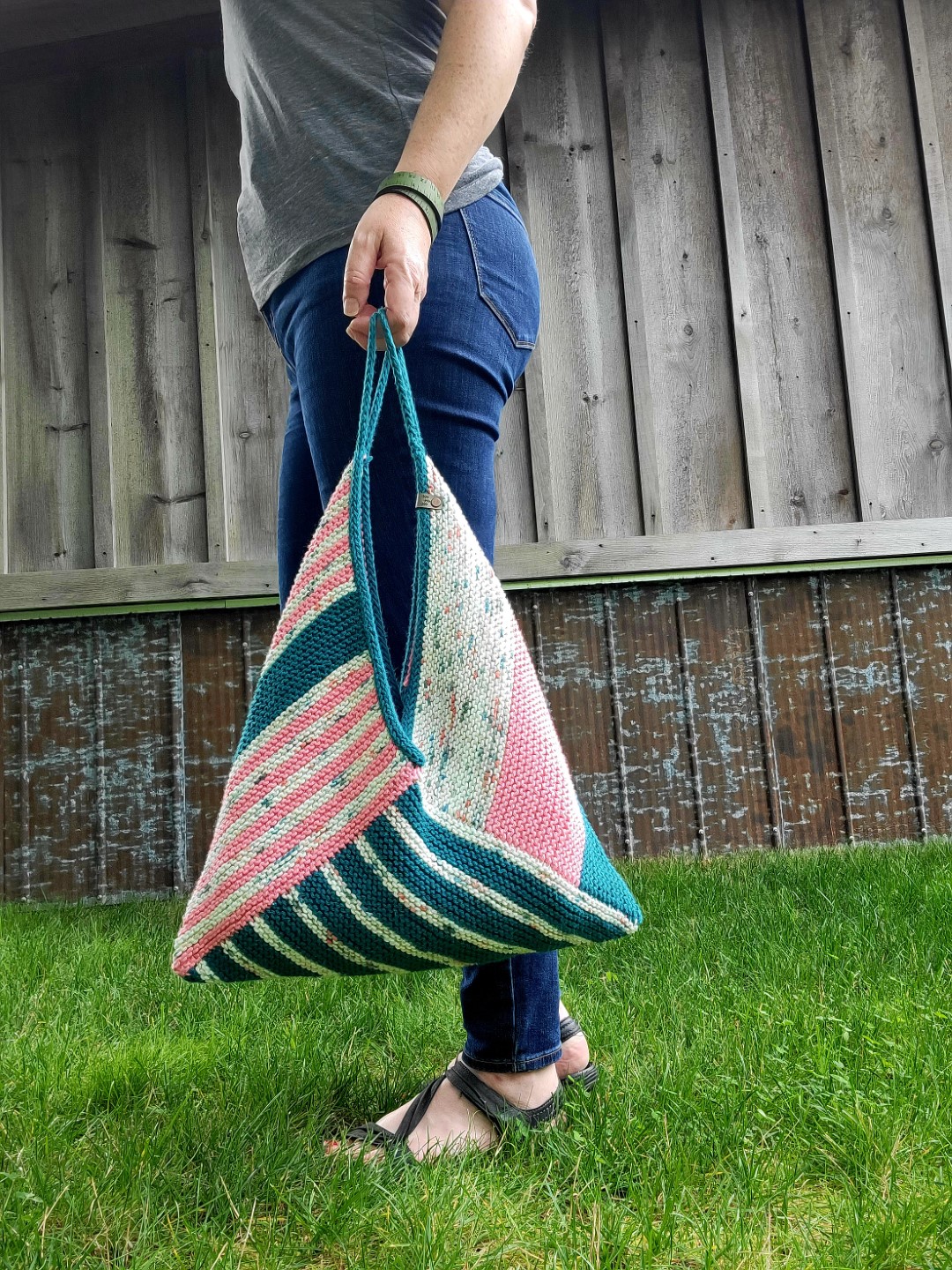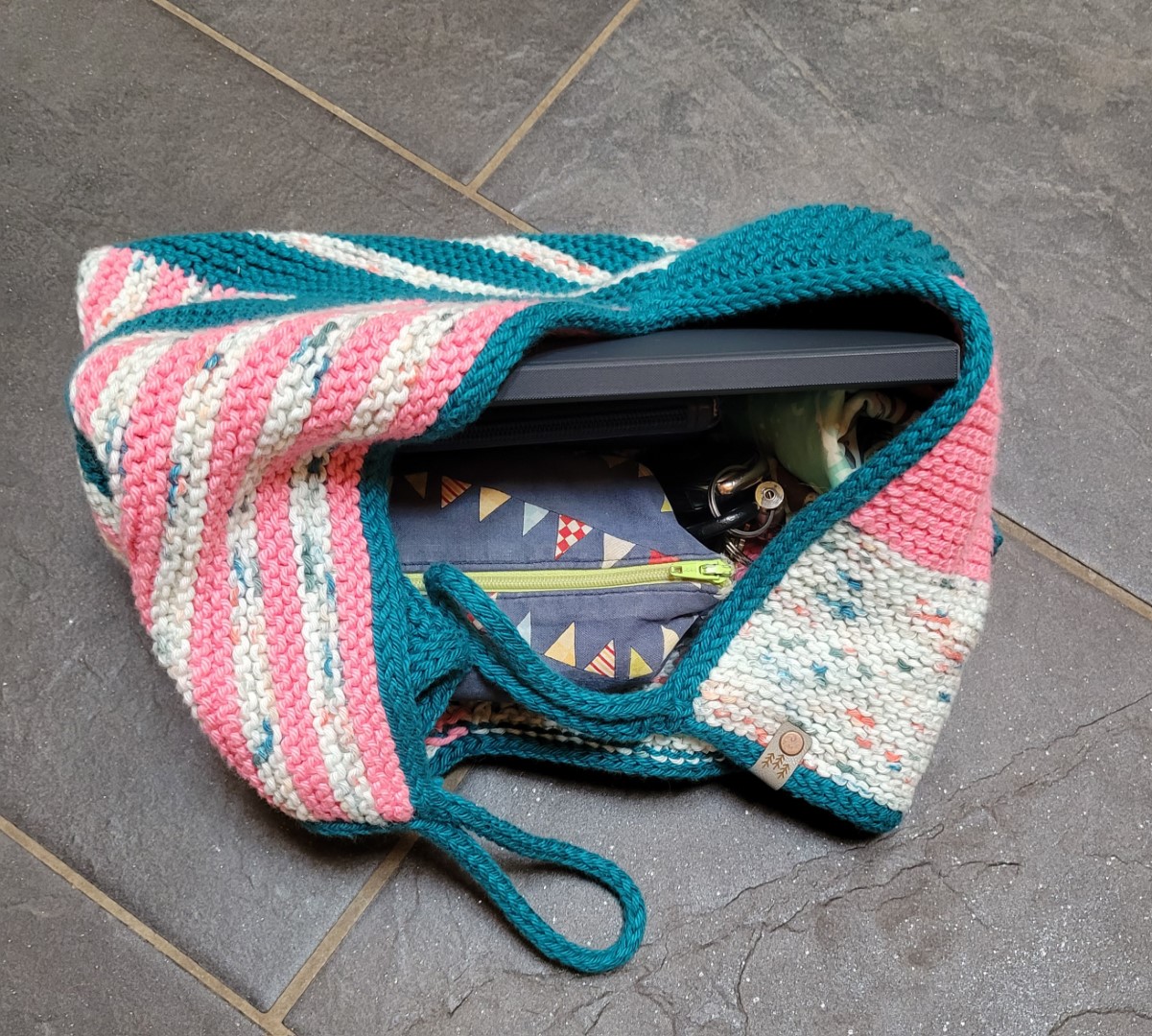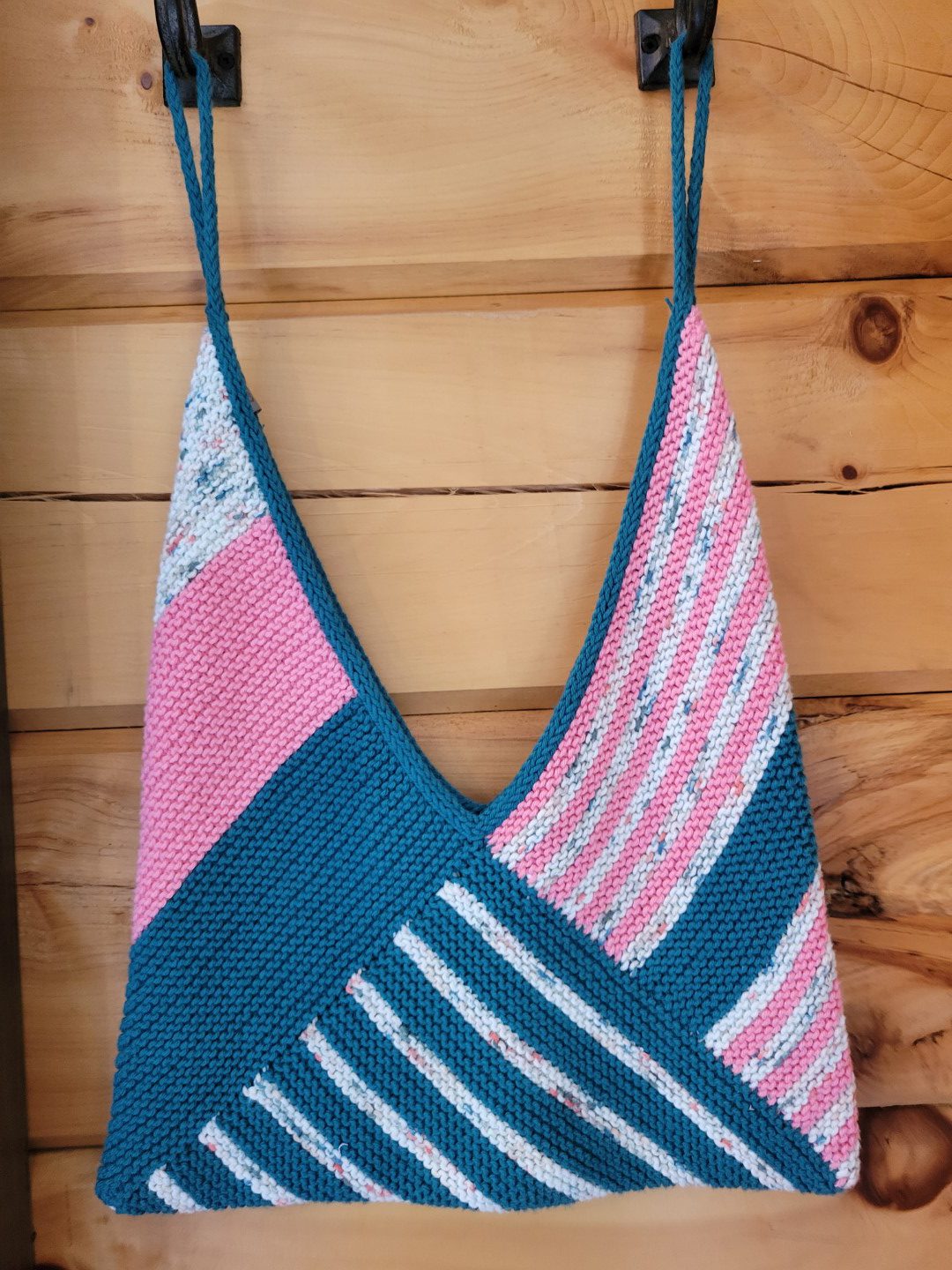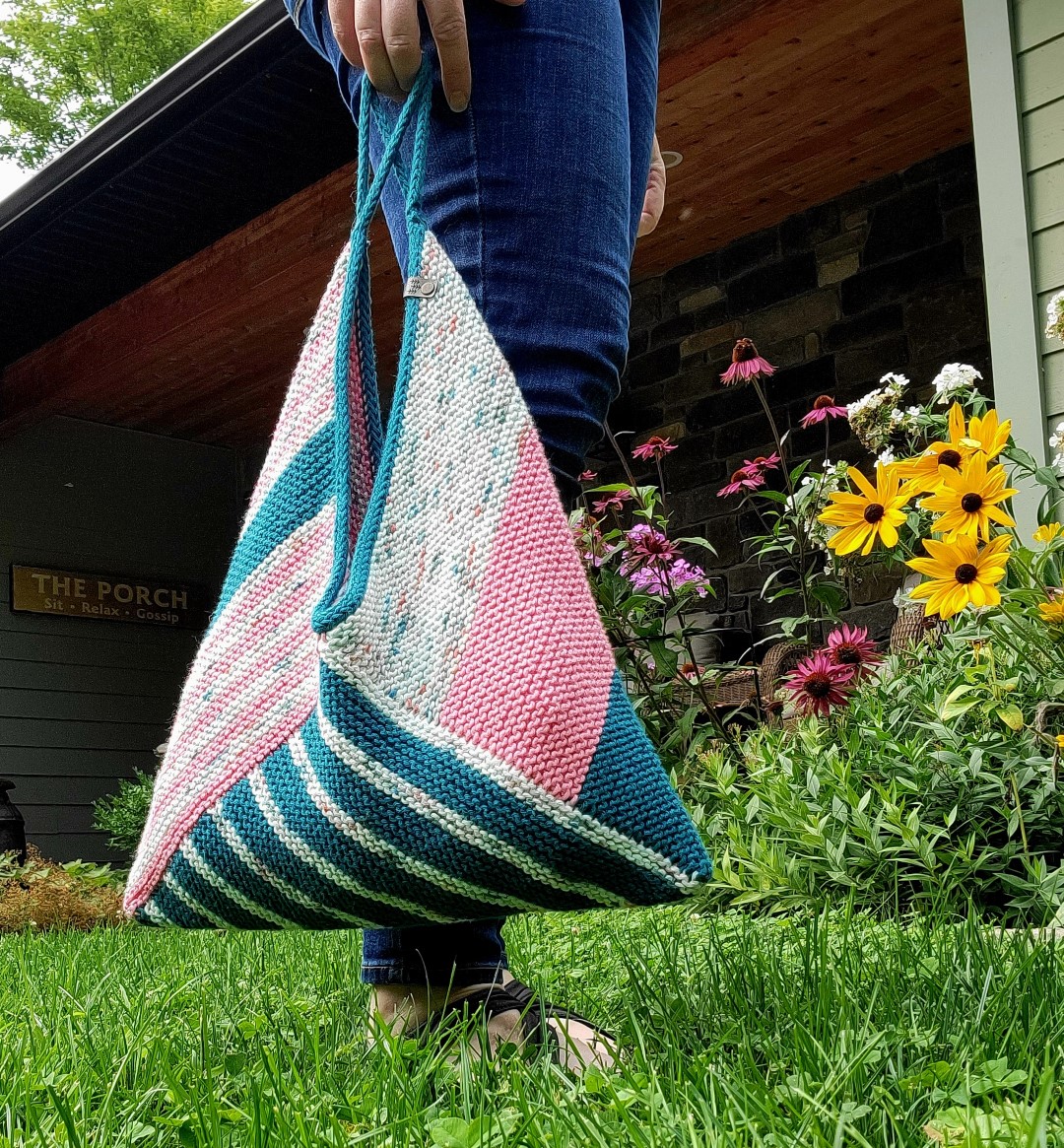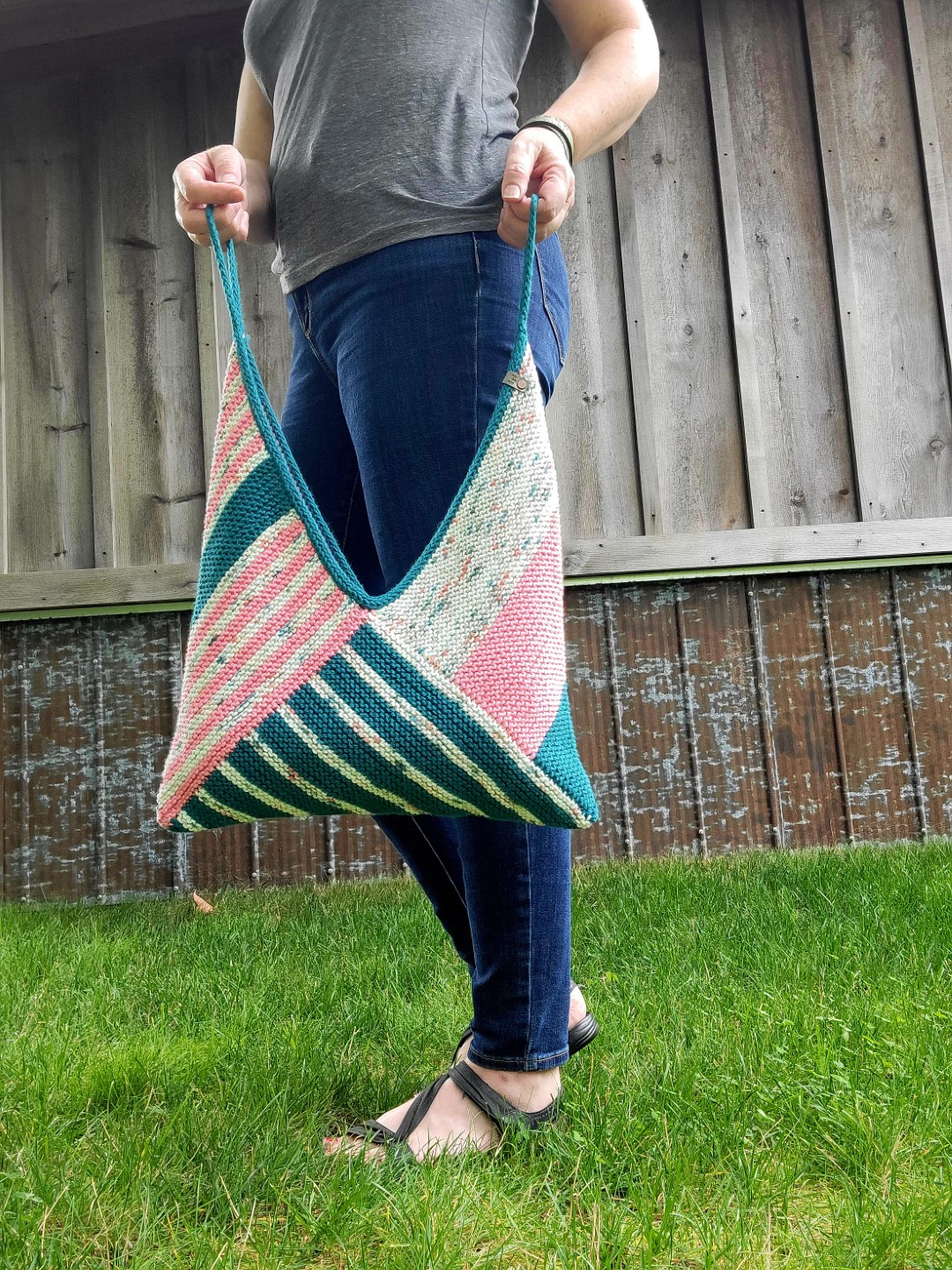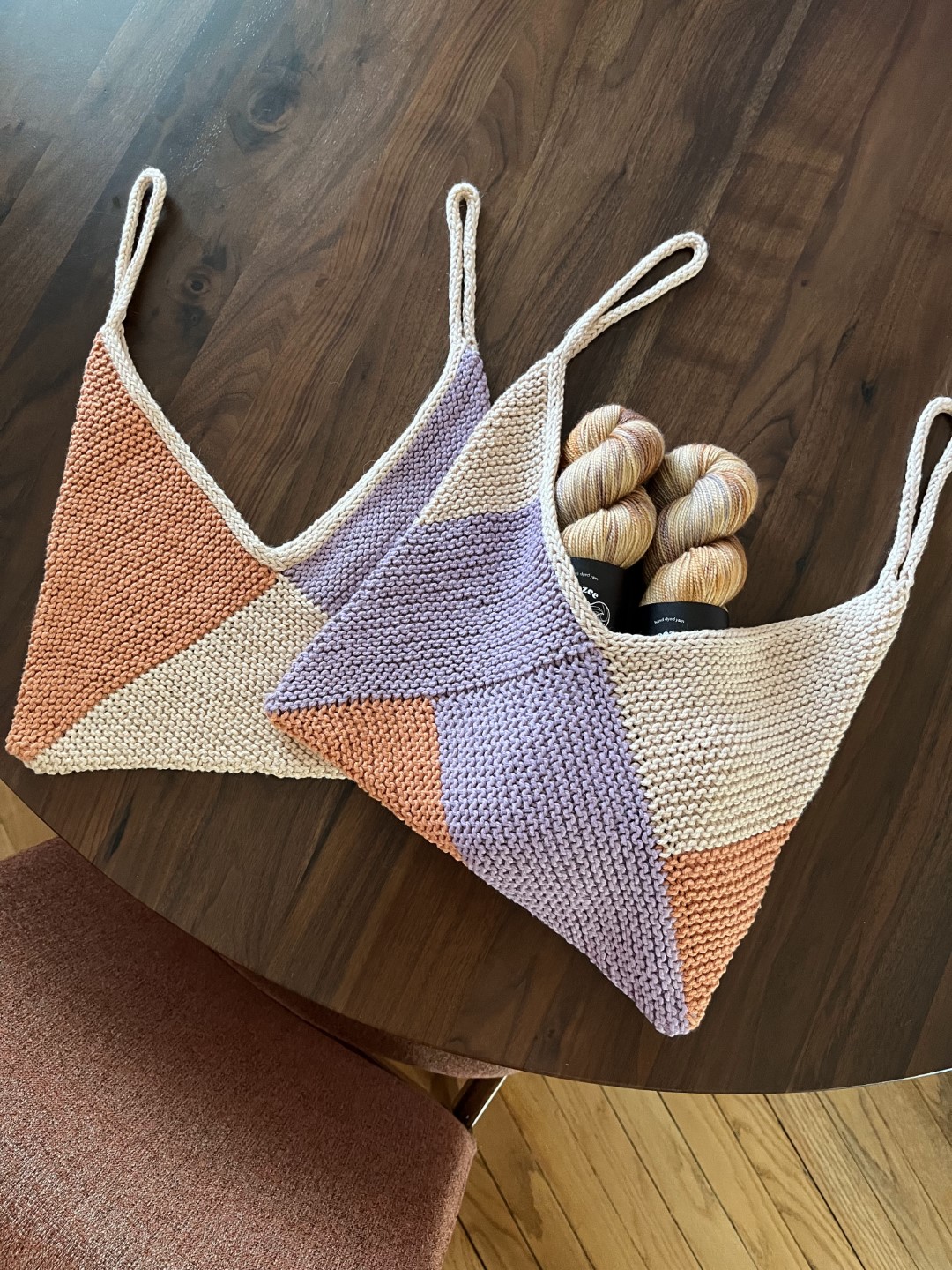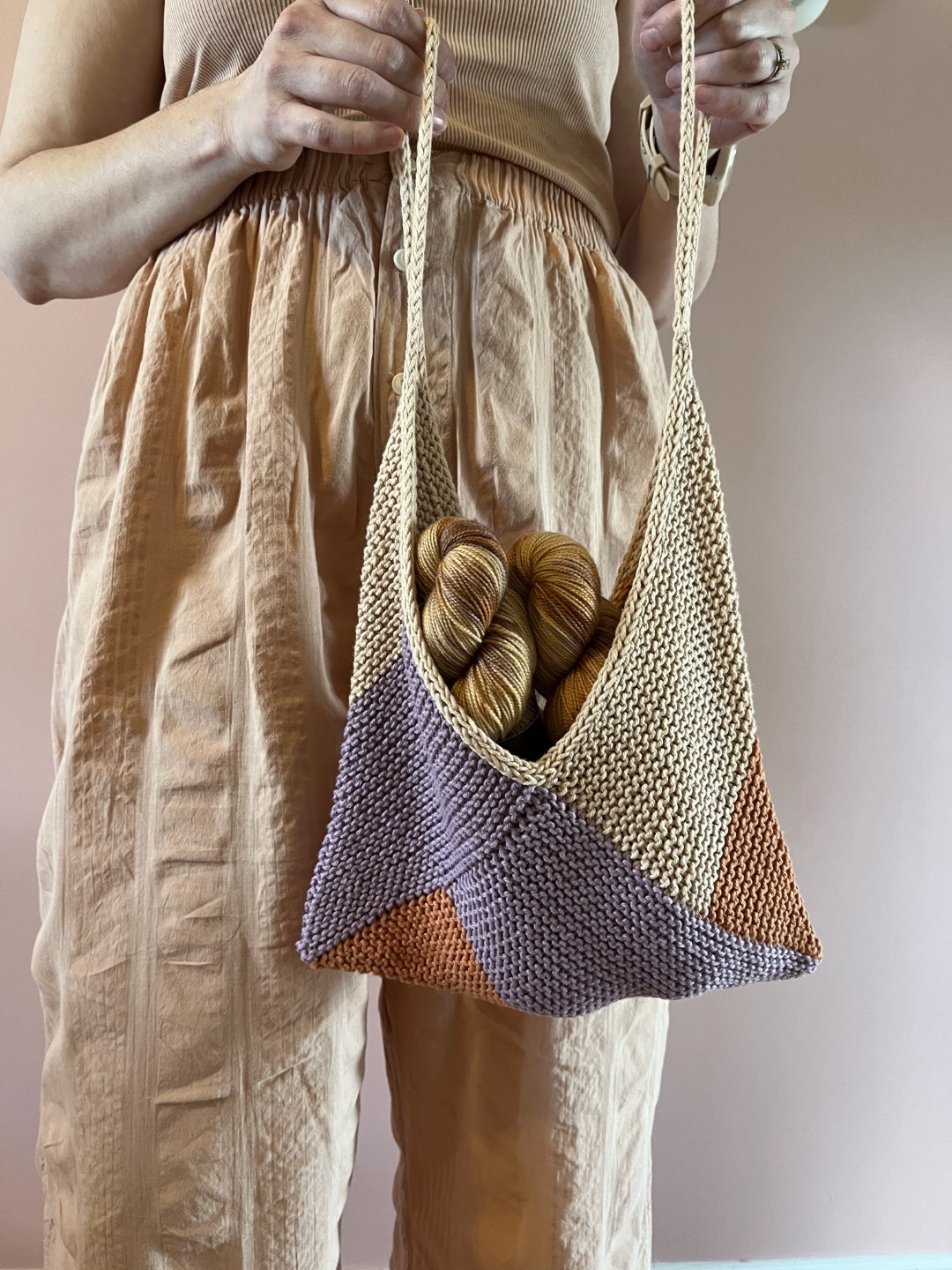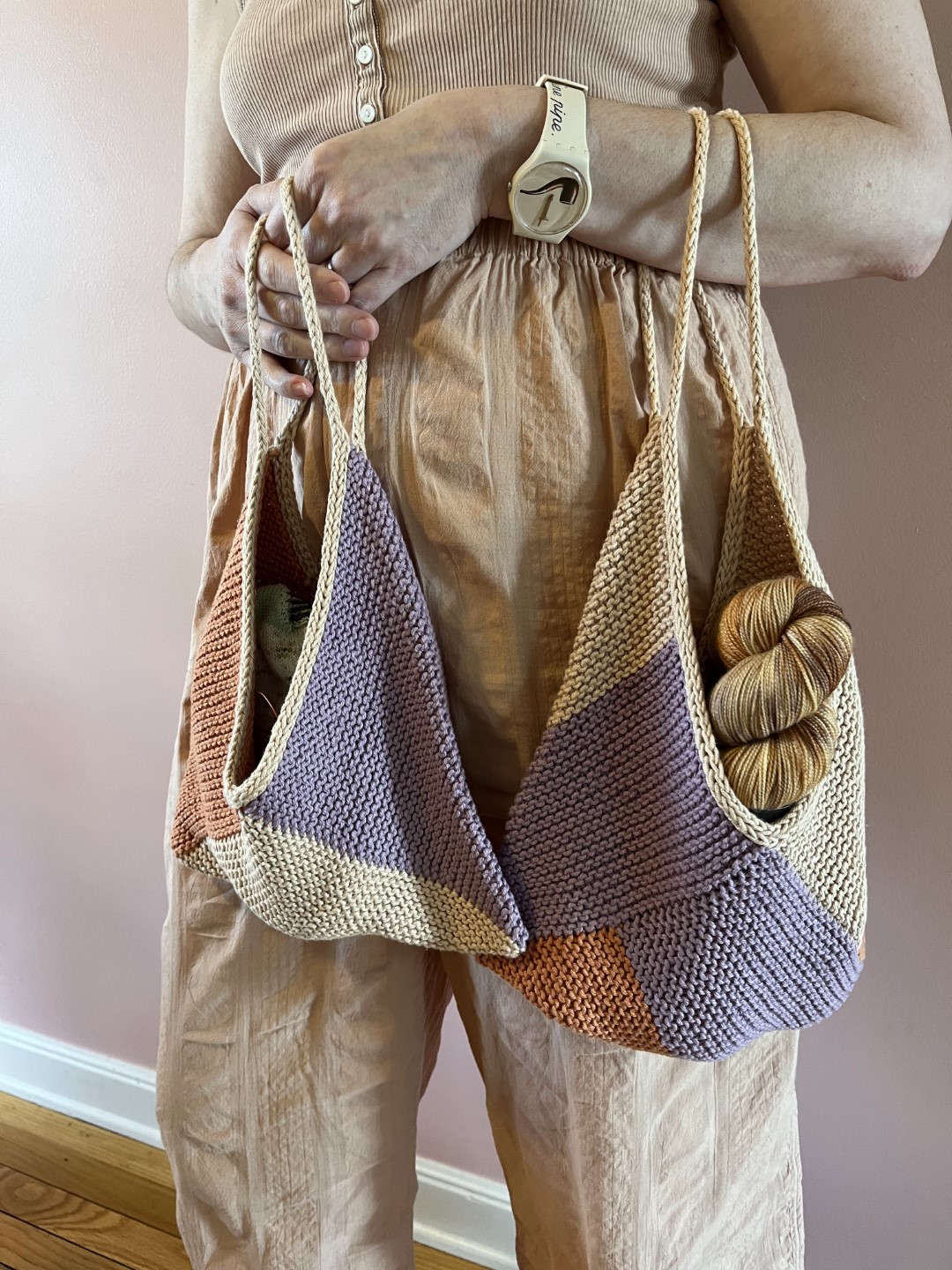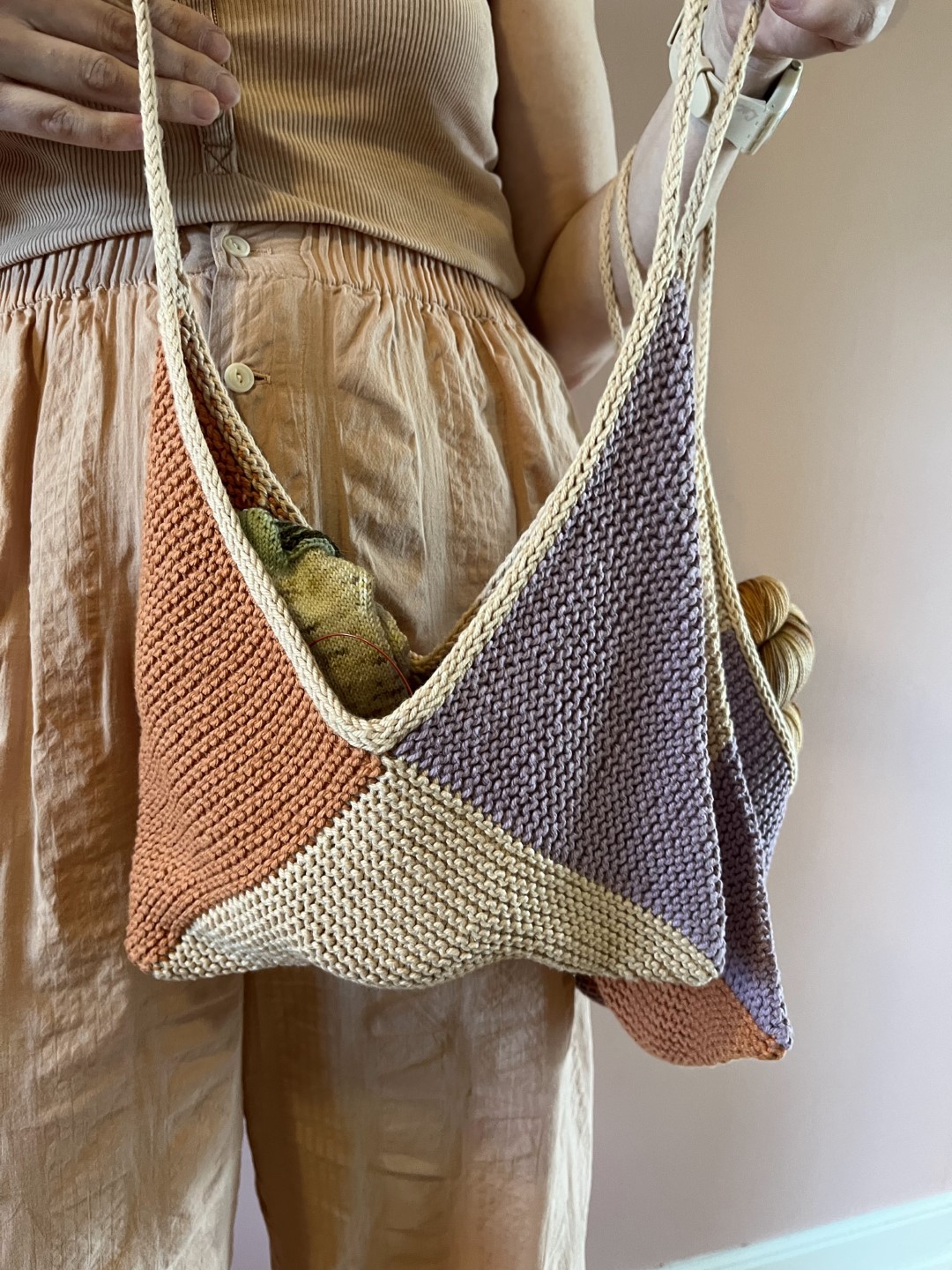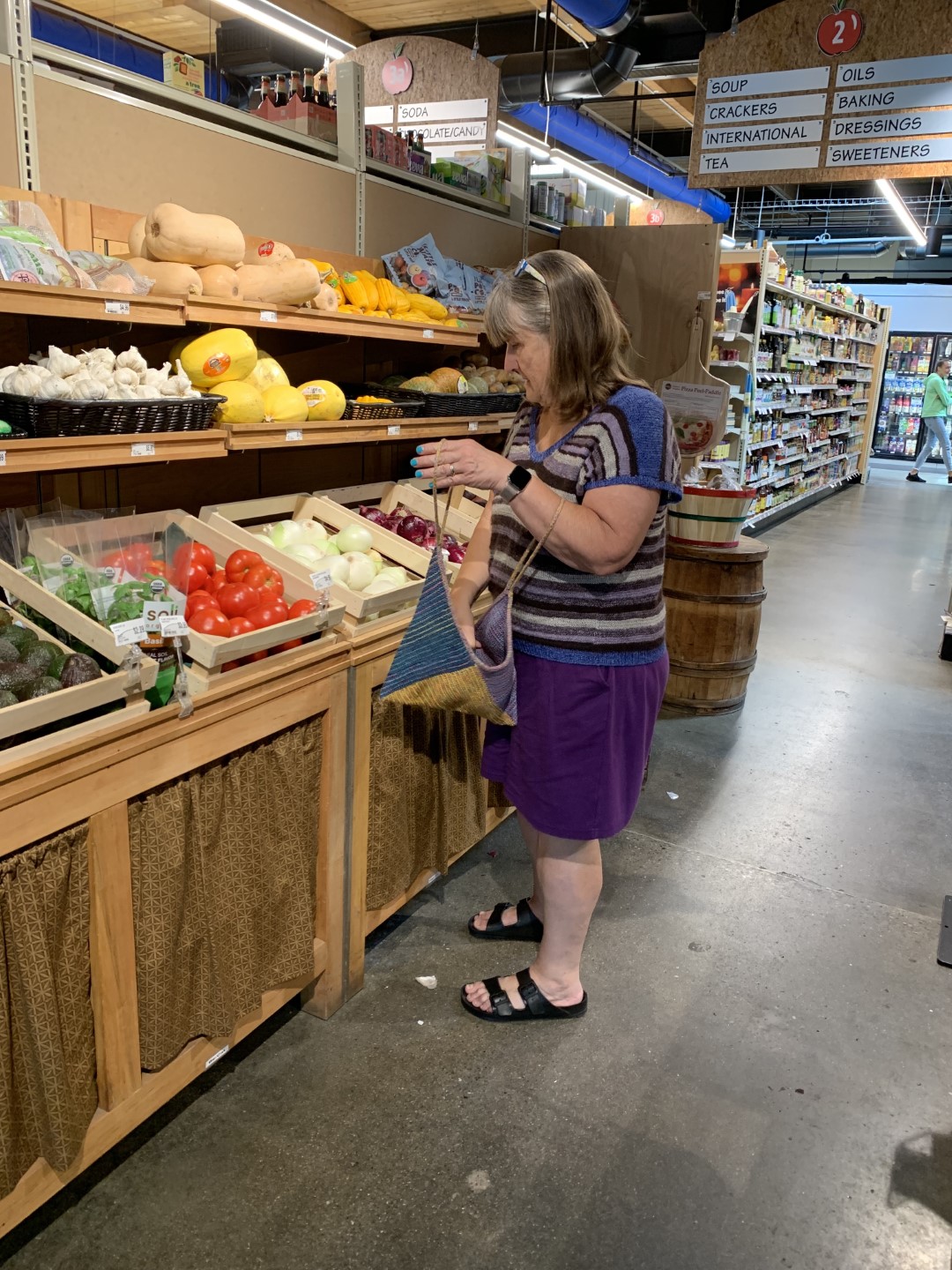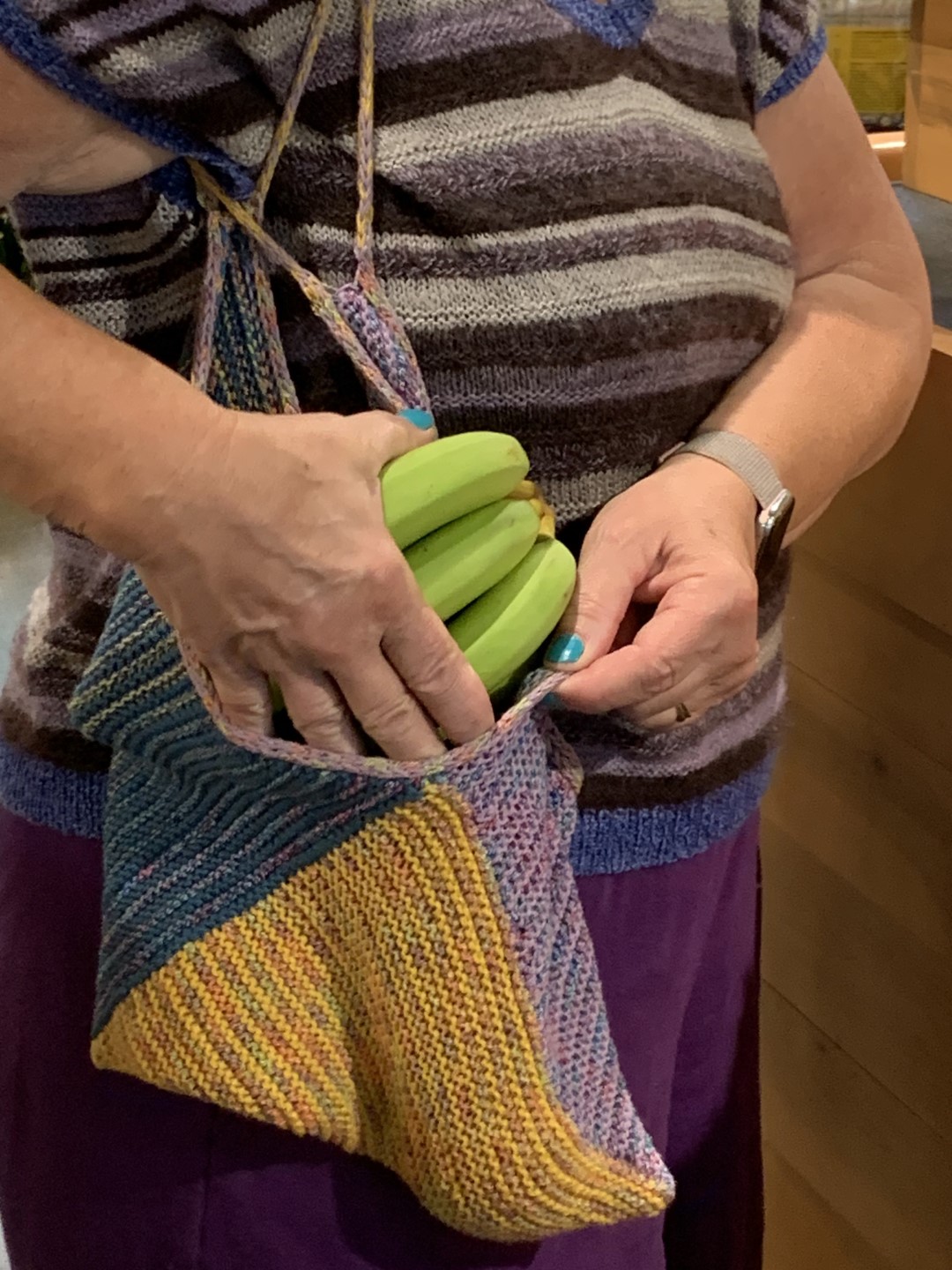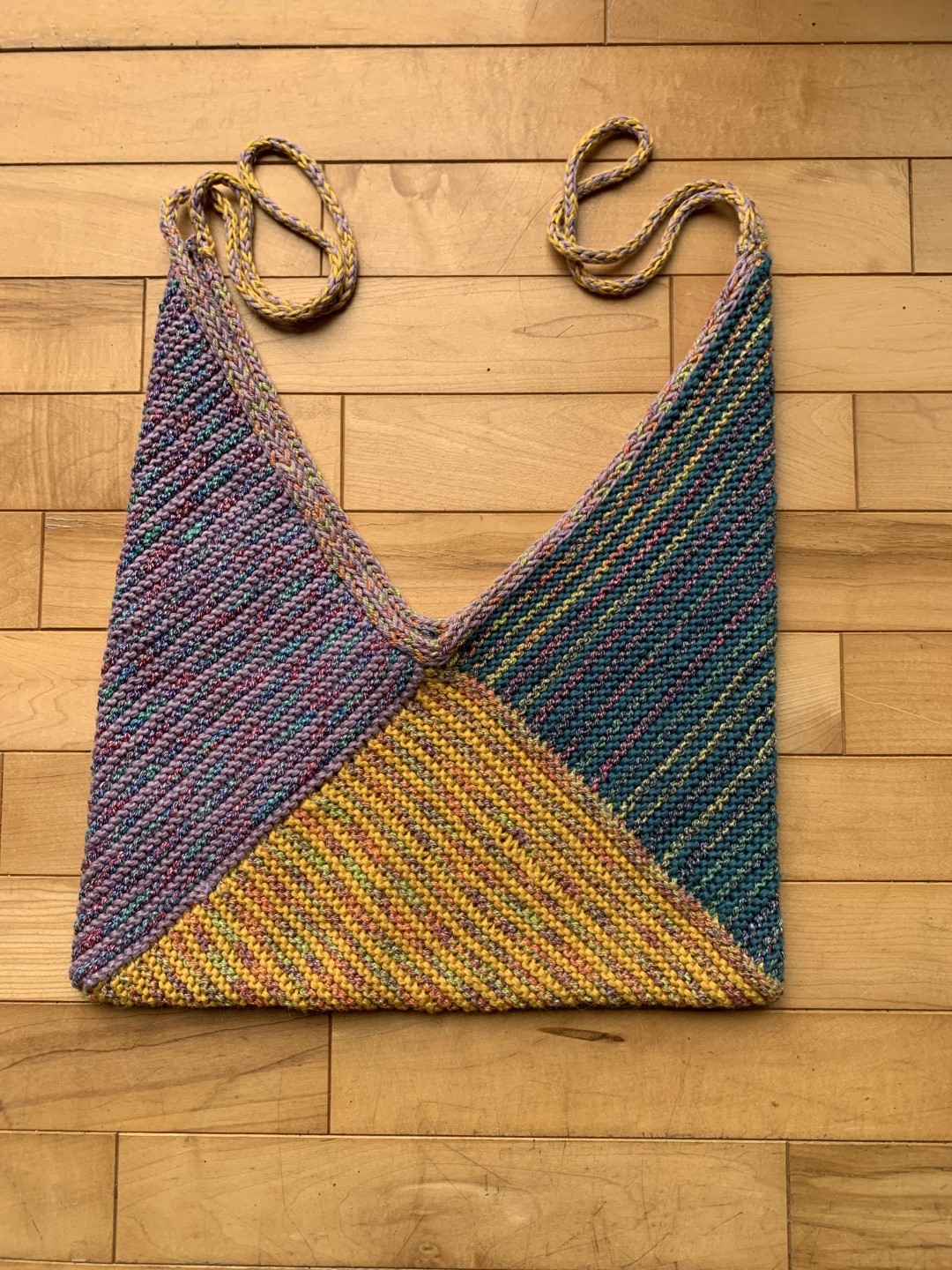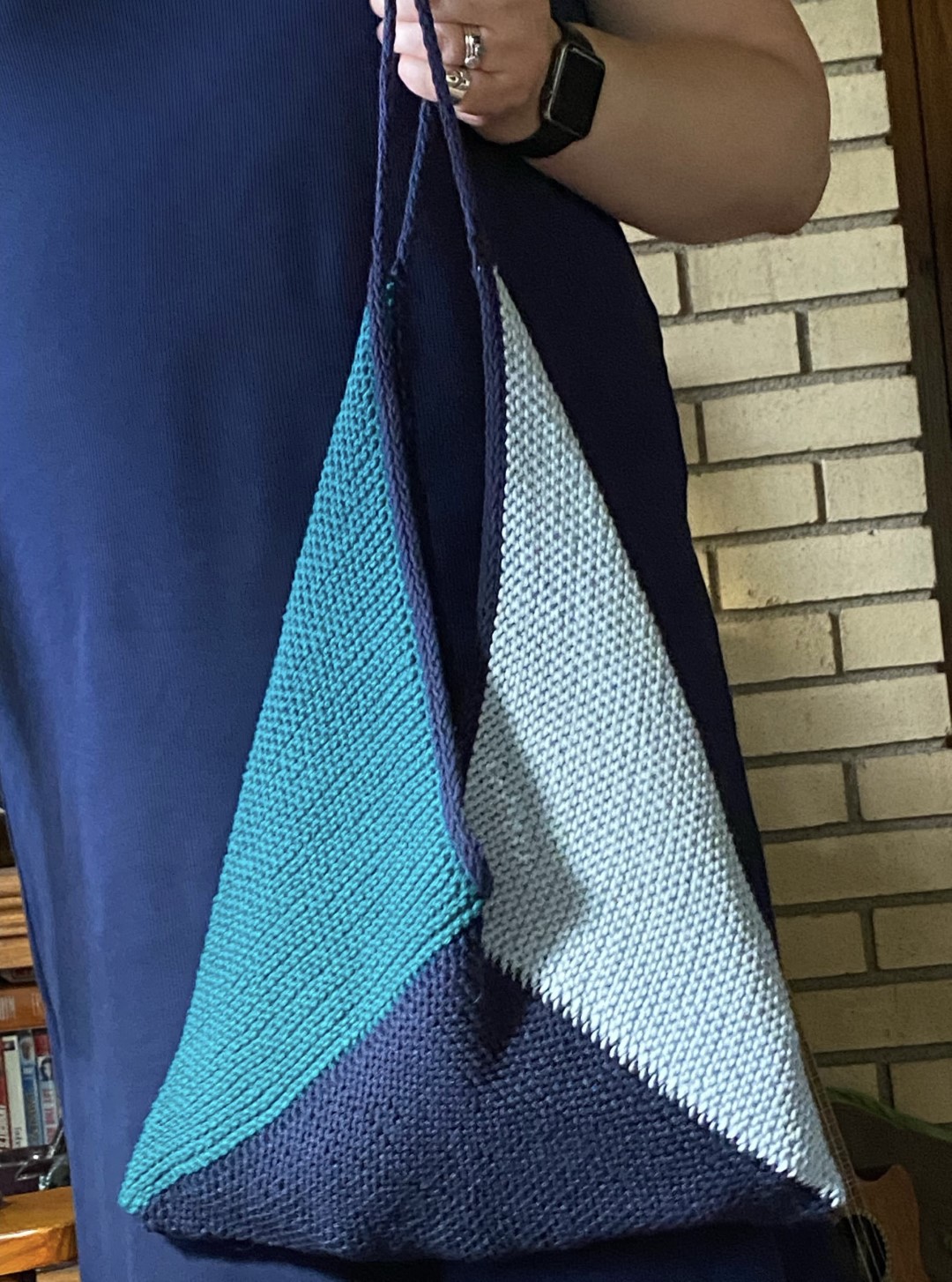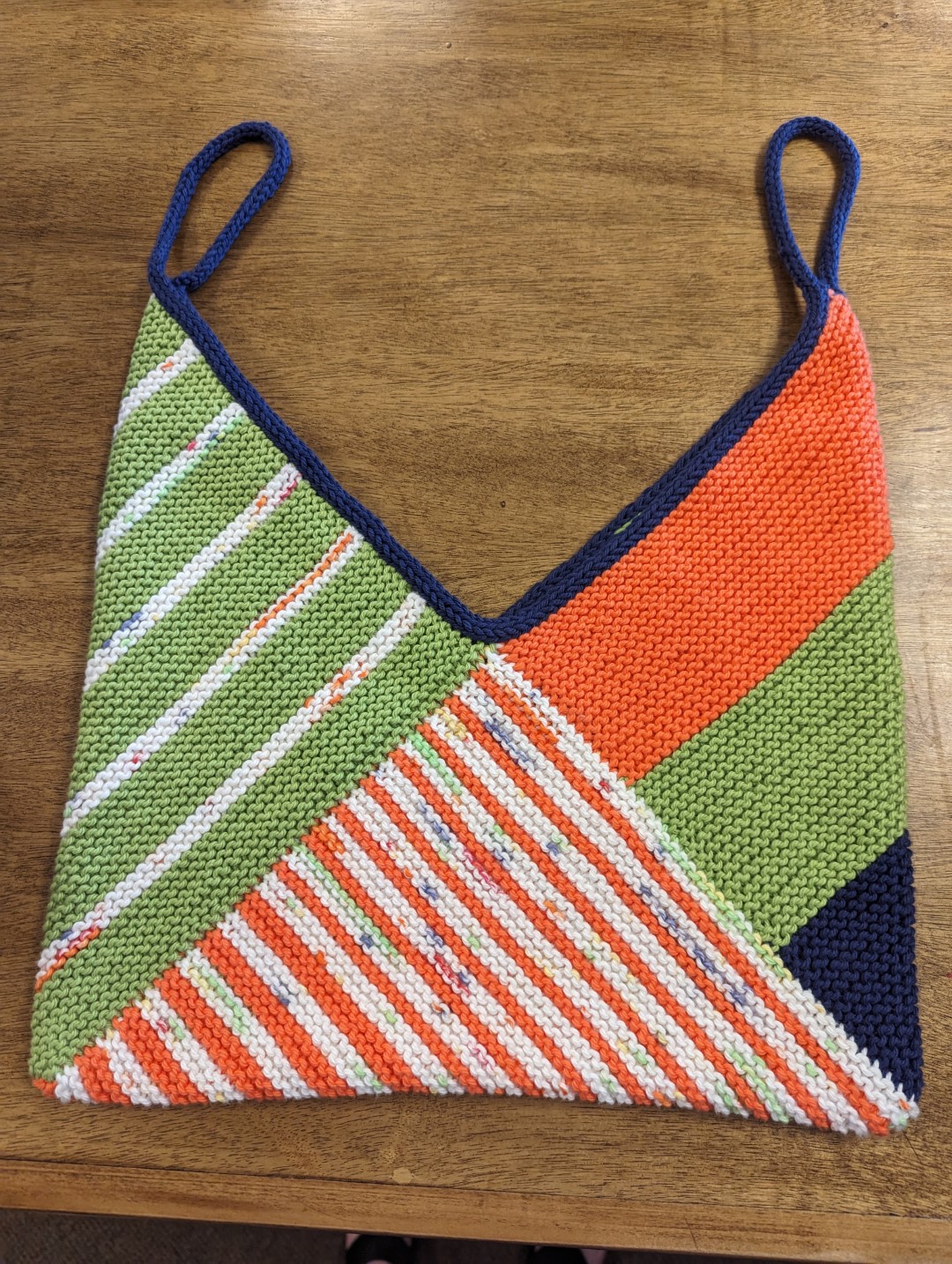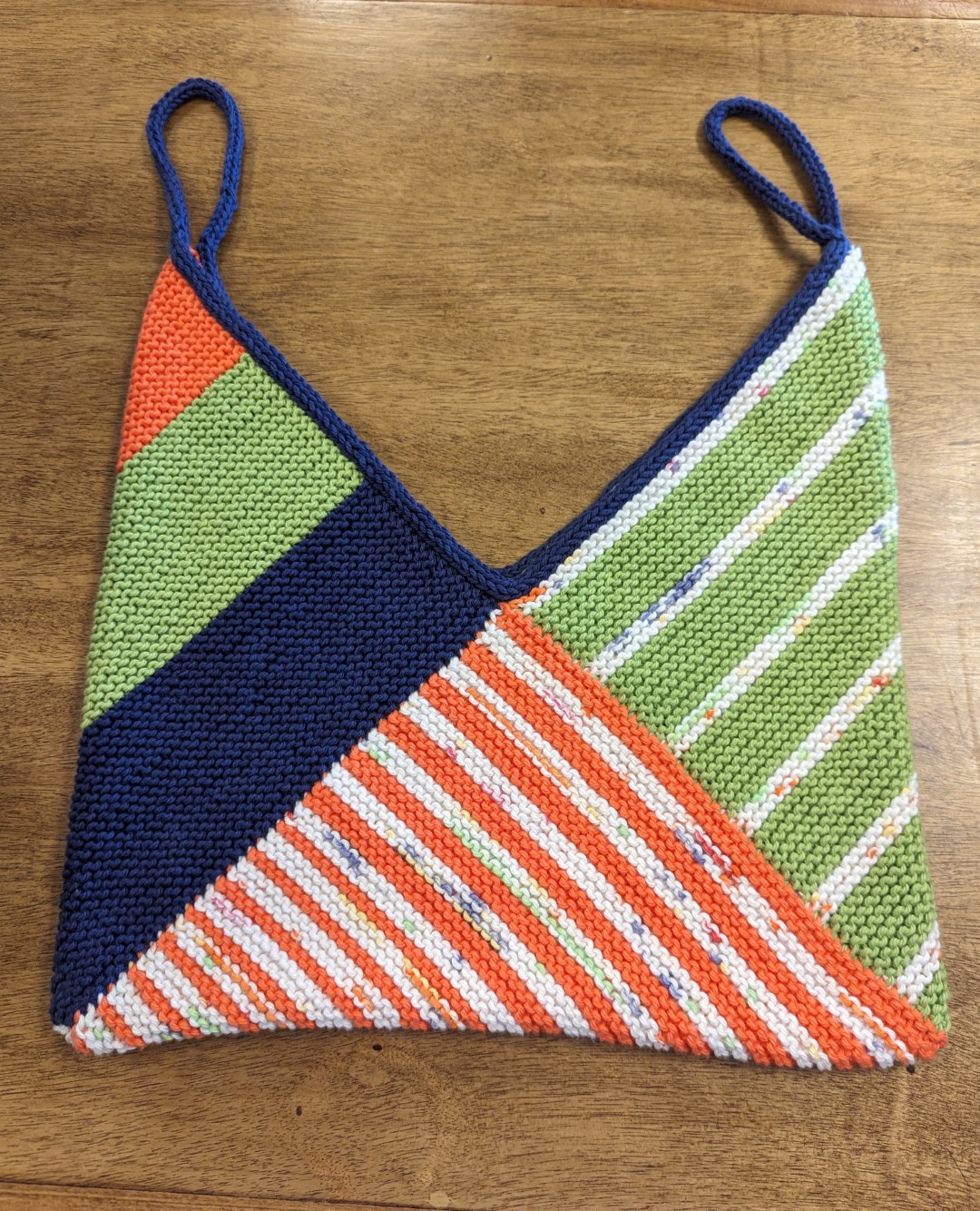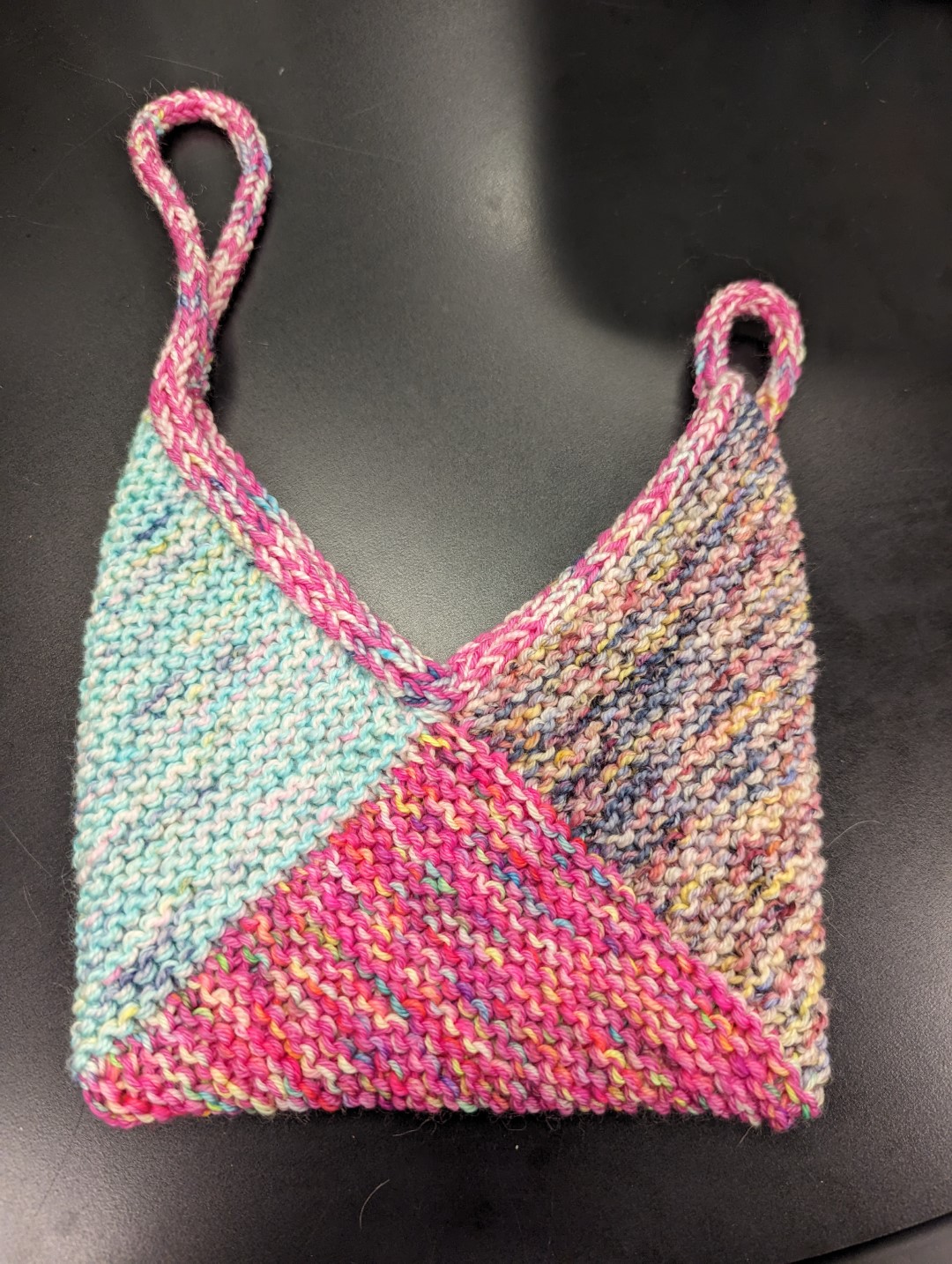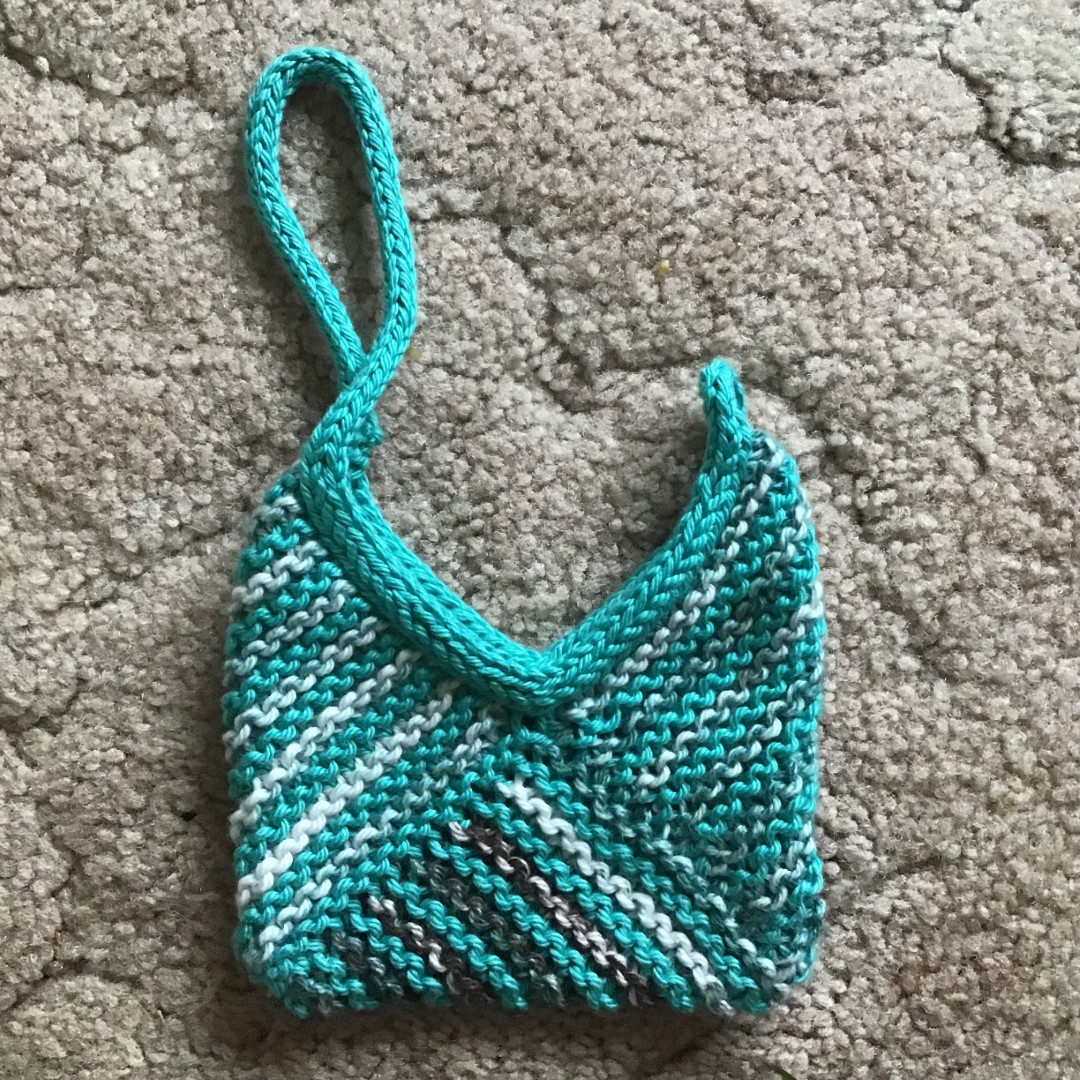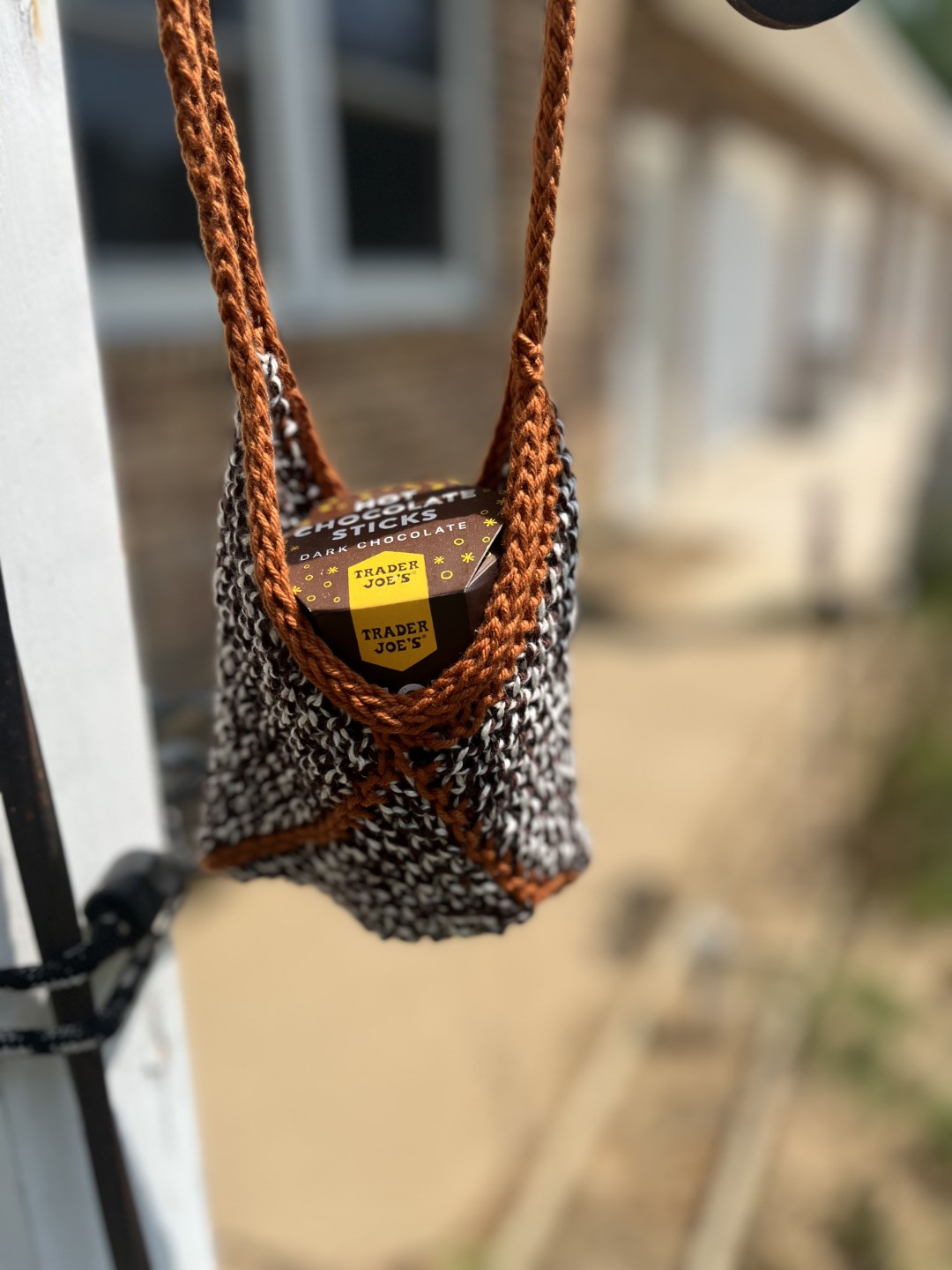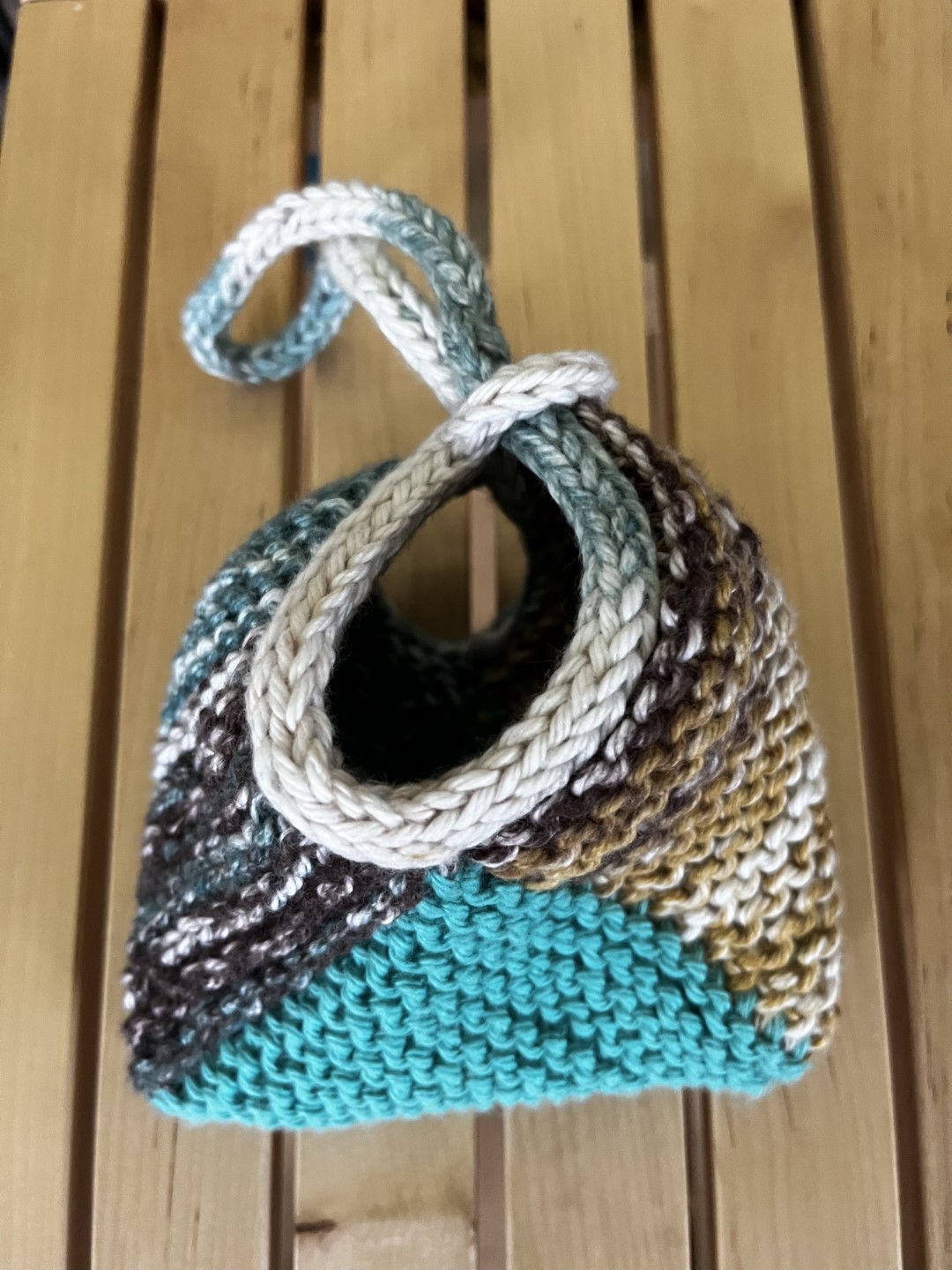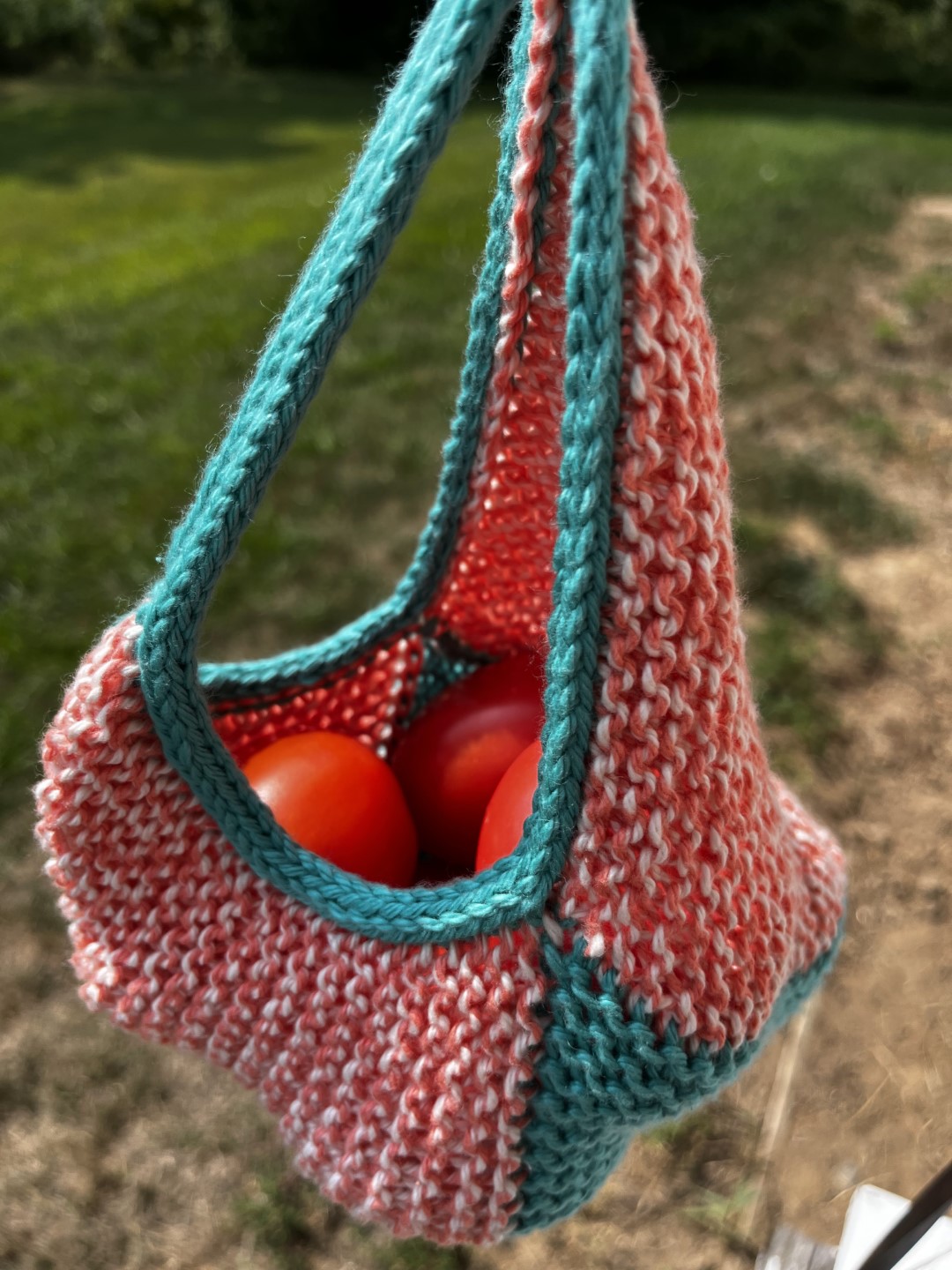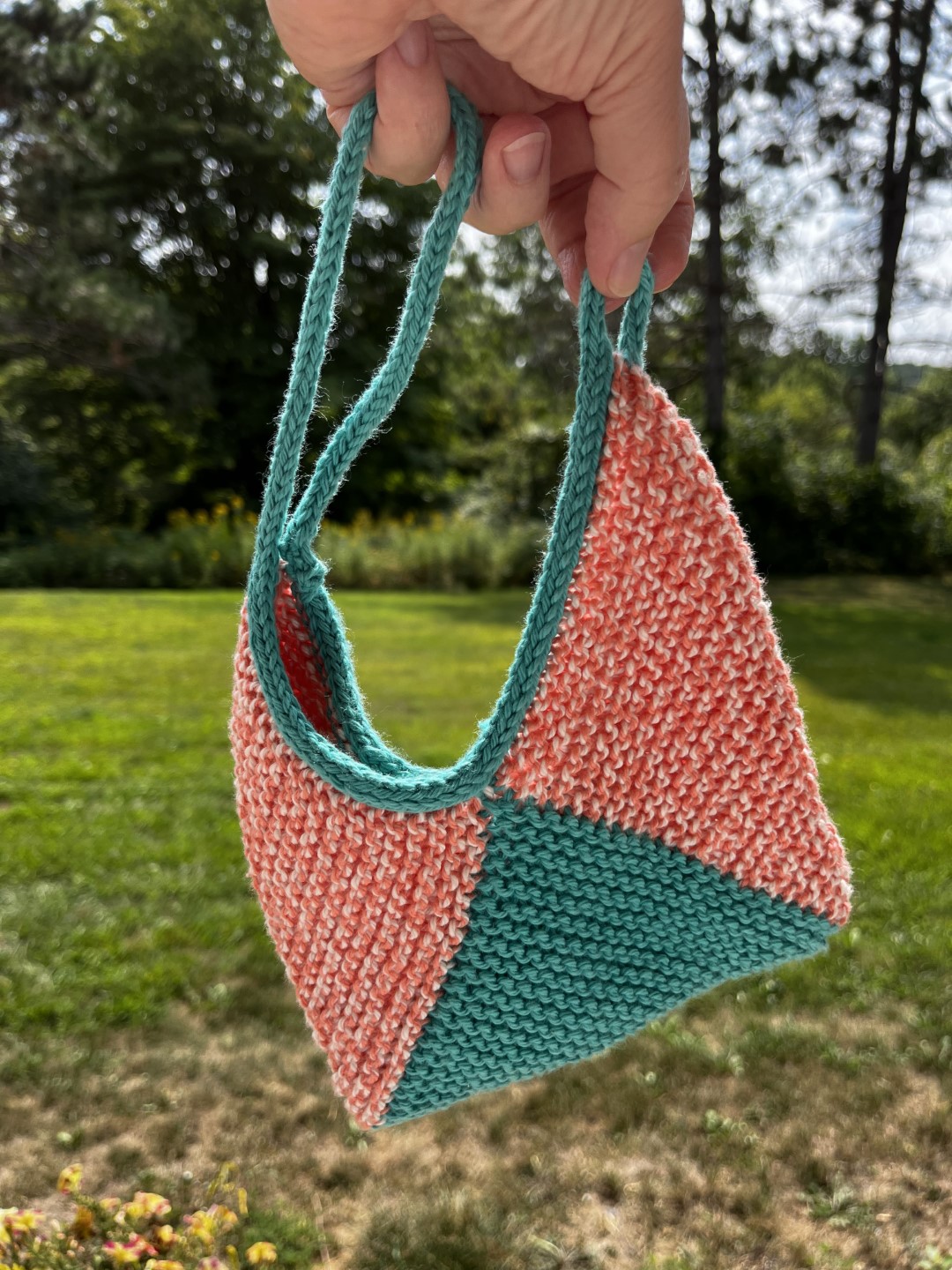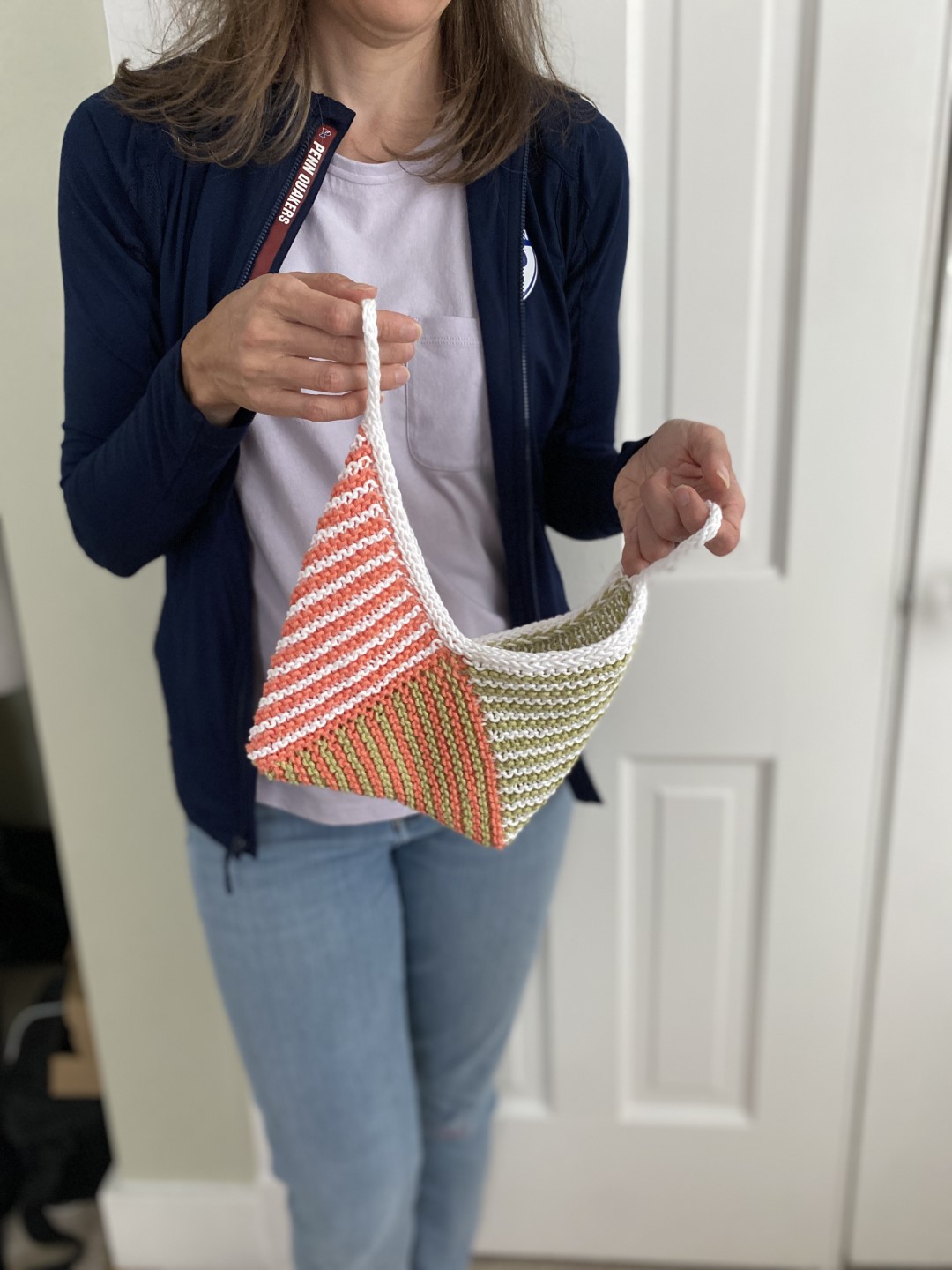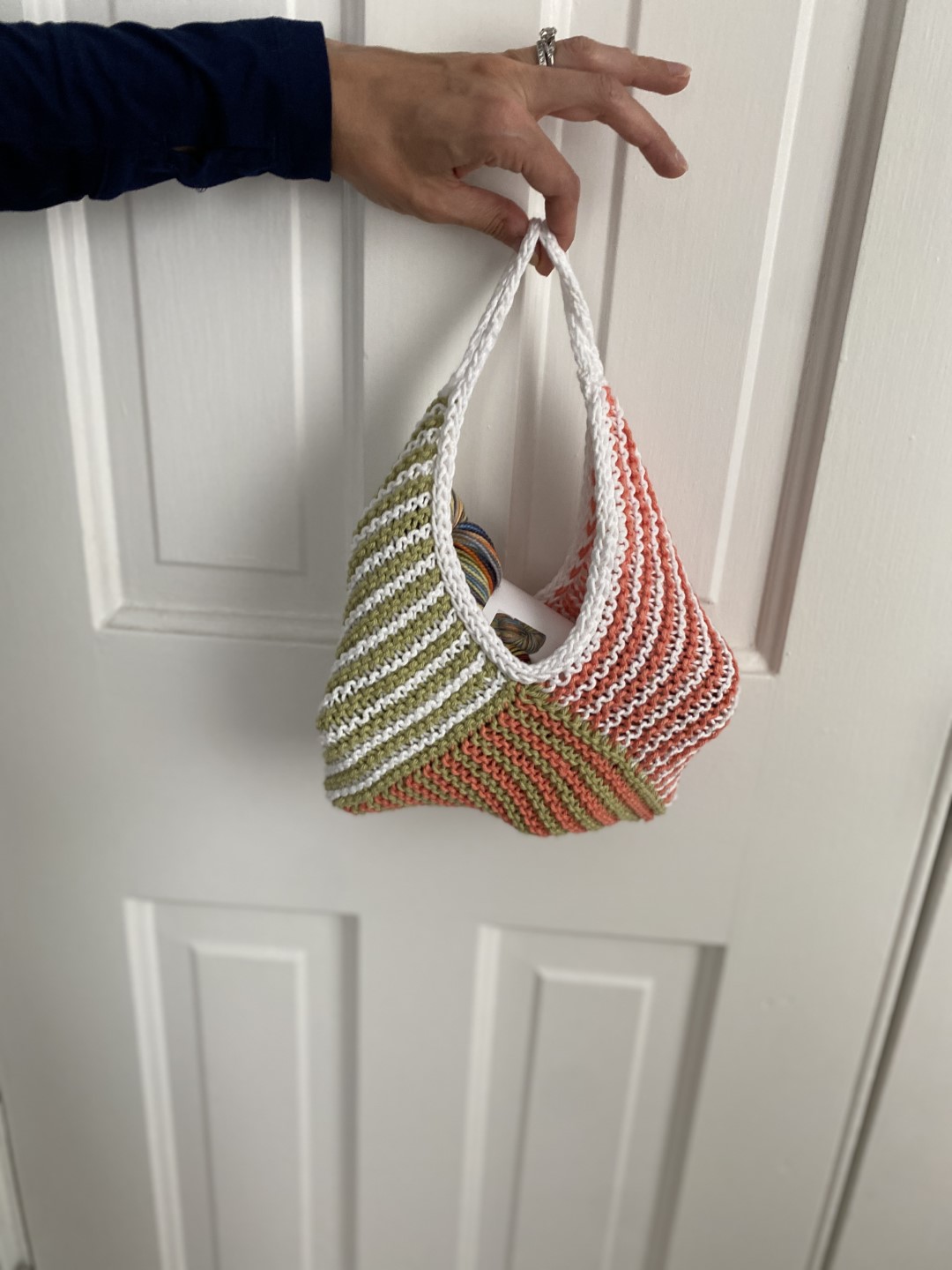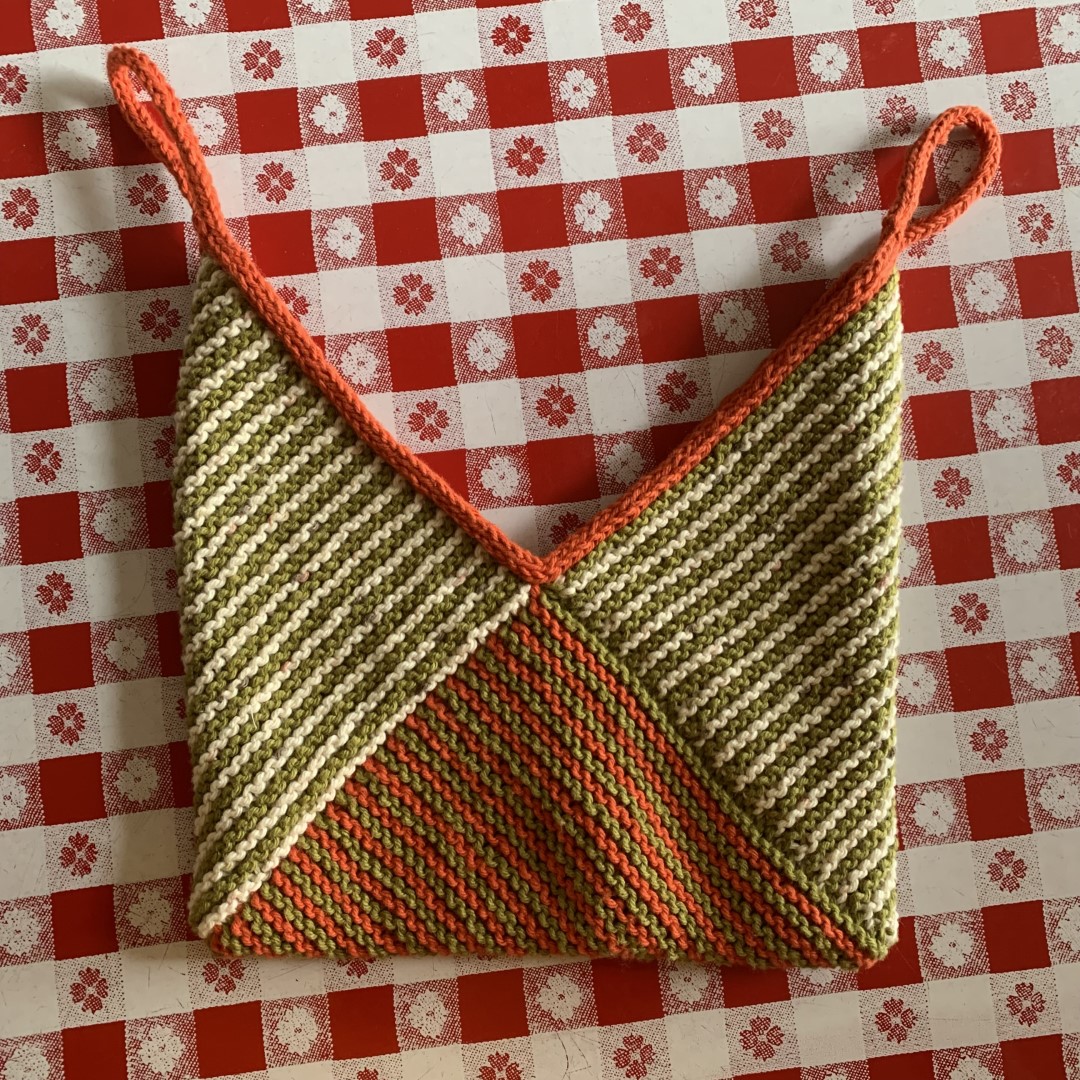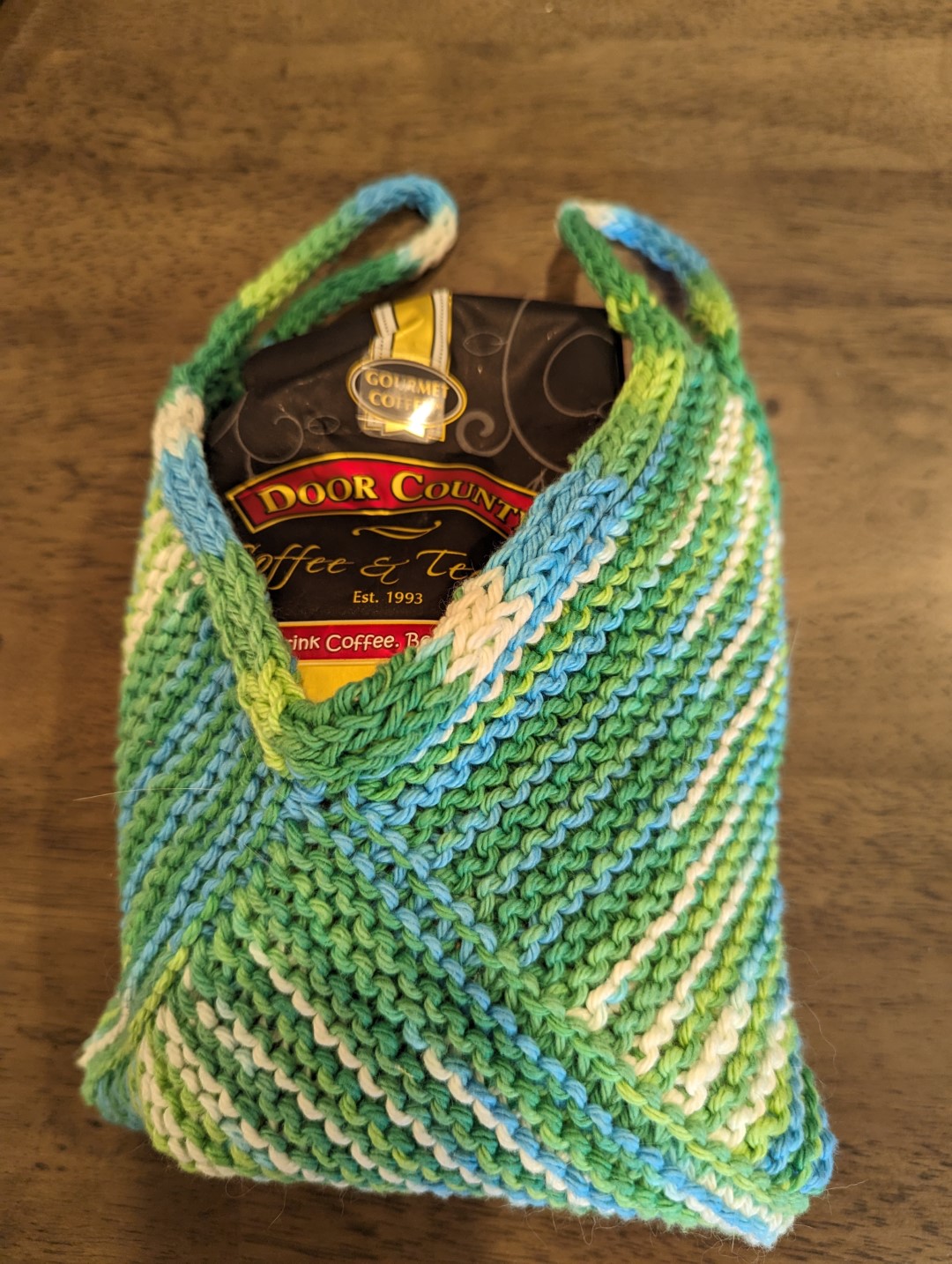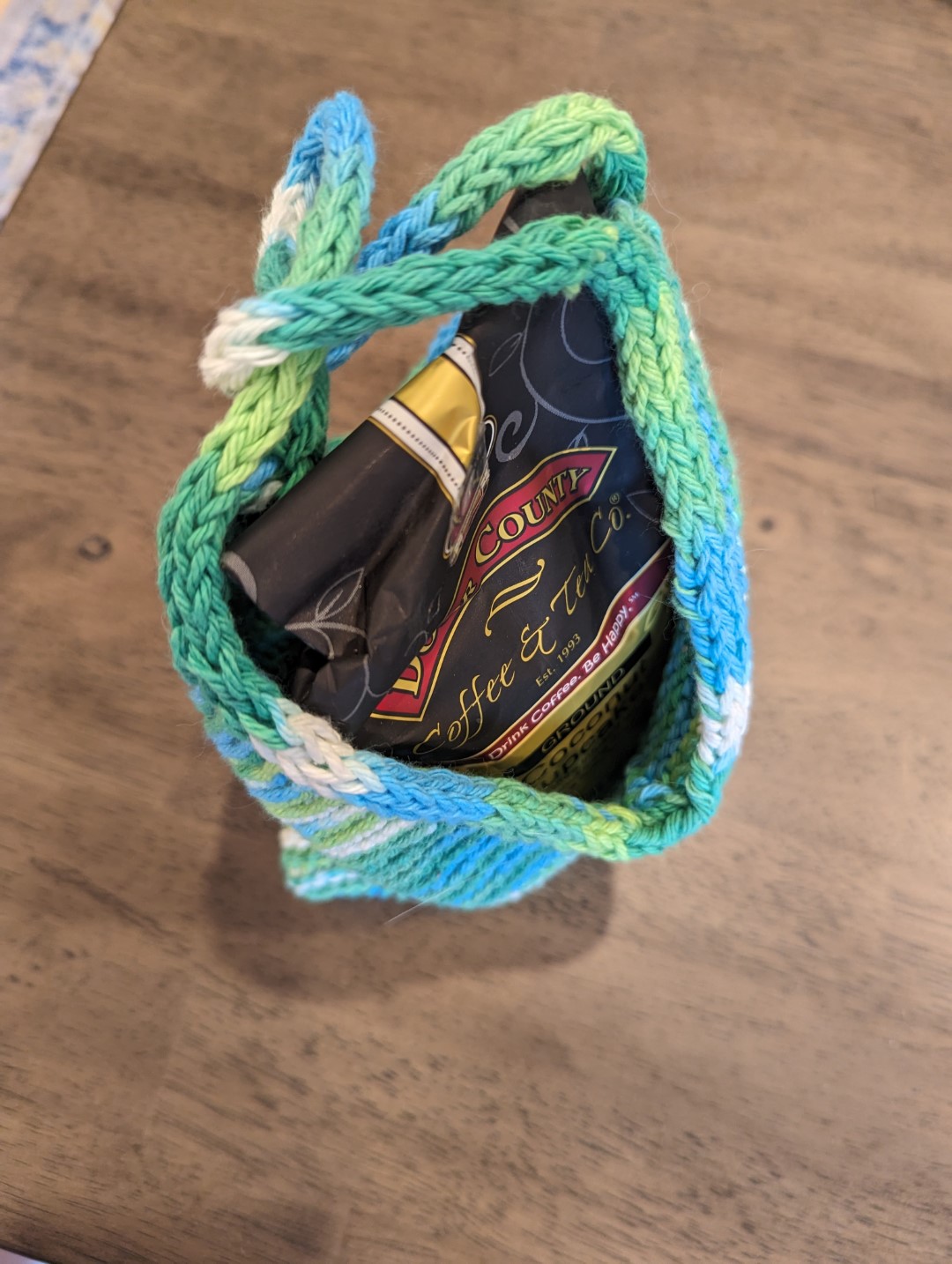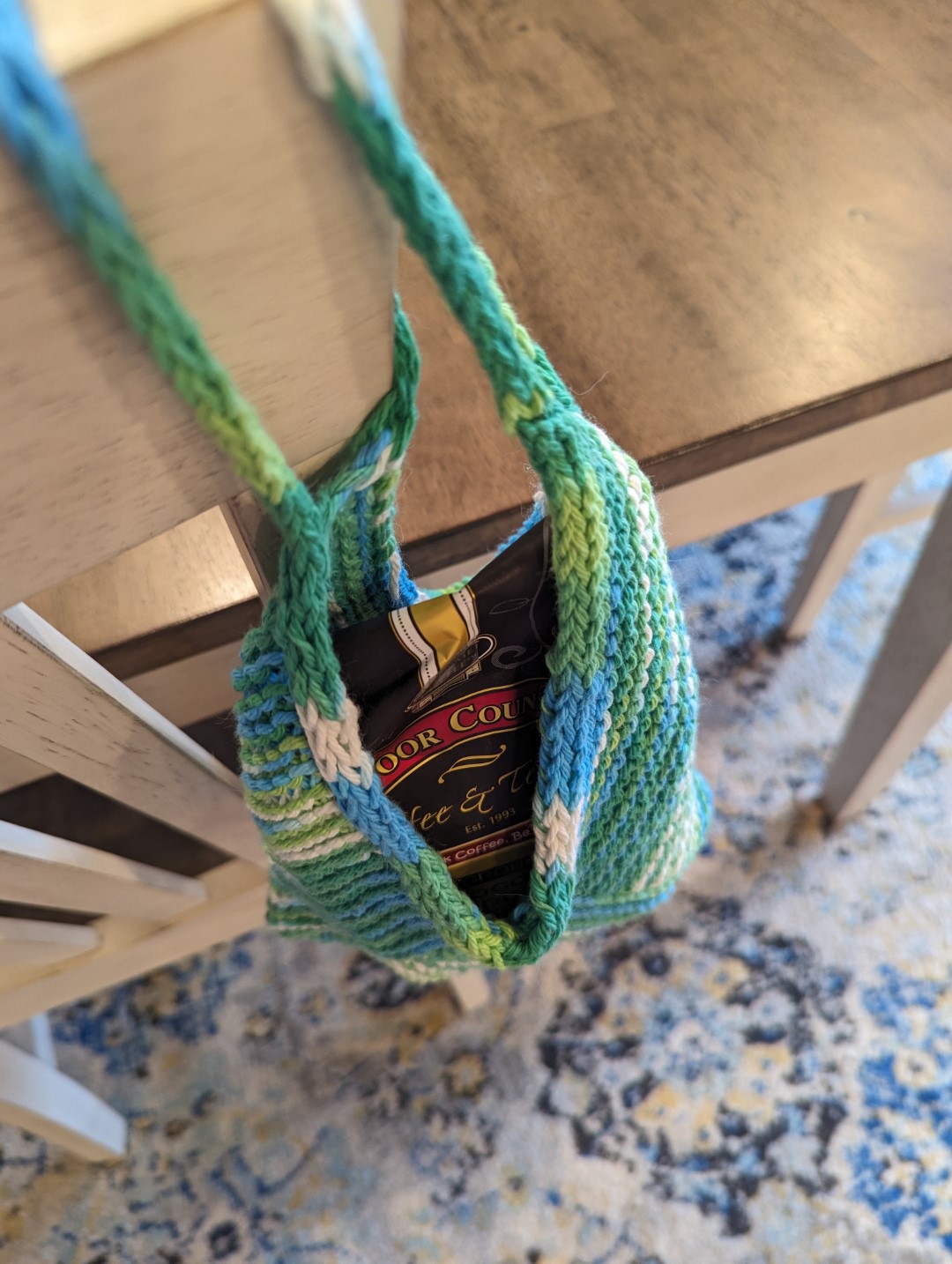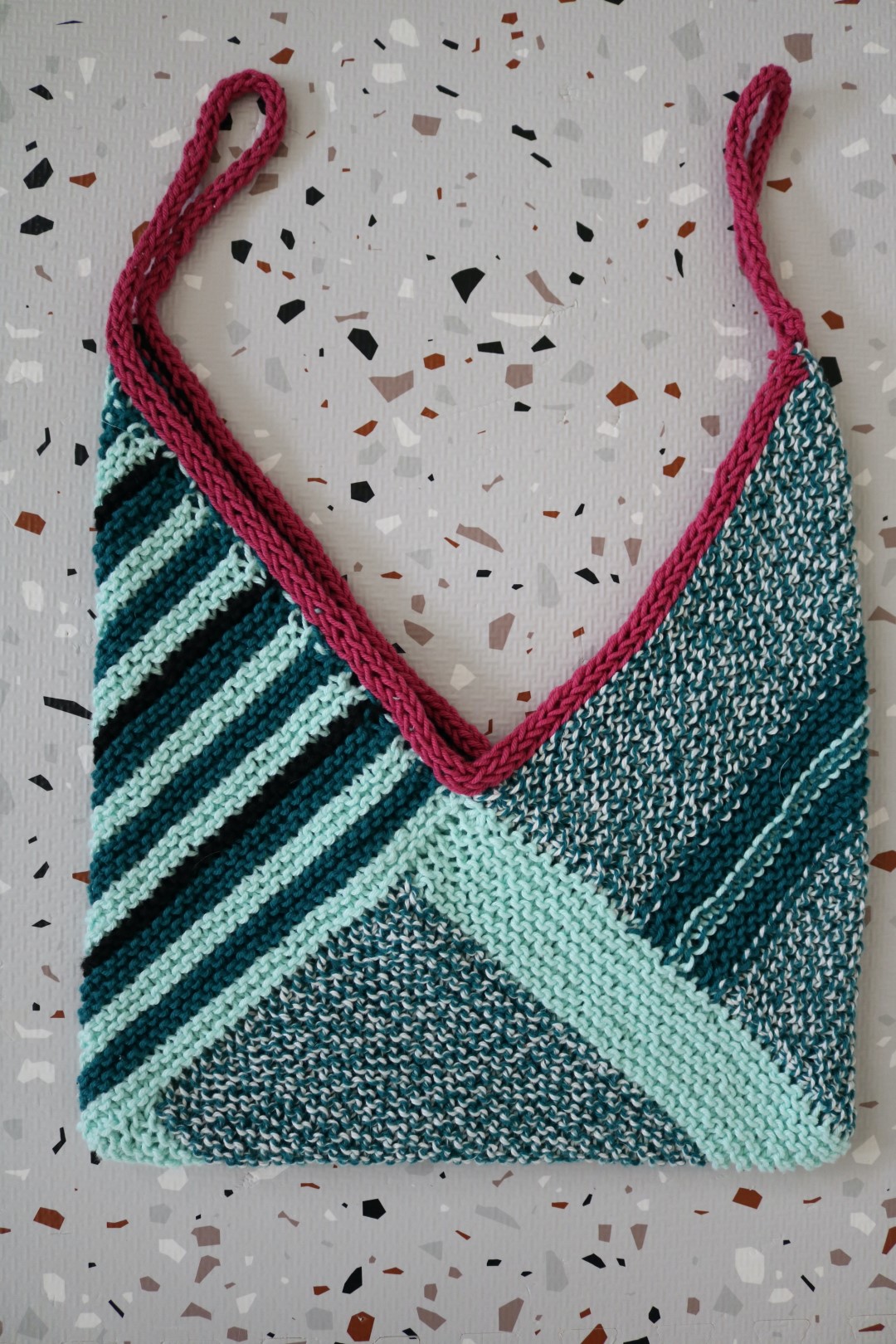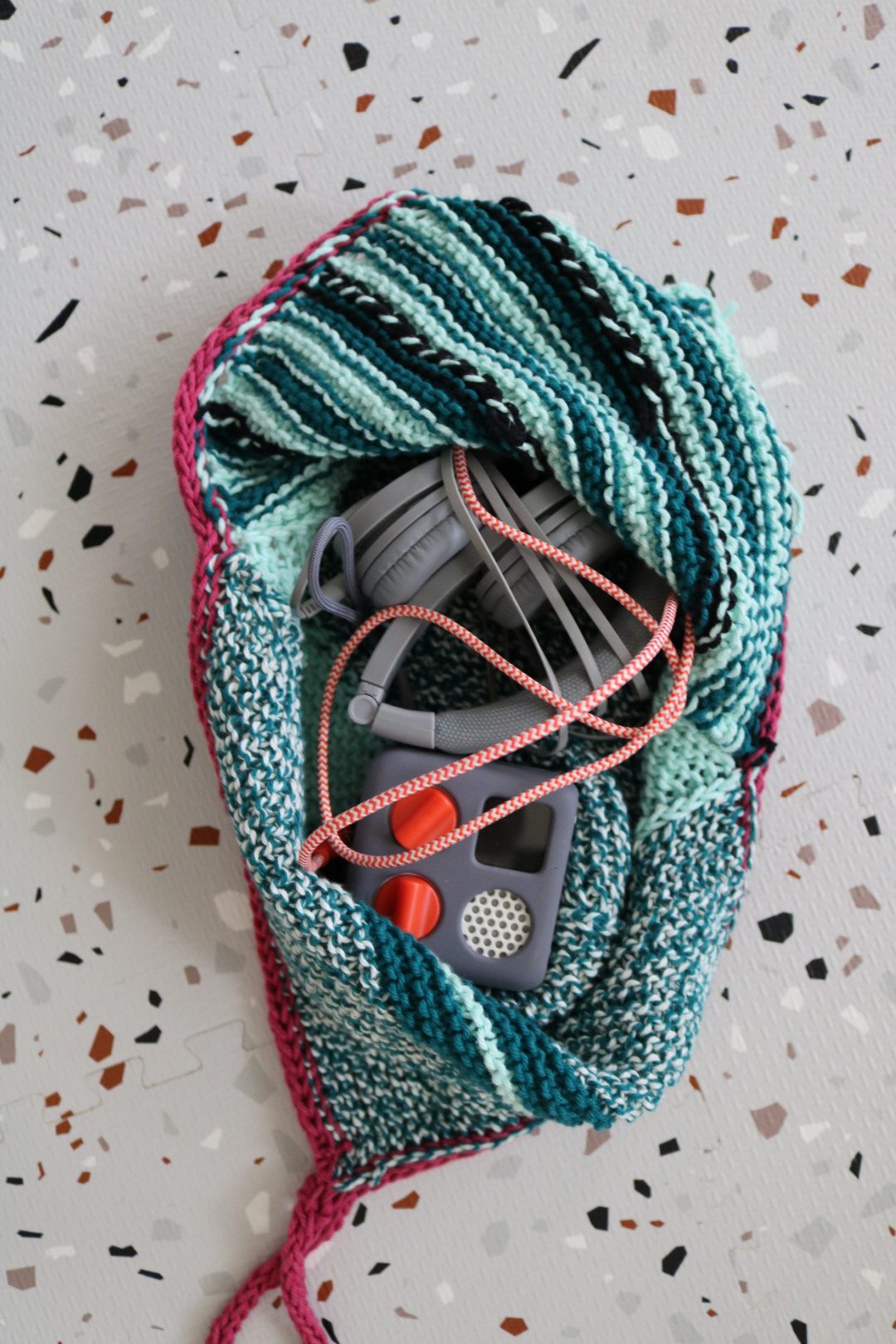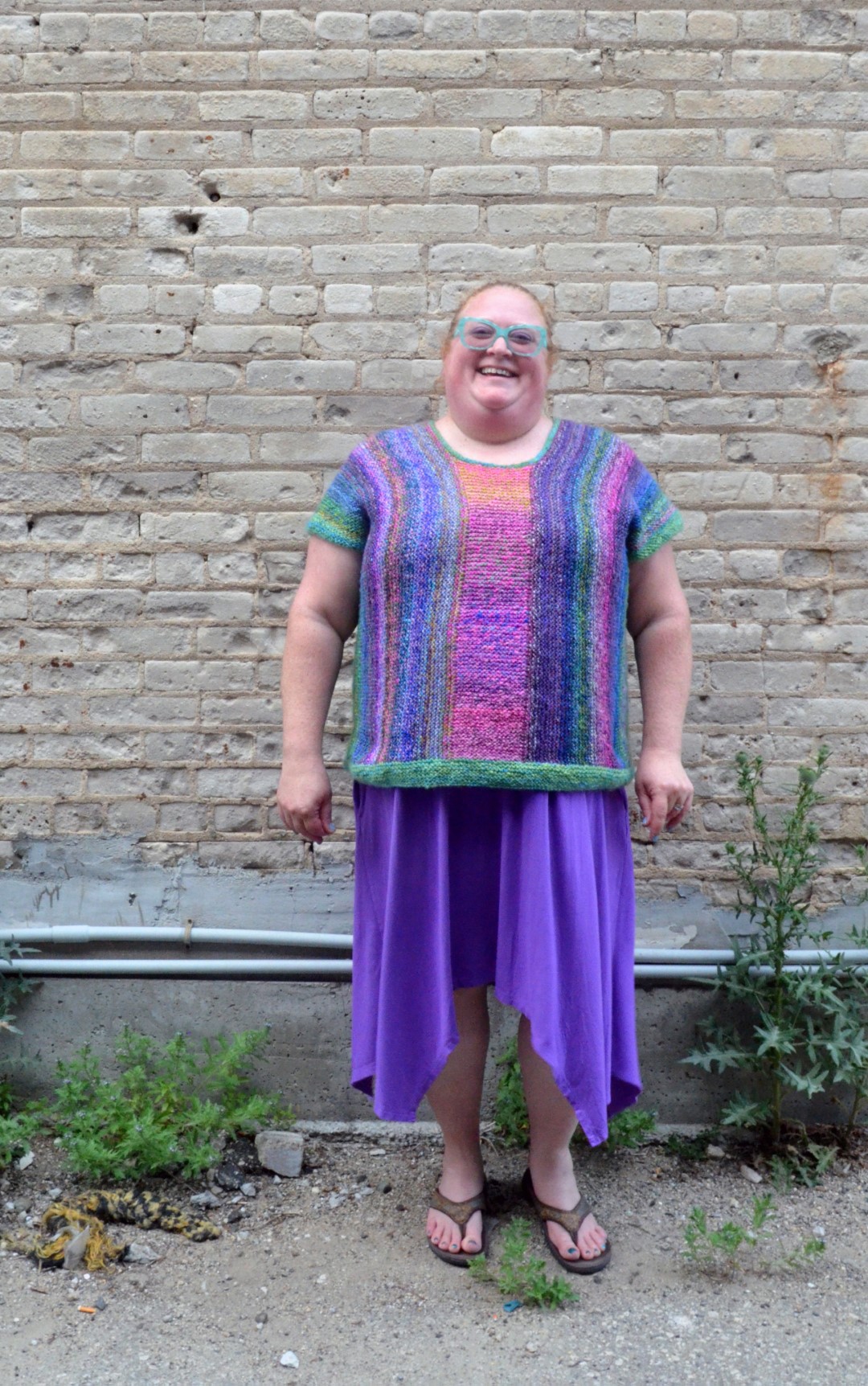 I gravitate towards rhythmic, intuitive, and practical designs, and this pattern checks all those boxes for me. MODULAR BENTO BAG uses garter stitch modular construction with worsted weight cotton yarn to create a surprisingly functional finished object. You'll find a purpose for each of the 4 bag sizes: smaller sizes work well for children's toys or a small jar of jam, and larger sizes are perfect for fruits, vegetables, or a loaf of bread at the farmers' market. Washable cotton yarn makes the bag easy to launder, and it folds up into itself for easy storage. Adjust the handle length to meet your needs, creating shorter handles to attach to a carabiner clip, longer handles to fit around a wrist, or one of each! Experiment with striping and color blocking for a truly unique bag. Create a bag or two for farmers' market purchases or knit one to hold a gift.
Find full gallery images here.
YARN
Knit Picks Dishie or Dishie Twist in 2 or more colors or similar worsted weight cotton dishcloth yarn.
100% Cotton, 190 yd / 174 m per 100 g, www.knitpicks.com
Samples shown in 3 colors with various stripe patterns:
Dishie Twist in colorway Black, and Dishie in colorways Black and Kenai
Yarn requirements per size:
Size 1: 61 yd / 56 m (32 g)
Size 2: 125 yd / 114 m (66 g)
Size 3: 270 yd / 247 m (142 g)
Size 4: 462 yd / 423 m (243 g)
Yarn estimate includes 10% buffer.
GAUGE & NEEDLES
15 stitches & 30 rows = 4" / 10 cm in garter stitch knit flat
US 6 / 4.0 mm or size needed to get gauge, minimum length 16" / 40 cm
Gauge is not critical but will impact the feel of the fabric and final size of the bag.
FINISHED DIMENSIONS
Sizes 1 (2, 3, 4)
Width: 6" (9", 13.6", 18.1") / 15.2 (22.9, 34.5, 46) cm
Height: 6" (9", 13.6", 18.1") / 15.2 (22.9, 34.5, 46) cm
See schematic for additional size information.
TECHNIQUES
Provisional cast-on, knit stitch, join-as-you-go modular knitting, icord bind-off in the round
PATTERN ATTRIBUTES
This is a written pattern with a schematic and photo tutorials.
EXPLORE ON INSTAGRAM
#ModularBentoBag
Tech editing: Bronwyn Hahn
Test knitting: Cathy A., Niad A., Rhianda G., Sarah J., Amanda K., Jennie K., Katie M., Sondra P., Linda S., Rachel S., Vicky S. & Emilia W.
From Kim C-G.
I have knit many of Shana's designs, and they never disappoint. I'm at a place where I want to create more hand knit garments as I move into a capsule wardrobe, and I love that each of her patterns are size inclusive. I know I will not need to make adjustments to the stitch count to fit around my chest or hips. There is enough size range to satisfy preferences for oversized fit and more form fitting, well into a 60″ chest. Moreover, there is so much flexibility with color patterning that stripes, variegated or tonal all work well. I also love the modular construction which is elegant but easy enough for a beginner. Stitch patterns are well defined, and links to tutorials are provided where having a video-based tutorial is beneficial. I recommend Shanalines Designs every opportunity I get because of the creative construction, unlimited styling/color options and size inclusivity.
Kim has knit many Shanalines Designs patterns and has test knit Doubled Up Hat, Semantics, Coin Flip Hat, Shoulder Season, and Split Decision Mitts. 
From Lynn C.
I have made a couple of Shana's designs and love them. Her patterns are clear, knit up perfectly and are unique. I always learn something new and enjoy both the process and the final product. I look forward to knitting more of her designs.
Lynn has knit Moduloncho and Coin Flip Hat, and was a test knitter for Side Hustle Wrap (Light).
From Rebecca F.
I've tested multiple patterns for Shana and they're always already well-written and well thought out before we see the testing version. She's very responsive with answers to questions and clearly cares about making patterns accessible to knitters of all skill levels, budgets, and bodies. I love the way her patterns flow and present a canvas for your creativity and individuality.
Rebecca has knit many Shanalines Designs patterns, and test knit Space Positive Wrap, Upstanding Hat, Adulthood and Side Hustle Wrap (Light).