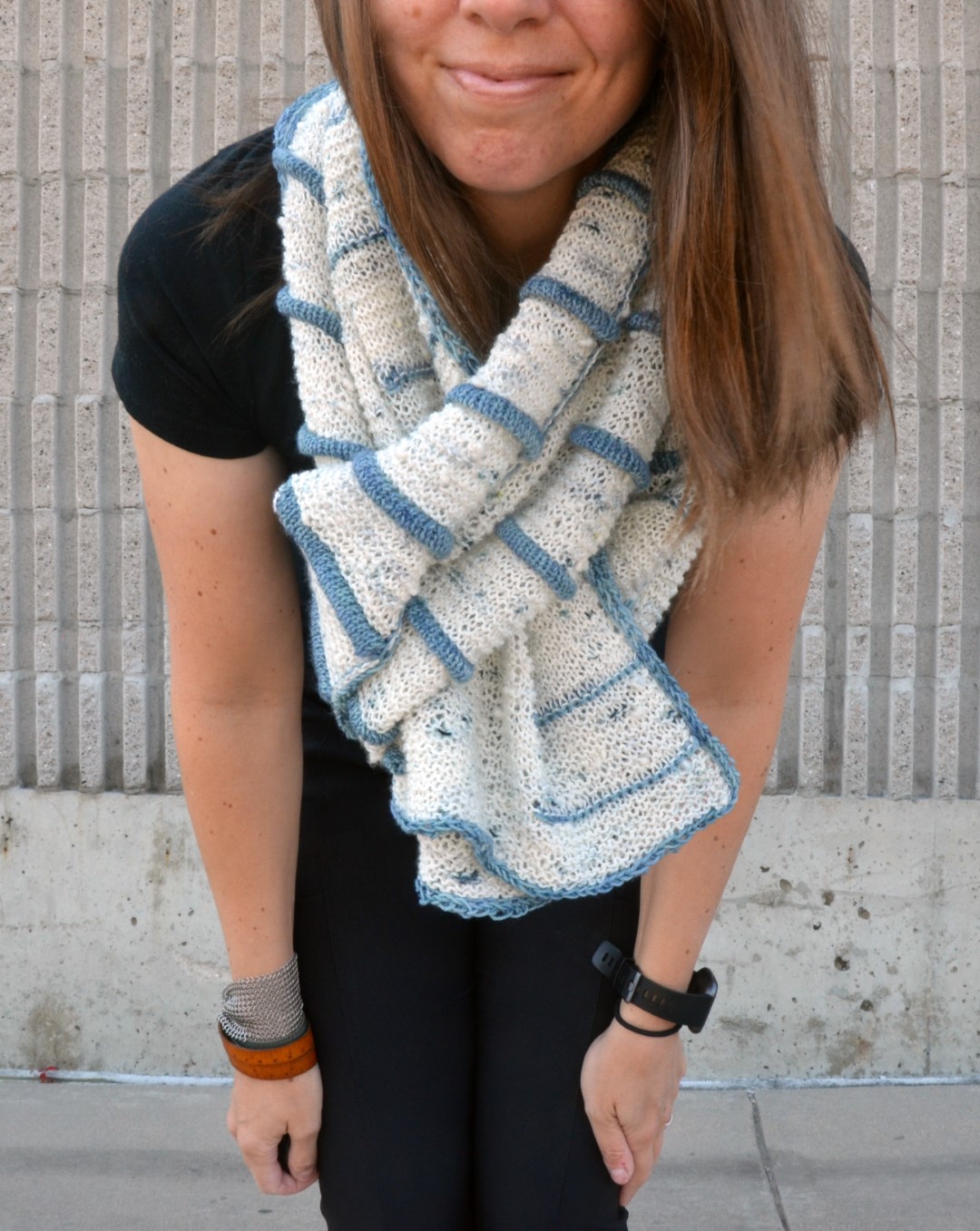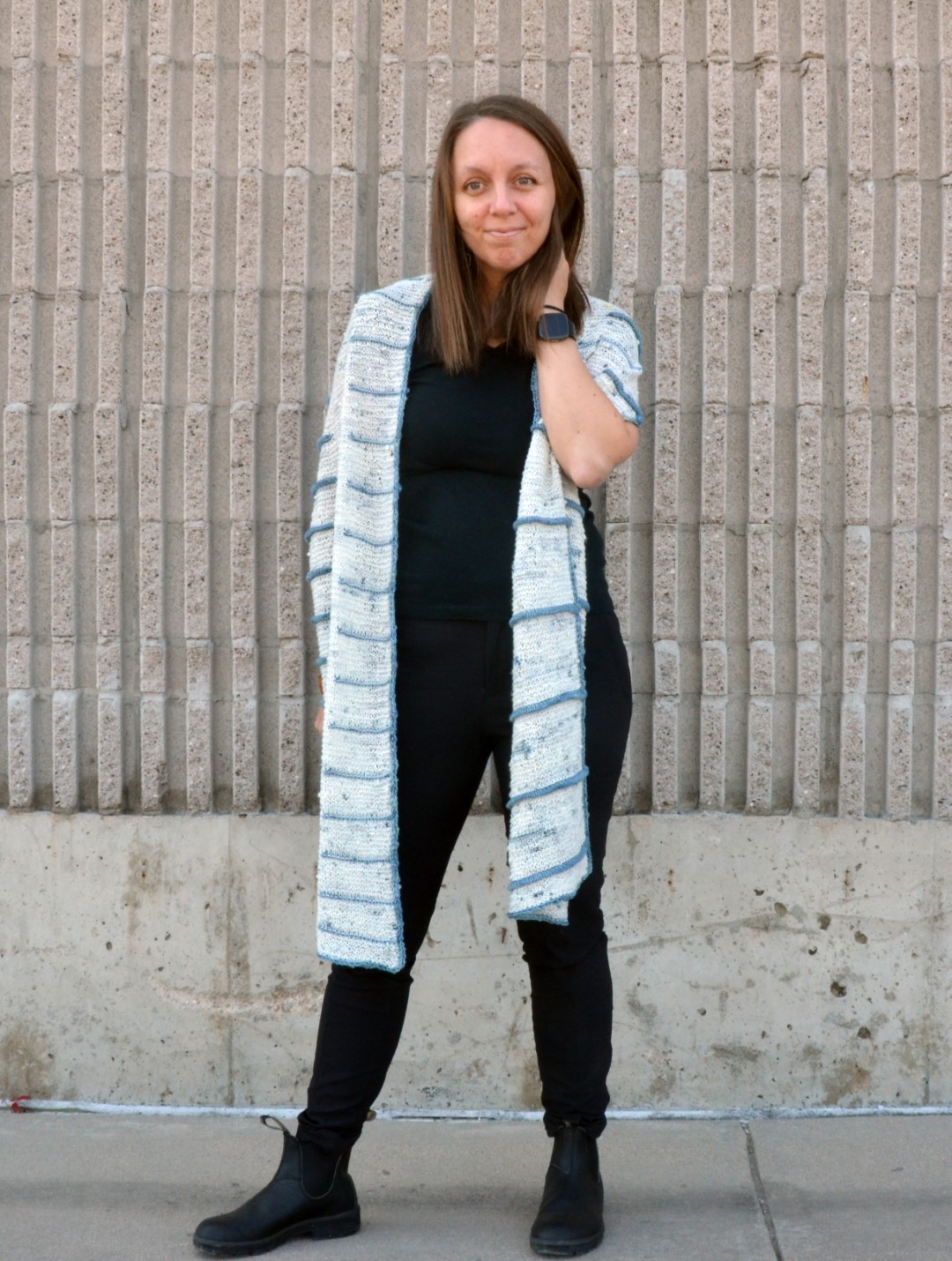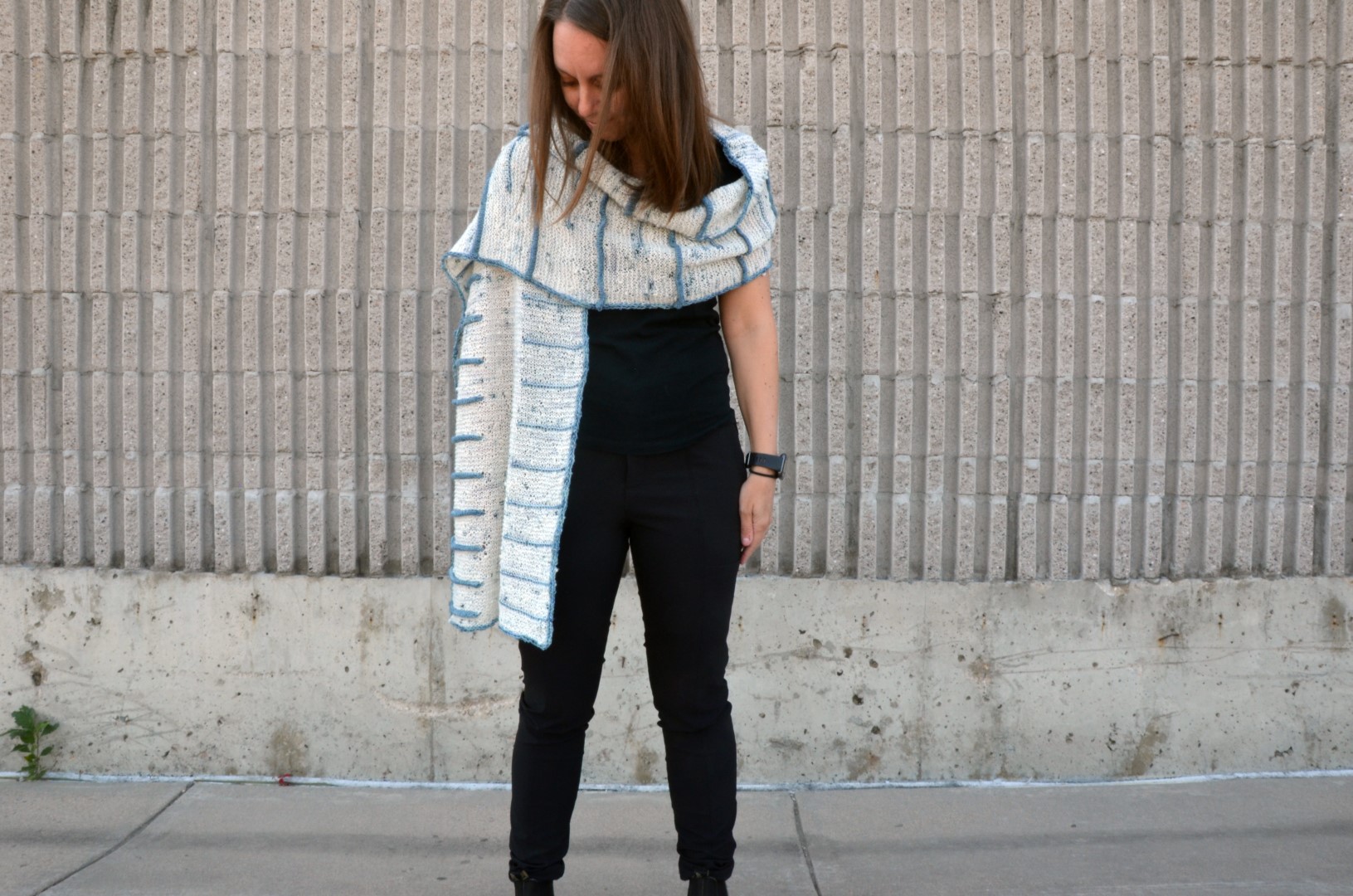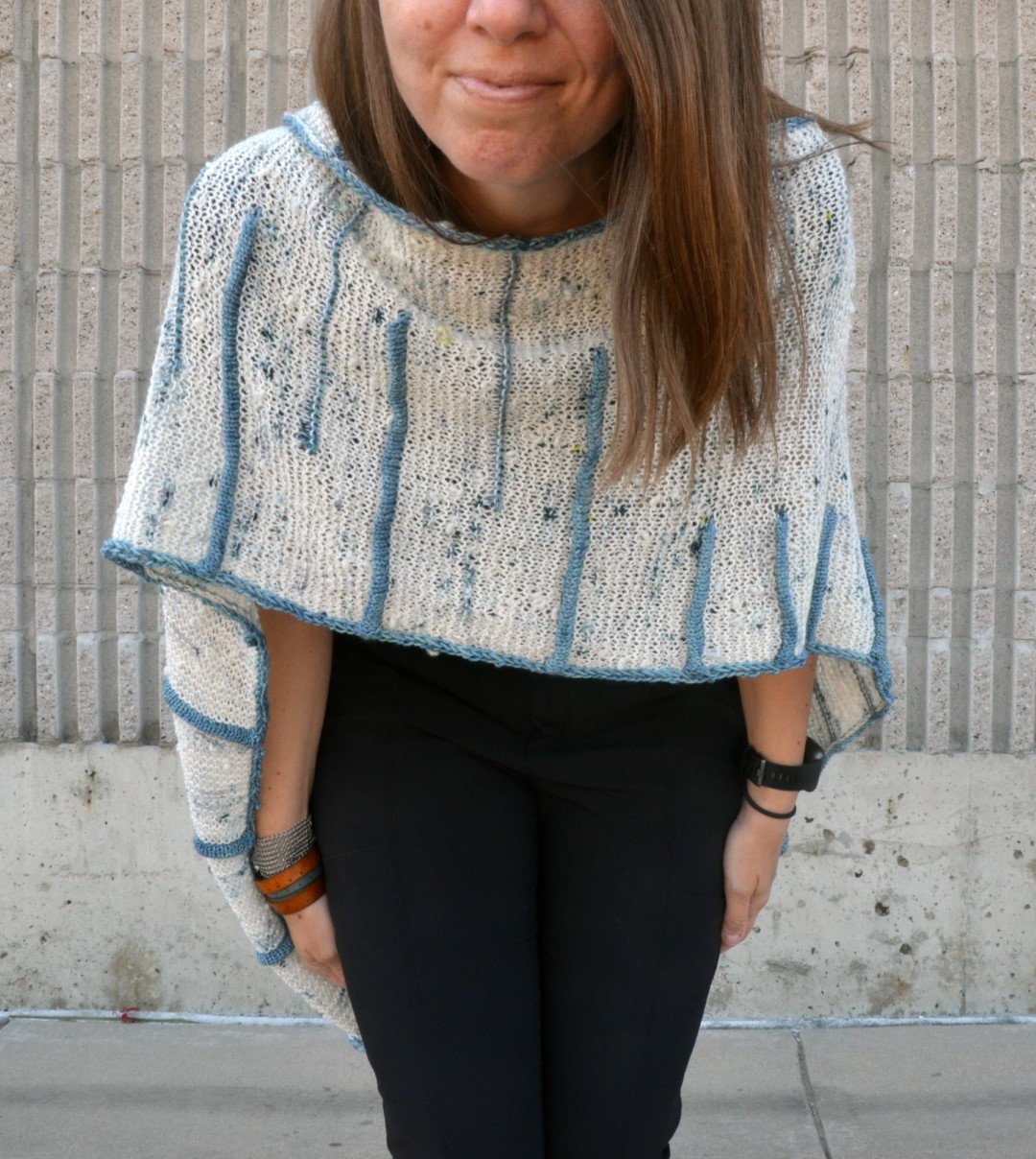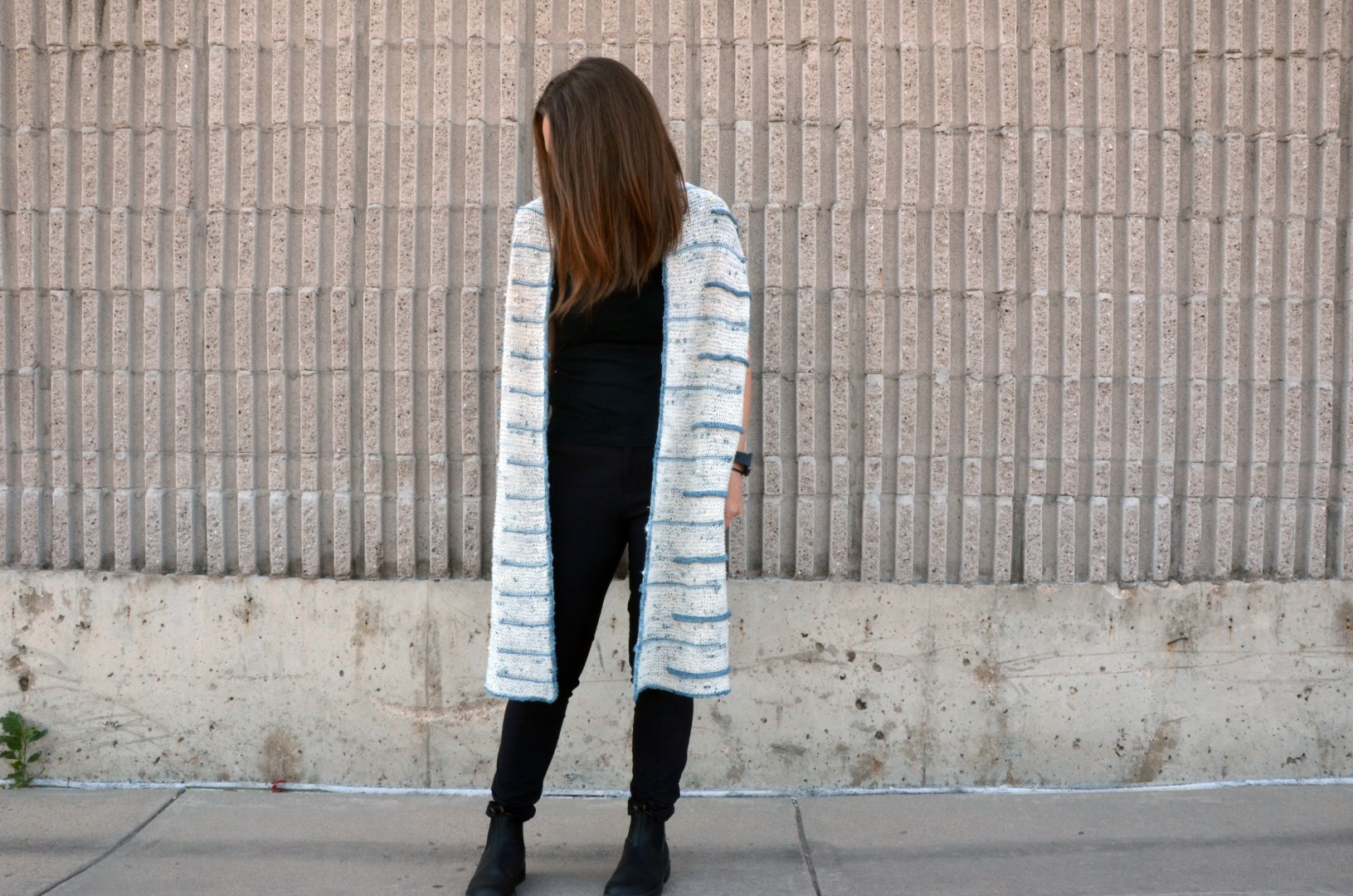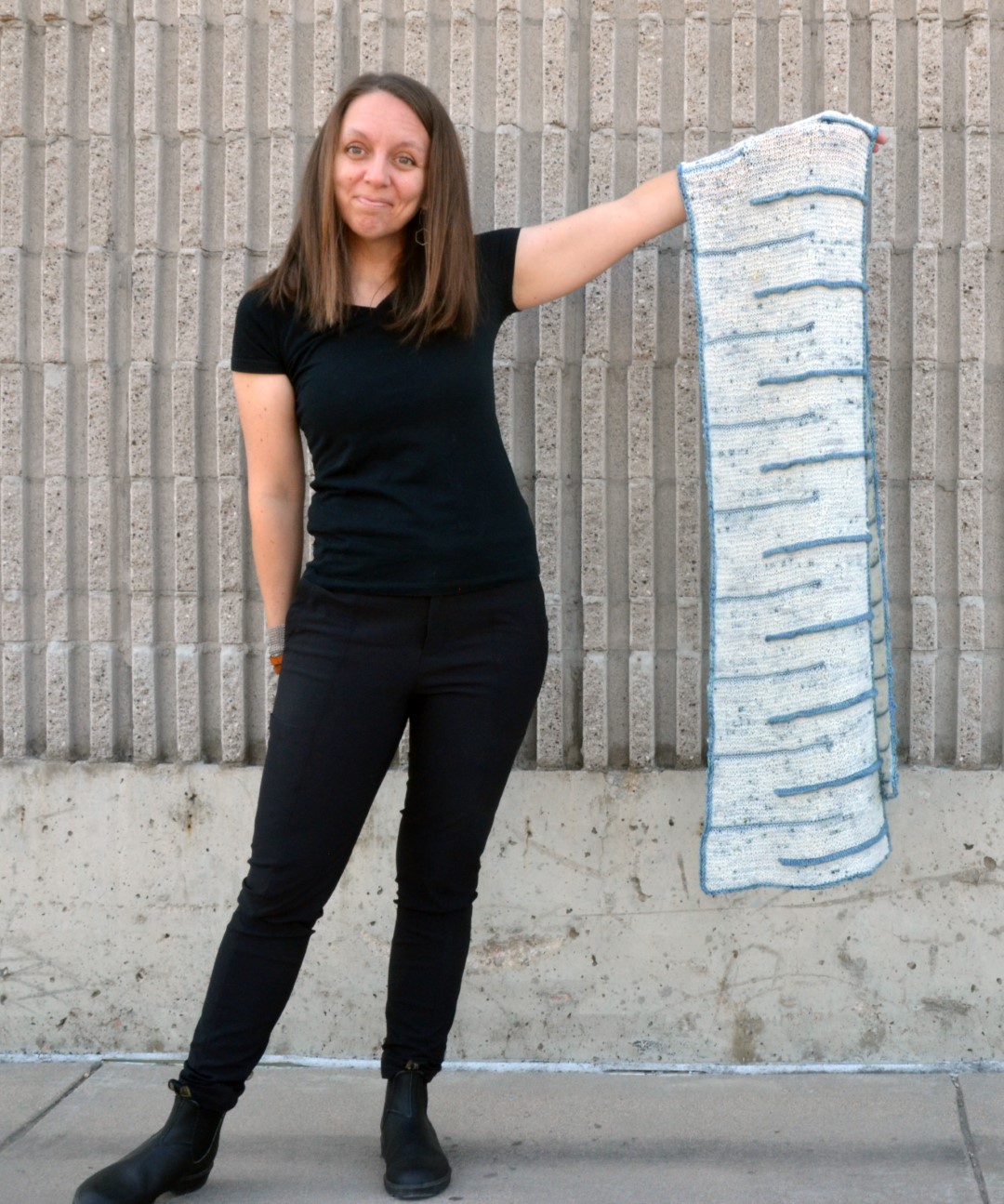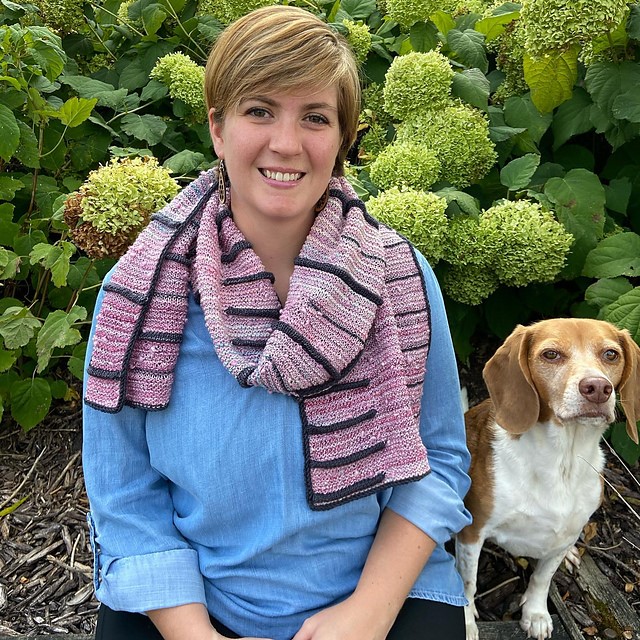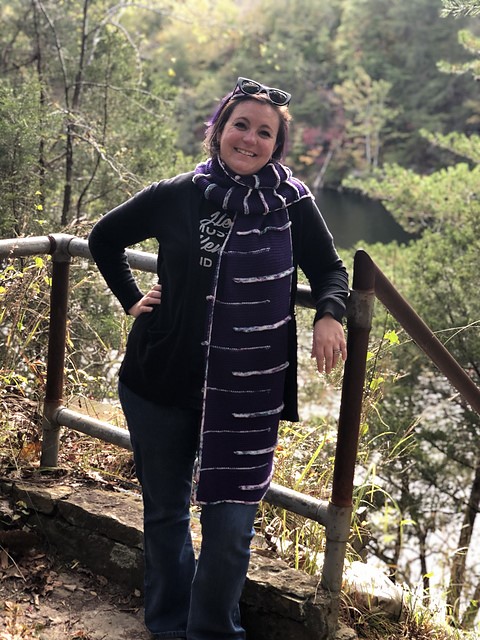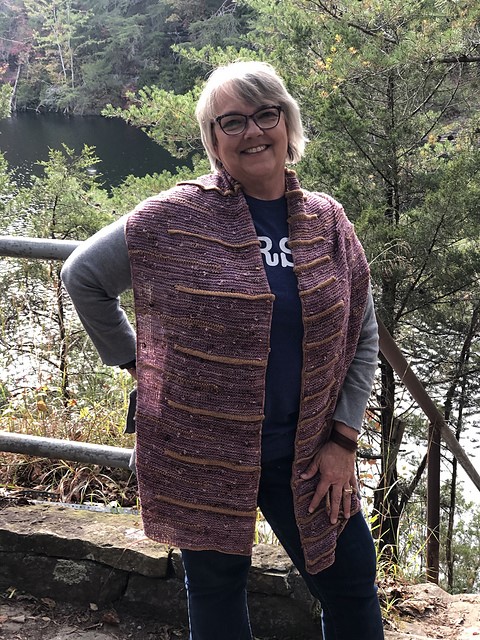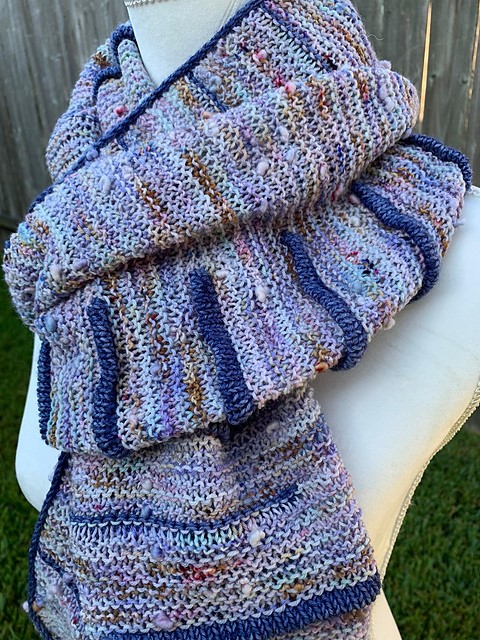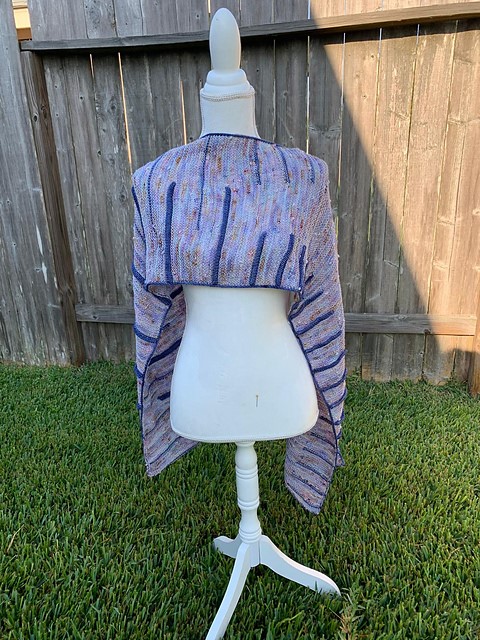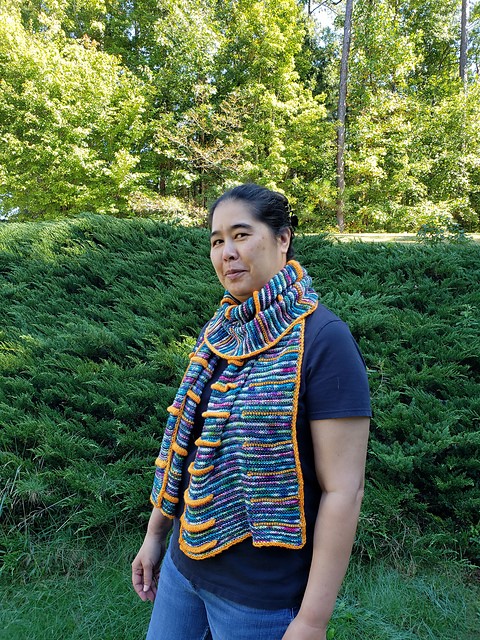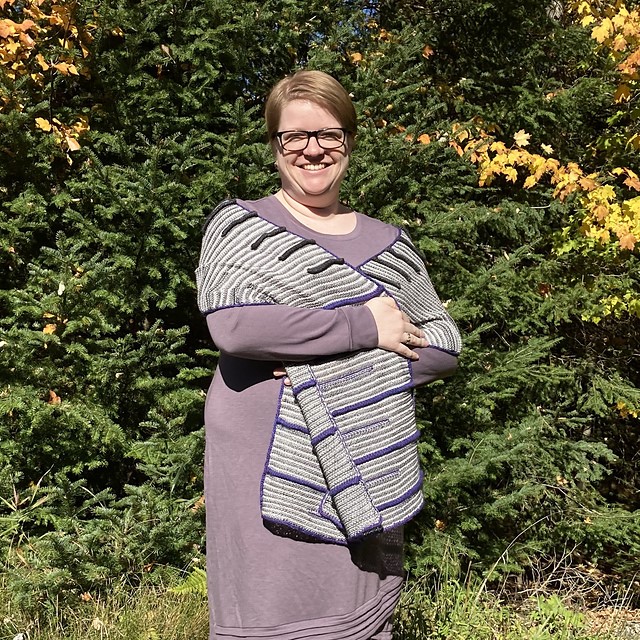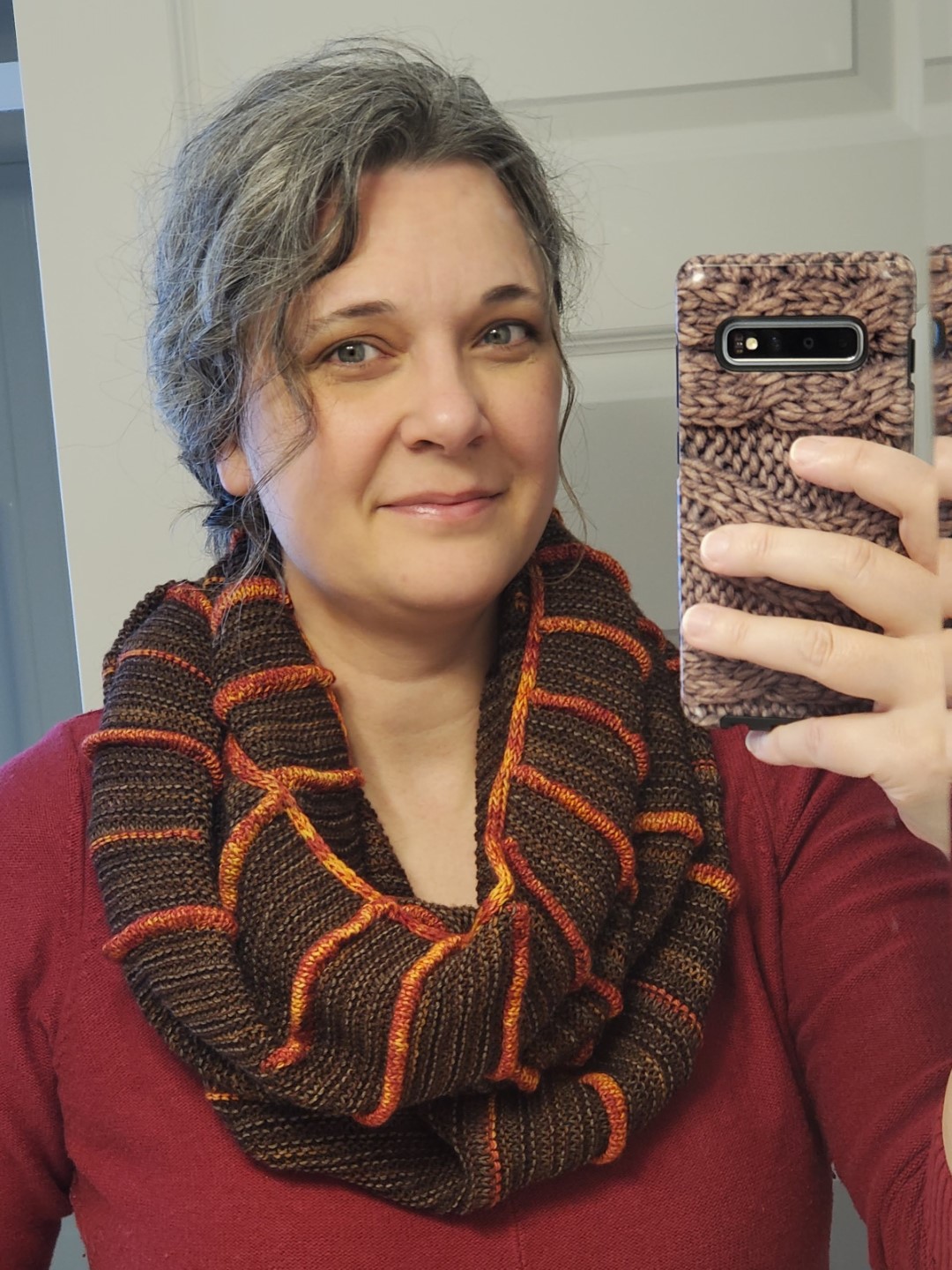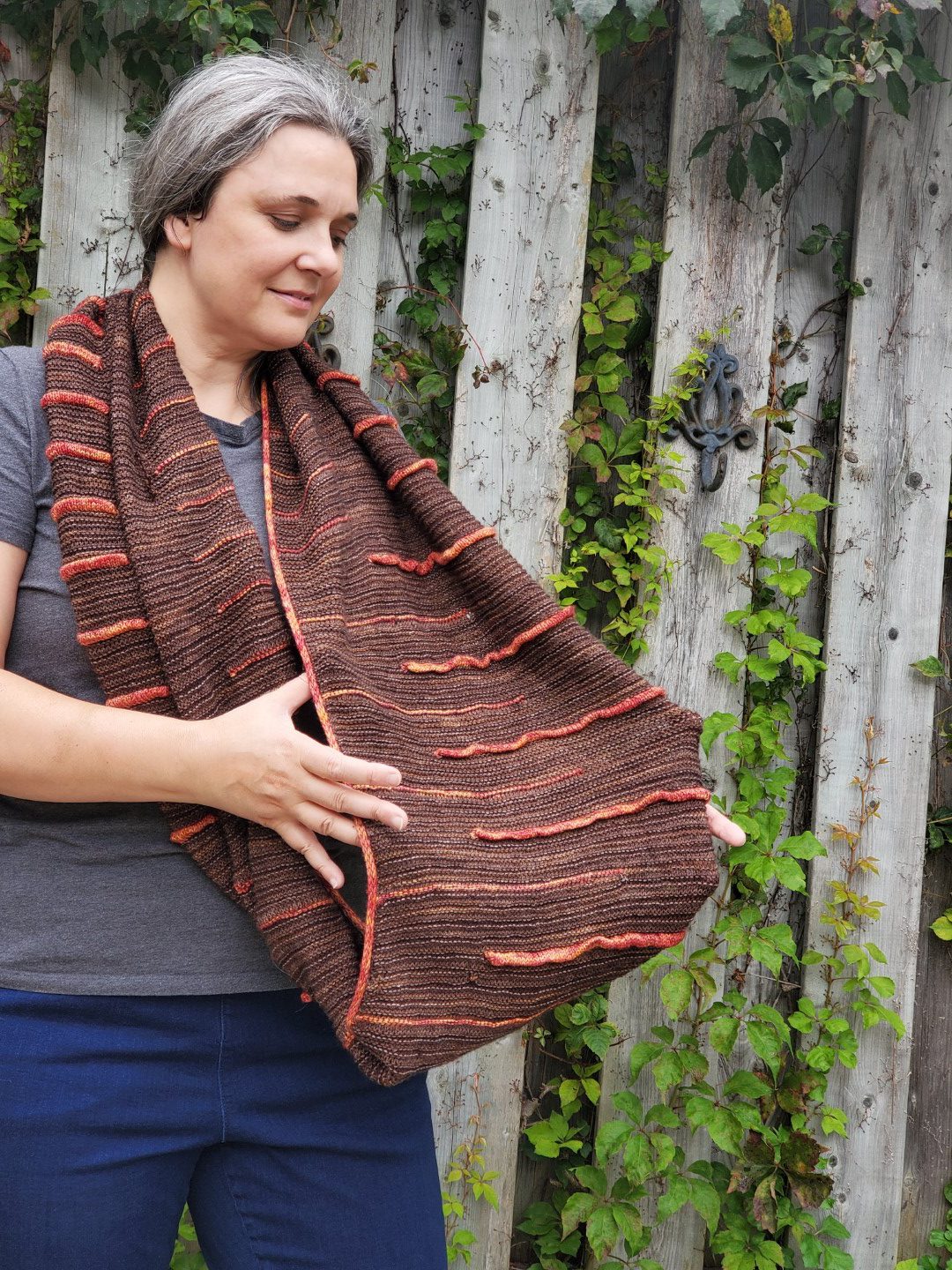 Line drawings have a simple beauty in that they define and create space. Studying architecture, I discovered a beauty in the power of lineweights defining spaces, and spaces created by lines. The lines create the space, and the space becomes a physical manifestation as a result of the placement of some simple lines.
Many of my designs in architecture school were long rectangles. This shape and its proportion have always made sense to me. A simple slender rectangle serves as an elegant backdrop for subtle details.
This design uses fingering weight yarn with subtle textural differences and a complementary accent color to create 3-dimensional lines. The long piece can be draped in a variety of ways, resulting in new patterns formed. The two halves each have their own rhythm and proportion. The simple pattern of lines and spaces suits a variety of personal styles. I considered both my style and that of Dianne (Suburban Stitcher) when creating this rhythmic design.
An idea of "positive space" is something we strive to achieve. By reversing the words to "space positive," we are encouraged to evaluate our existing spaces and find our own positive energy within.
I hope you find some positivity in your own space when you knit your SPACE POSITIVE WRAP.
Find full gallery images here.
YARN
The sample uses the same colorway for MC1 and MC2 in different fiber content. This design would also look striking in 2 different colors for MC1 and MC2. The choice is yours! Use the coloring page to try out ideas.
MC1: Suburban Stitcher Sock, 75% Superwash Merino, 25% Nylon, 460 yd / 421 m per 100 g
Sample shown in colorway Sea Smoke, 350 yd / 320 m (76 g)
MC2: Suburban Stitcher Slub Sock, 90% Superwash Merino, 10% Nylon, 438 yd / 401 m per 100 g
Sample shown in colorway Sea Smoke, 329 yd / 300 m (75 g)
CC: Suburban Stitcher Sock, 75% Superwash Merino, 25% Nylon, 460 yd / 421 m per 100 g
Sample shown in colorway Clean Slate, 294 yd / 269 m (64 g)
DIMENSIONS
13.7″ x 72″ (35 cm x 183 cm) blocked dimensions — width may end up smaller after drying
GAUGE & NEEDLES
17.5 stitches and 32 rows = 4″ (10 cm) in garter stitch
Gauge is not critical, but will affect finished size of piece
US 7 (4.5 mm) min. length 24″ (60 cm) or size needed to get gauge, US 8 (5.0 mm) needle (or 1 size larger than working needle) for icord bind-off
TECHNIQUES:
Provisional cast-on, knit stitch, knitted welts, icord bind-off
PATTERN ATTRIBUTES
This reversible design s a written pattern with photo tutorials, a schematic, and a blank coloring page.
EXPLORE ON INSTAGRAM
#SpacePositiveWrap
Tech editing: Bronwyn Hahn
Yarn Support: Suburban Stitcher
Test knitting: Kara C., Cindy E., Rebecca F.,Jaren G., Jess L., Lindsey P., Amy S., Lauren S., Anita T., & Susie W.