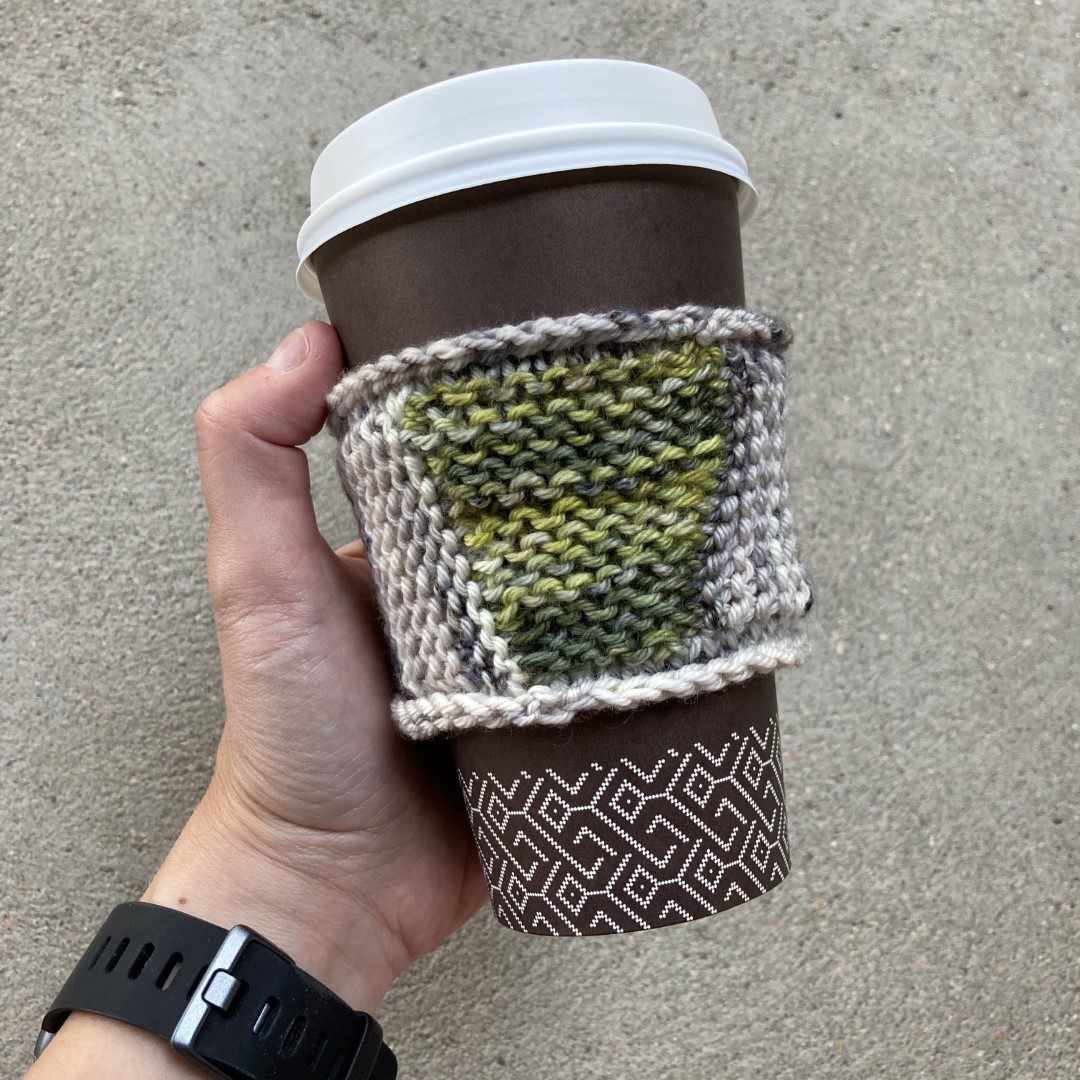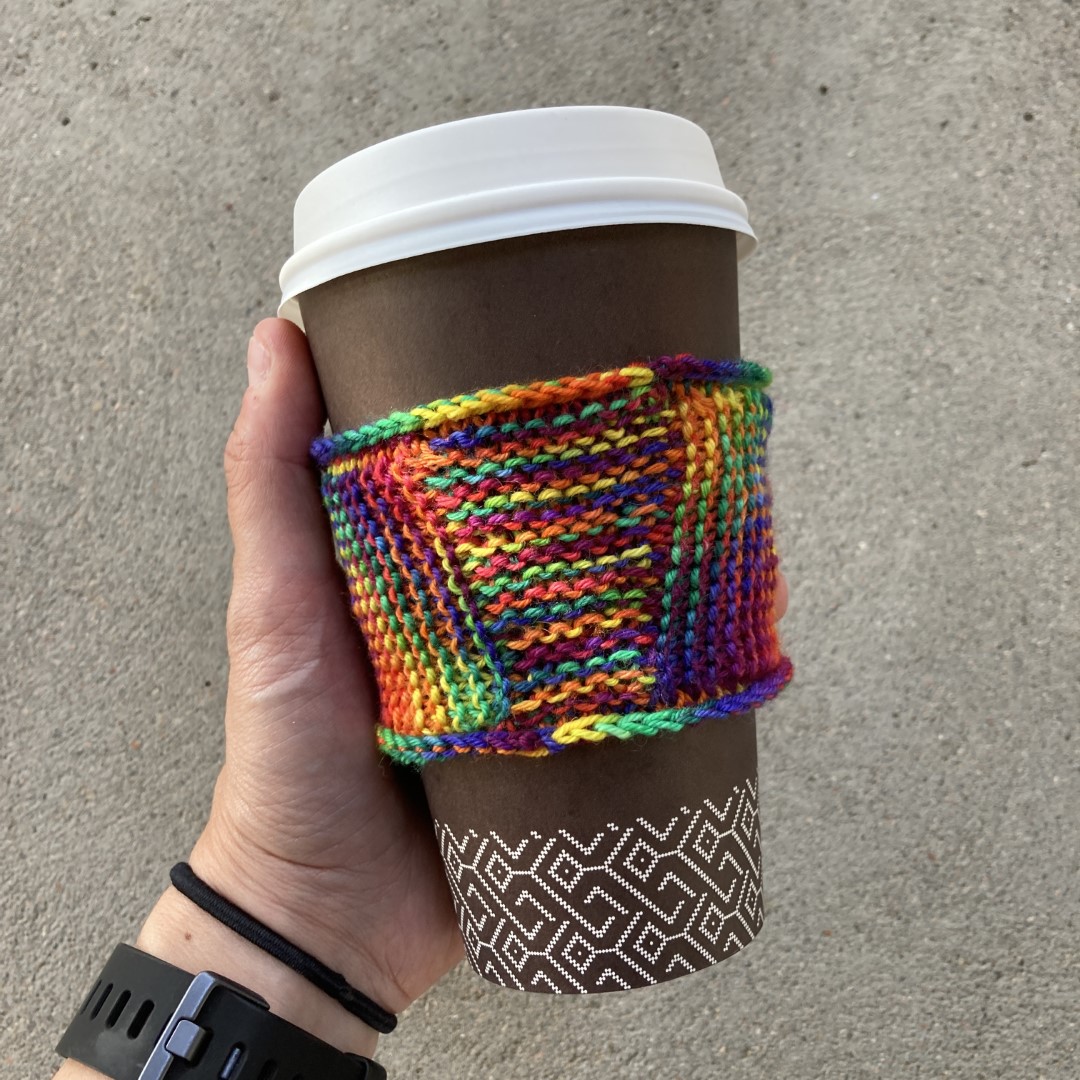 This cup cozy is designed for a 16 oz. disposable coffee cup. Directions are provided for 4 different yarn weights. This project is a skill-builder in modular knitting with the added benefit of being a useful item! The pattern was developed for a class in person at the Zombie Knitpocalypse retreat in Rochester, MN in June 2022. The knitters who took the class served as the test knitters for this pattern. This is a written pattern with photo tutorials.
The main page example shown in 2 colors of DK weight yarn. Using 2 contrasting colors can help so that there is a visible contrast when joining the work.
YARN WEIGHT / SUGGESTED NEEDLE SIZE / GAUGE
Fingering weight, US 2 (2.75 mm), 26 stitches & 52 rows = 4" (10 cm)
Sport weight, US 3 (3.25 mm), 24 stitches & 48 rows = 4" (10 cm)
DK weight, US 4 (3.5 mm), 22 stitches & 44 rows = 4" (10 cm)
Worsted weight, US 5 (3.75 mm), 20 stitches & 40 rows = 4" (10 cm)
NOTE: In each listed gauge, the row gauge is 2x the stitch gauge. That's how garter stitch works! When making your piece, pay attention to the stitch gauge, and the row gauge will follow. It is pretty easy to count row gauge in garter stitch, as each garter ridge equals 2 rows.
YARN
Fingering, sport, DK, or worsted weight yarn in 1 or more colors, approximately 40 yd / 36.5 m TOTAL. Example shown in pattern has 2 colors. Feel free to add as many colors as you like.
SIZE
Designed to fit a 16 oz coffee cup
Dimensions are approximate!
Height: 2.5" / 6.25 cm
Circumference at top: 9.75" / 24.5 cm
Circumference at bottom: 8.25" / 20.5 cm
TOOLS
Needle required for one of the gauges provided in preferred length for small circumference knitting
Crochet hook in similar size to working needle
Locking stitch marker to indicate RS side of work
Small amount of waste yarn
TECHNIQUES
Provisional cast-on, knit stitch, join-as-you-go modular knitting
PATTERN ATTRIBUTES
This is a written pattern with photo tutorials. Directions are provided for 4 different yarn weights.
EXPLORE ON INSTAGRAM
#ModularCoffeeCupCozy
Tech editing: Fiber Lili Knits, IG: @fiberlili
Test knitting: Cathy A., Cindy E., Dana E., Jen G., Susan G., Pam K., Sandy M., Kristi P., Phyllis P., Valerie R., Carrie S., Heather S., Pam S., Julie T., Katie T., Lisa T., Allena W., & Sophia W.
From Allena W. / Starknits
Shana is such a fun person and I enjoy spending time with her. Her energy comes through in classes and her patterns. I love the modular knitting and how her patterns are written. I love how open to making it your own Shana is. I've test knit a few of her patterns and she always is down for using handspun or different yarn or adding a detail to make it specific to the knitter.
Allena was a test knitter for Semantics, Modular Coffee Cup Cozy, Shoulder Season and Split Decision Mitts. 
From Jen G.
Shanalines Designs patterns are clever in their design and enjoyable to knit. I've had the opportunity to take a class from Shana at Zombie Knitpocalypse and she is encouraging and patient and always open to feedback. I especially enjoyed knitting her Shoulder Season top. It is a lovely knit and easy to adjust to a longer length which I prefer. I'm never disappointed when I choose to knit one of Shana's patterns.
Jen was a test knitter for Modular Coffee Cup Cozy, Shoulder Season, and Reach For It.