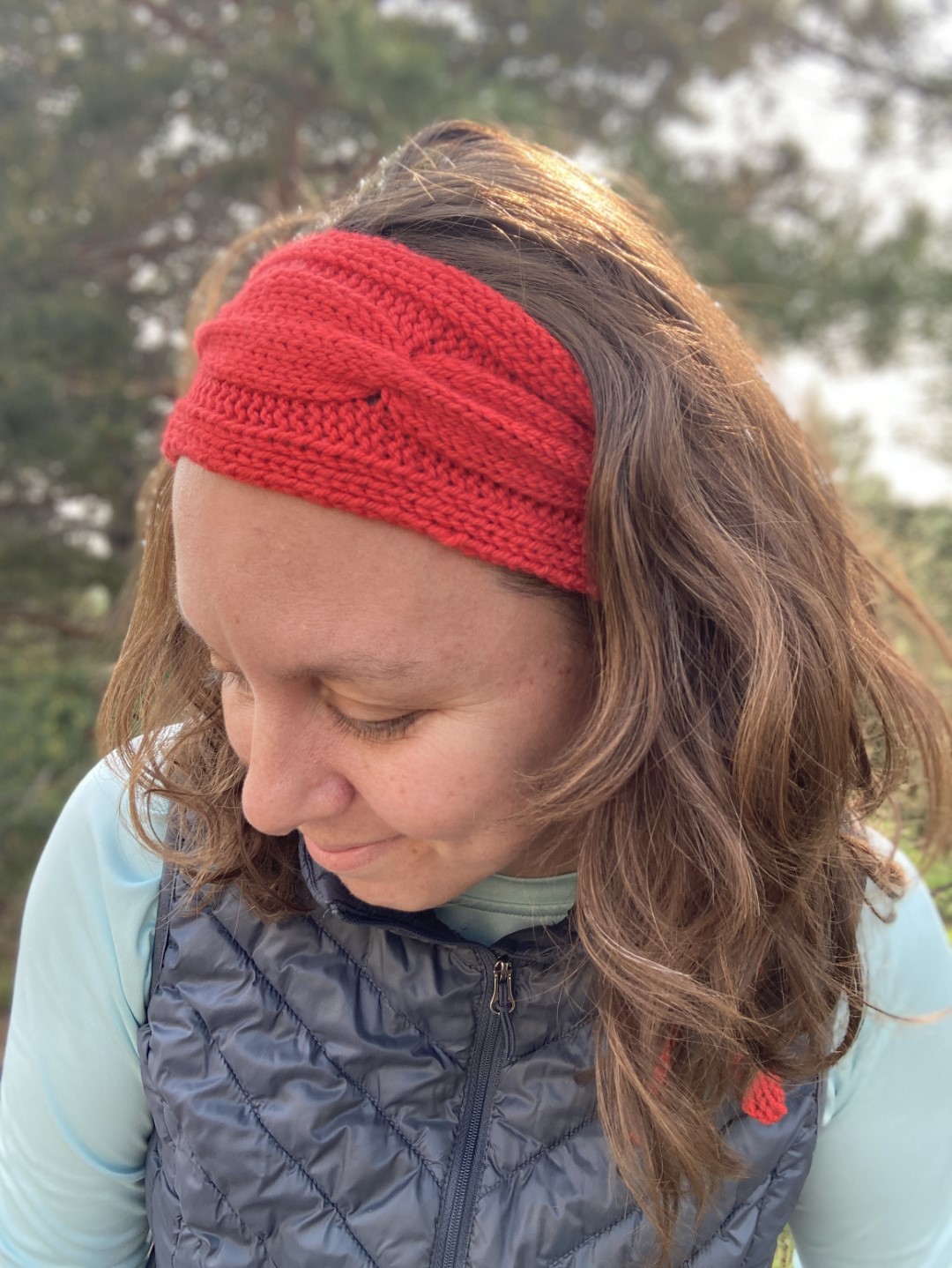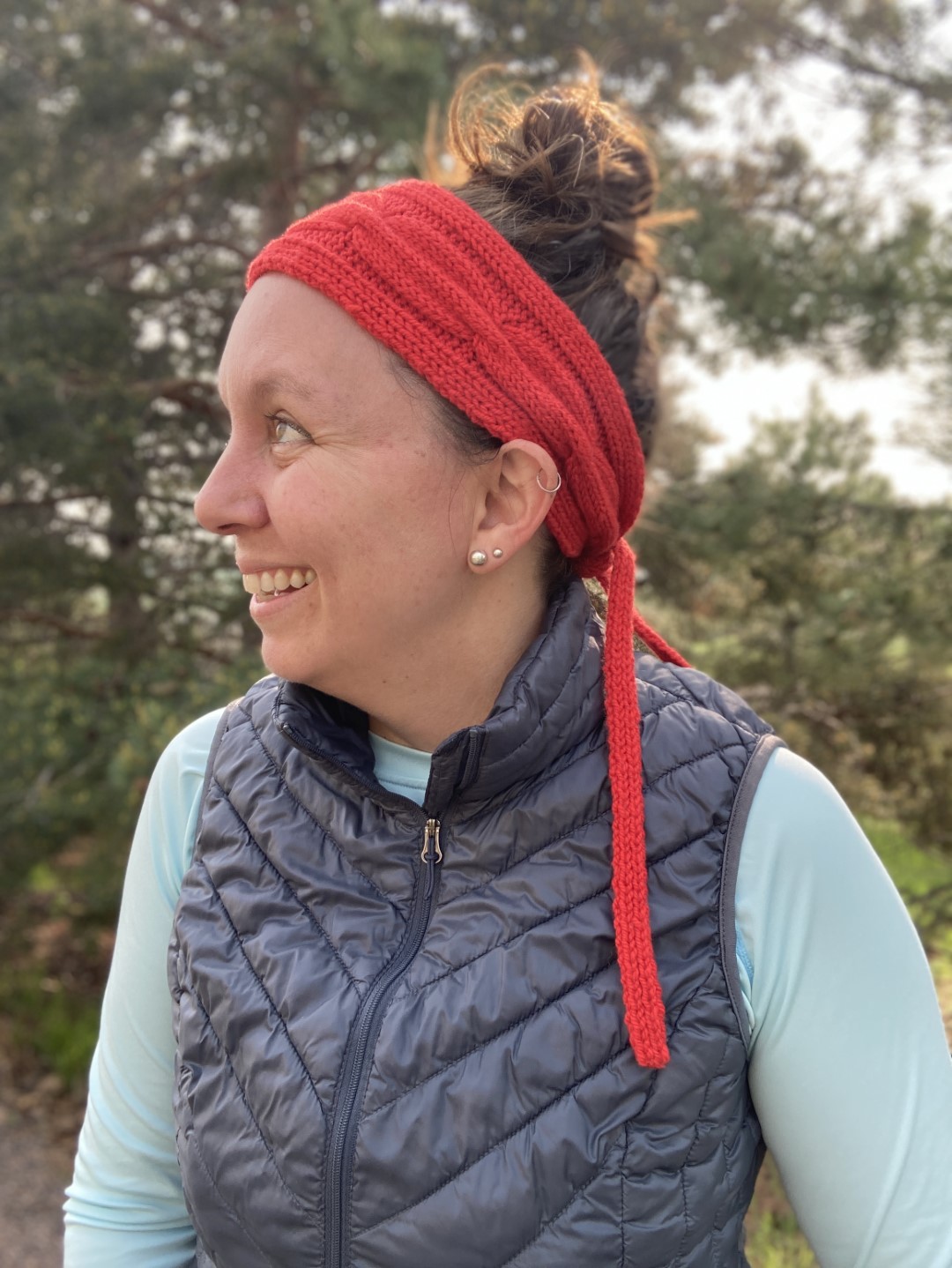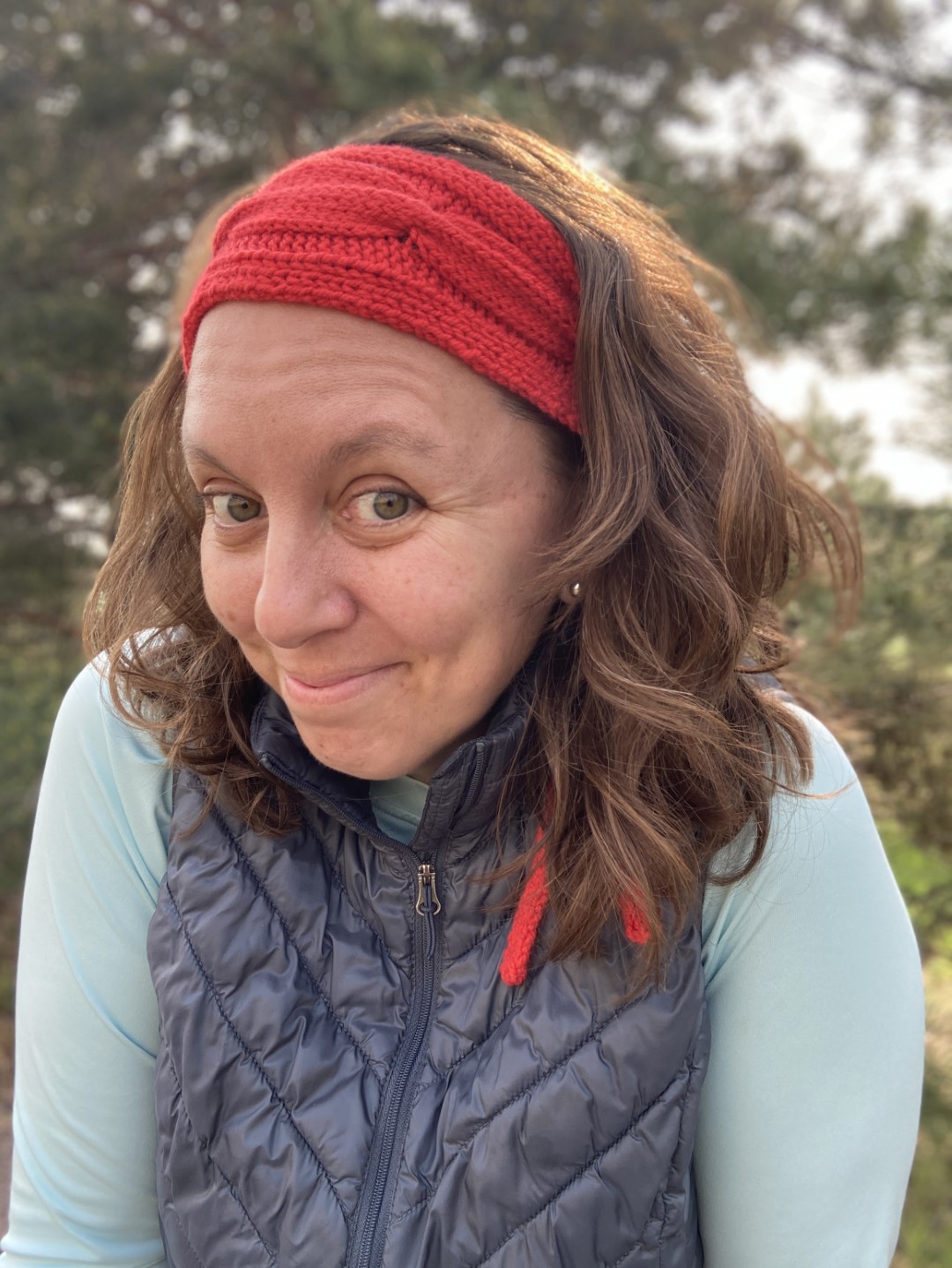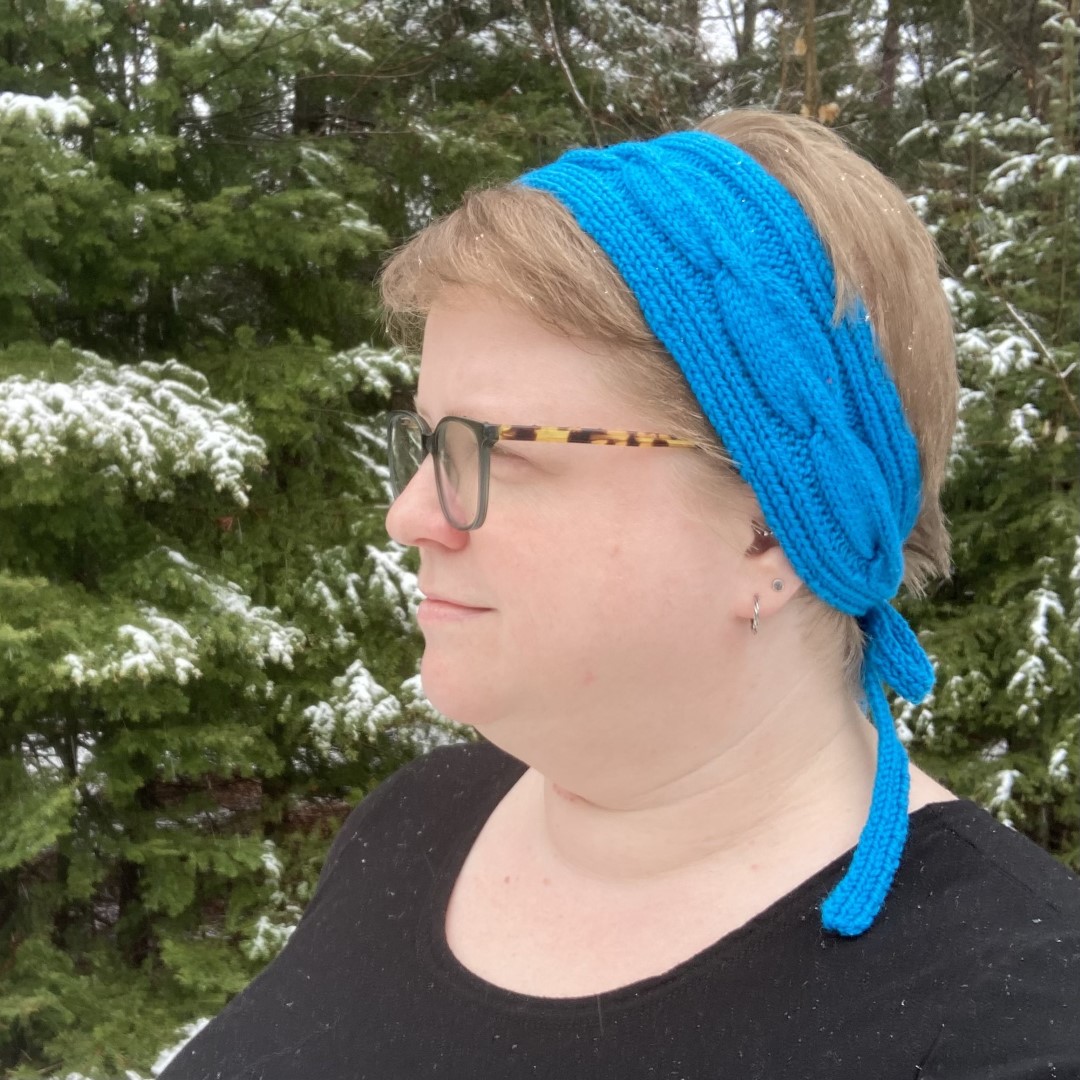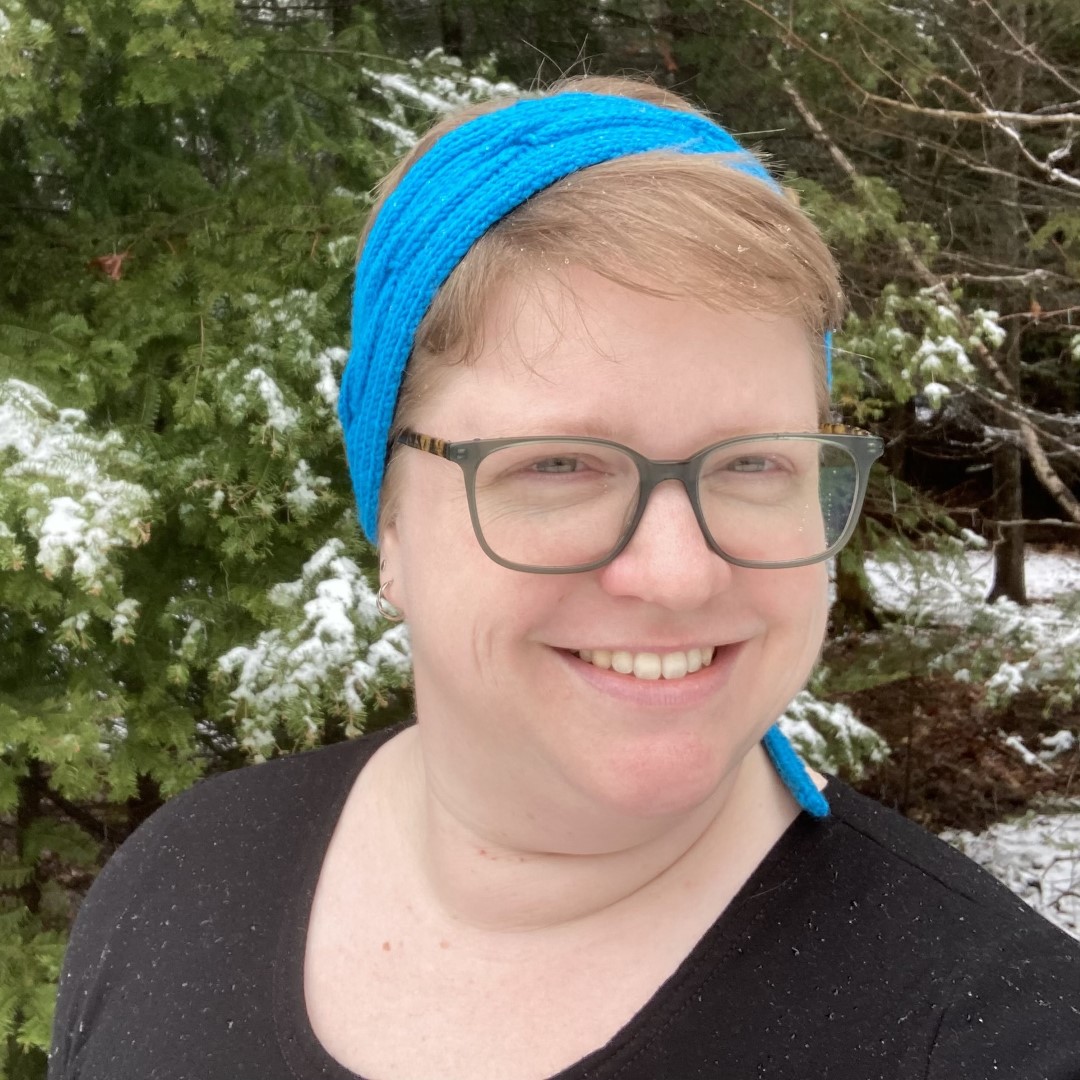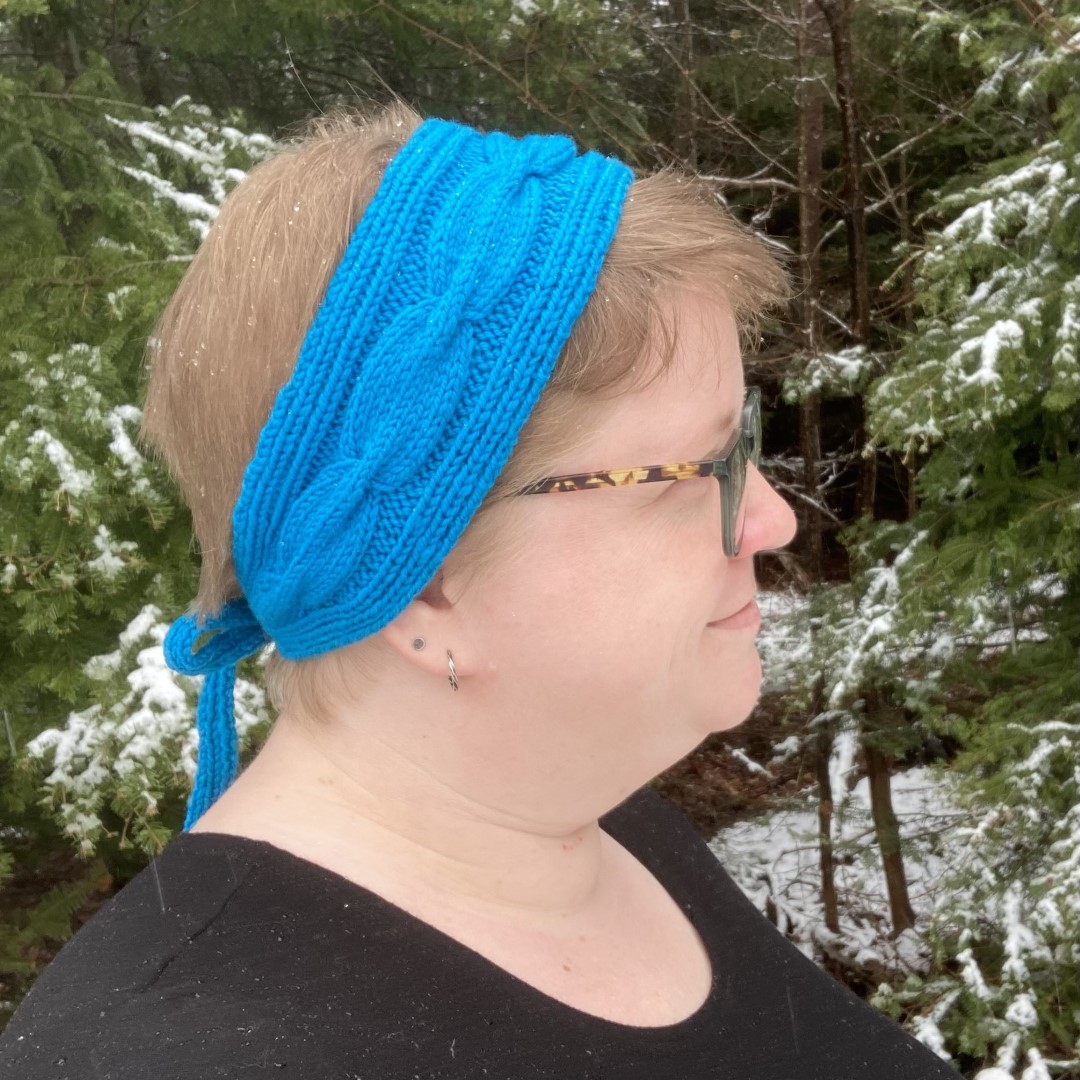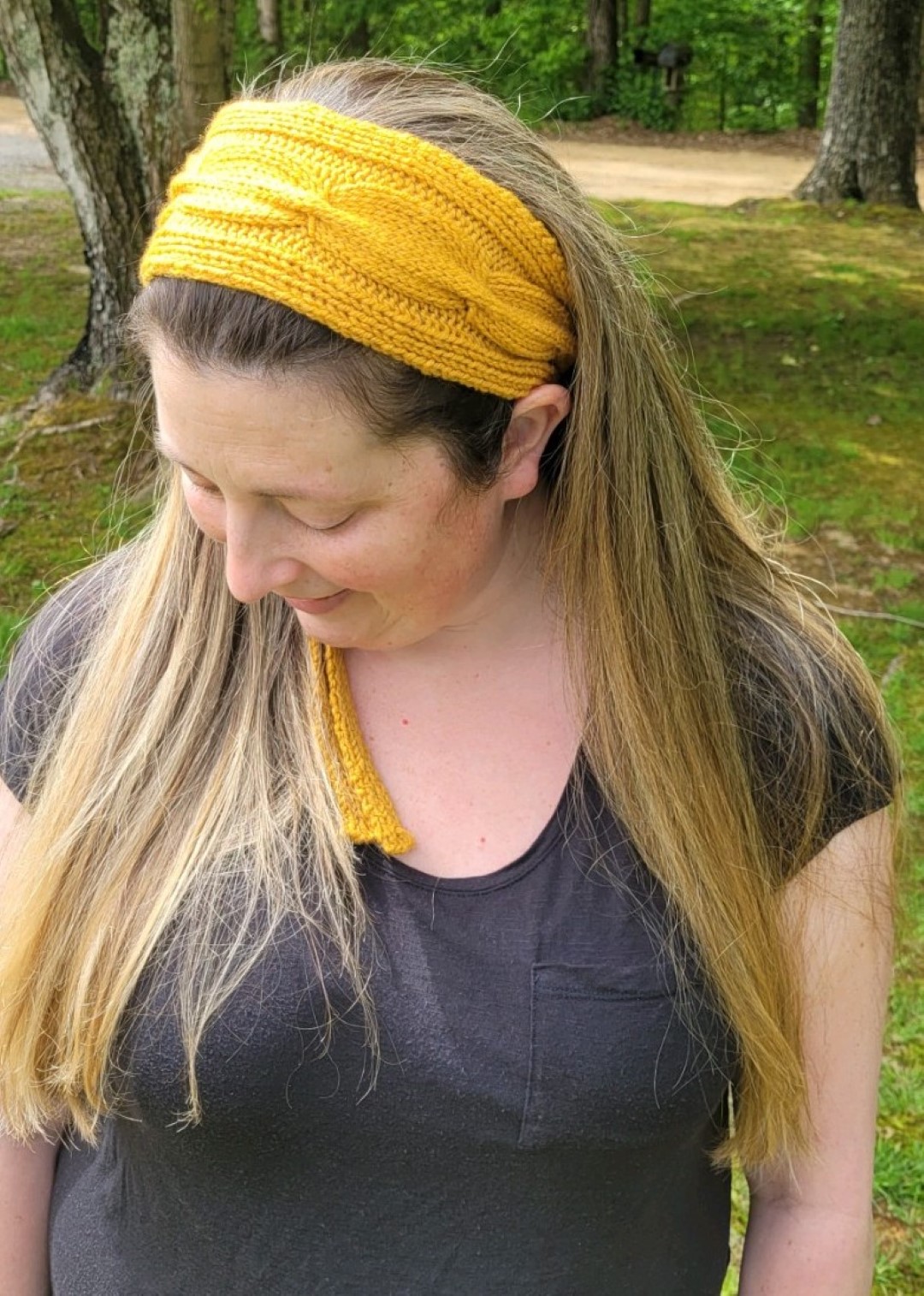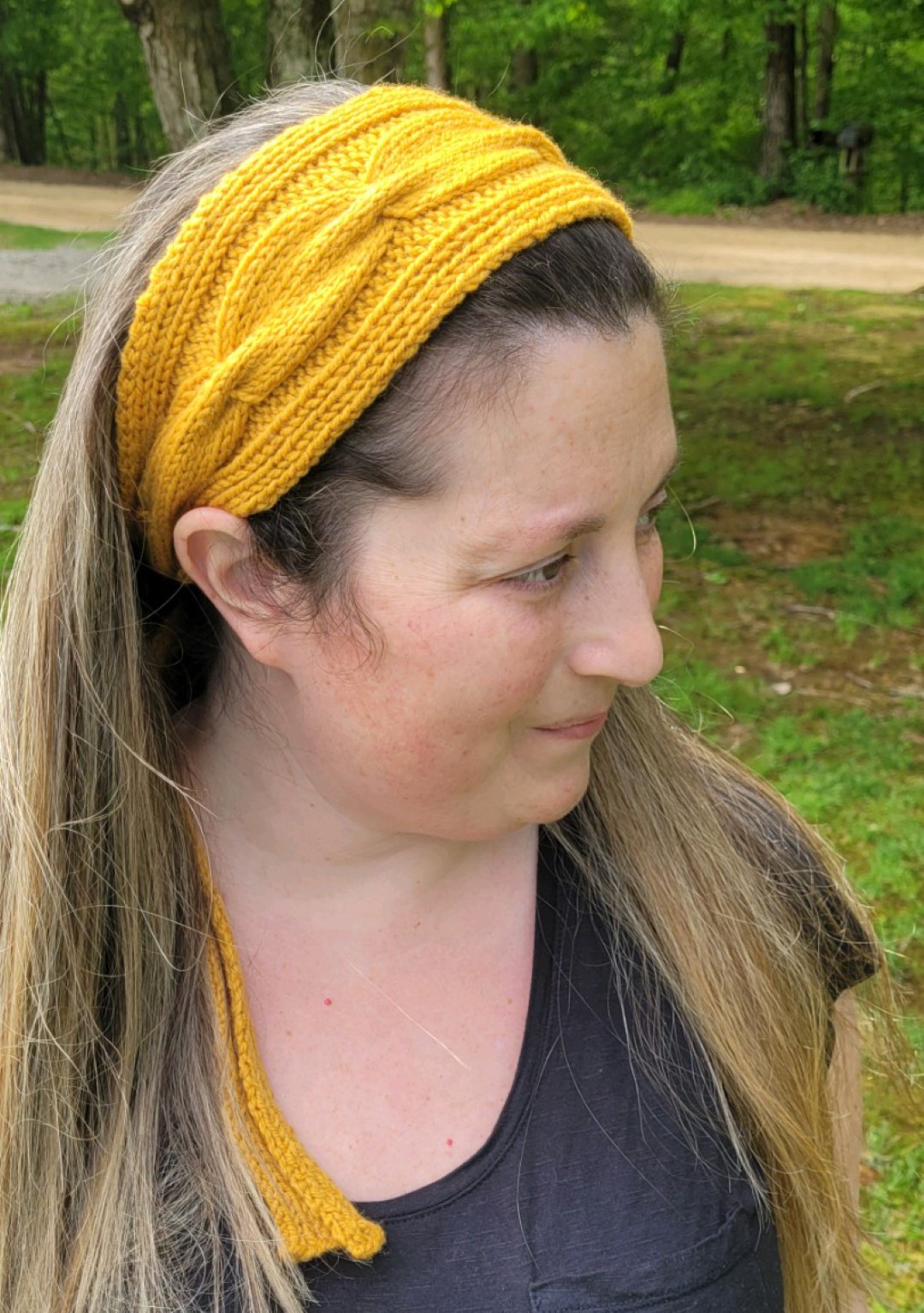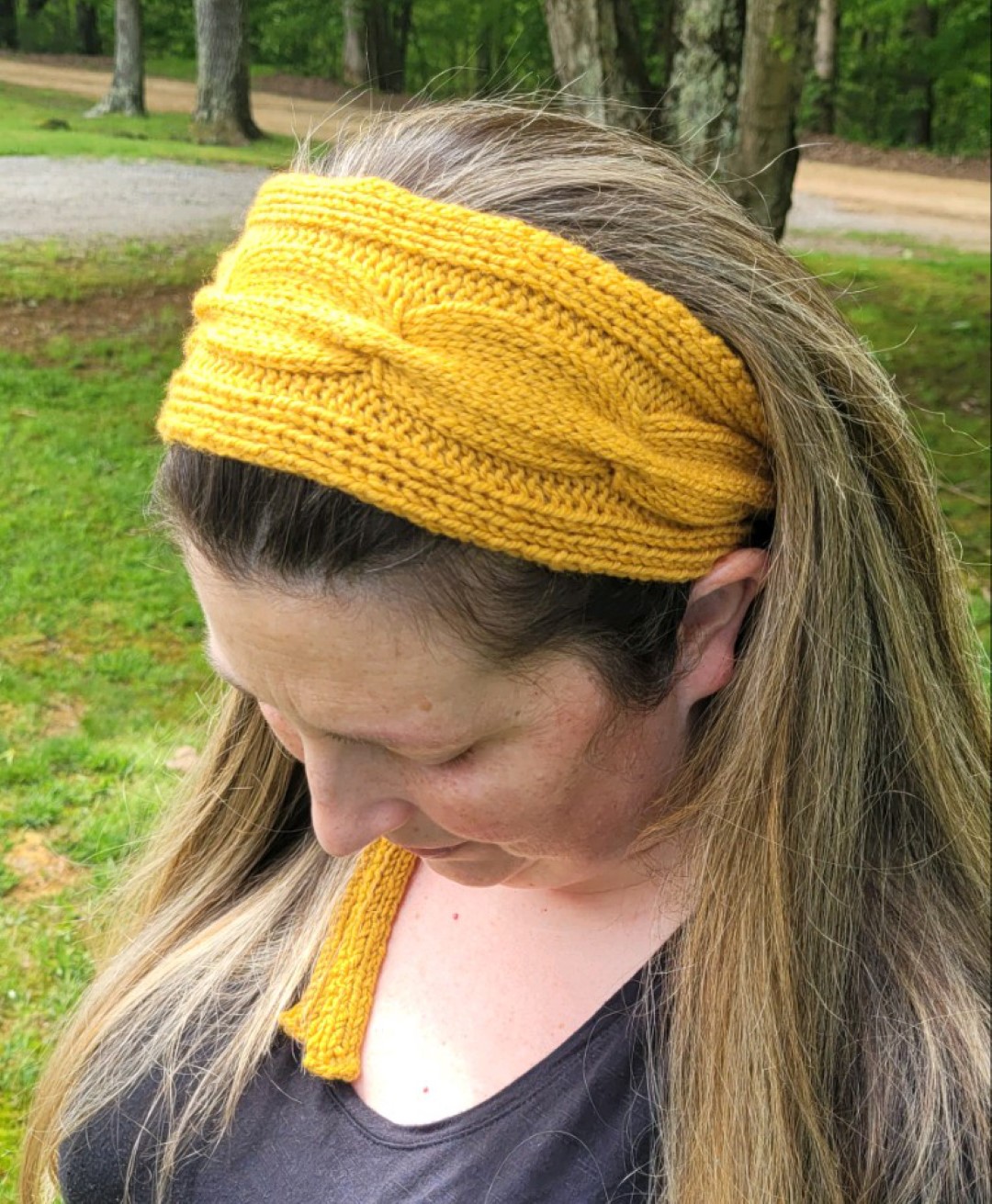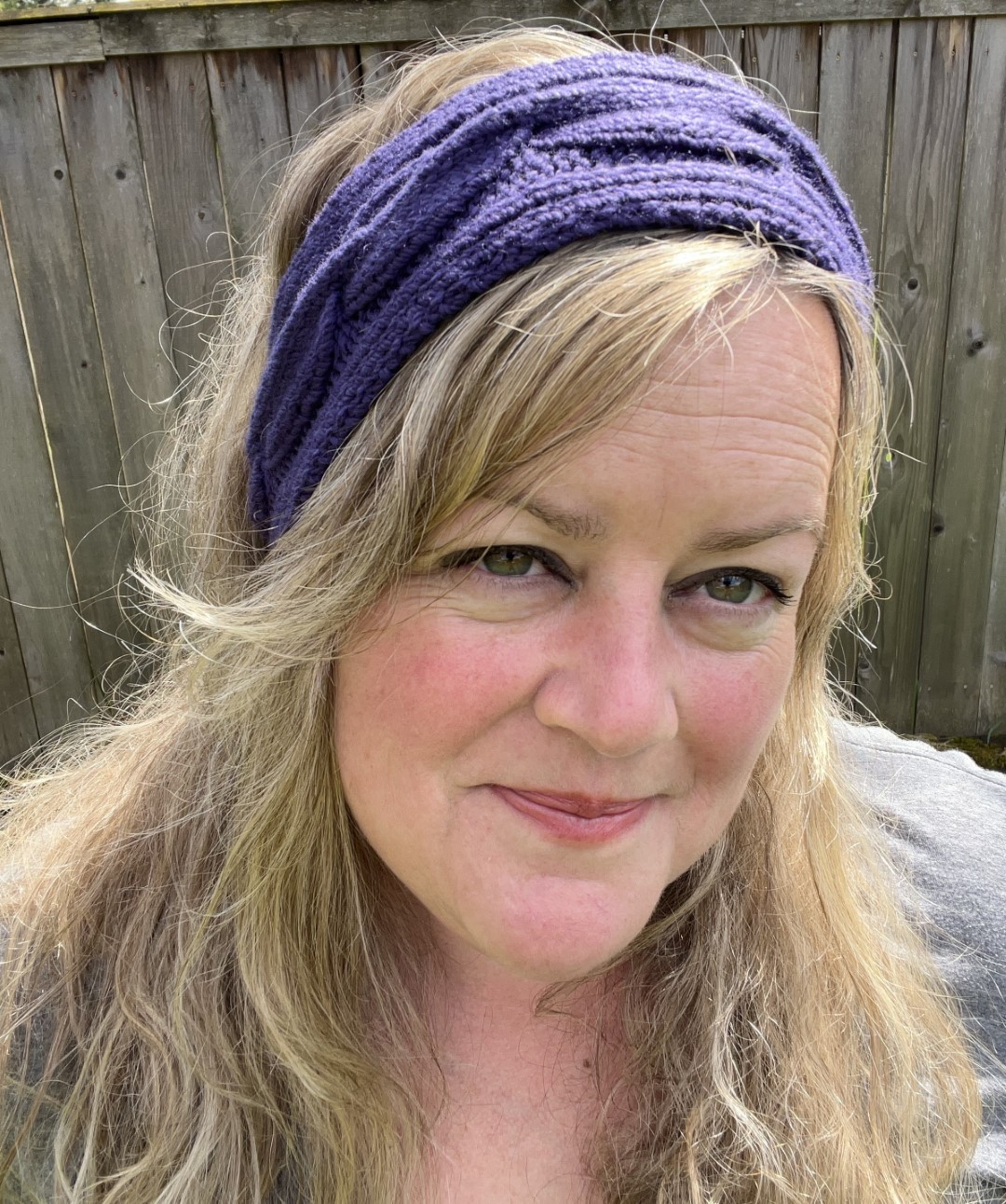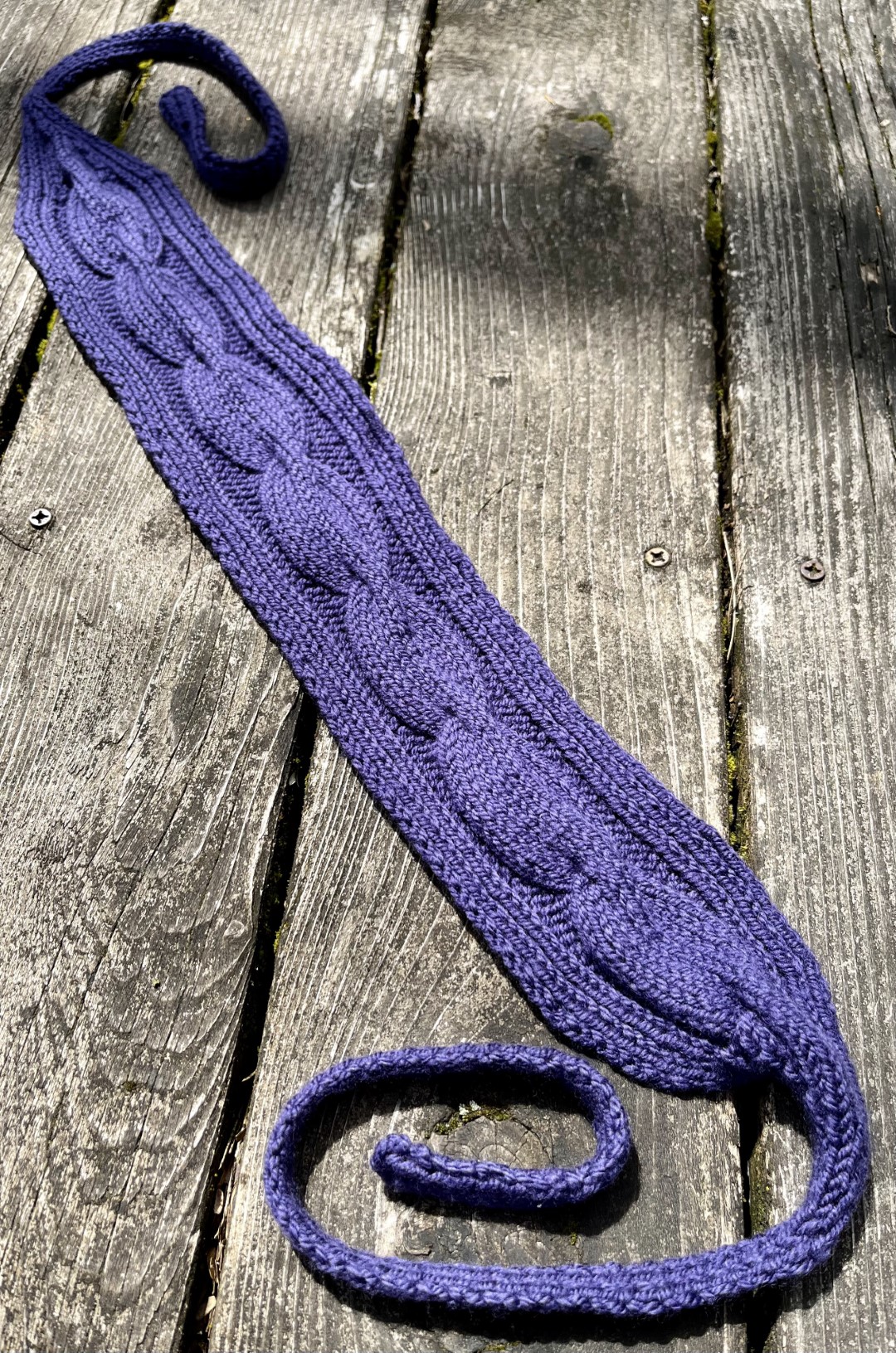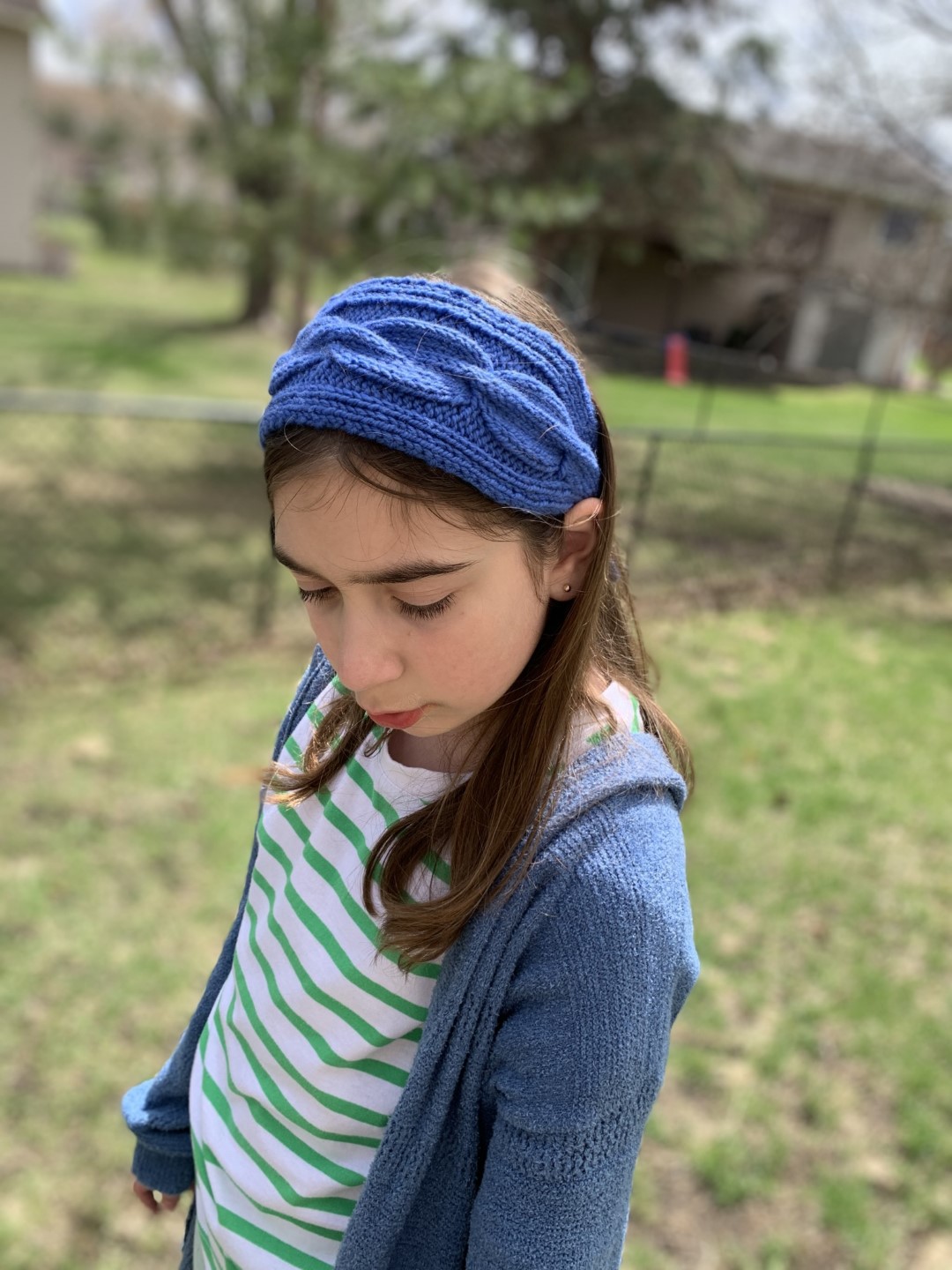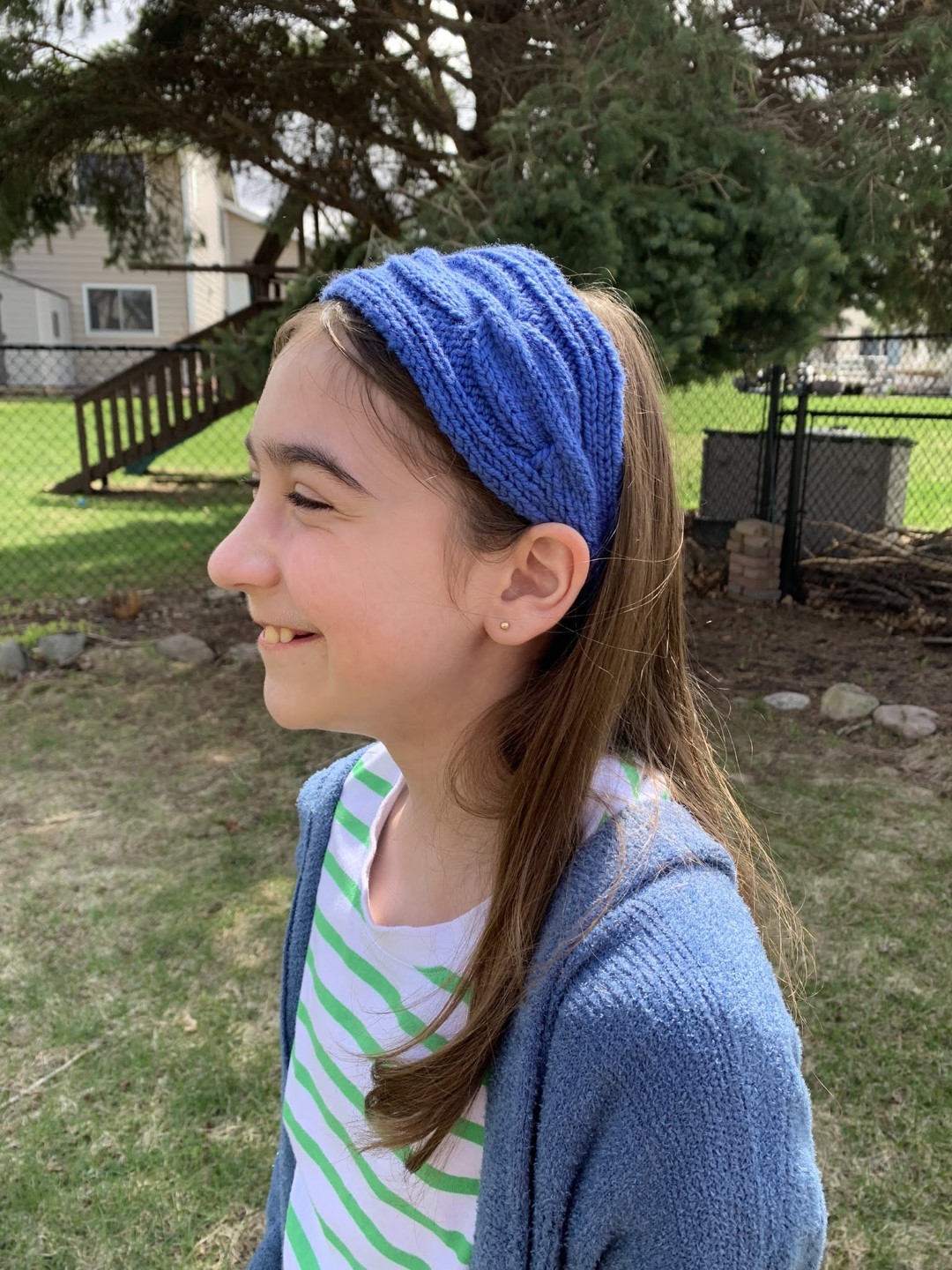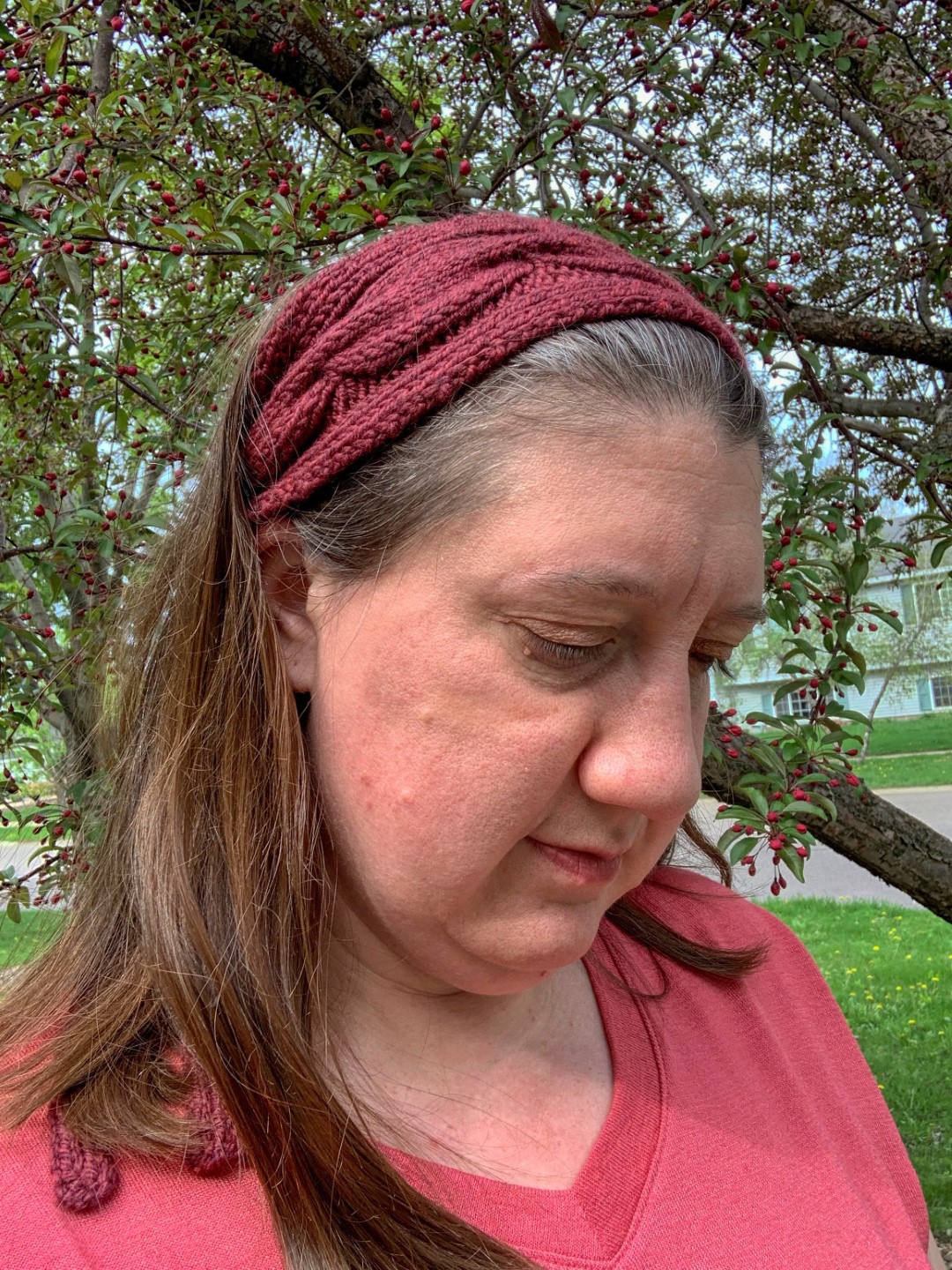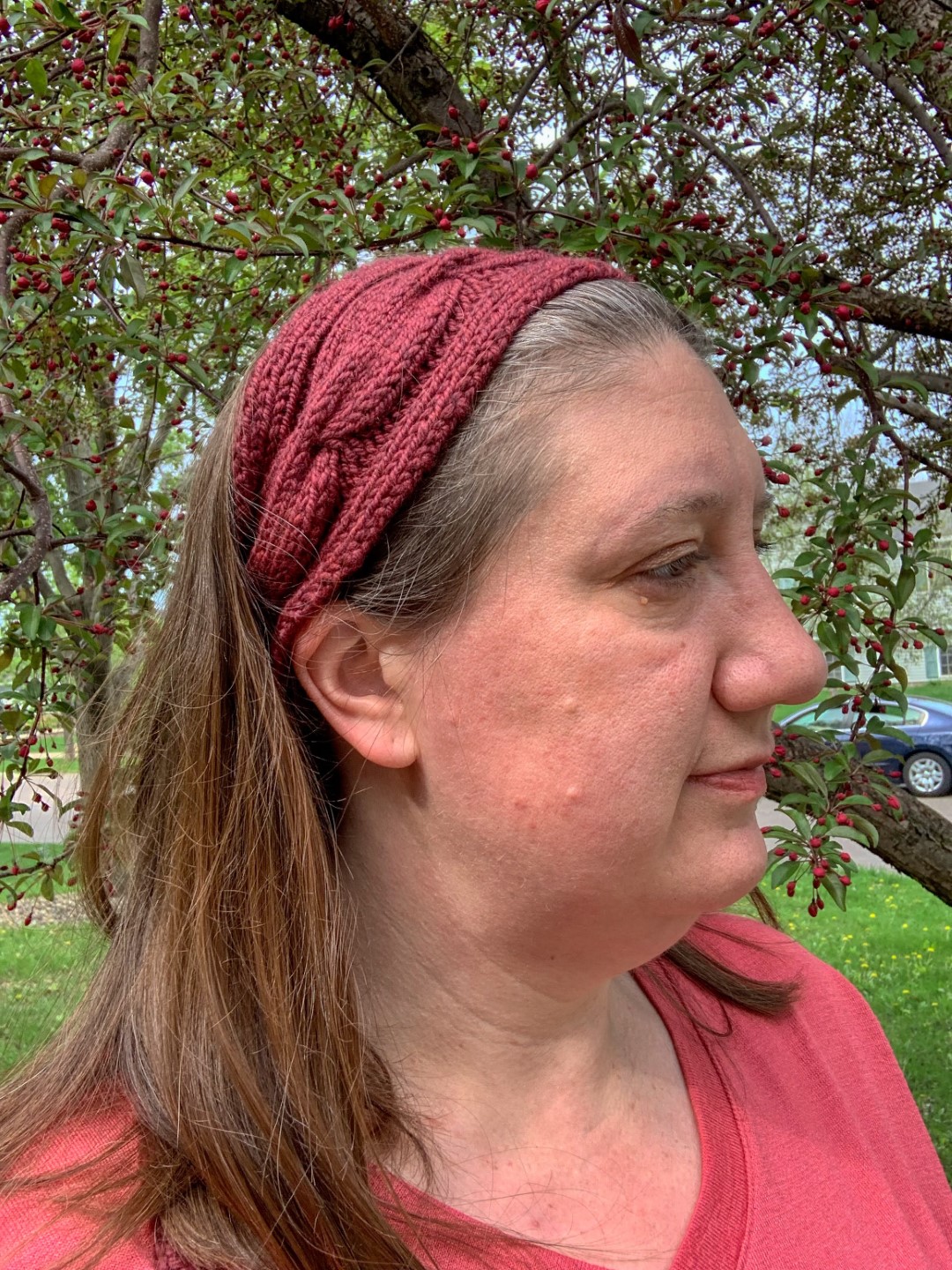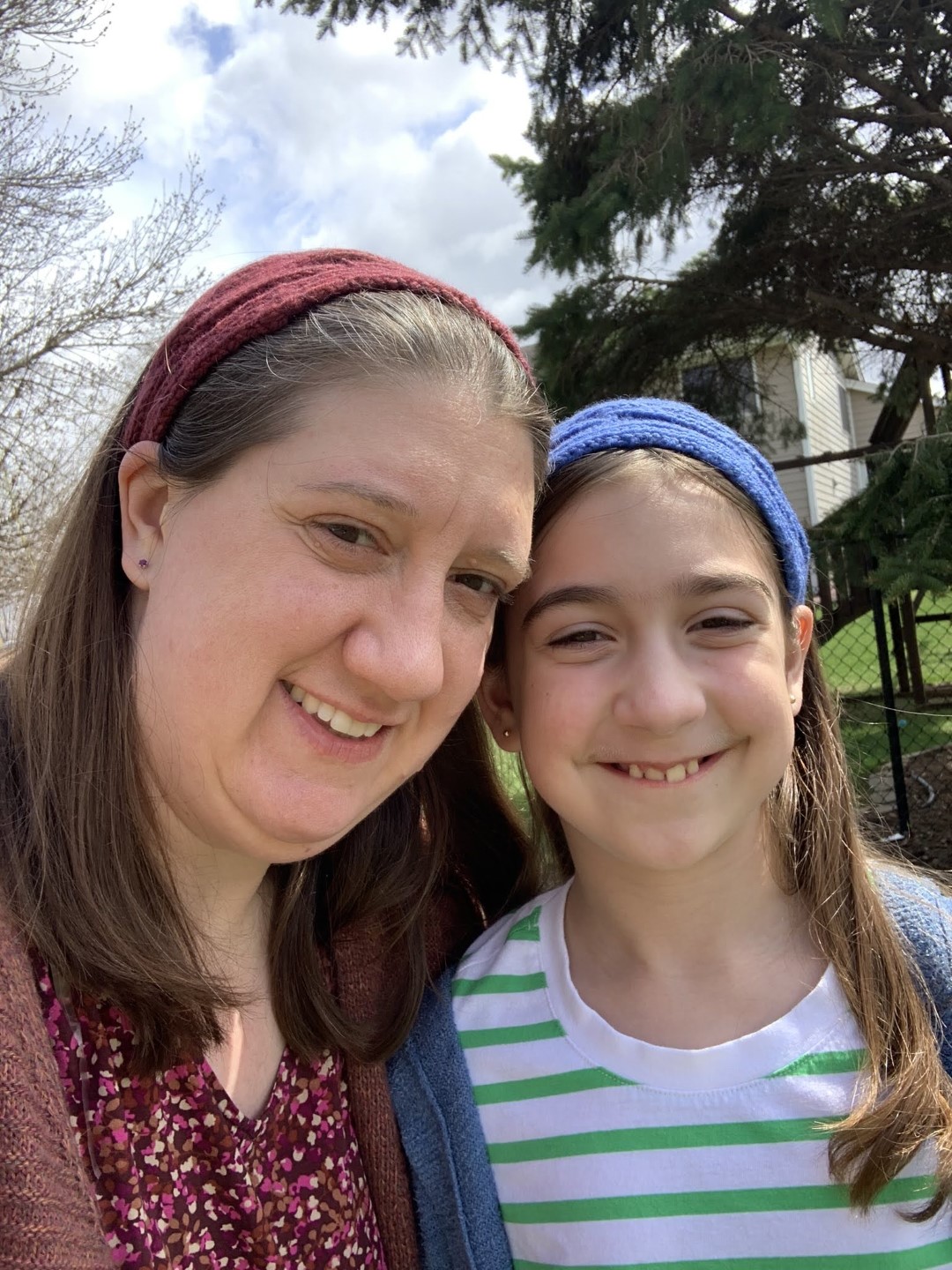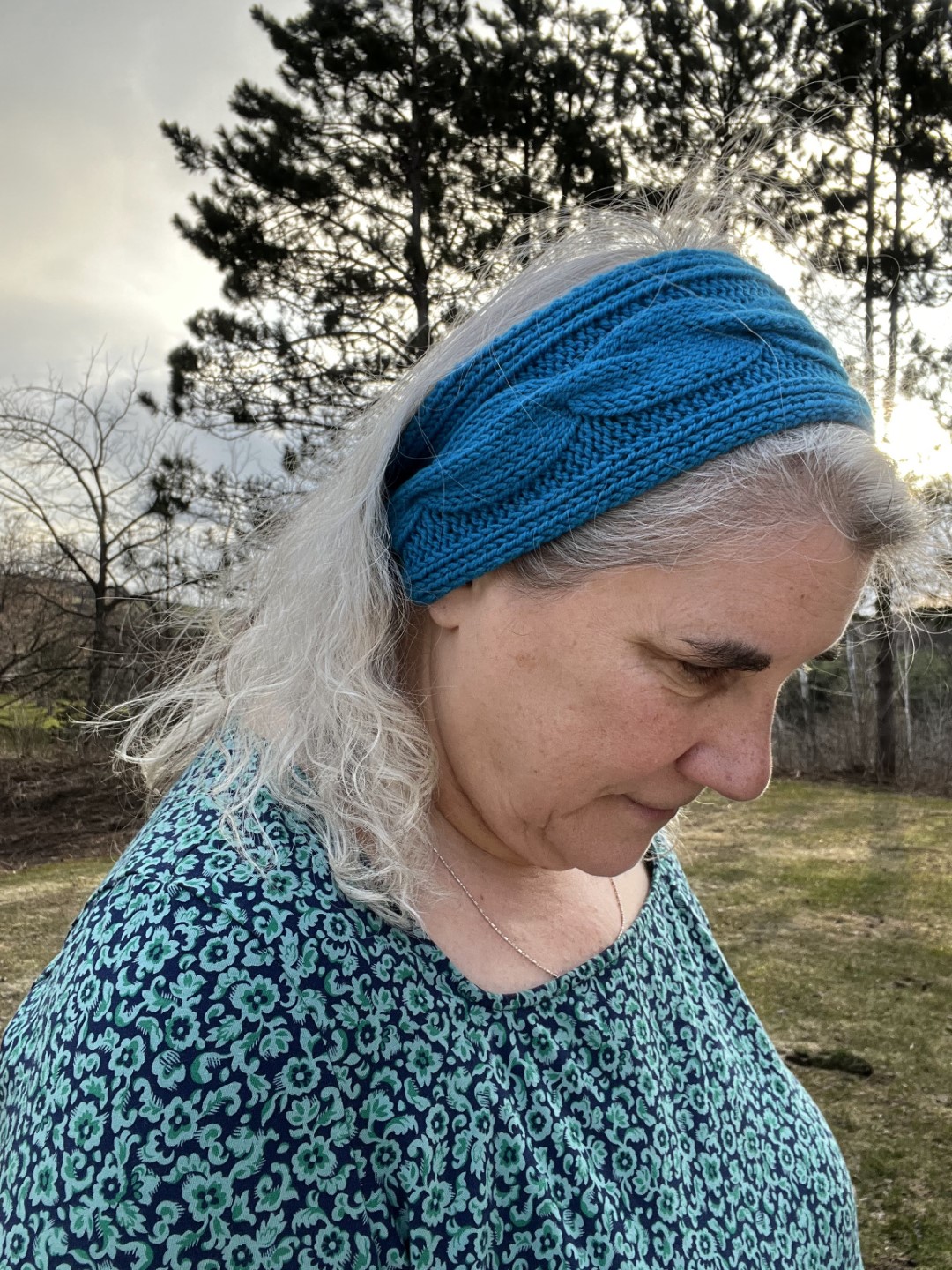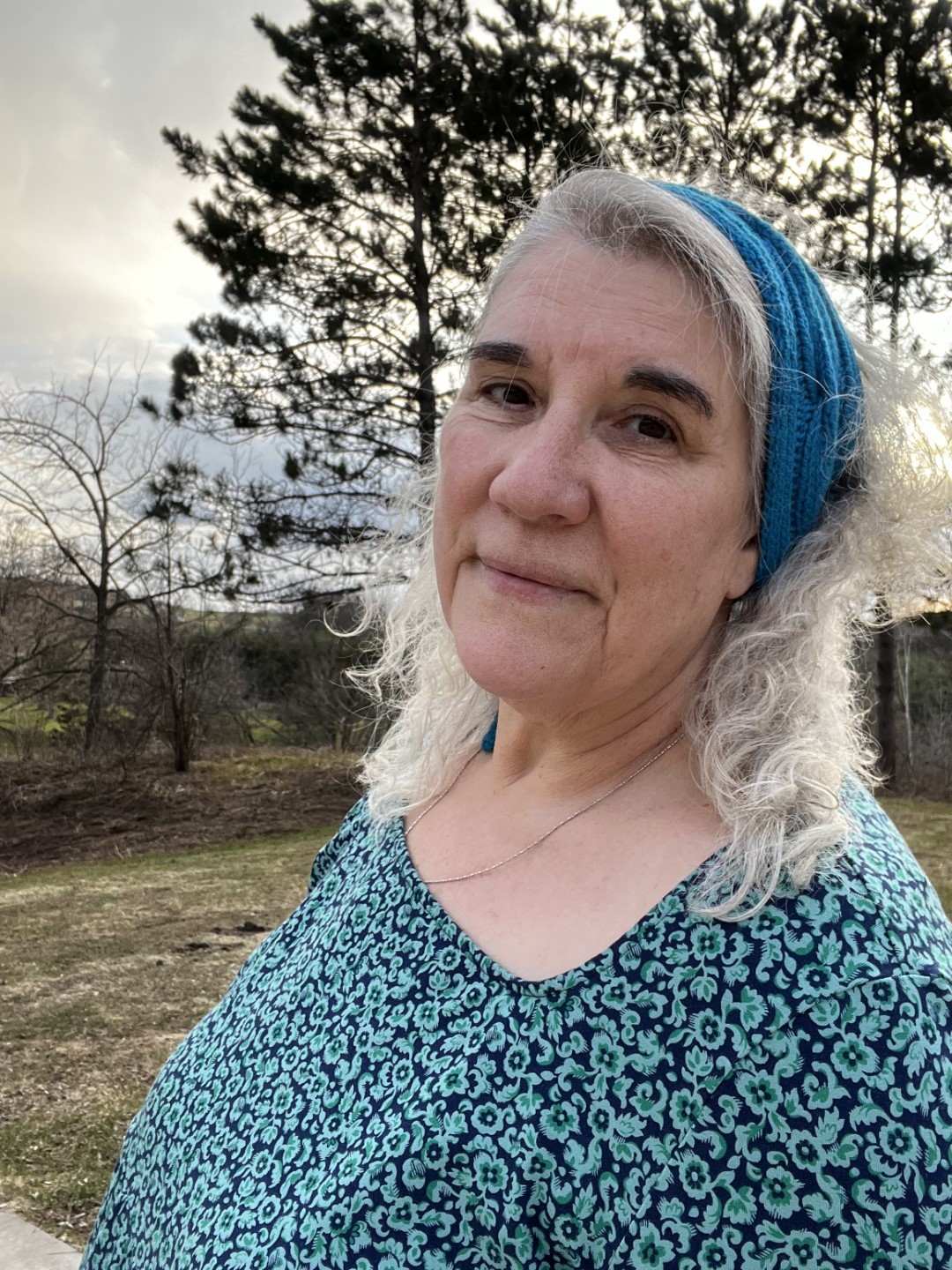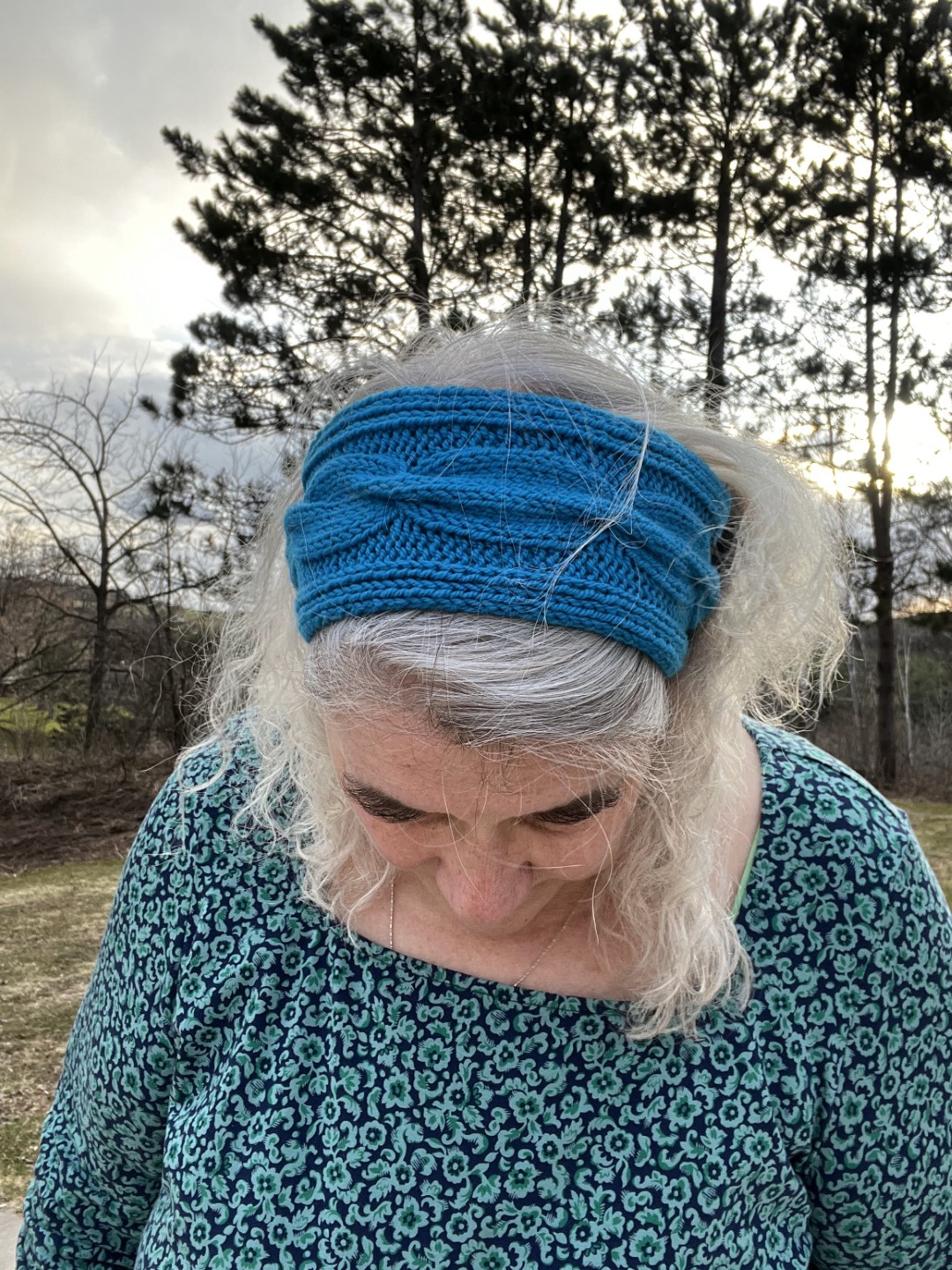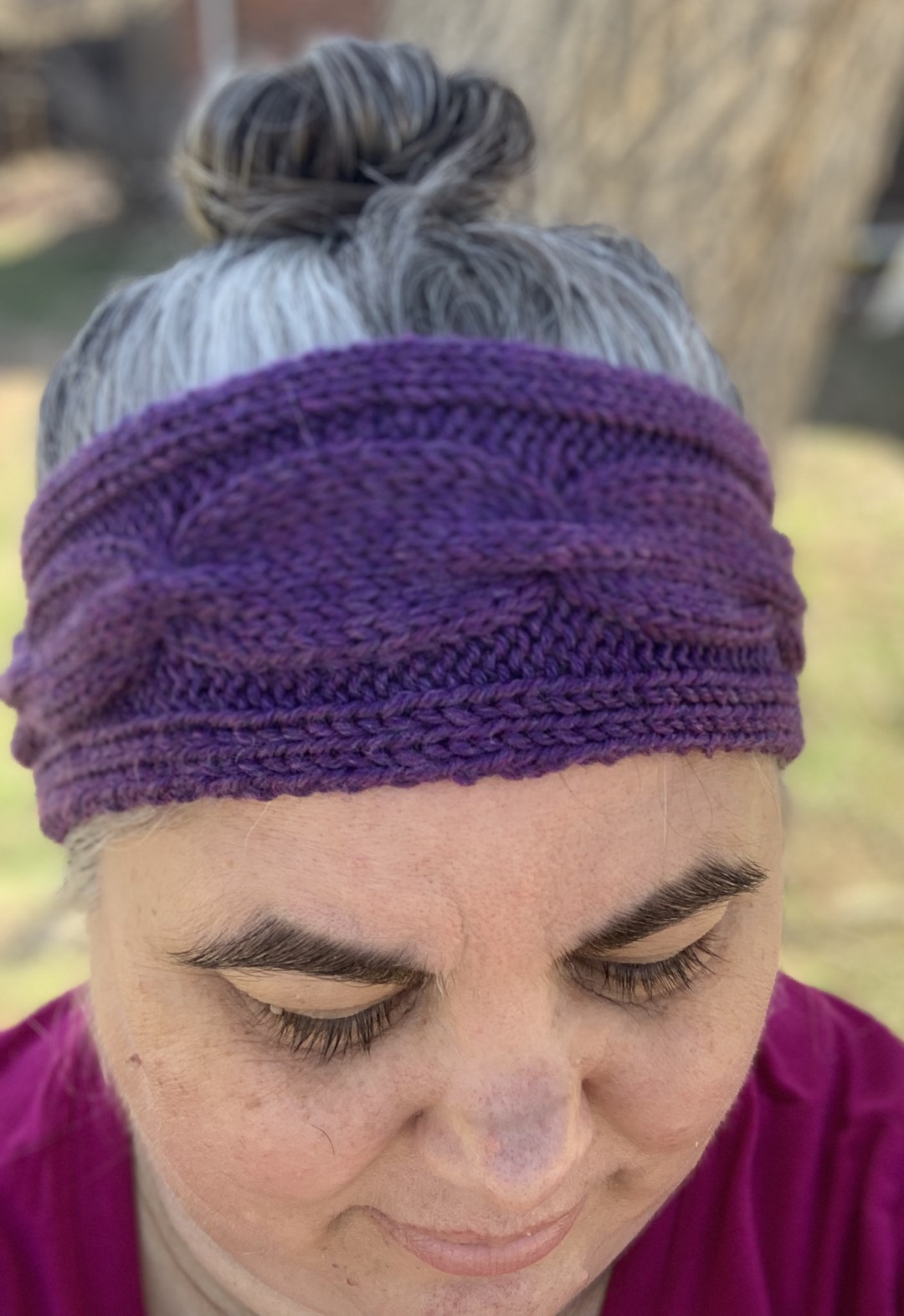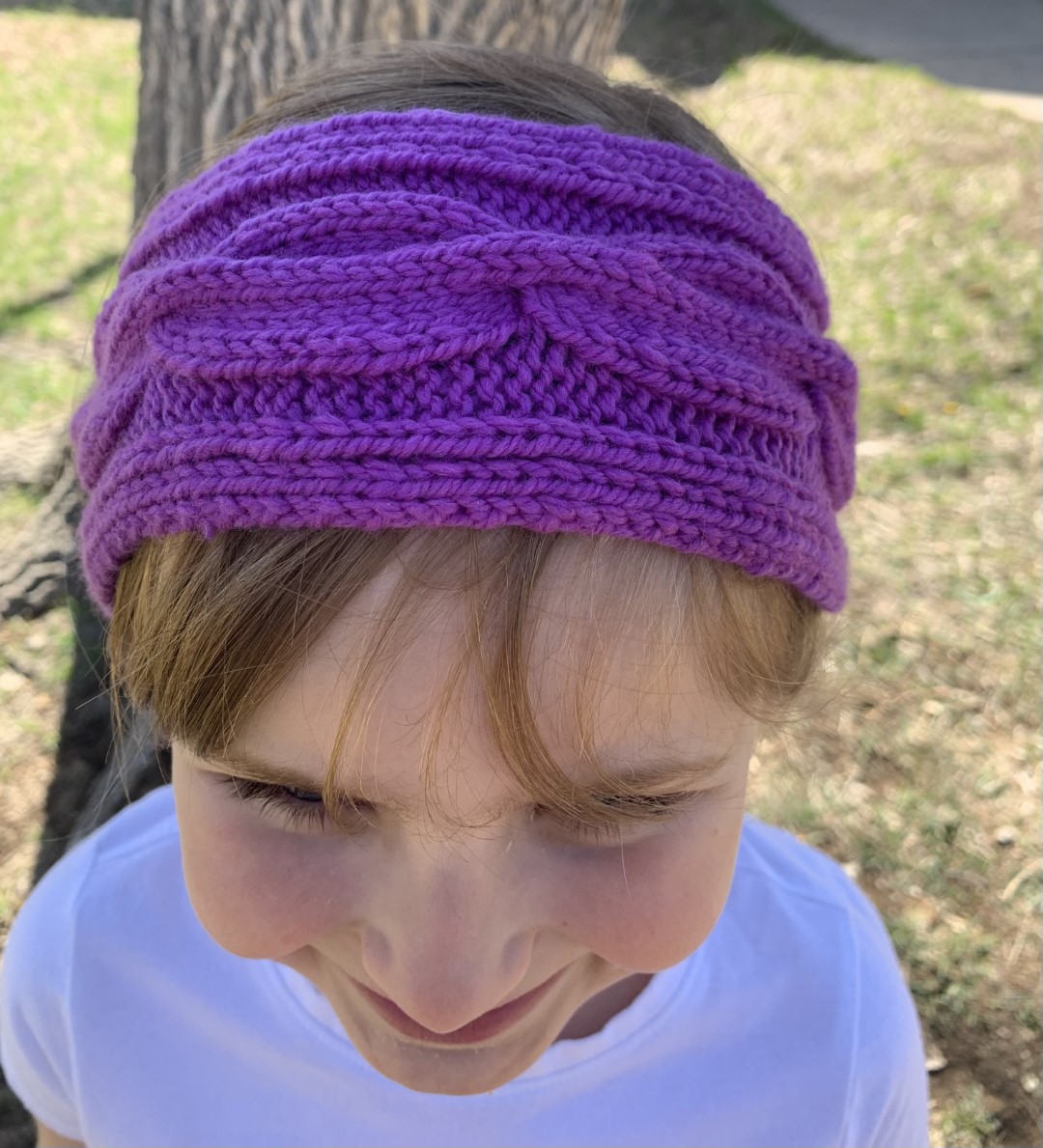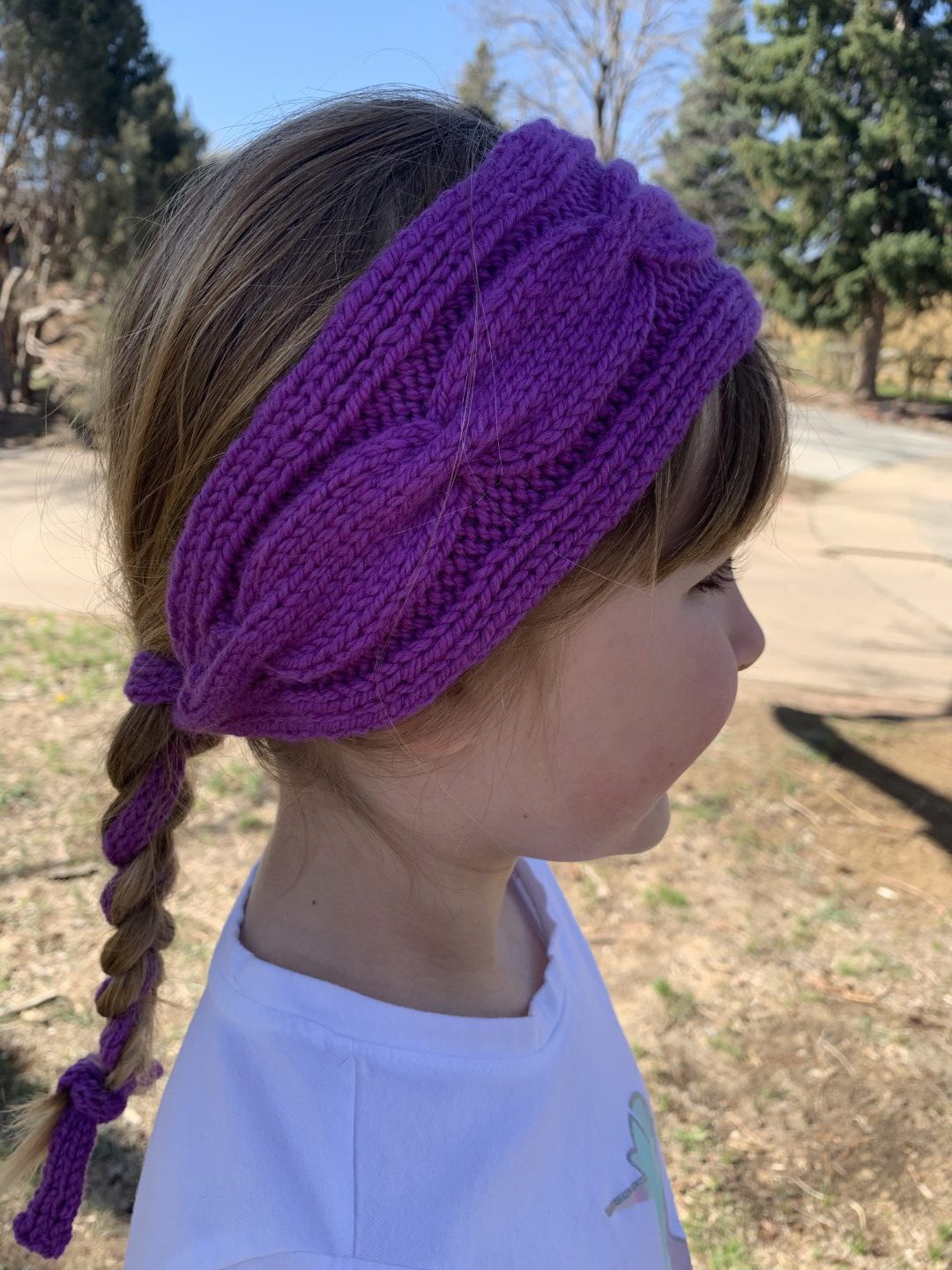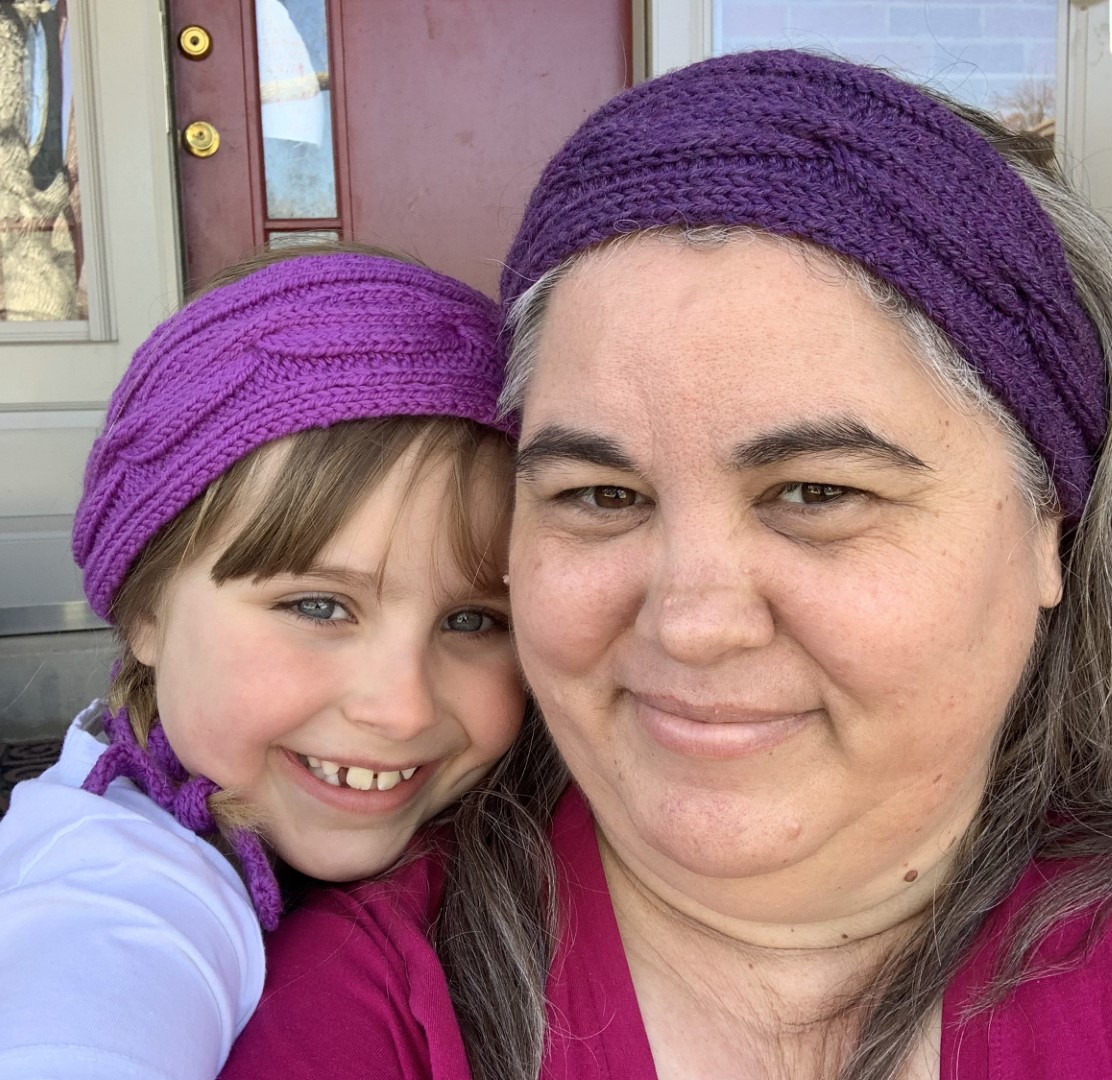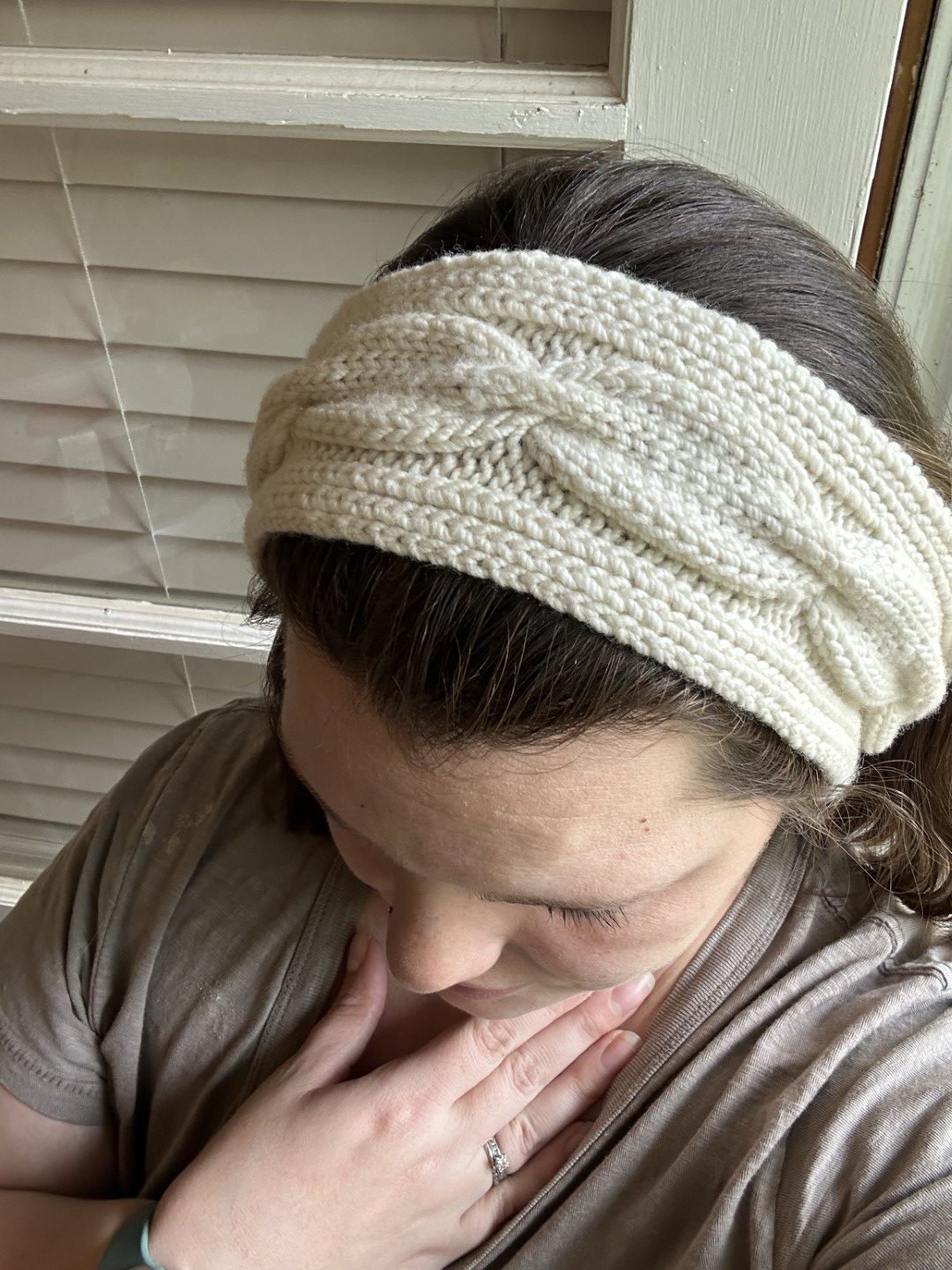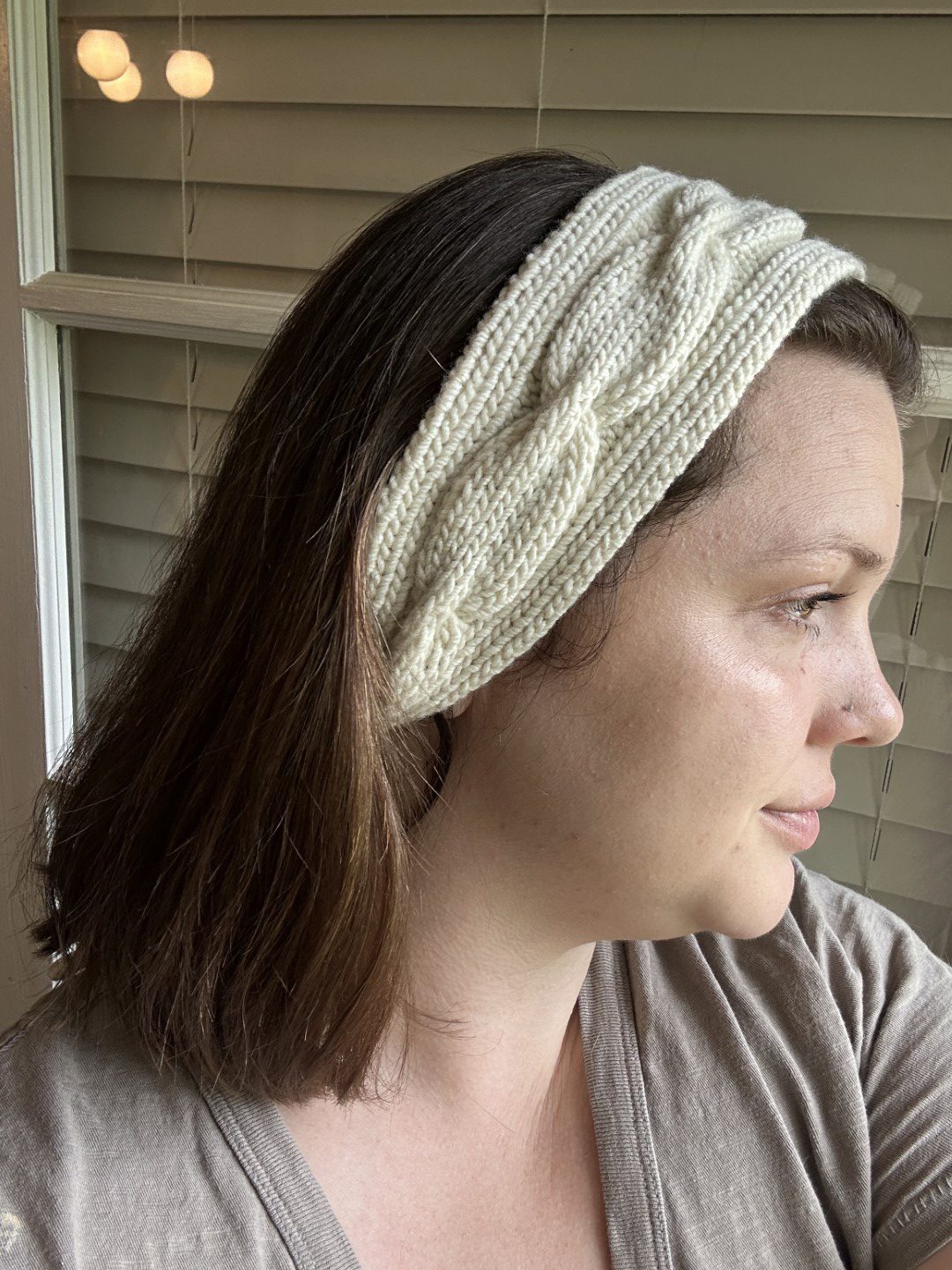 A knit headband is small enough to fit in a spare bag or pocket and cozy enough to add a bit of warmth to your head on a hike or adventure around town. HIGH DESERT HEADBAND is a great project for practicing knit cables and showing off a bold color. A tied closure allows for an adjustable fit. The tapered shape is created with simple increases and decreases.
NOTE: This pattern is written, not charted, and includes detailed pictures for how to work the cable row.
Find full gallery images here.
1 ball of High Desert Worsted by Knit Picks, 100% USA Grown Shaniko Wool, 217 yd / 198 m per 100 g or similar worsted weight yarn (approximately 40 g required)
www.knitpicks.com
Sample shown in colorway Wildfire, 80.3 yd / 73.4 m, 37 g
GAUGE & NEEDLES
20 stitches & 29 rows = 4" / 10 cm in stockinette stitch knit flat, blocked
US 7 / 4.5 mm or size needed to get gauge either straight or circular (minimum overall length: 9" / 23 cm for straight needles, or 16" / 40 cm for circular)
DIMENSIONS
Length including ties: 46.5" / 116 cm
Center section length: 22.5" / 56 cm
Width at center: 3.5" / 9 cm
TECHNIQUES
Knit stitch, purl stitch, basic increases and decreases, cable knitting.
PATTERN ATTRIBUTES
This is a written pattern with a schematic and includes photo tutorials for how to work the cable row.
EXPLORE ON INSTAGRAM
#HighDesertHeadband
Yarn Support: www.knitpicks.com
Tech editing: Lili Bowers
Test knitting: Cathy A., Kim C-G., Rachel C., Ellie F., Rebecca F., Erin L., & Mary M.
From Adrian S.
This top was a joy to test and I appreciate all your work in cultivating an inclusive test knitting group. ❤️
Adrian was a test knitter for Shoulder Season.
Adrian S.
From Pam S.
I really appreciate Shana's attention to detail in each of her patterns, and also across the scope of her patterns. There are certain things I can count on from a Shanalines pattern, whether it's a garment, coffee cozy or fidget toy: The directions will be clear, the design will be innovative, and the thing WILL fit! Her modular knits are good on everybody, and they are also really fun to make! As a bonus, Shana is very interactive and fun to knit with! I've had the chance to spend time with her at a couple of events, and I always leave her side smiling!
If you are hedging about one of the shanalines patterns, and you happen to see her at an event, she may even take off that beautiful sweater she's wearing (with a tank top underneath, of course) to let you see how it works on you, or to point out a specific stitch detail. And if you have questions while you're knitting, just reach out. She is always ready with a thoughtful answer that makes sense. I always look forward to seeing what pattern will come out next!
Pam has been to Zombie Knitpocalypse 2021 and 2022. She has knit many Shanalines Designs patterns including PB Sandwich Hat and Recalibrate, and has test knit Semantics, Peapod Marble Fidget Toy, Textured Marble Fidget Toy, Modular Coffee Cup Cozy and Shoulder Season.
Pam S.
From Madeline J.
I have made two different Shanalines tops and one I made twice (and I generally don't like repeating patterns!).
Her patterns are super clear and easily customizable. She offers a lot of size options, but also shows you how to make adjustments.
She is an architect by trade and you can absolutely tell – the patterns I made (Recalibrate and Shoulder Season) are modular and interesting. They are not your typical sweater construction, but the design makes sense and the pattern is not difficult to follow.
She's very open to feedback and quick to help if you run into an issue. Cannot wait to see what else she comes out with!
Madeline was a test knitter for Shoulder Season, and has also knit Recalibrate.
Madeline J.
From Mary H.
After admiring Shana's designs for a long time, I was excited to actually knit one of her patterns, and it did not disappoint! I am always interested in new construction and unique knits and this was a pleasure to knit up. Fun, engaging and easy to modify — Shoulder Season is a great pattern!
Mary was a test knitter for Shoulder Season.
Mary H.
From Rebecca F.
I've tested multiple patterns for Shana and they're always already well-written and well thought out before we see the testing version. She's very responsive with answers to questions and clearly cares about making patterns accessible to knitters of all skill levels, budgets, and bodies. I love the way her patterns flow and present a canvas for your creativity and individuality.
Rebecca has knit many Shanalines Designs patterns, and test knit Space Positive Wrap, Upstanding Hat, Adulthood and Side Hustle Wrap (Light).
Rebecca F.
From Lynn C.
I have made a couple of Shana's designs and love them. Her patterns are clear, knit up perfectly and are unique. I always learn something new and enjoy both the process and the final product. I look forward to knitting more of her designs.
Lynn has knit Moduloncho and Coin Flip Hat, and was a test knitter for Side Hustle Wrap (Light).
Lynn C.
From Christen C.
Recalibrate was interesting and fun to knit. Designer tips and helpful schematics throughout the pattern made the modular construction easy to work.
Christen has knit and test knit many Shanalines Designs patterns including PB Sandwich Hat, Shot Reverse Shot Poncho, Air Hugs Wrap, and Recalibrate.
Christen C.
From Jen G.
Shanalines Designs patterns are clever in their design and enjoyable to knit. I've had the opportunity to take a class from Shana at Zombie Knitpocalypse and she is encouraging and patient and always open to feedback. I especially enjoyed knitting her Shoulder Season top. It is a lovely knit and easy to adjust to a longer length which I prefer. I'm never disappointed when I choose to knit one of Shana's patterns.
Jen was a test knitter for Modular Coffee Cup Cozy, Shoulder Season, and Reach For It.
Jen G.
From Cathy A.
I love Shana's pattern designs. I have knit at least eight different patterns (some multiple times). The patterns have unique construction and are easy to follow. Shana responds to any questions in a very timely manor. She is always very positive and wants to make sure you are comfortable knitting her designs.
The Modular Bento Bag is such a fun, quick knit! The directions are easy to follow. You can't stop at making just one. Try all four sizes. Makes a great gift bag.
Cathy has knit and test knit many Shanalines Designs patterns including Seeking Balance, Moduloncho, Recalibrate, Semantics, Side Hustle Wrap (Light), Switching Stirpes Hat, and Modular Bento Bag.
Cathy A.
From Susie W.
I always find Shana's designs to be a great blend of soothing and relaxing knitting as well as interesting and engaging construction and finishing techniques – basically my favorite kind of project! Her patterns are very well-written and are as enjoyable to knit as they are to wear.
Susie has knit many Shanalines Designs patterns including SuperCape, Space Positive Wrap, Recalibrate, Shoulder Season, and Drawn Together.
Susie W.
From Allena W. / Starknits
Shana is such a fun person and I enjoy spending time with her. Her energy comes through in classes and her patterns. I love the modular knitting and how her patterns are written. I love how open to making it your own Shana is. I've test knit a few of her patterns and she always is down for using handspun or different yarn or adding a detail to make it specific to the knitter.
Allena was a test knitter for Semantics, Modular Coffee Cup Cozy, Shoulder Season and Split Decision Mitts. 
From Katie B.
The Side Hustle Cuffs are a simple, clear, and customizable pattern with an infinite amount of possibilities! Shanalines Designs patterns always allow for personalization, and these cuffs are no exception. Simple and adjustable, this pattern is definitely one that I will return to again and again for the people in my life.
Katie B. test knit Side Hustle Cuffs. 
From Marieke vB.
These cuffs work up extremely quickly, are quick to knit and make a great gift for anyone. They are a perfect introduction if you're new to short rows in knitting. Shana's patterns are always written clearly and easy to follow.
Marieke vB. test knit Side Hustle Cuffs. She has also test knit Doubled Up Hat and Shoulder Season and knit many other Shanalines Designs projects!
From Ellie F.
Very clear concise pattern, a joy to test. Cables were fun and unique and the design came together perfectly.
Ellie F. test knit High Desert Headband.
Ellie F.
From Kim C-G.
I have knit many of Shana's designs, and they never disappoint. I'm at a place where I want to create more hand knit garments as I move into a capsule wardrobe, and I love that each of her patterns are size inclusive. I know I will not need to make adjustments to the stitch count to fit around my chest or hips. There is enough size range to satisfy preferences for oversized fit and more form fitting, well into a 60″ chest. Moreover, there is so much flexibility with color patterning that stripes, variegated or tonal all work well. I also love the modular construction which is elegant but easy enough for a beginner. Stitch patterns are well defined, and links to tutorials are provided where having a video-based tutorial is beneficial. I recommend Shanalines Designs every opportunity I get because of the creative construction, unlimited styling/color options and size inclusivity.
Kim has knit many Shanalines Designs patterns and has test knit Doubled Up Hat, Semantics, Coin Flip Hat, Shoulder Season, and Split Decision Mitts. 
From Eimear B.
I only recently became aware of Shana's patterns and I chose to knit Recalibrate. I'm usually a top down in the round kind of knitter so I wasn't sure I'd enjoy this pattern – wow was I wrong! It was so enjoyable! A fun well written pattern that I just flew through! I really love the end result too!
I then was lucky enough to meet and take a class with Shana at SSK this year and all I can say is she's an all round great person and fantastic teacher! If you get the chance to knit a Shana pattern, meet or take a class with Shana then don't hesitate.
Eimear has knit Recalibrate, and attended a class at Super Summer Knitogether (SSK) retreat in Nashville, TN in July, 2023.