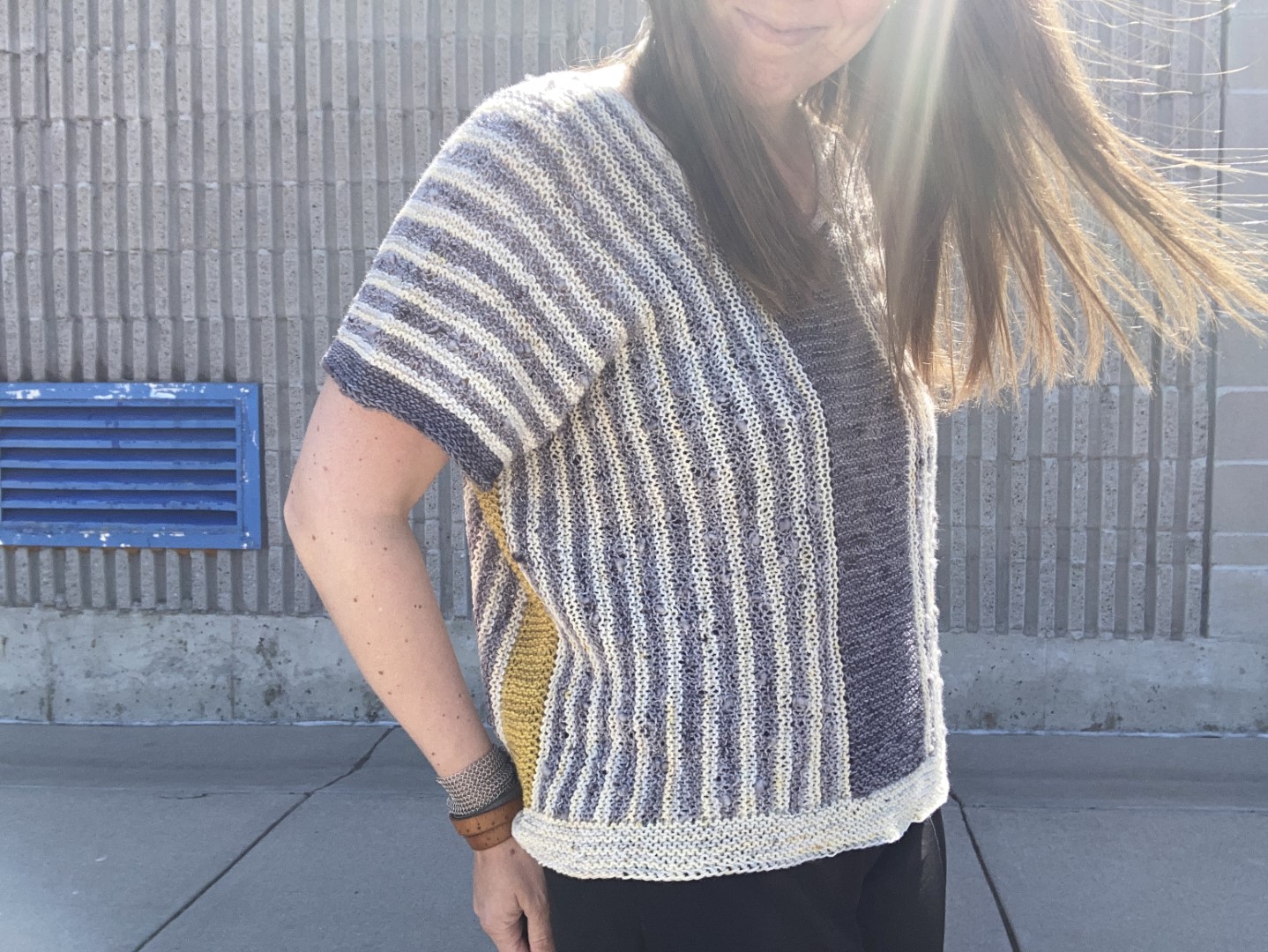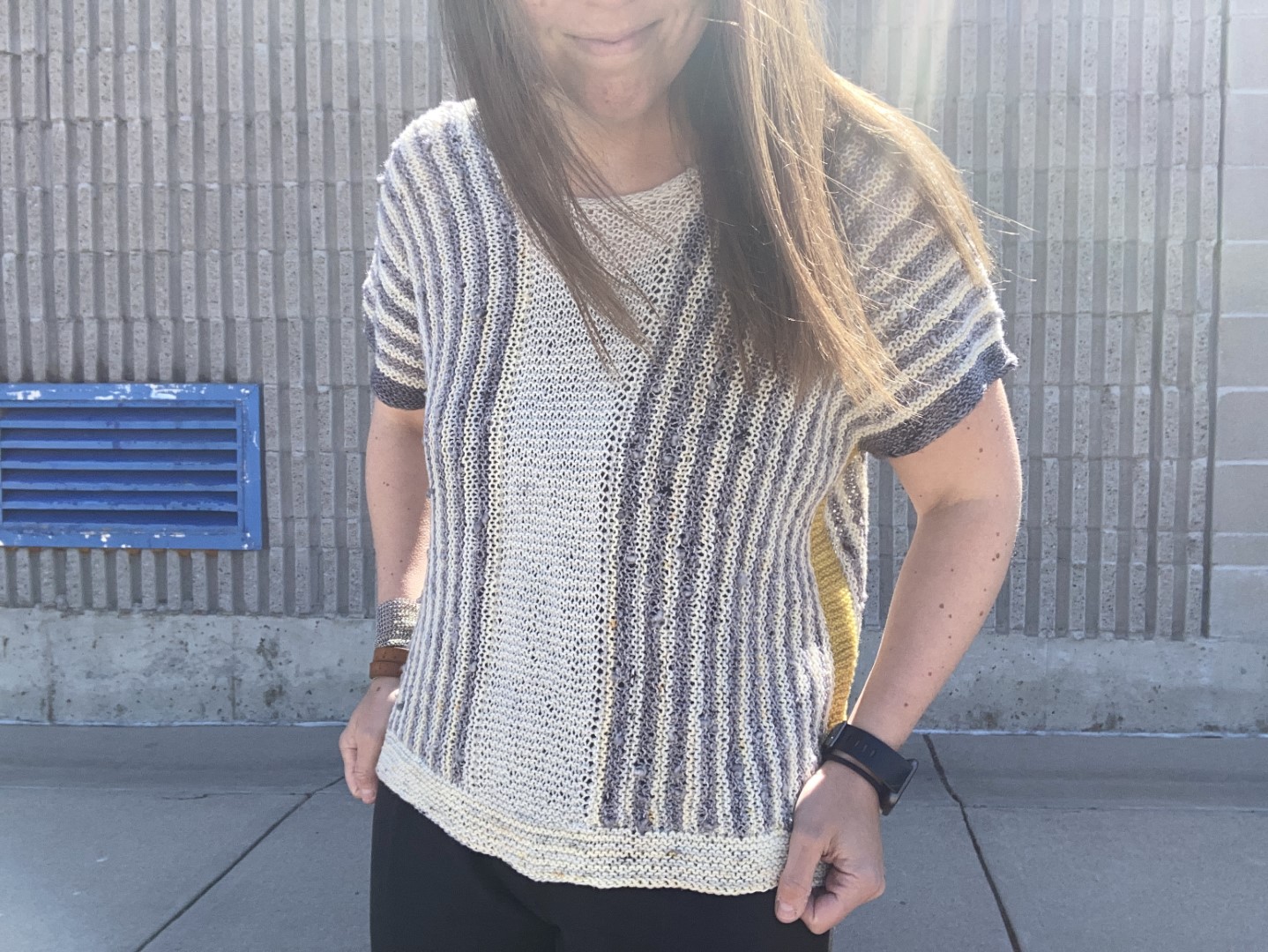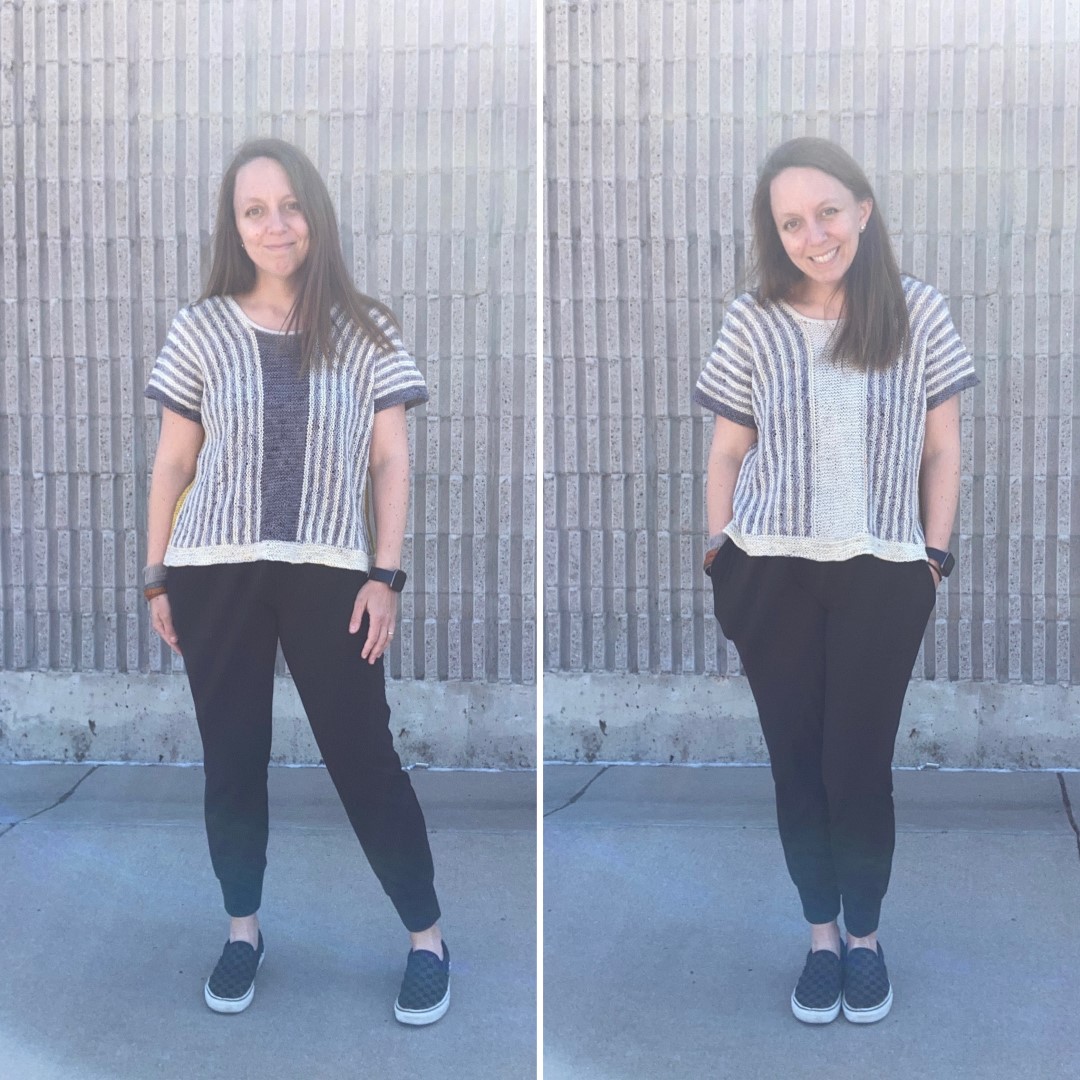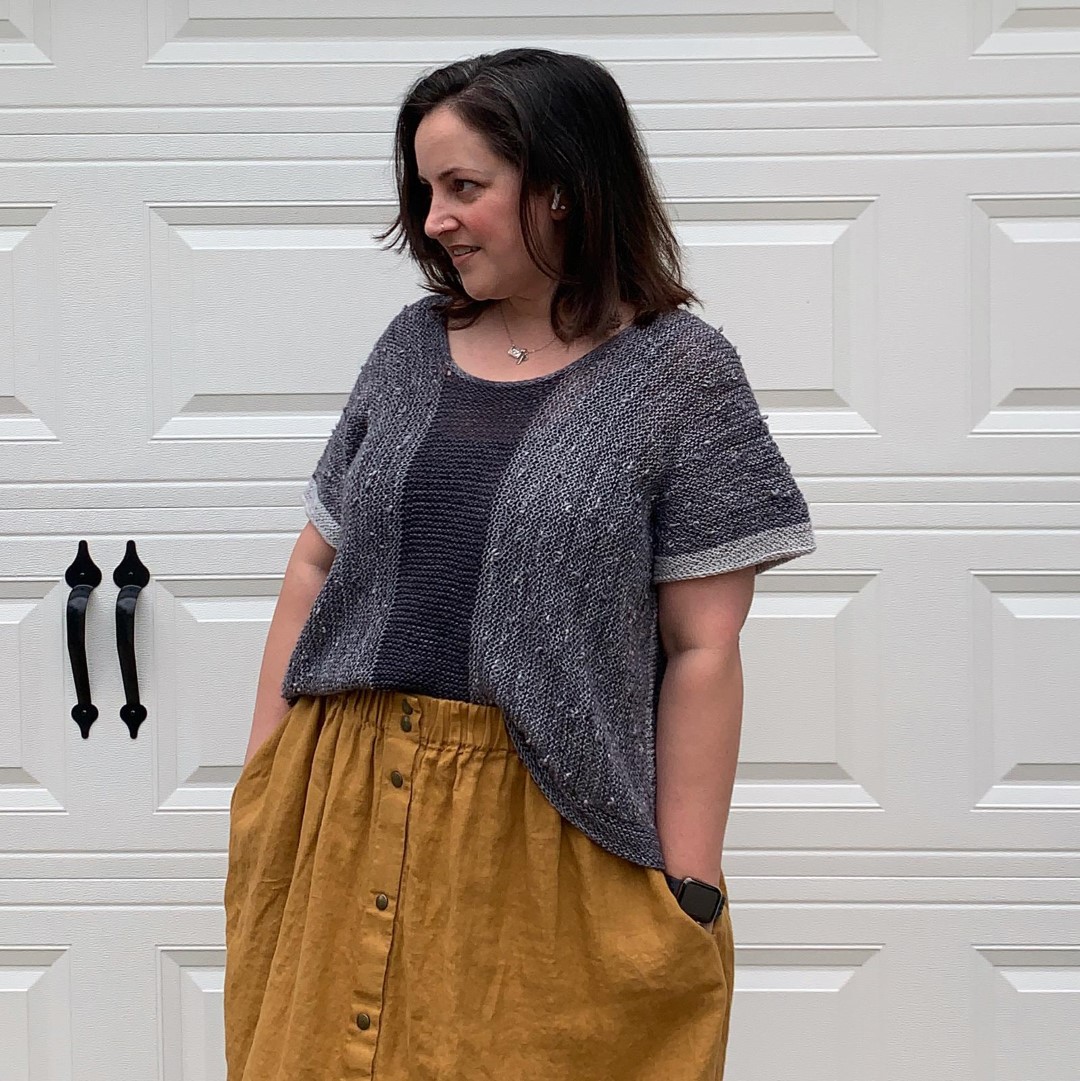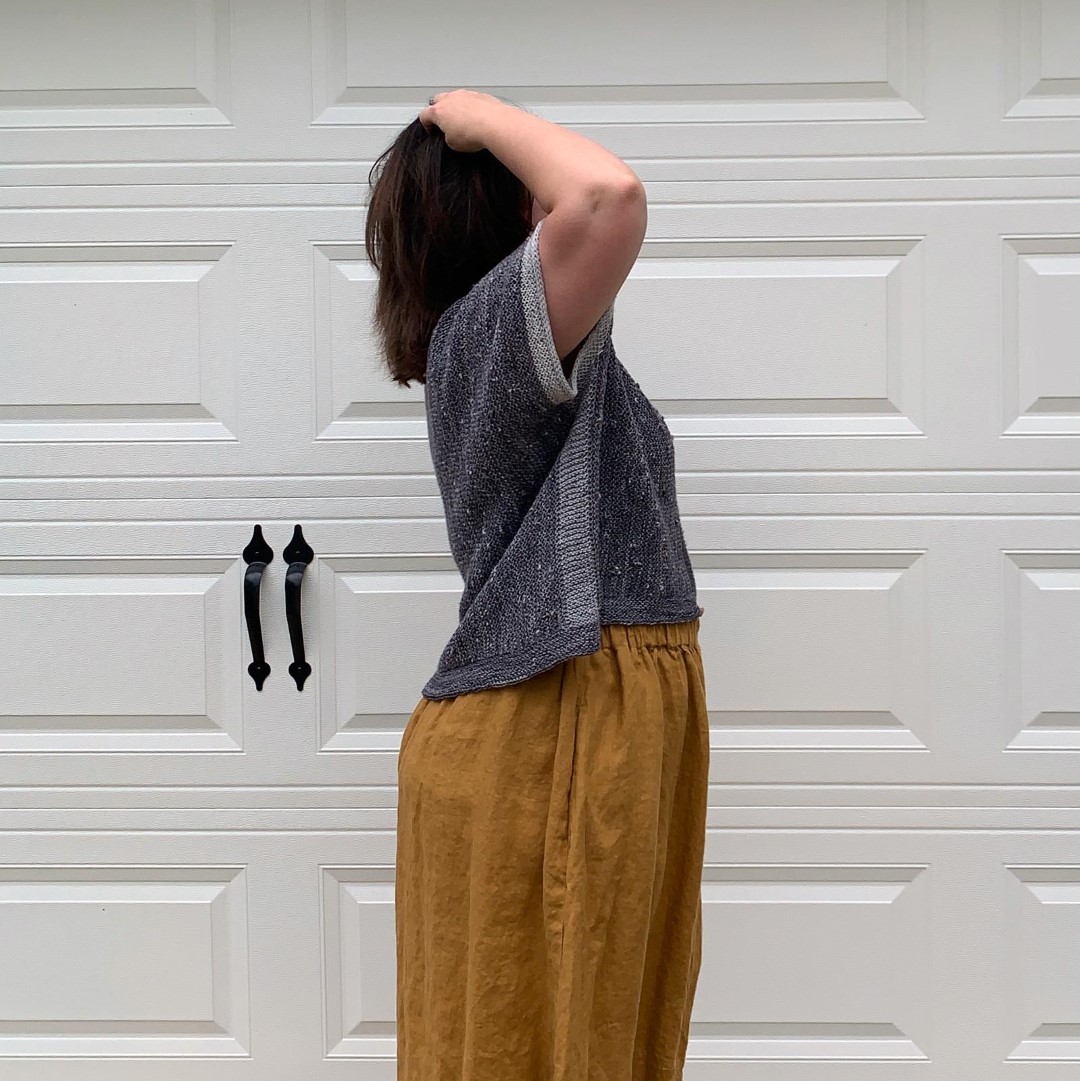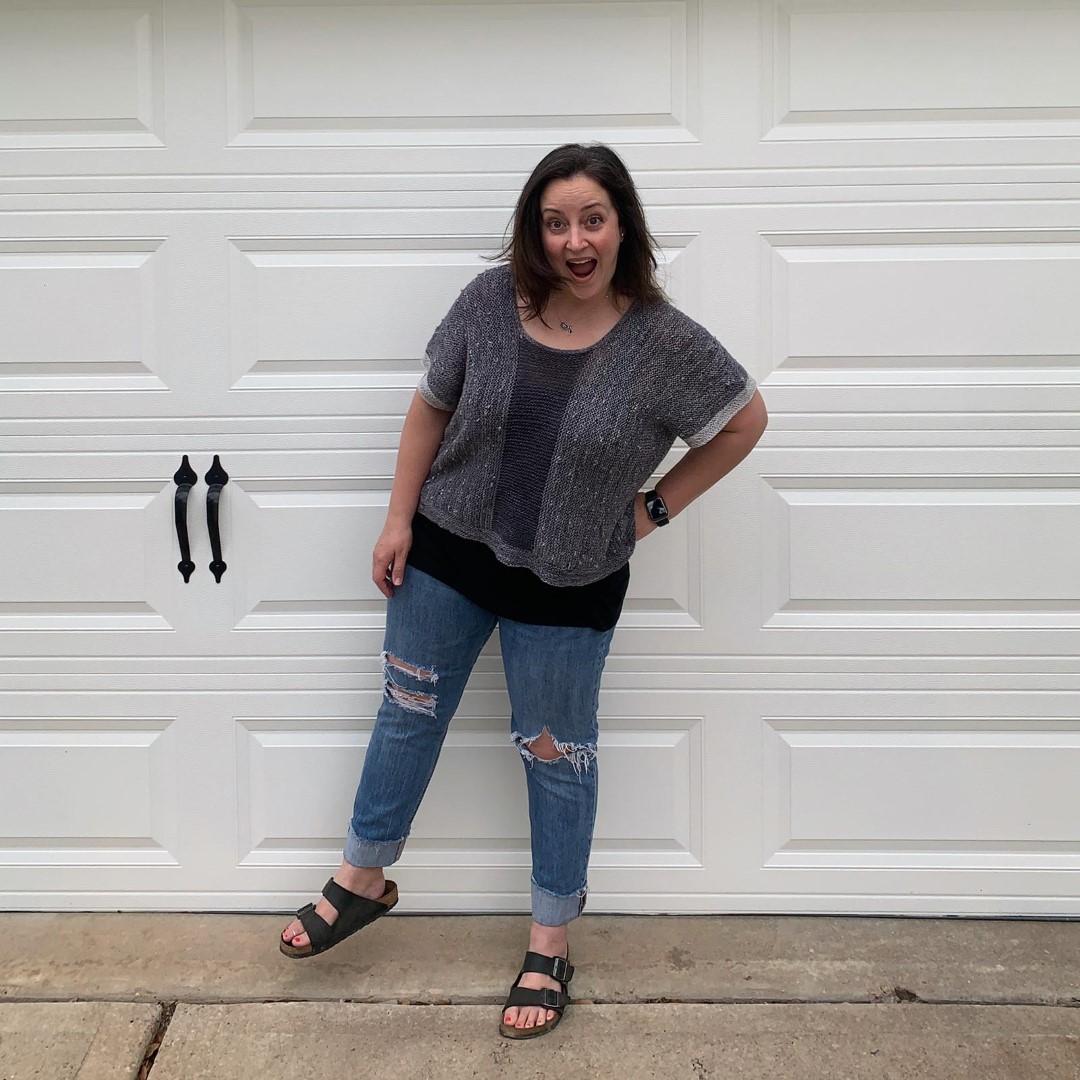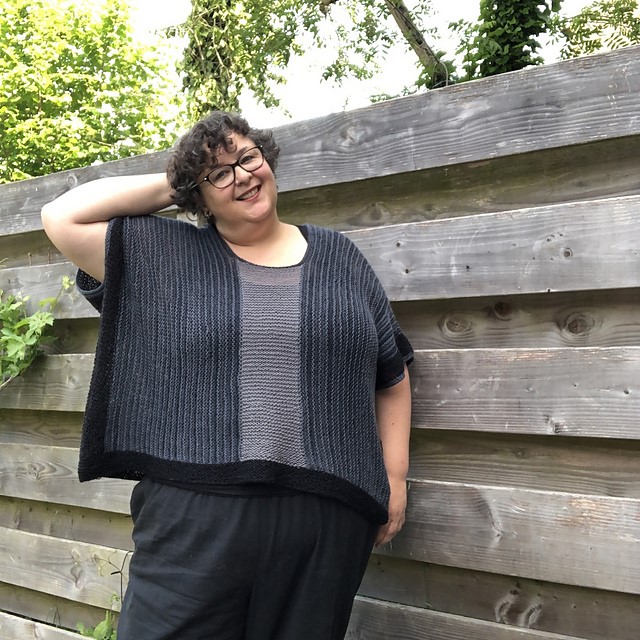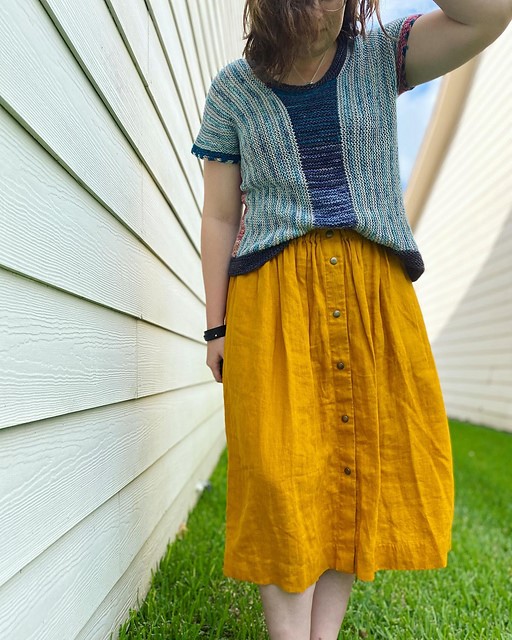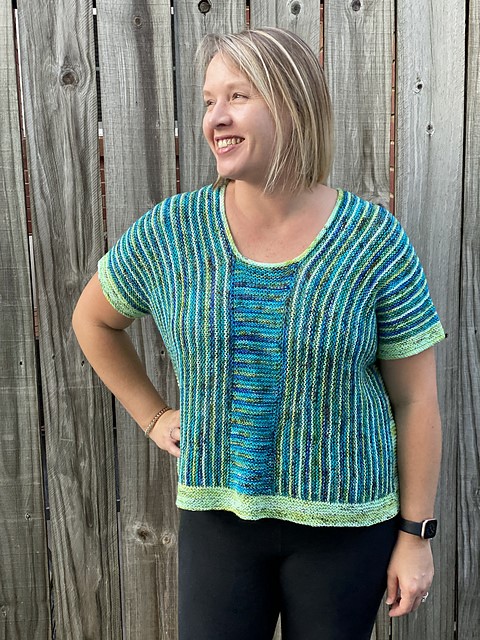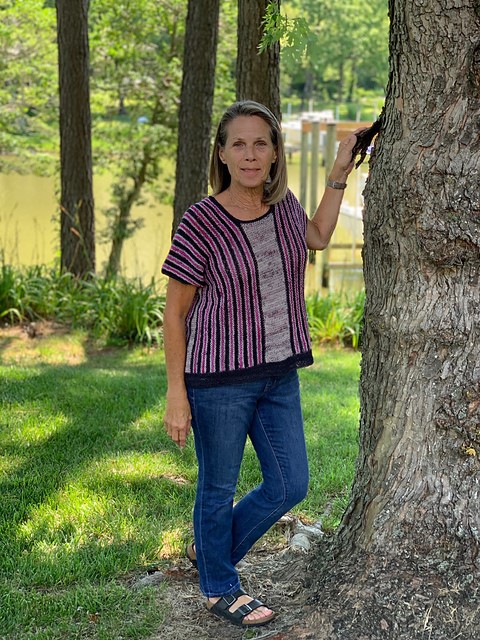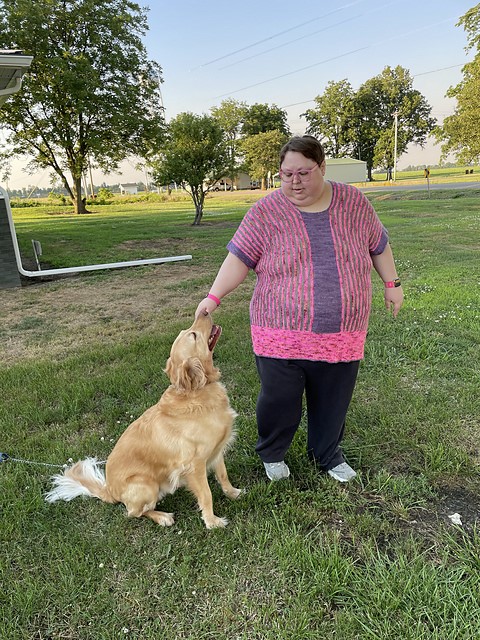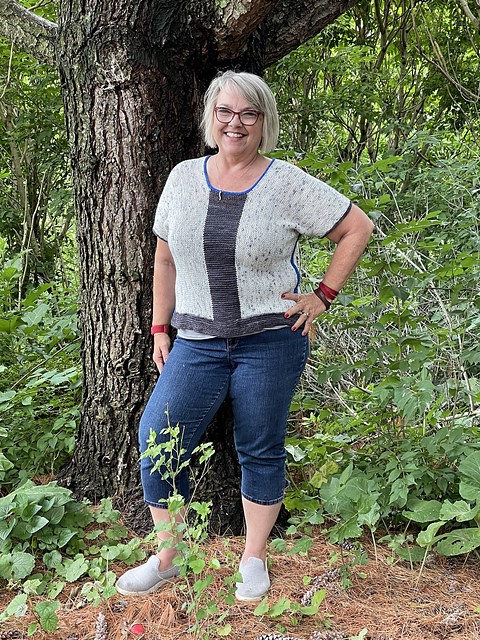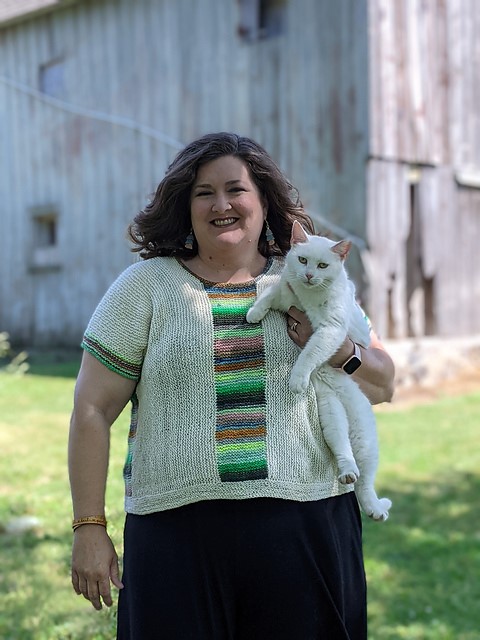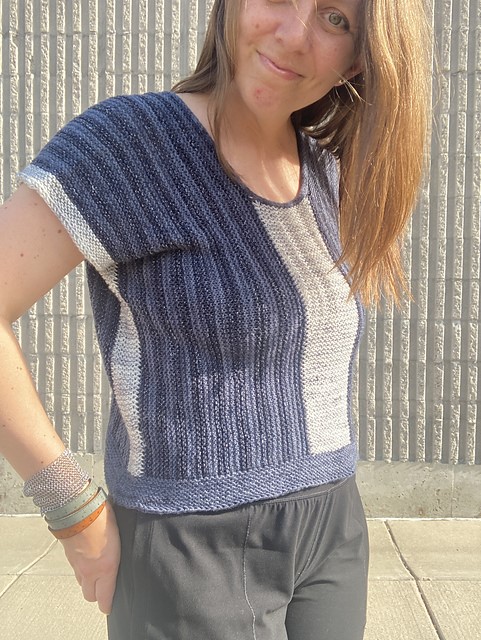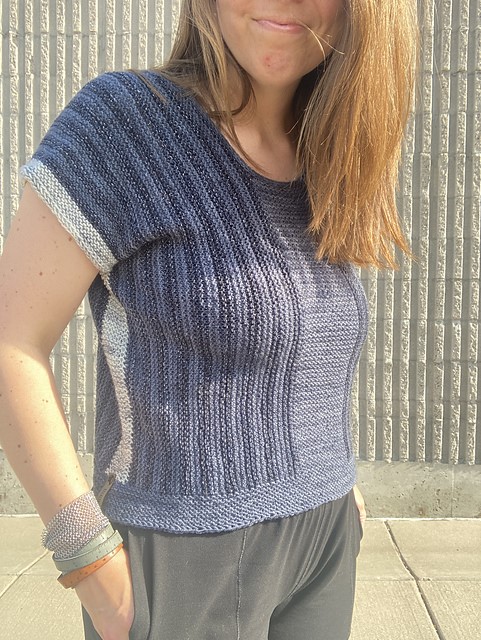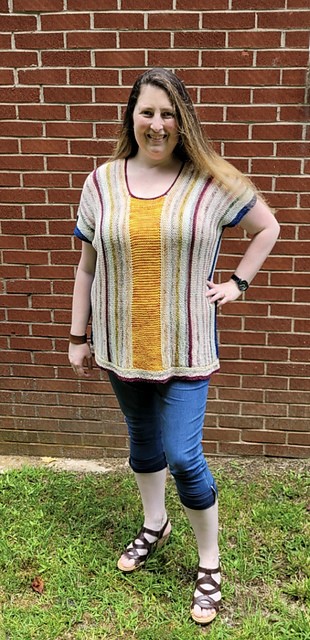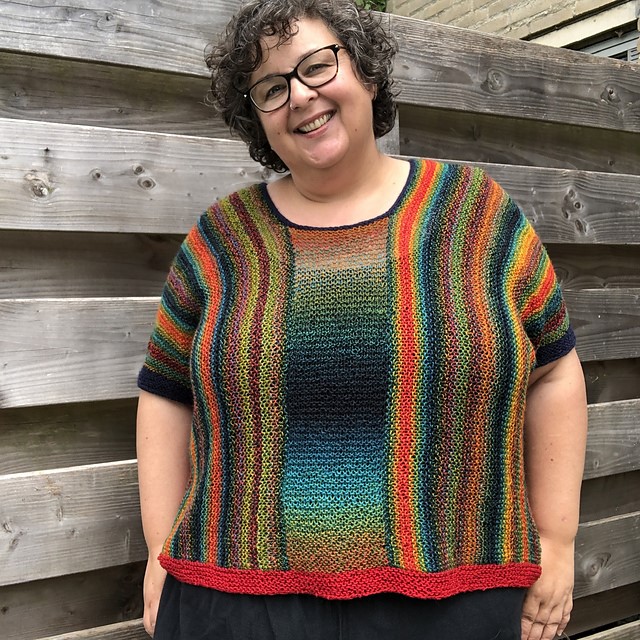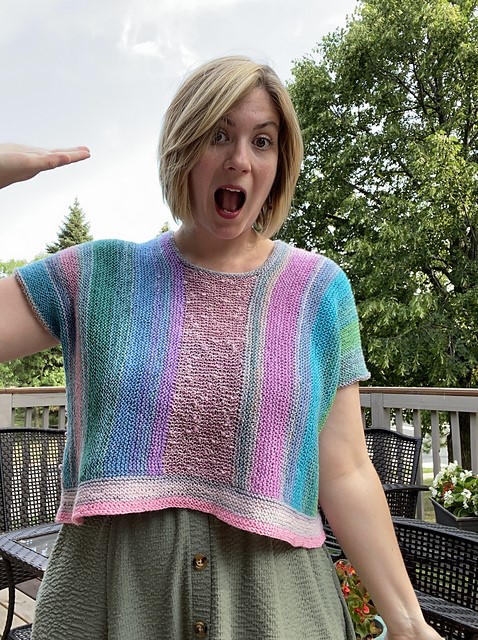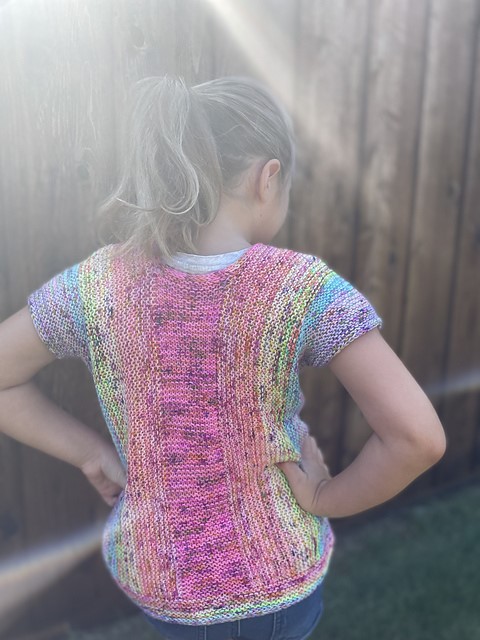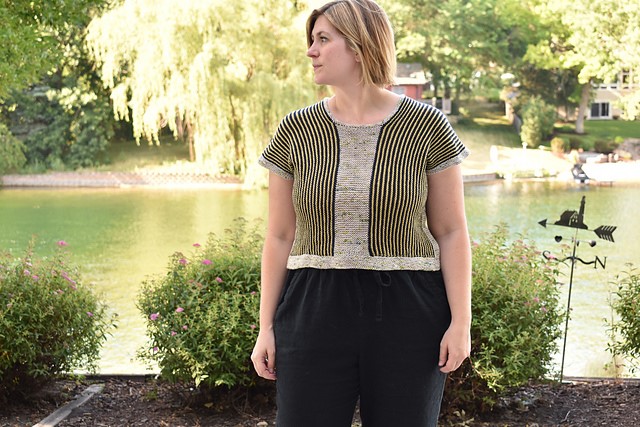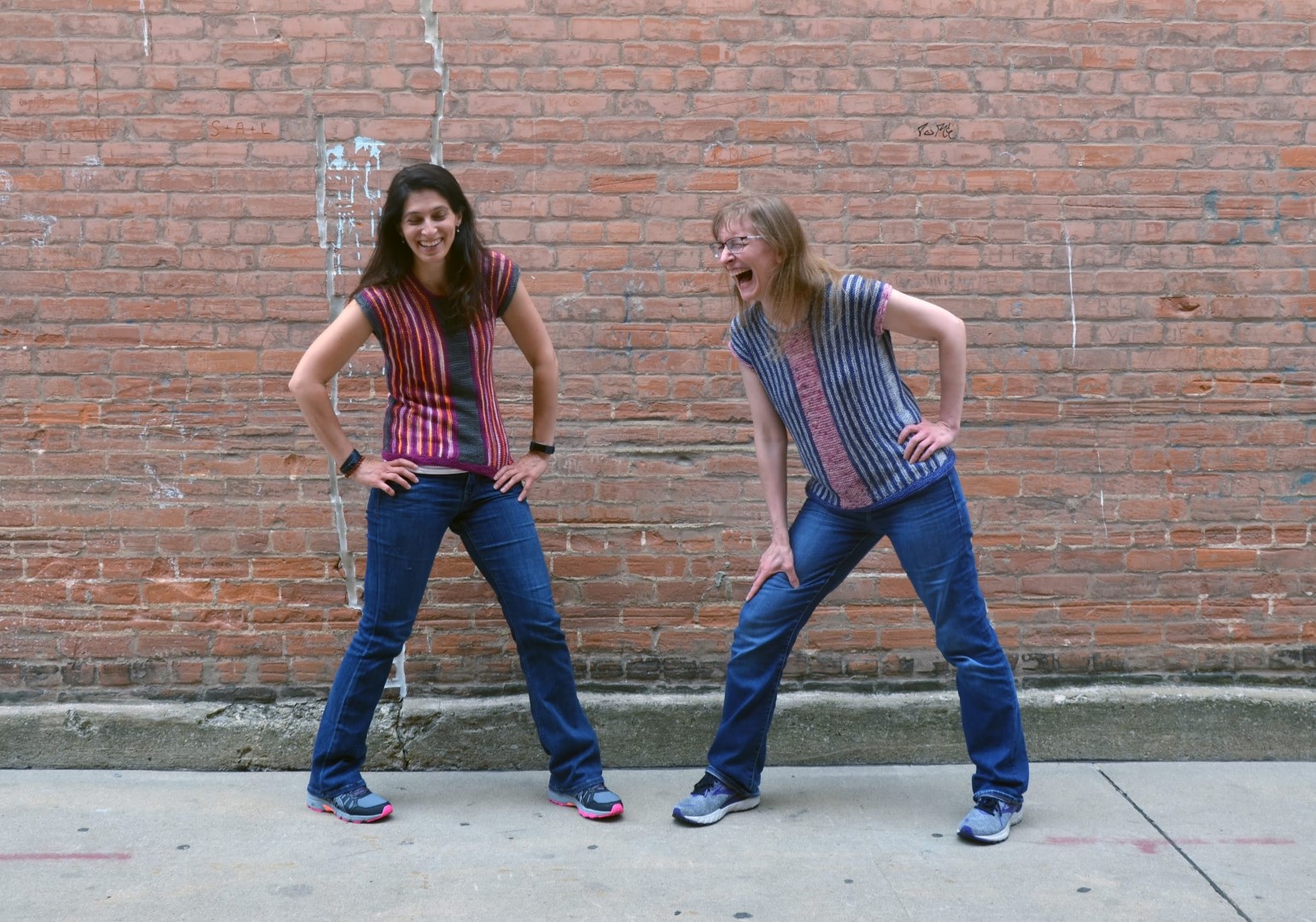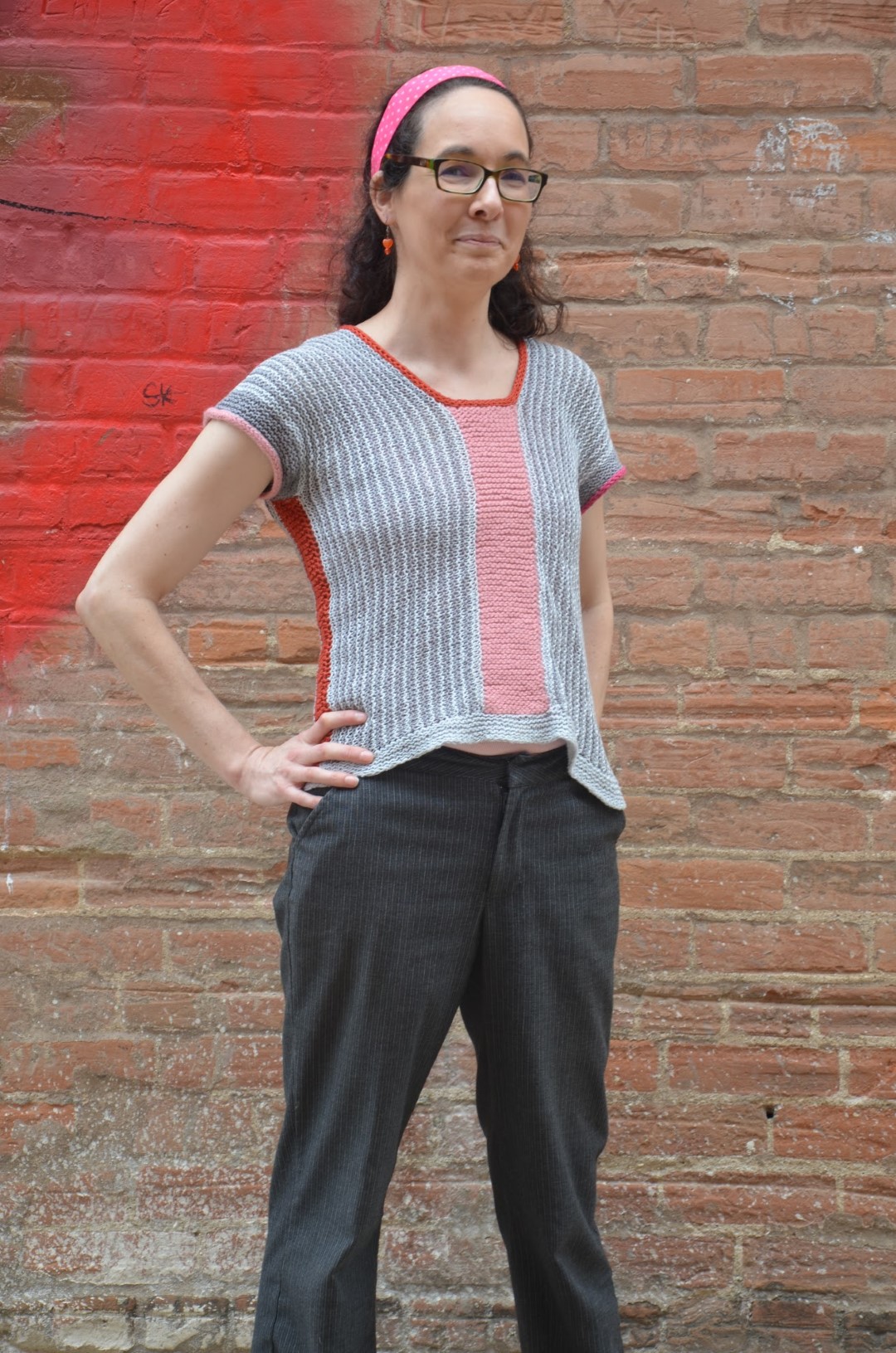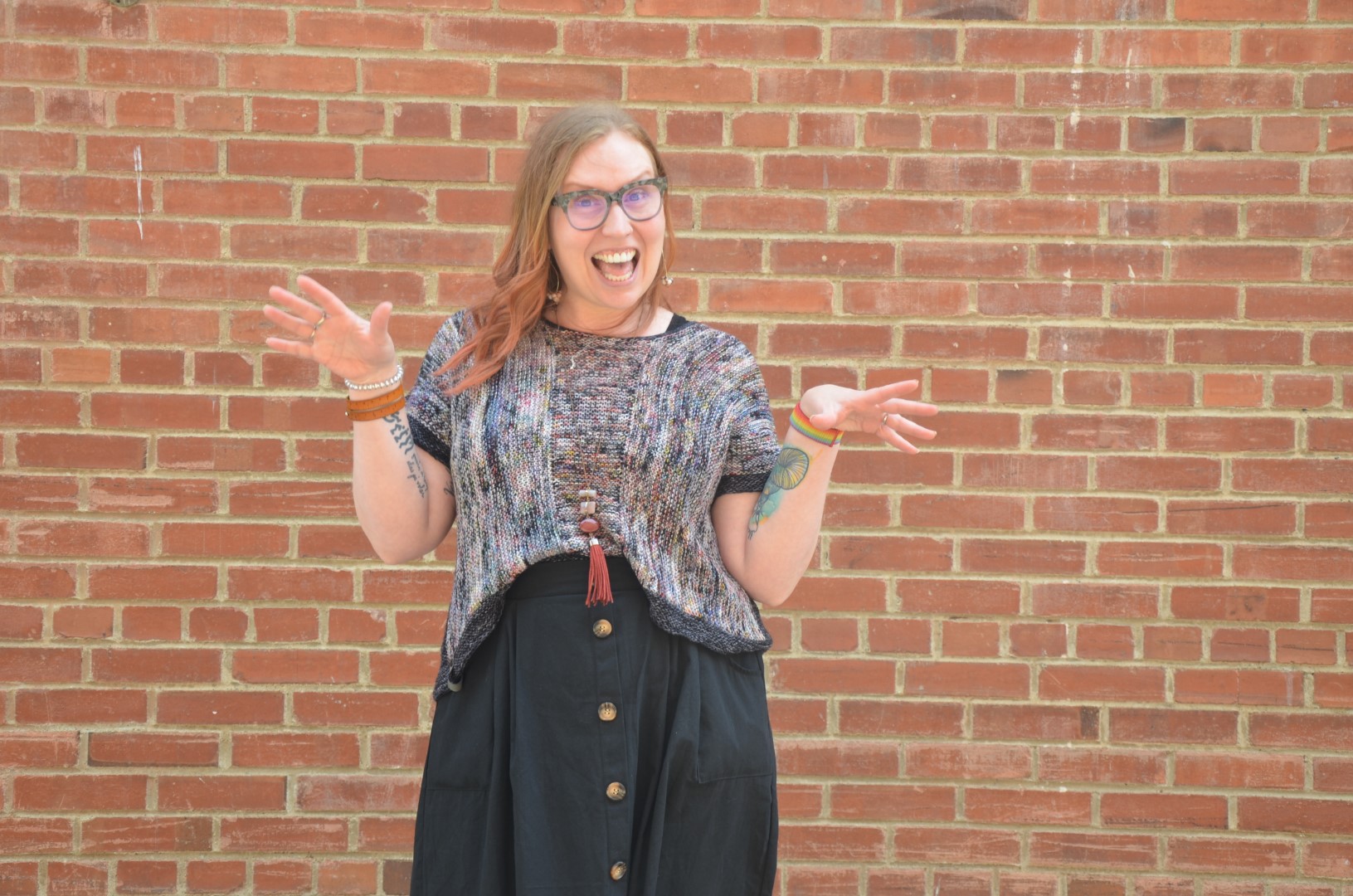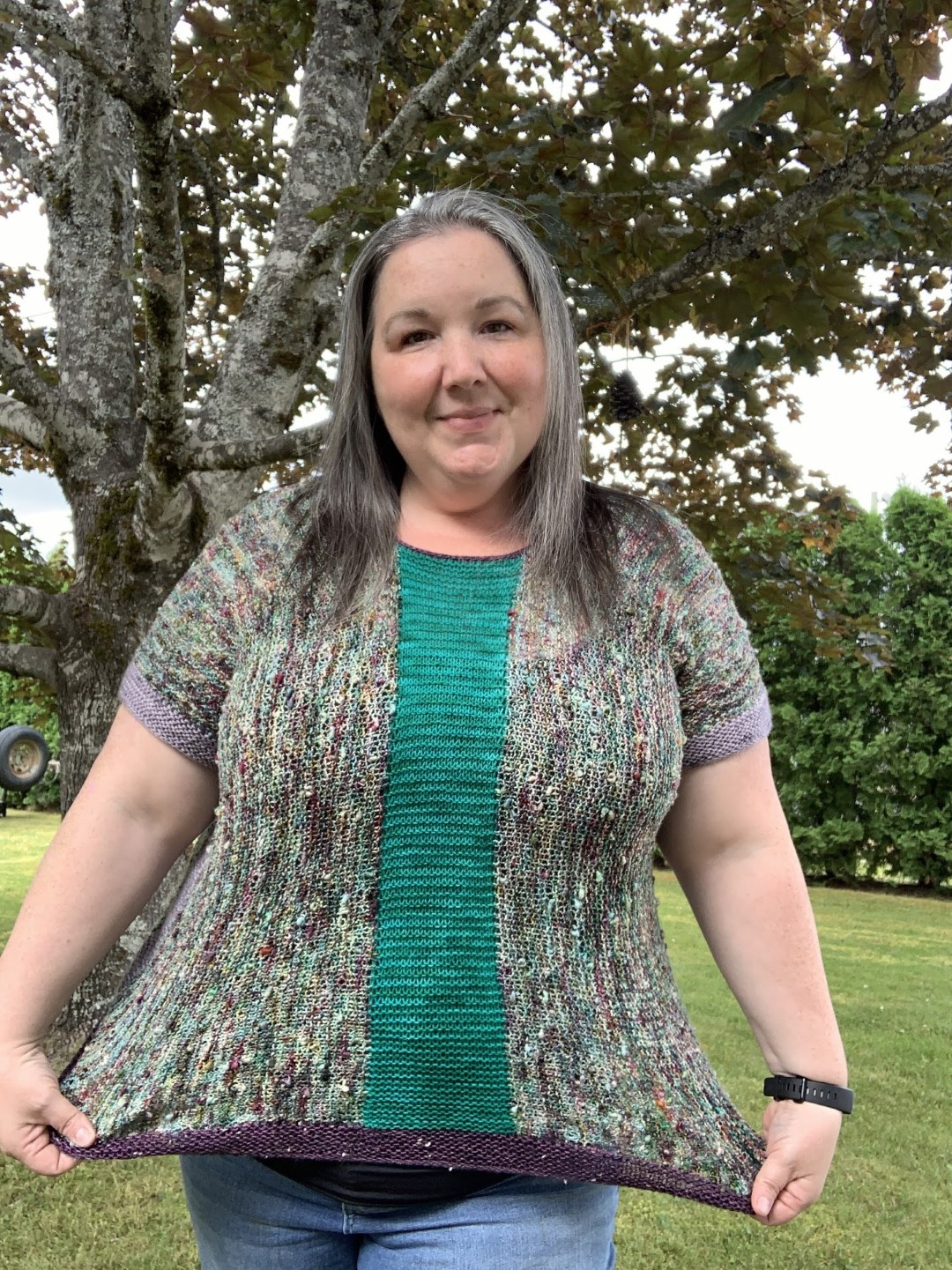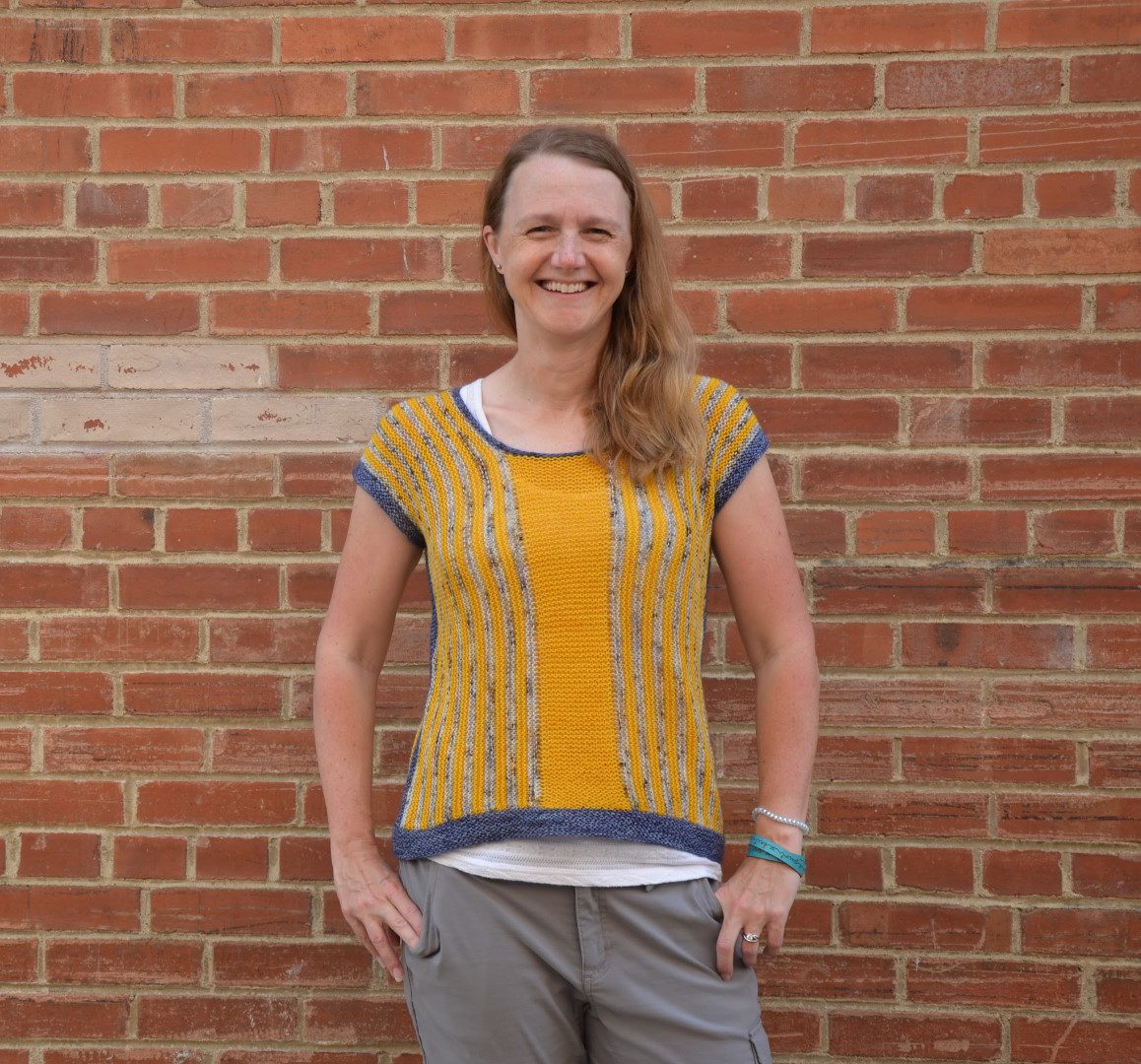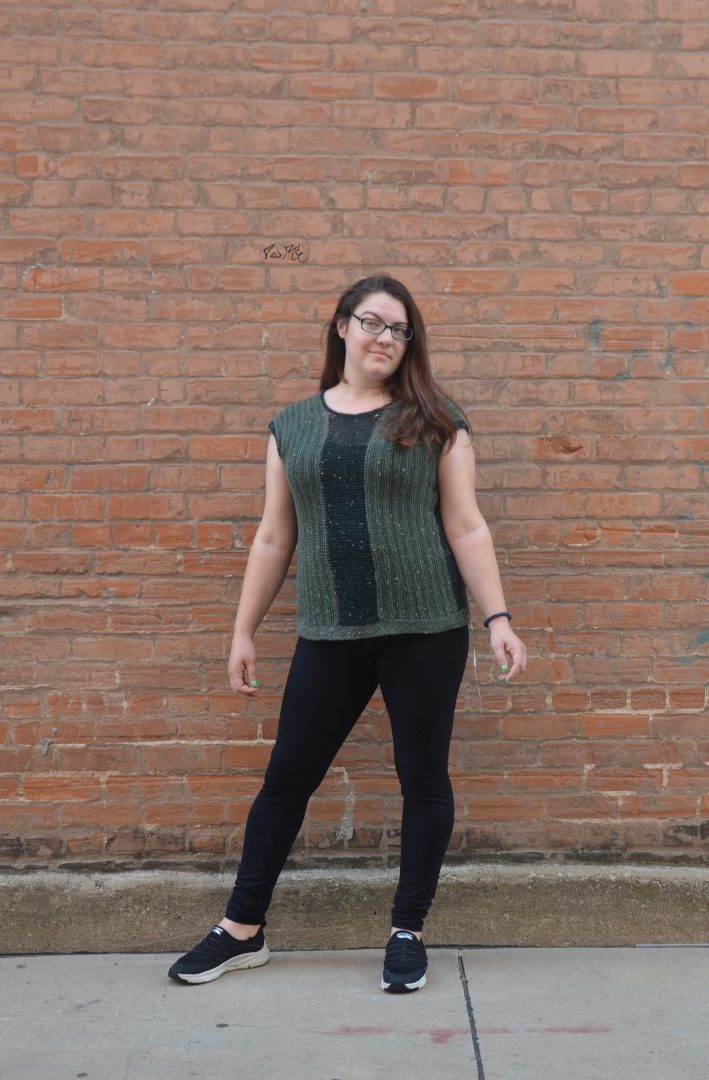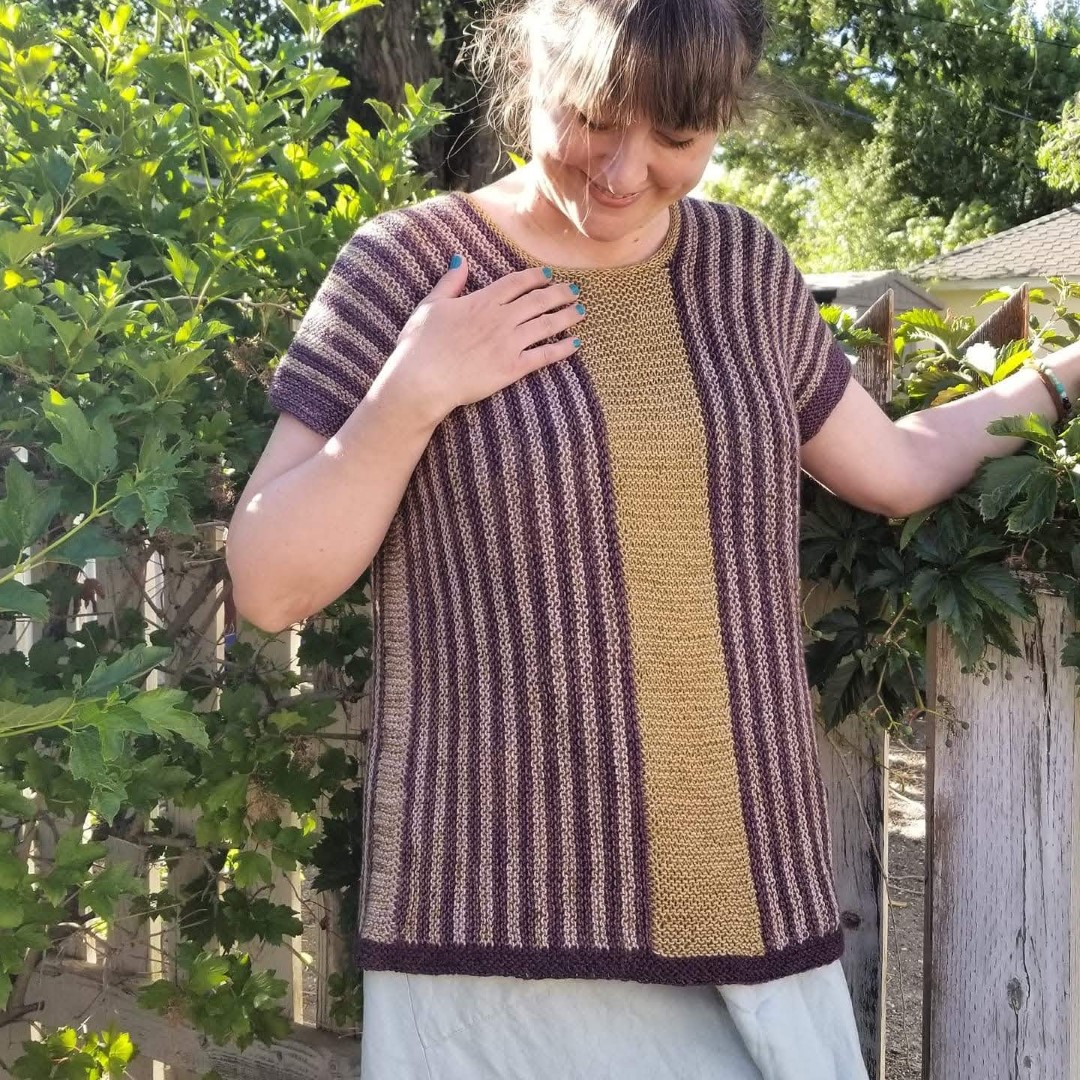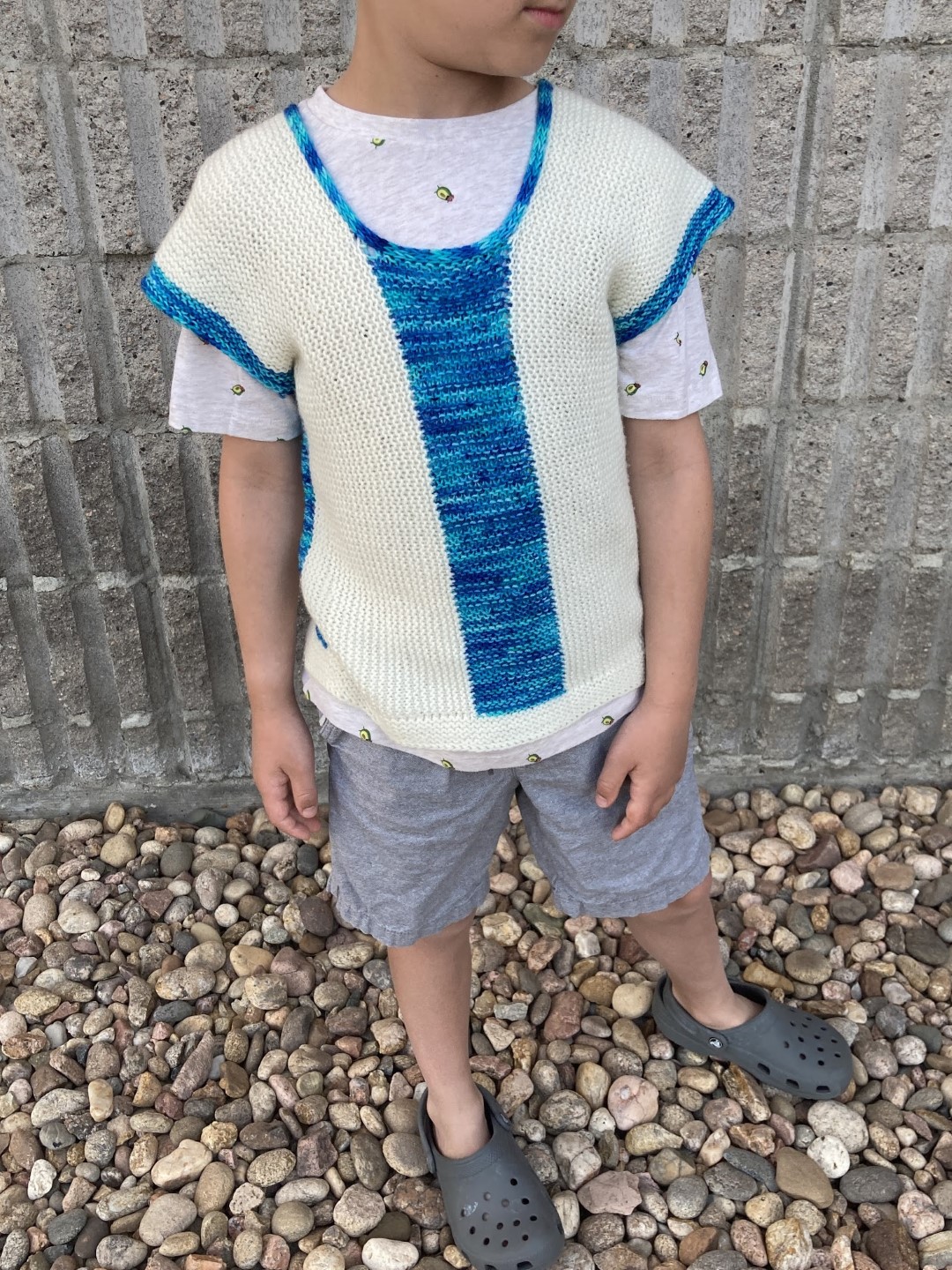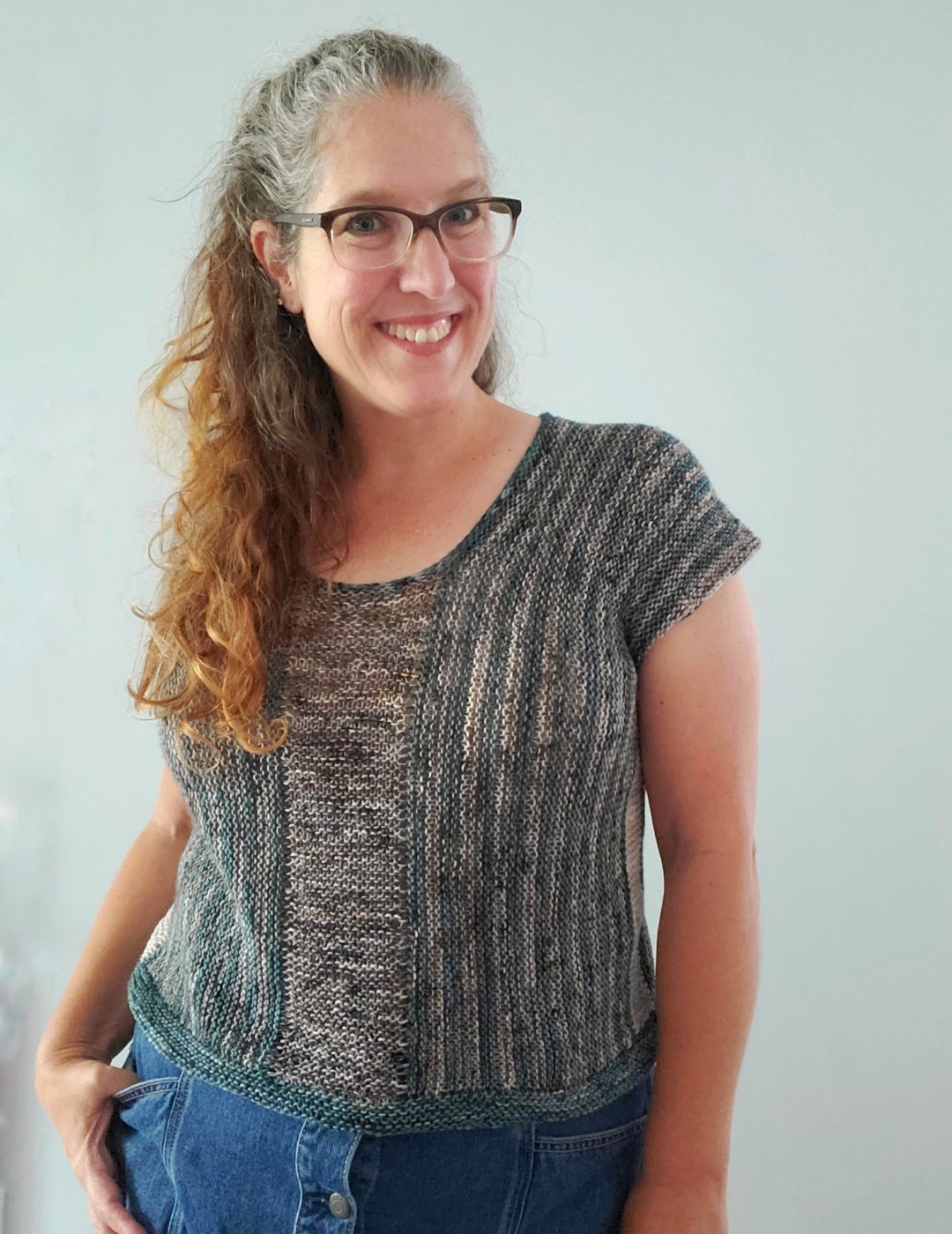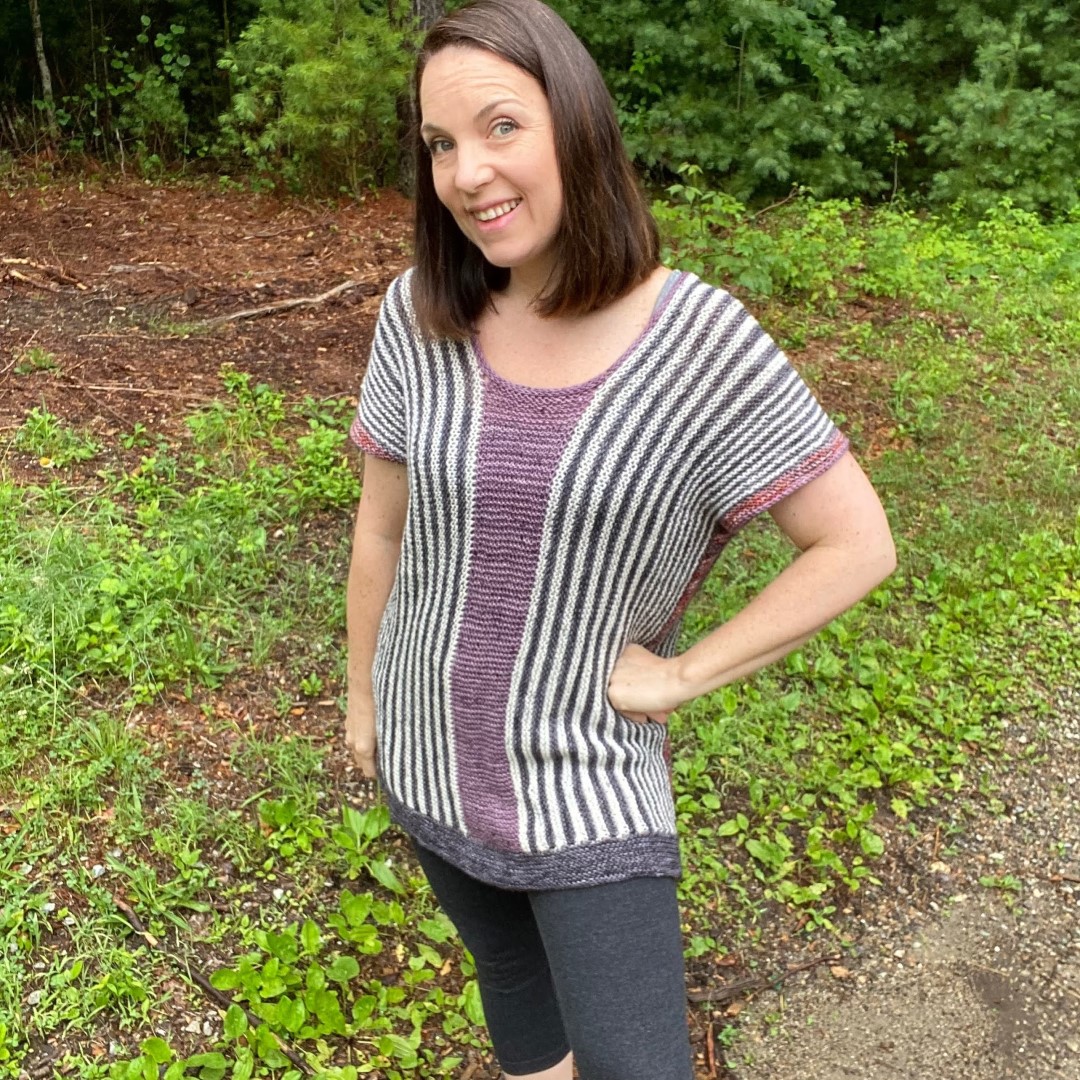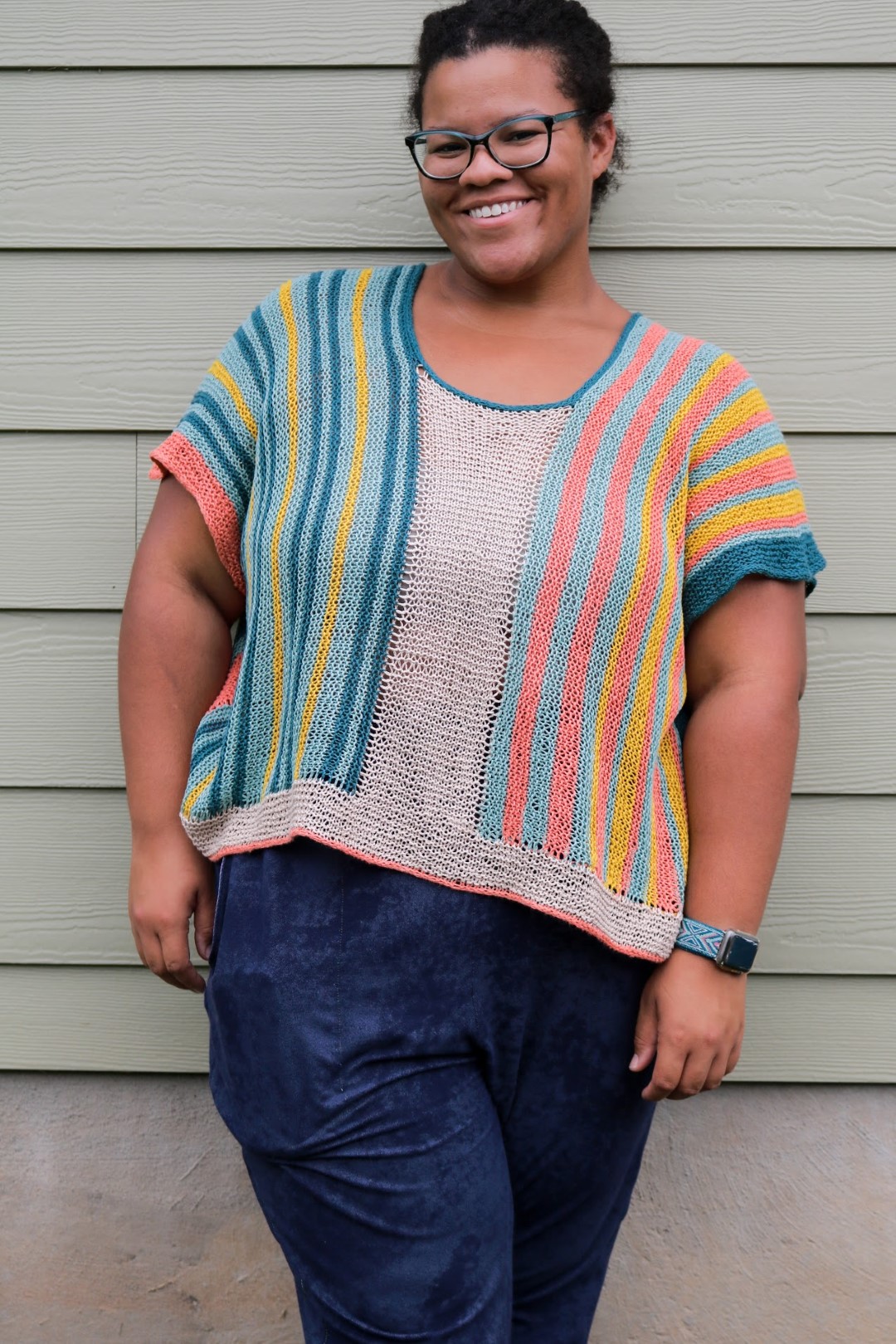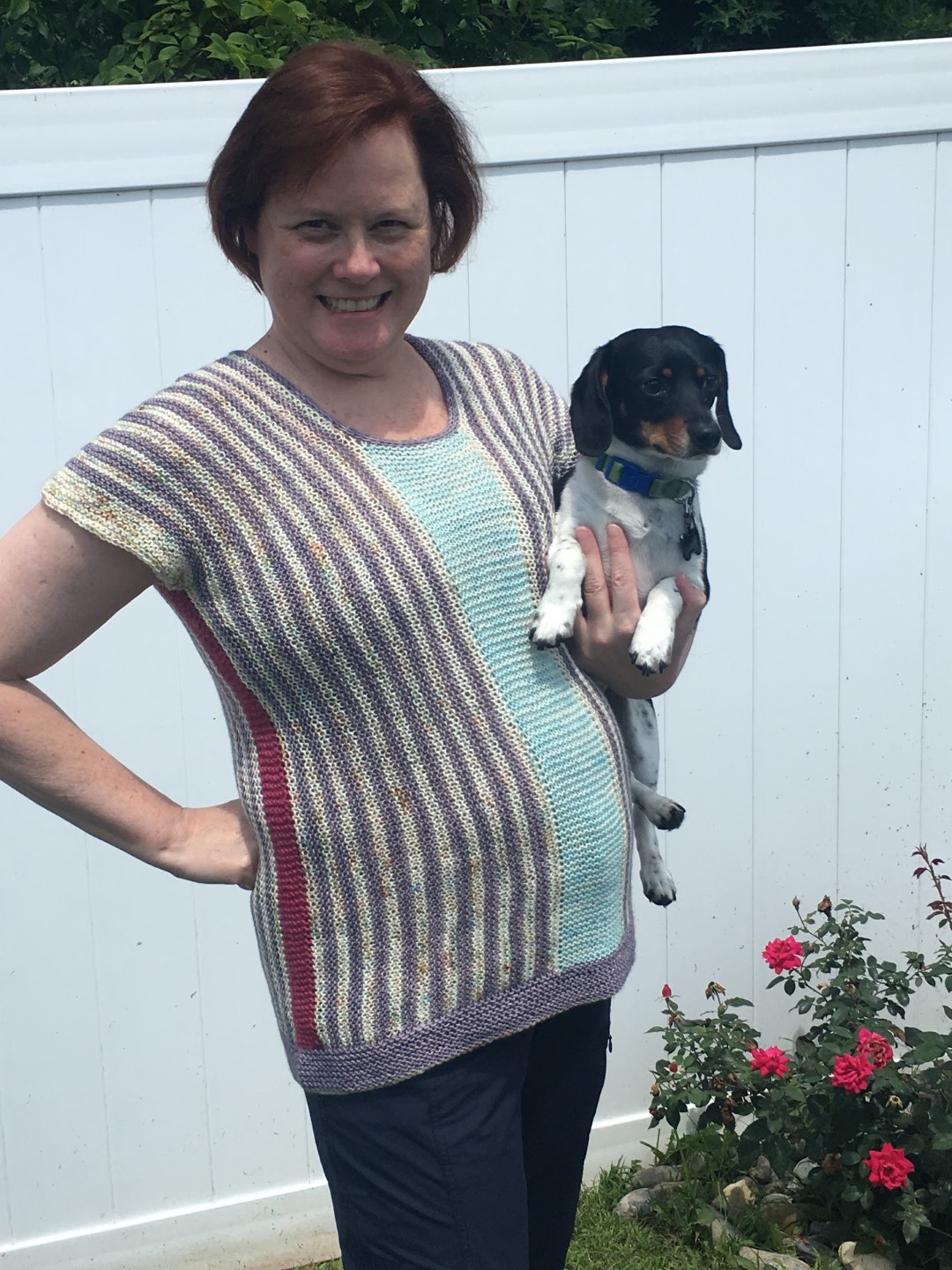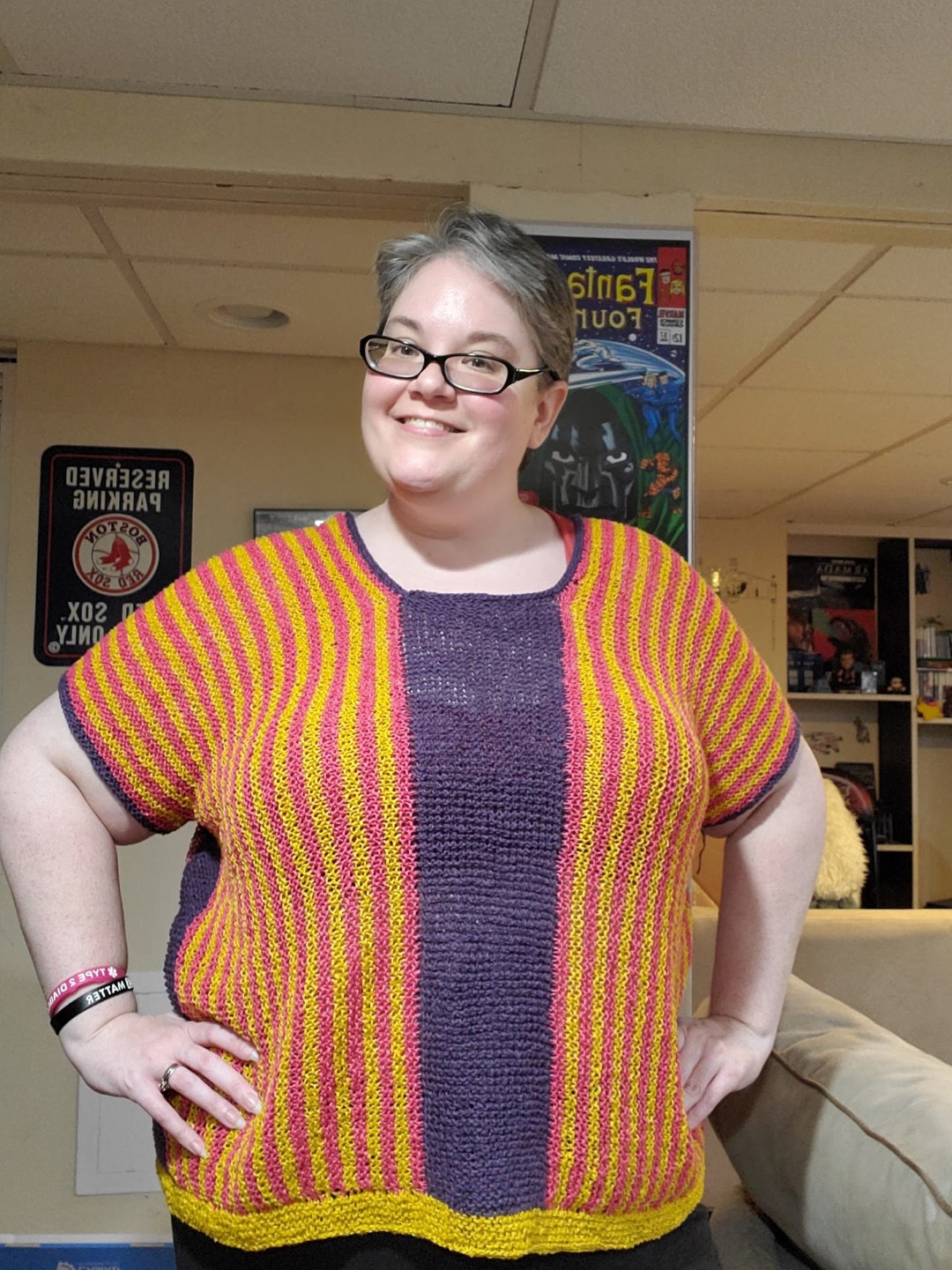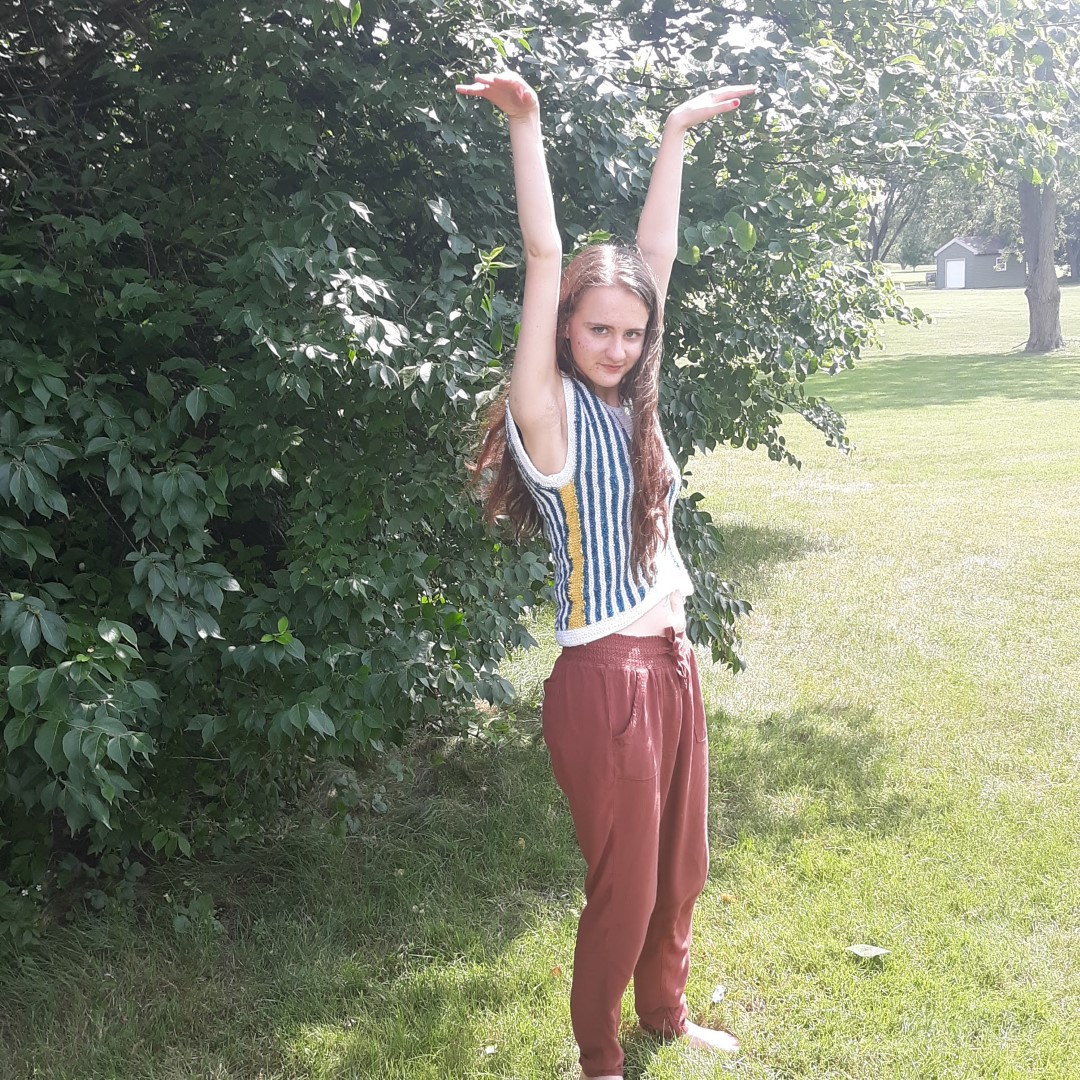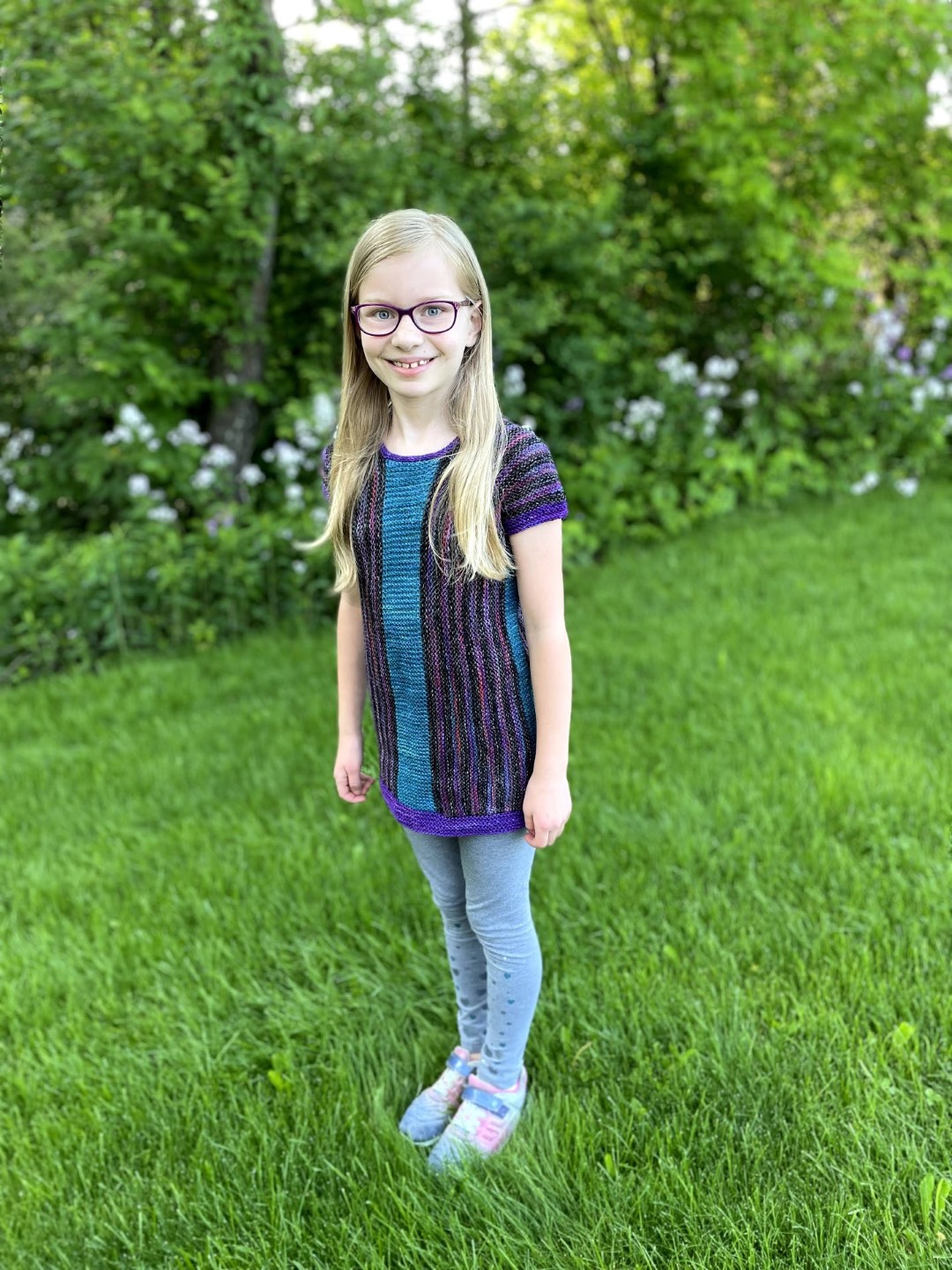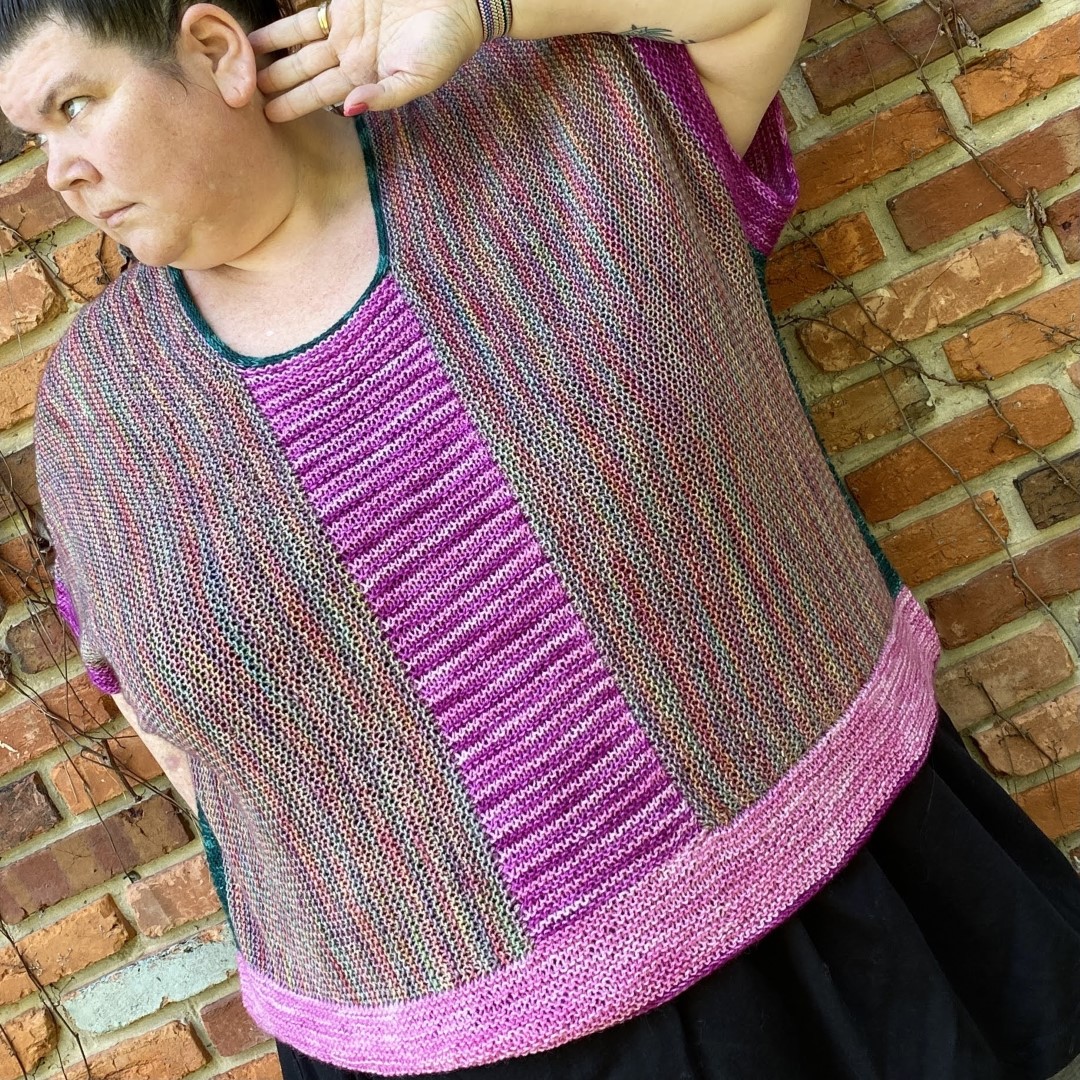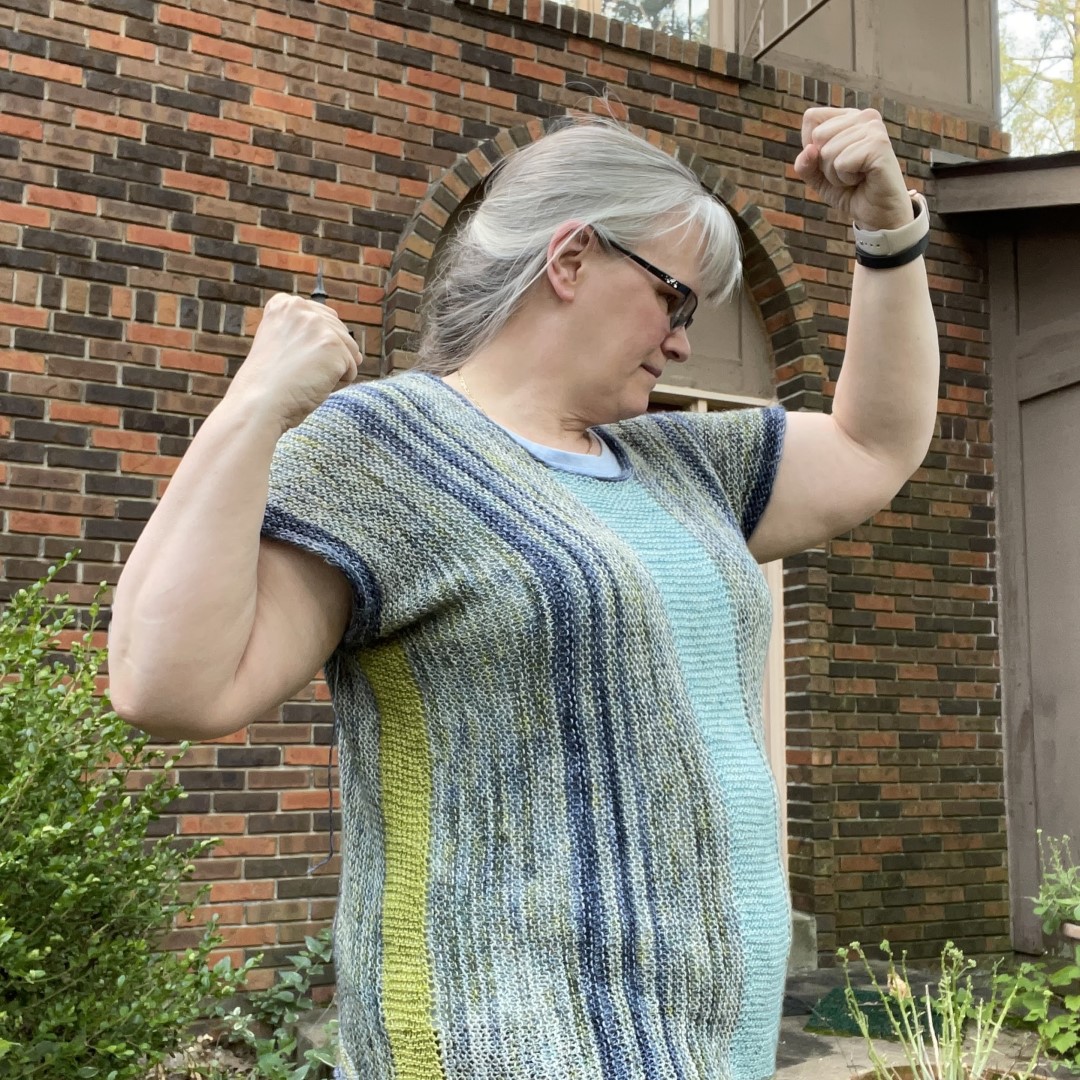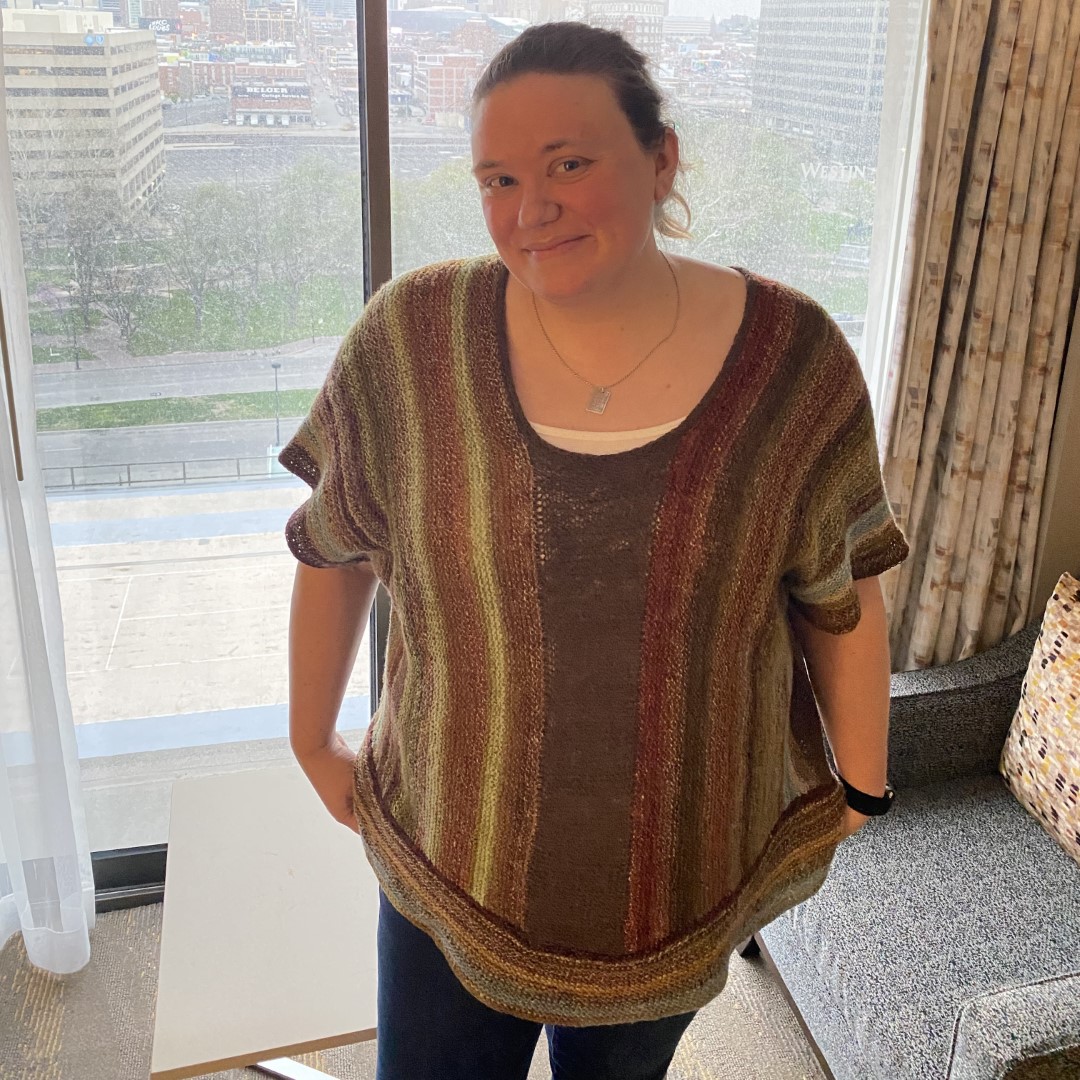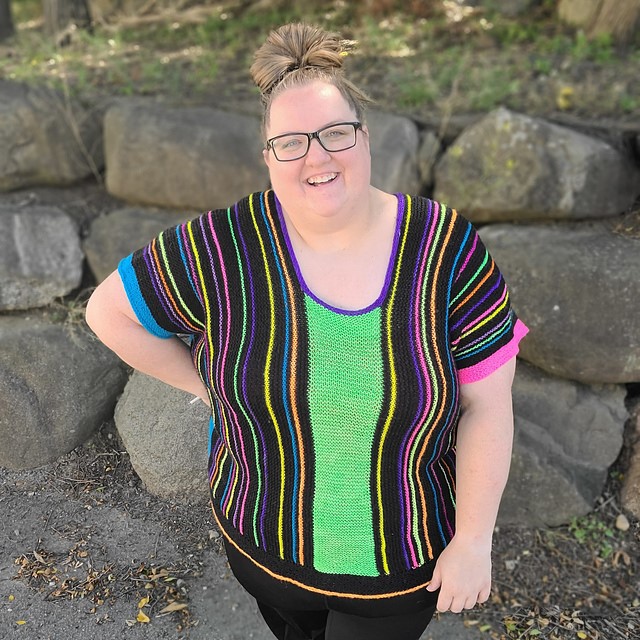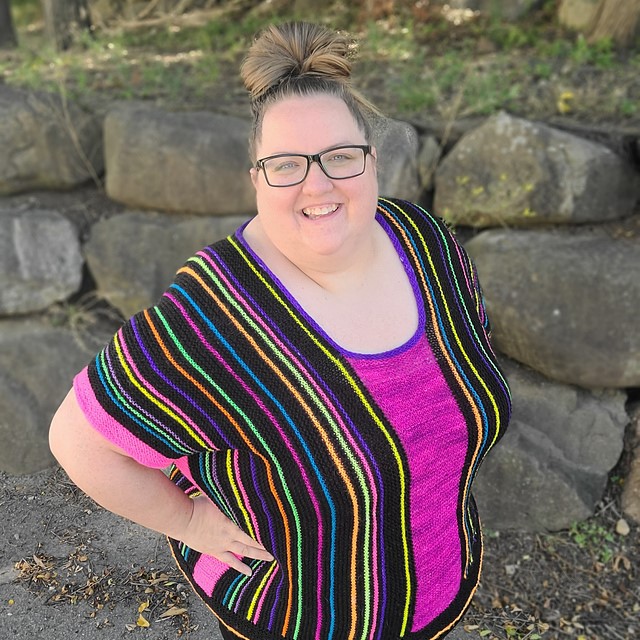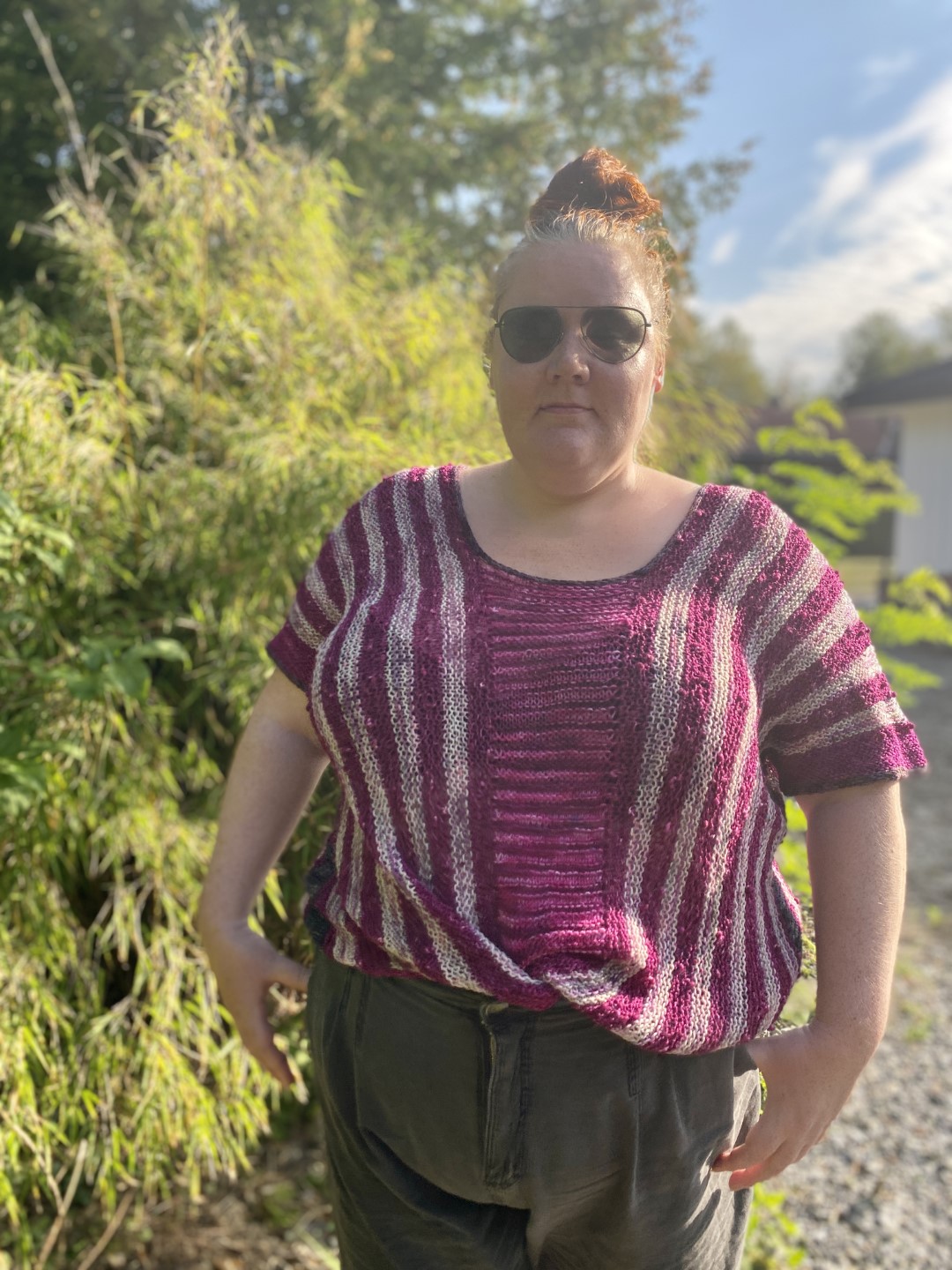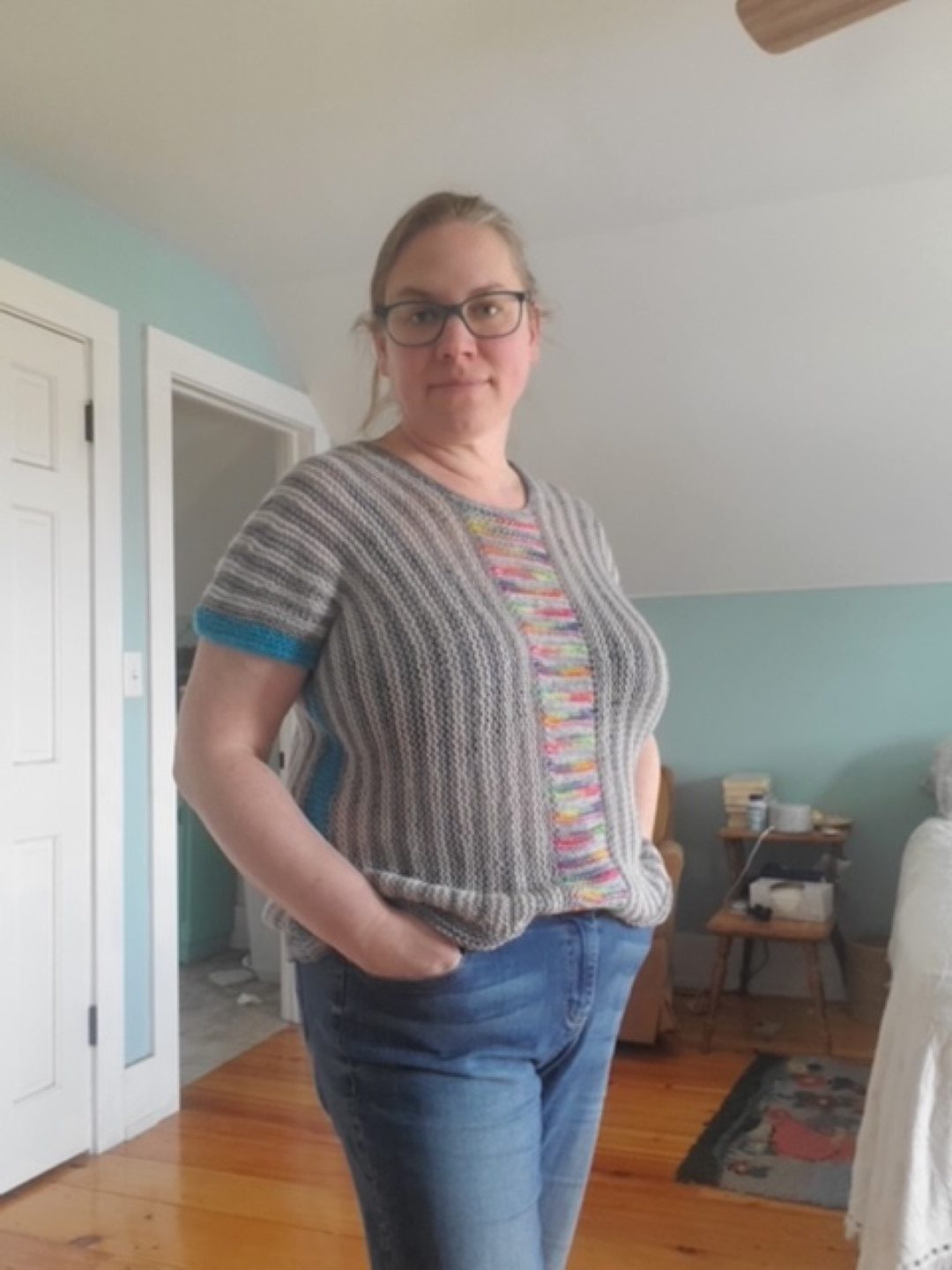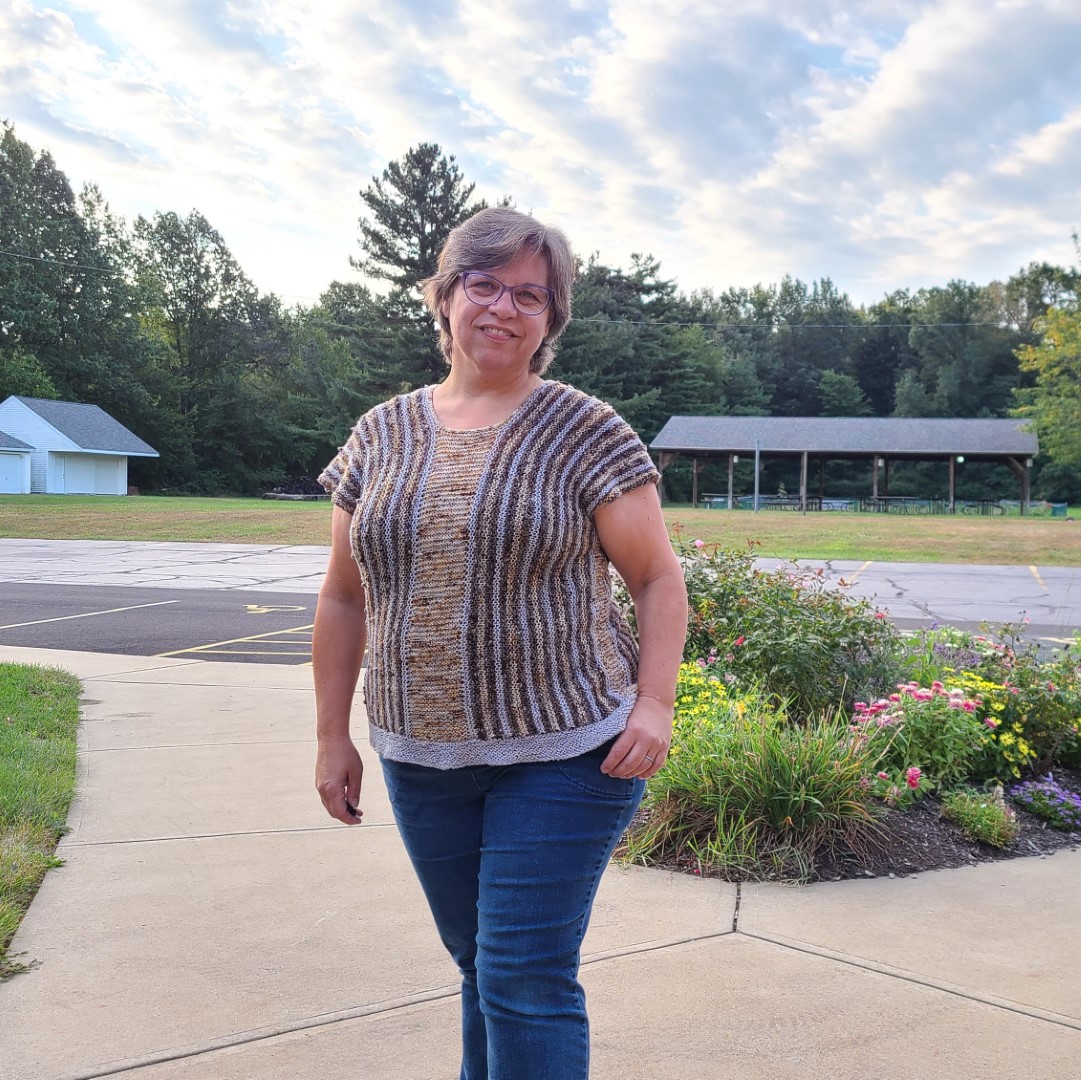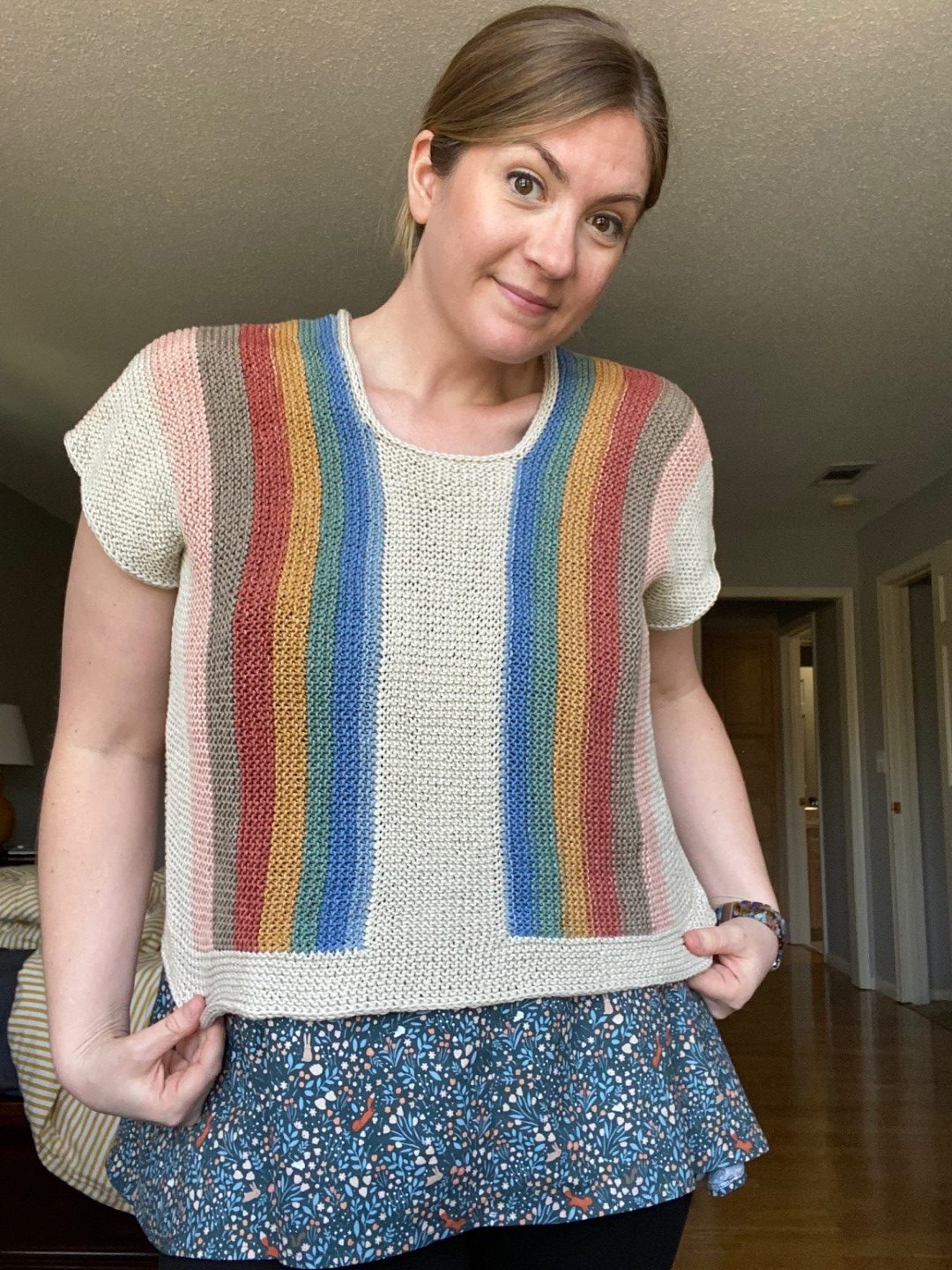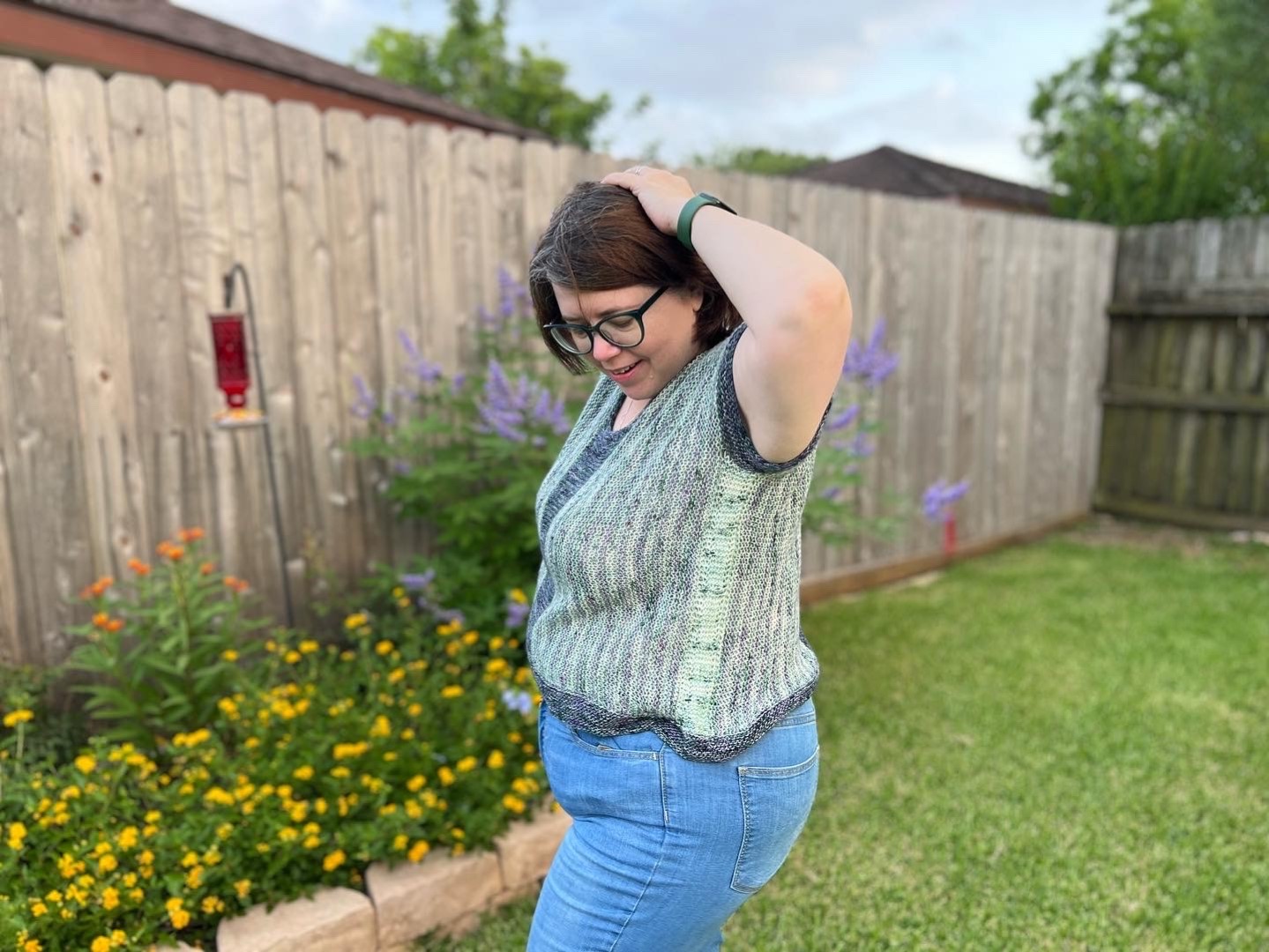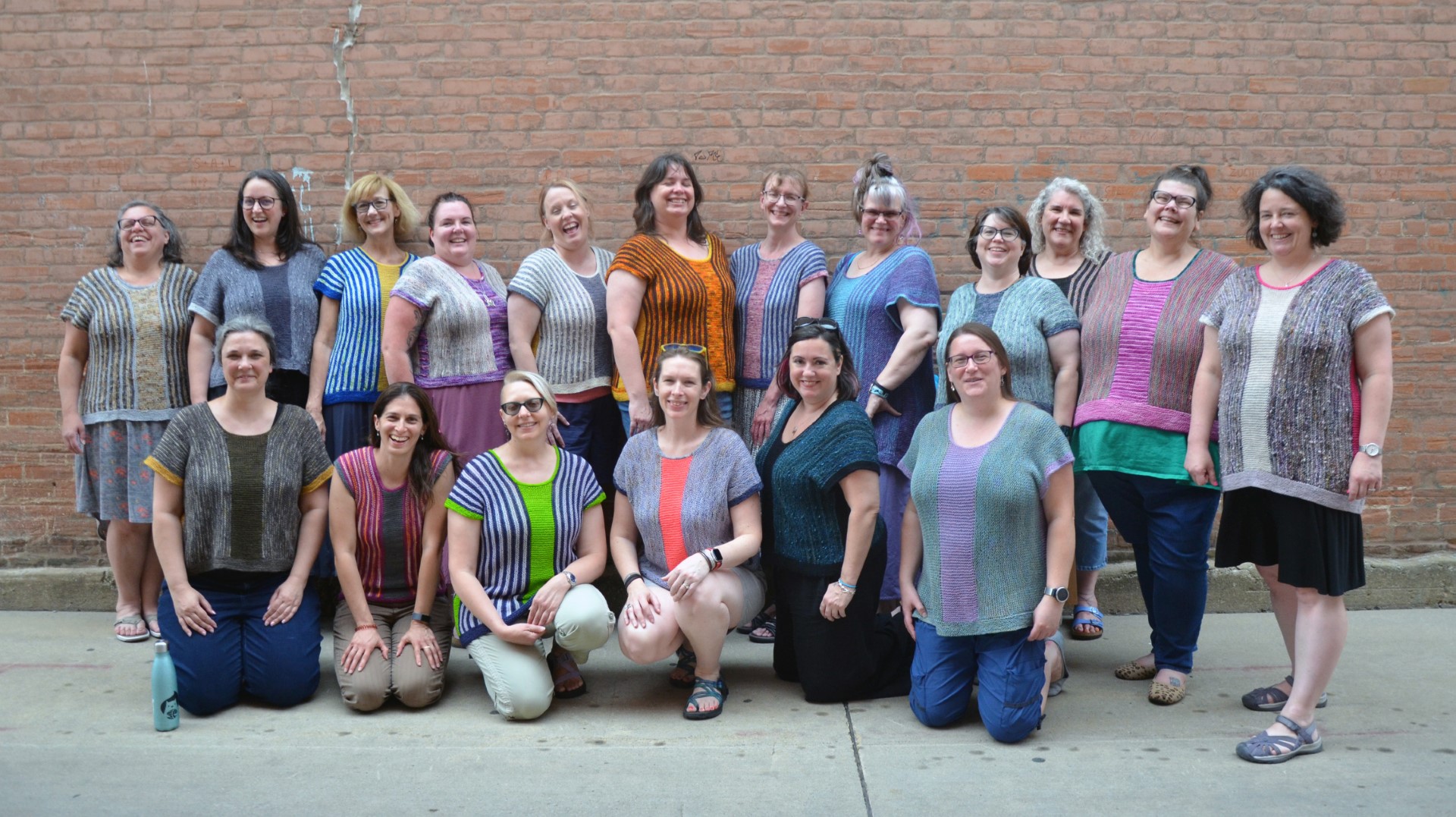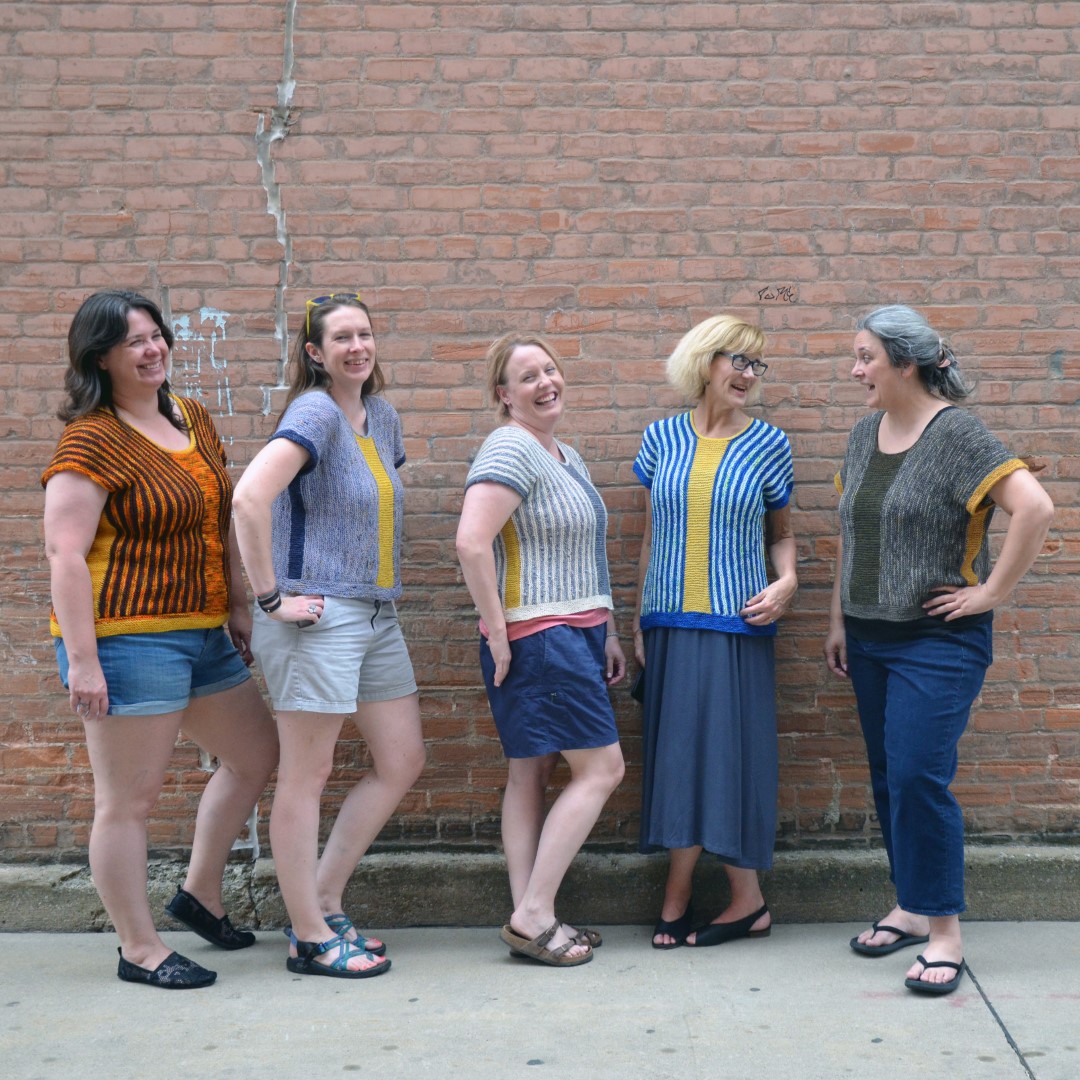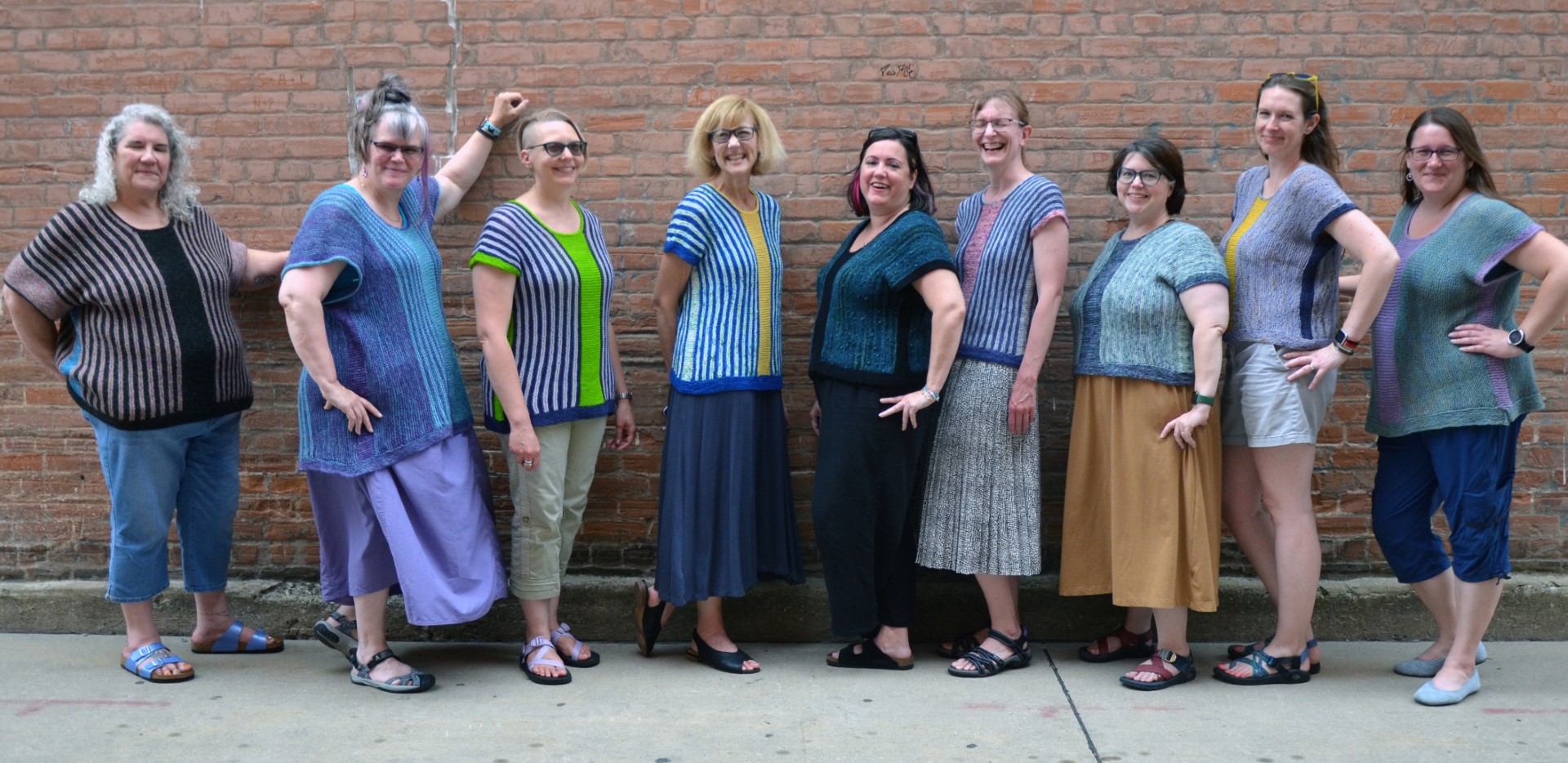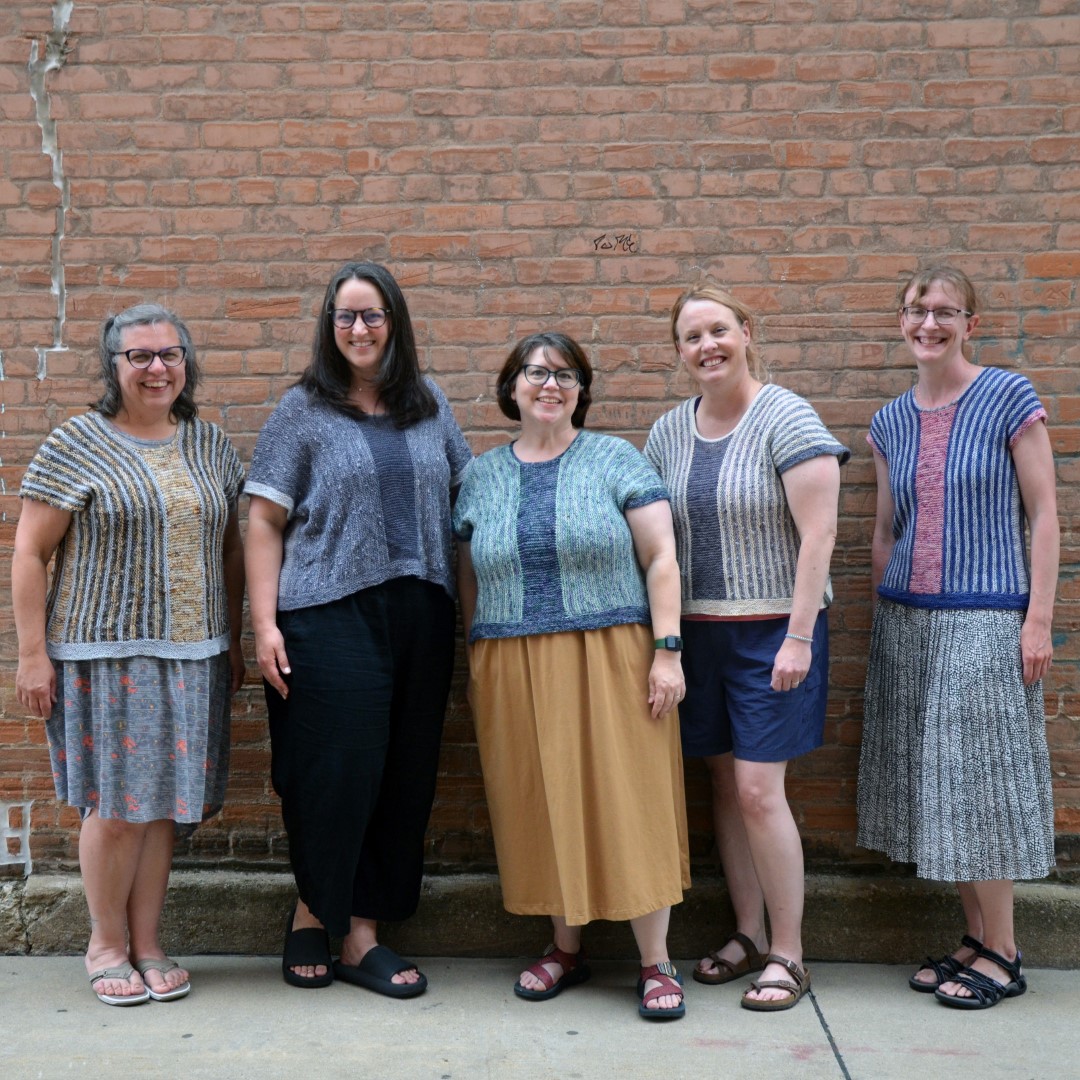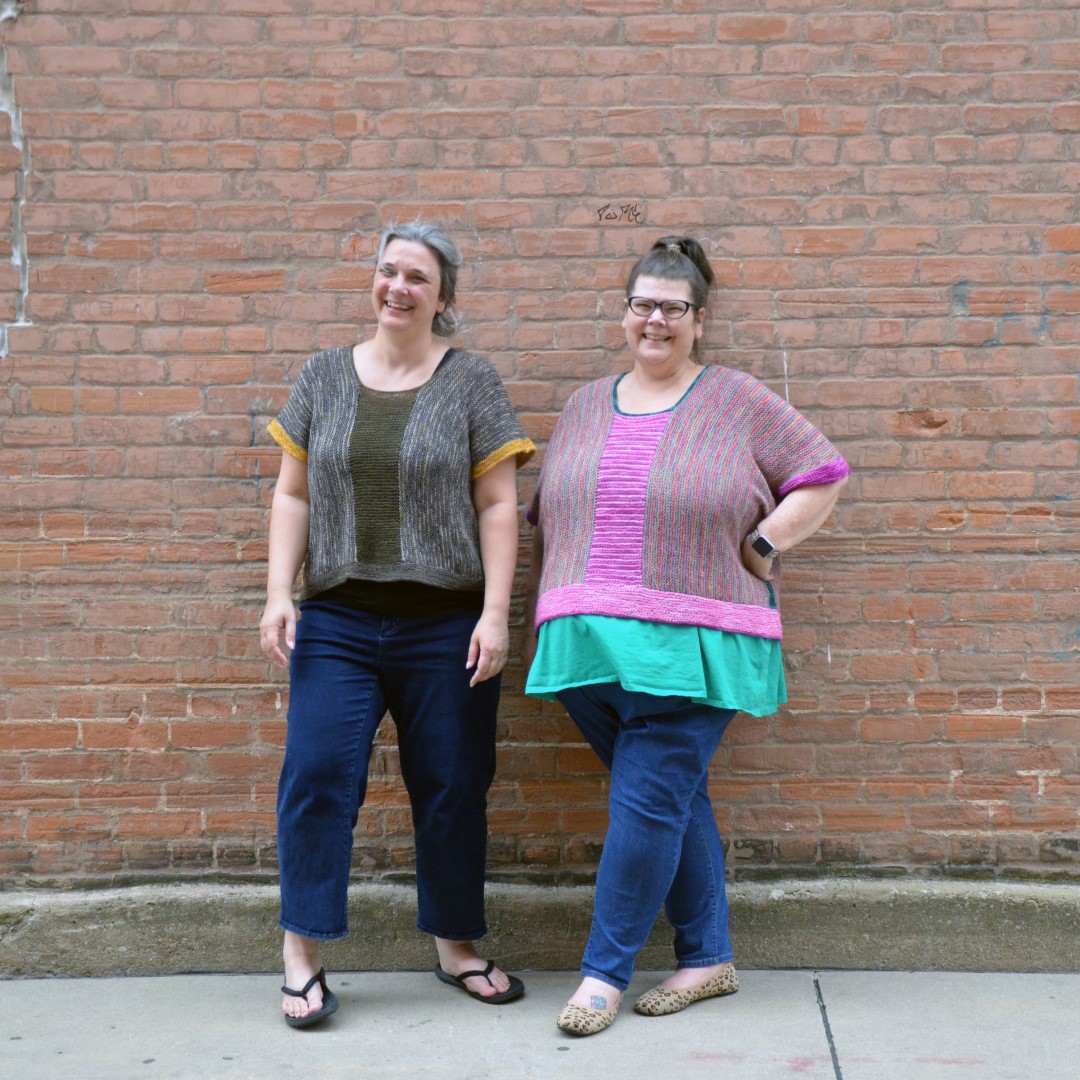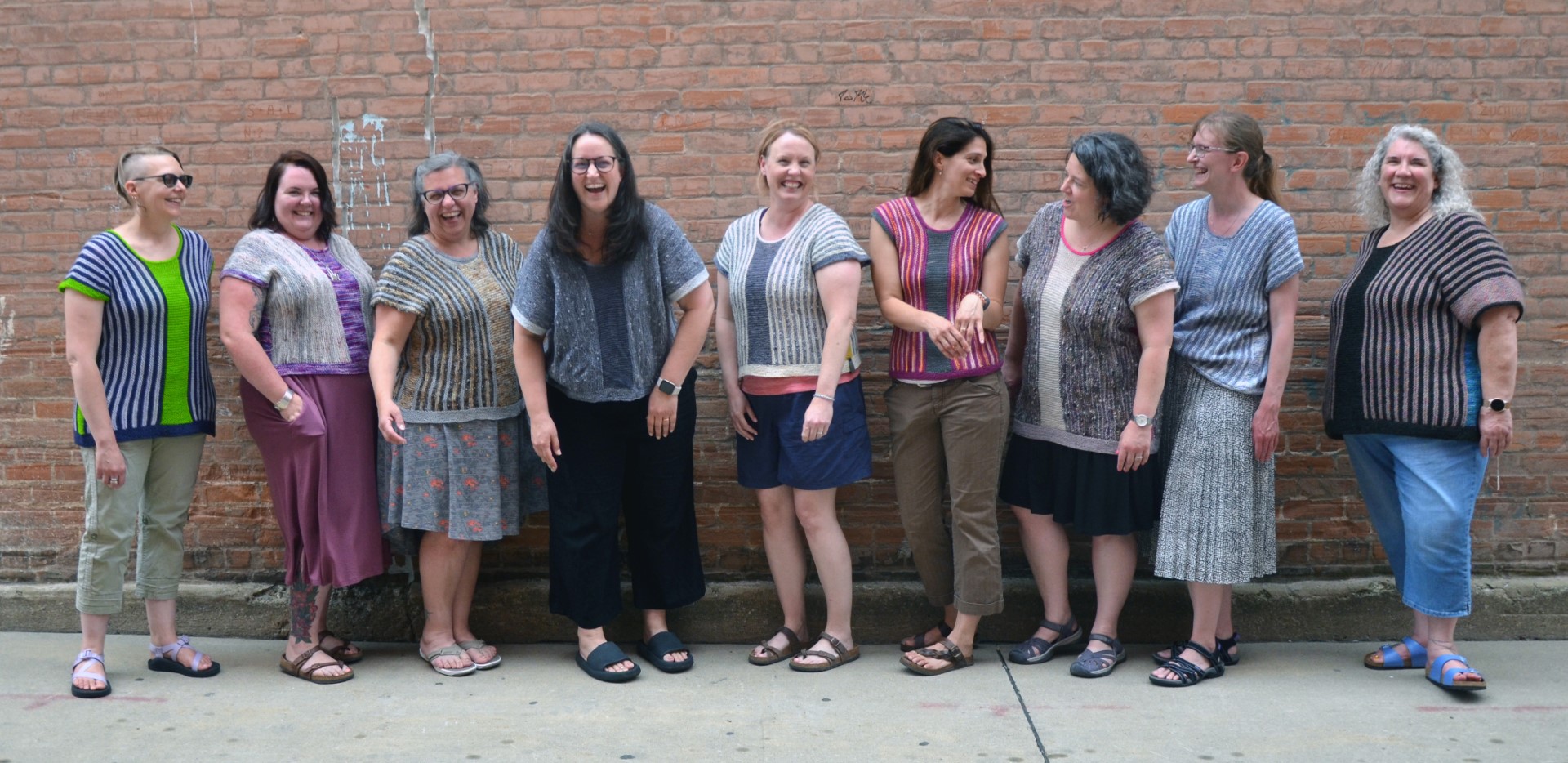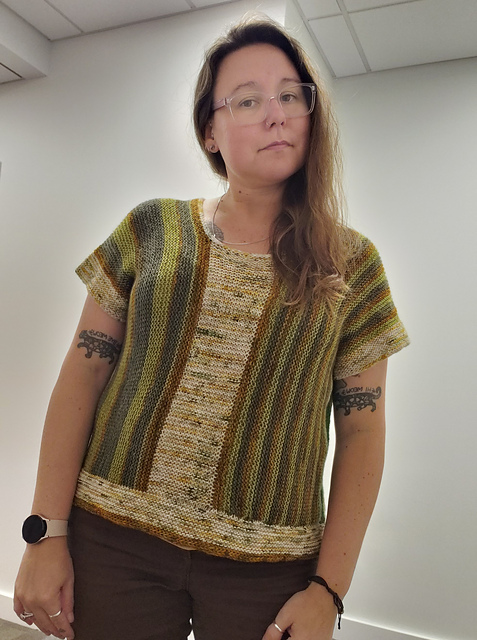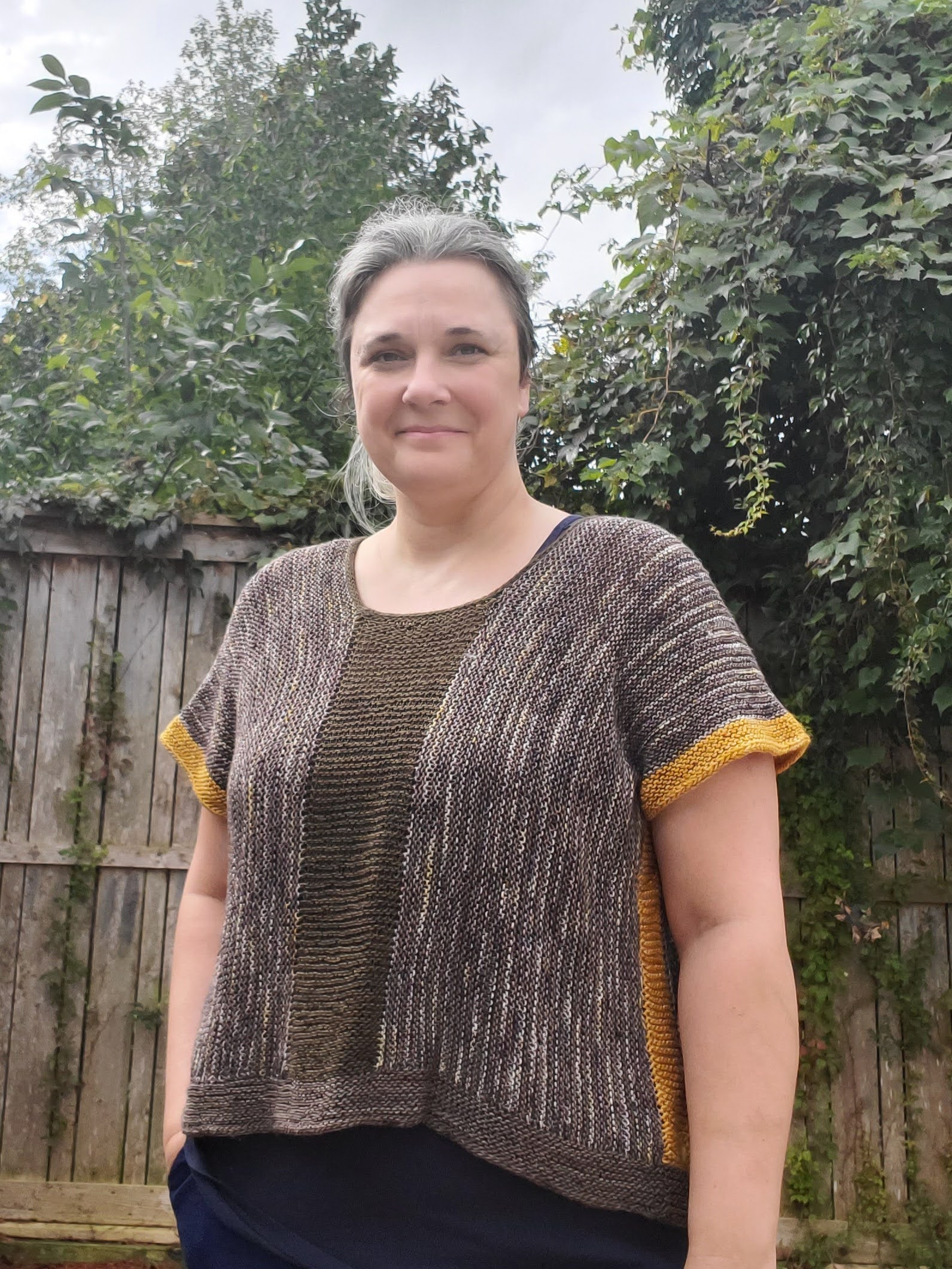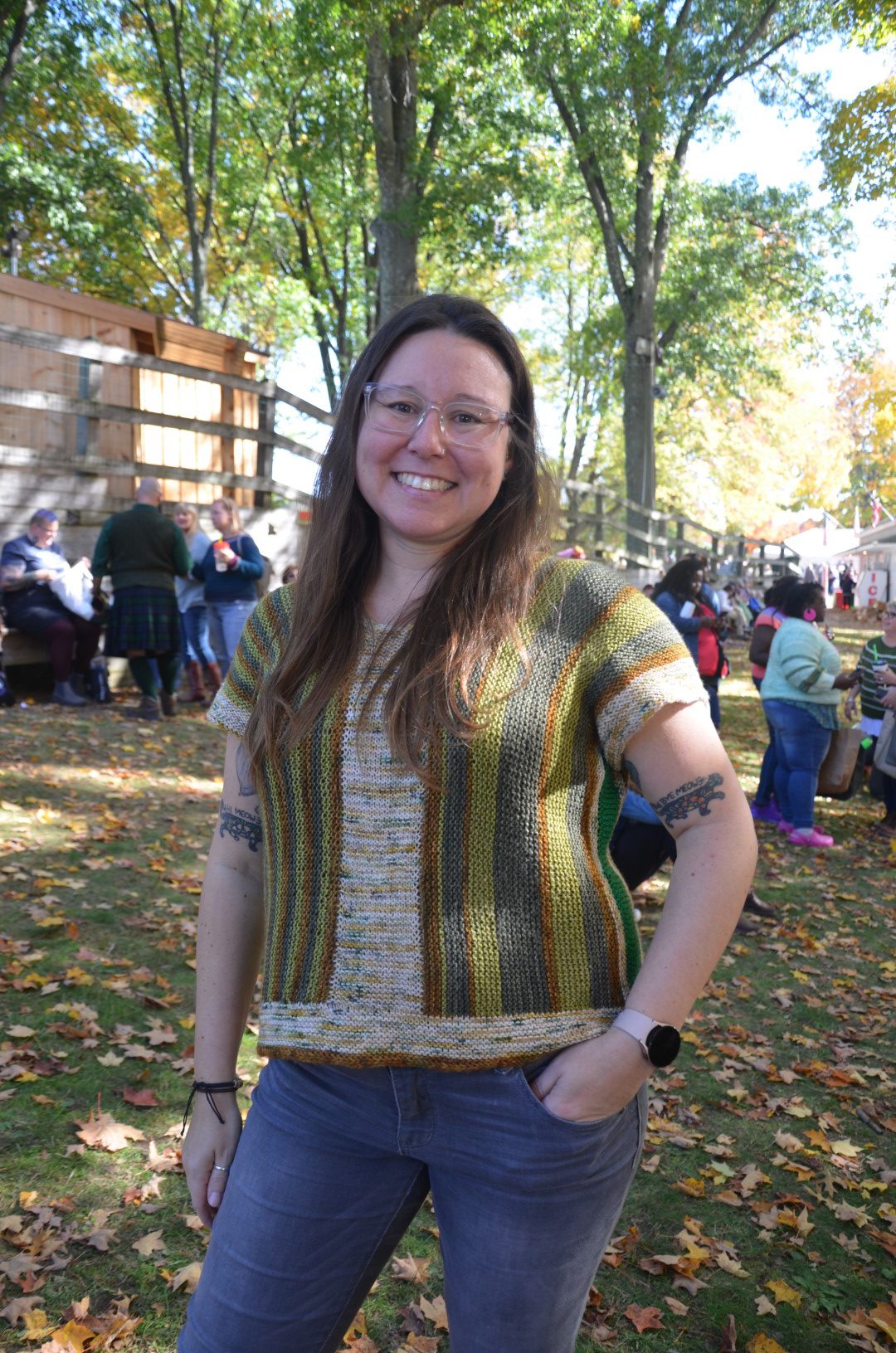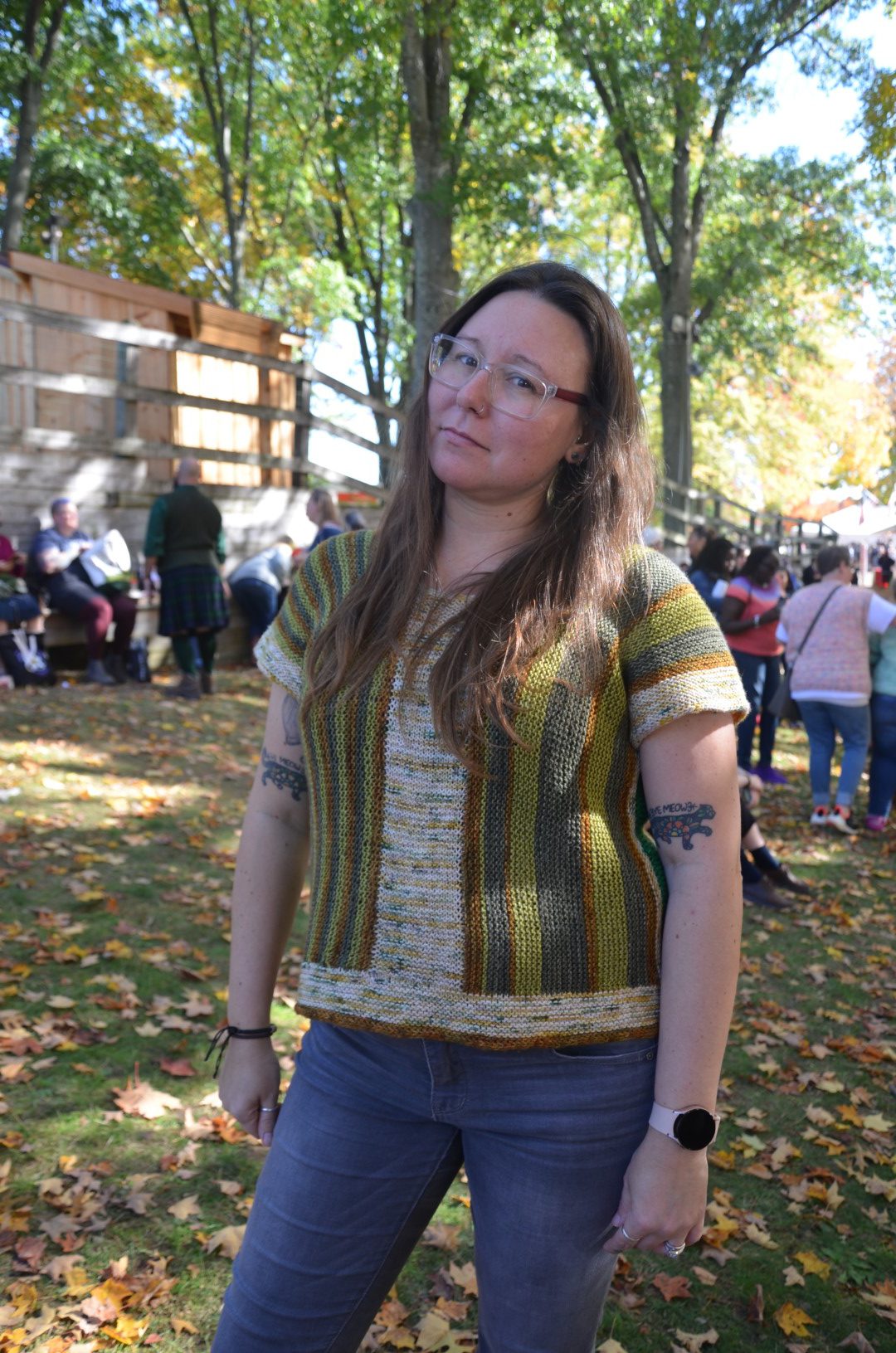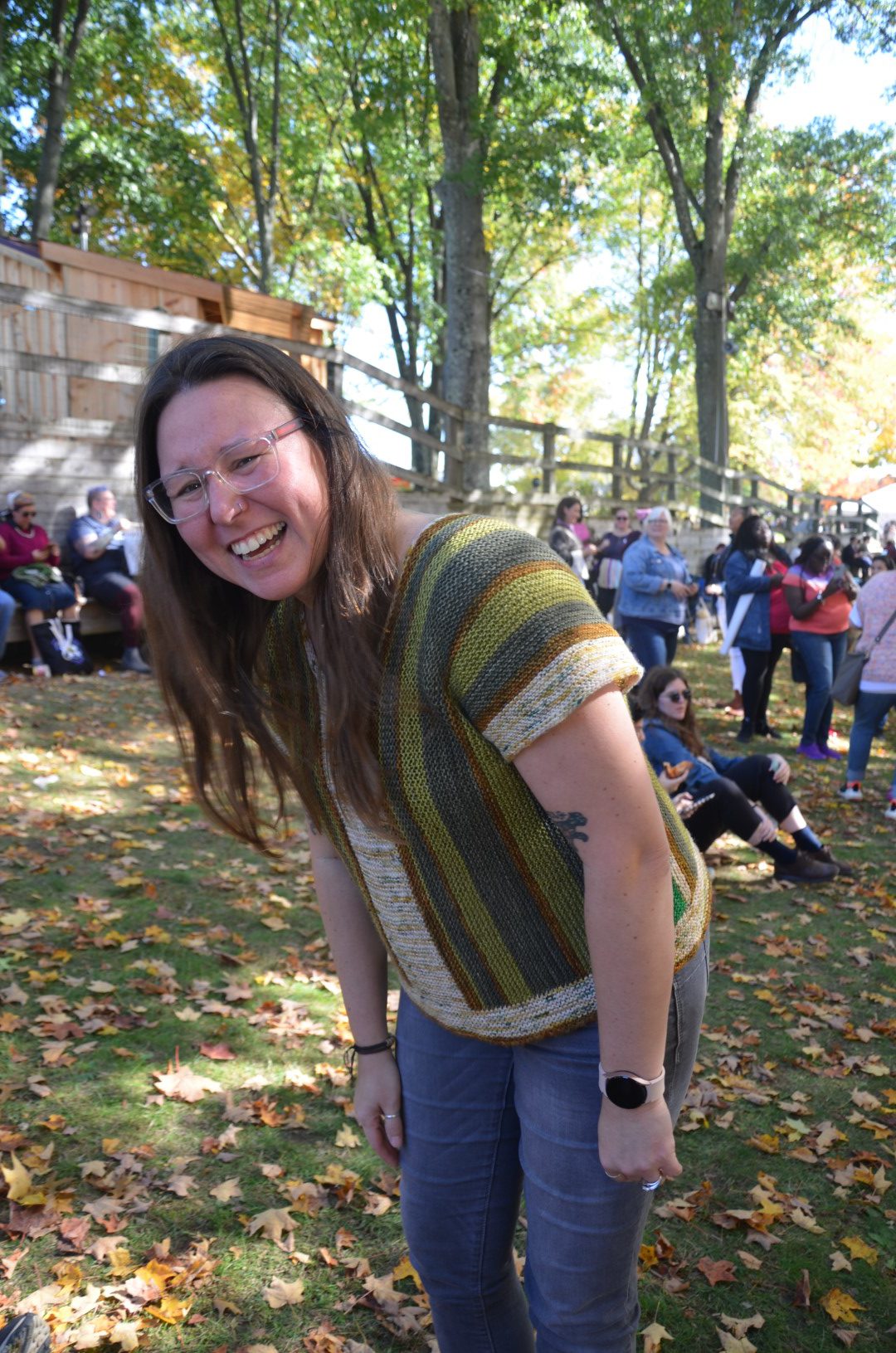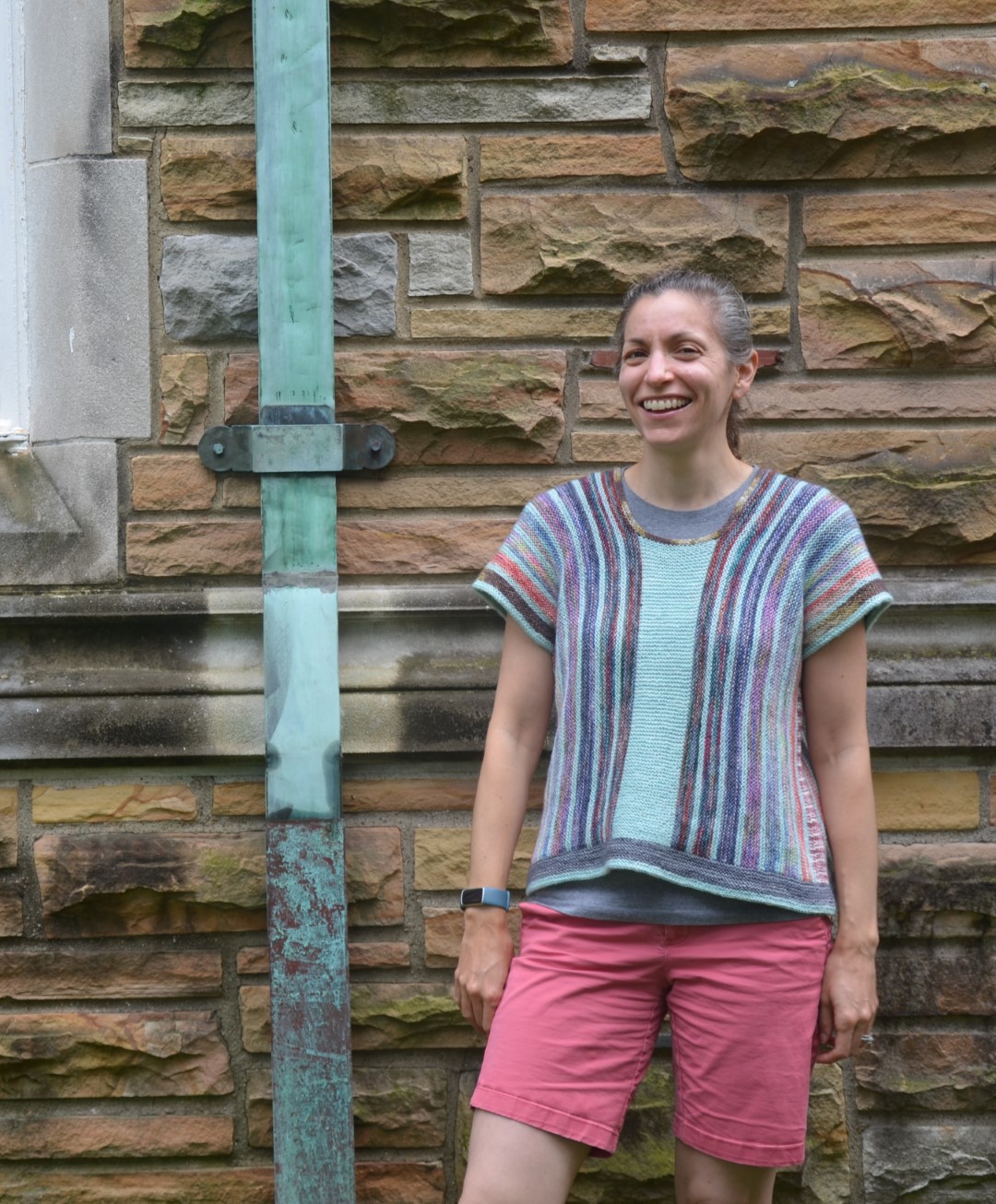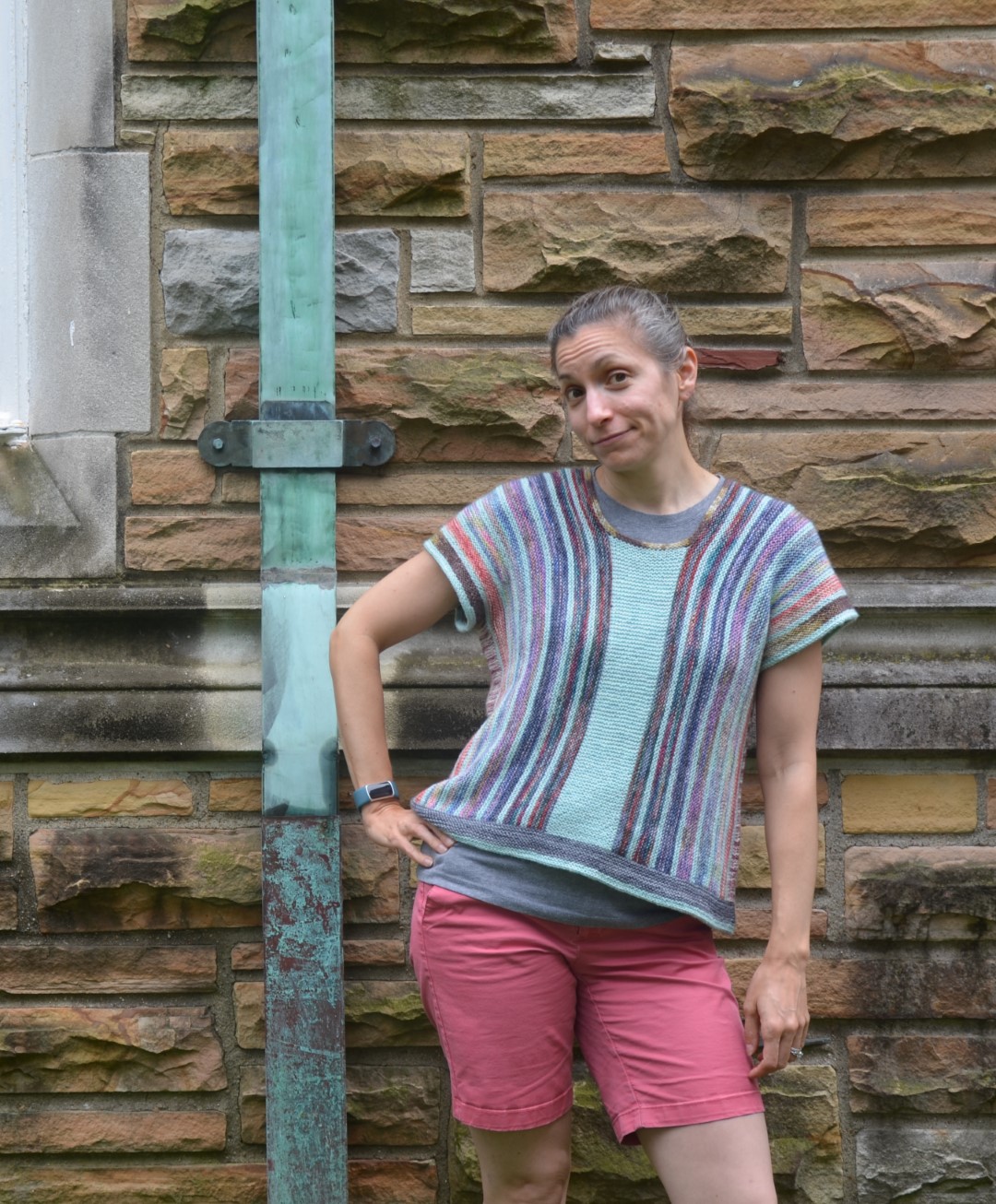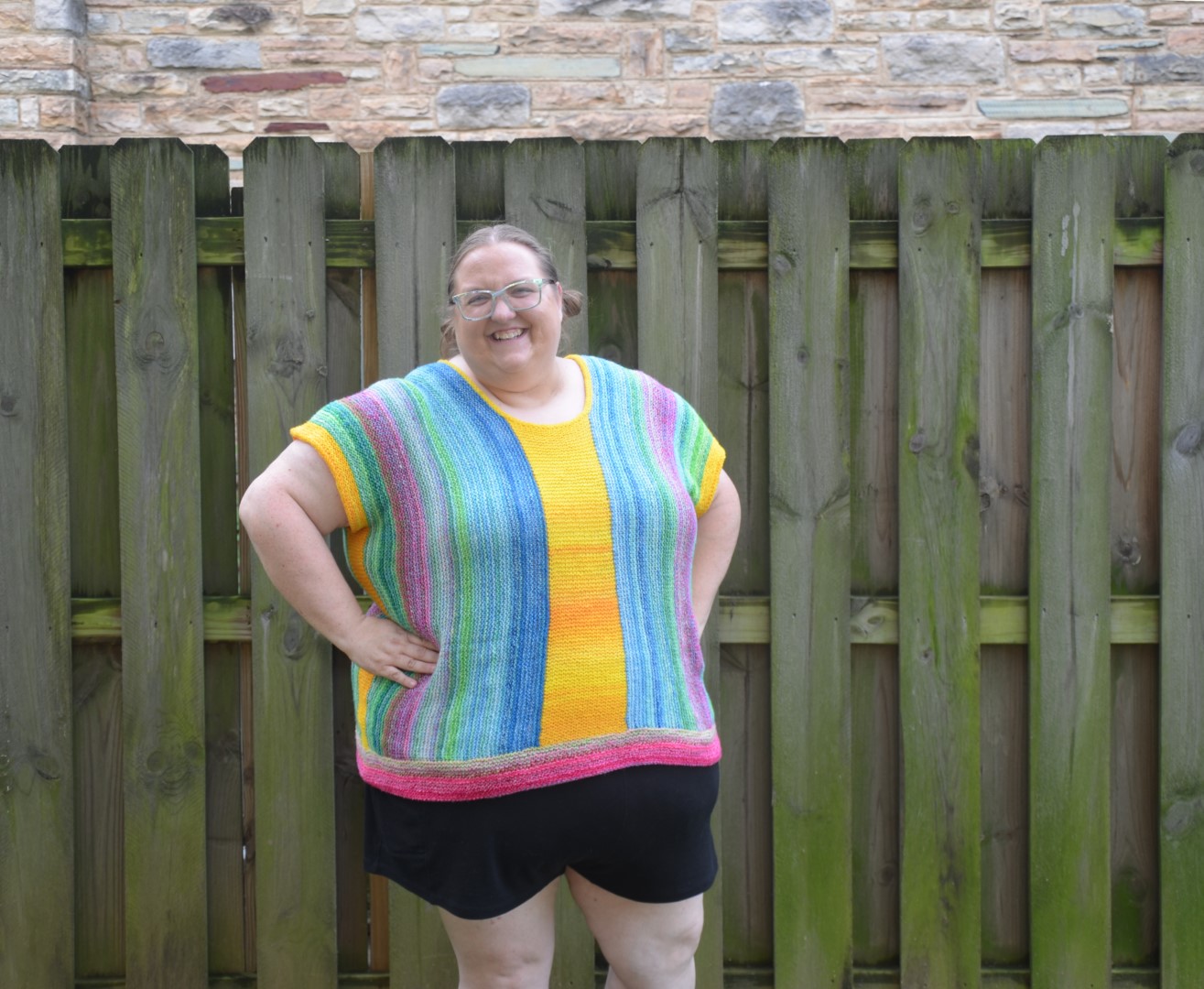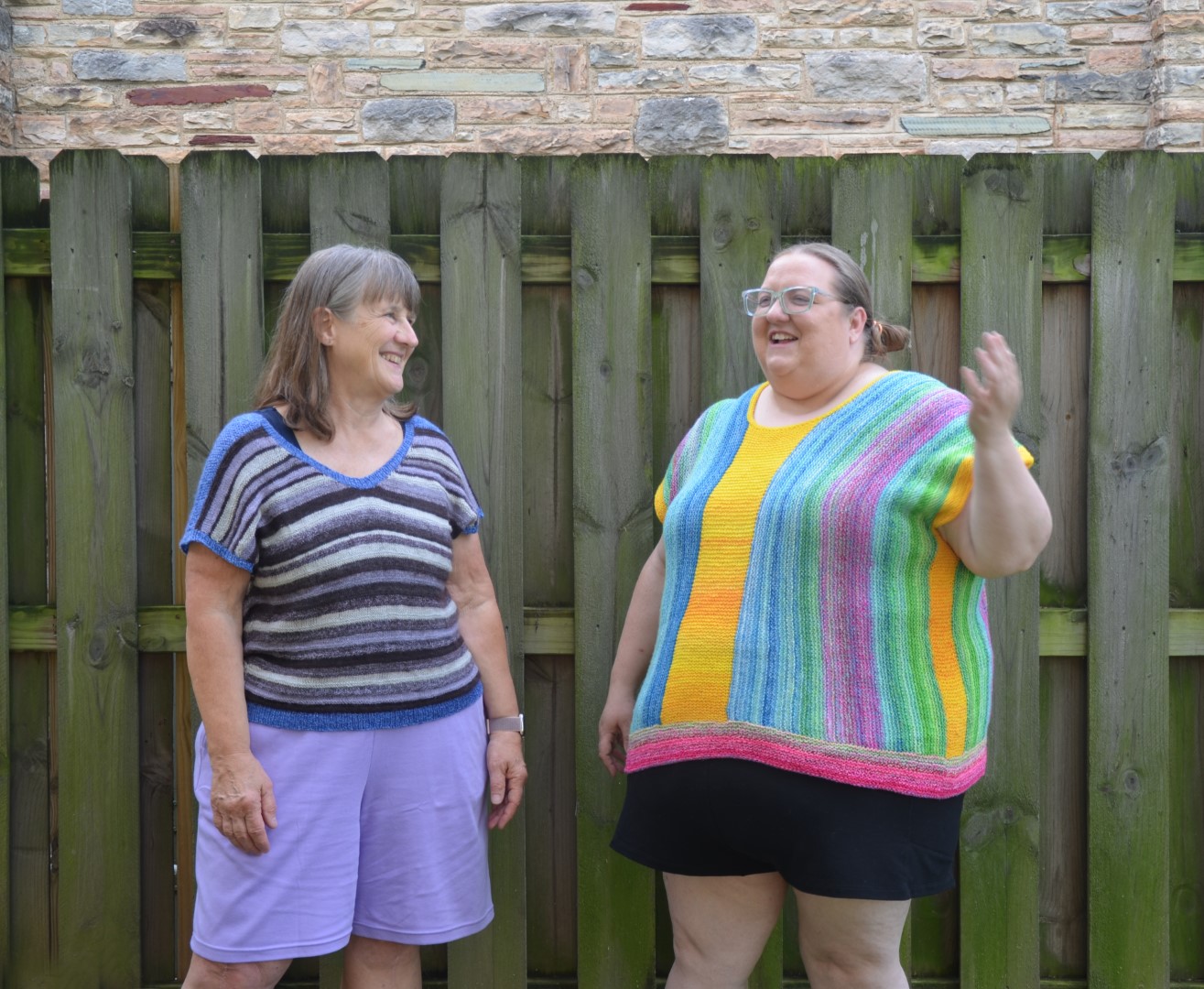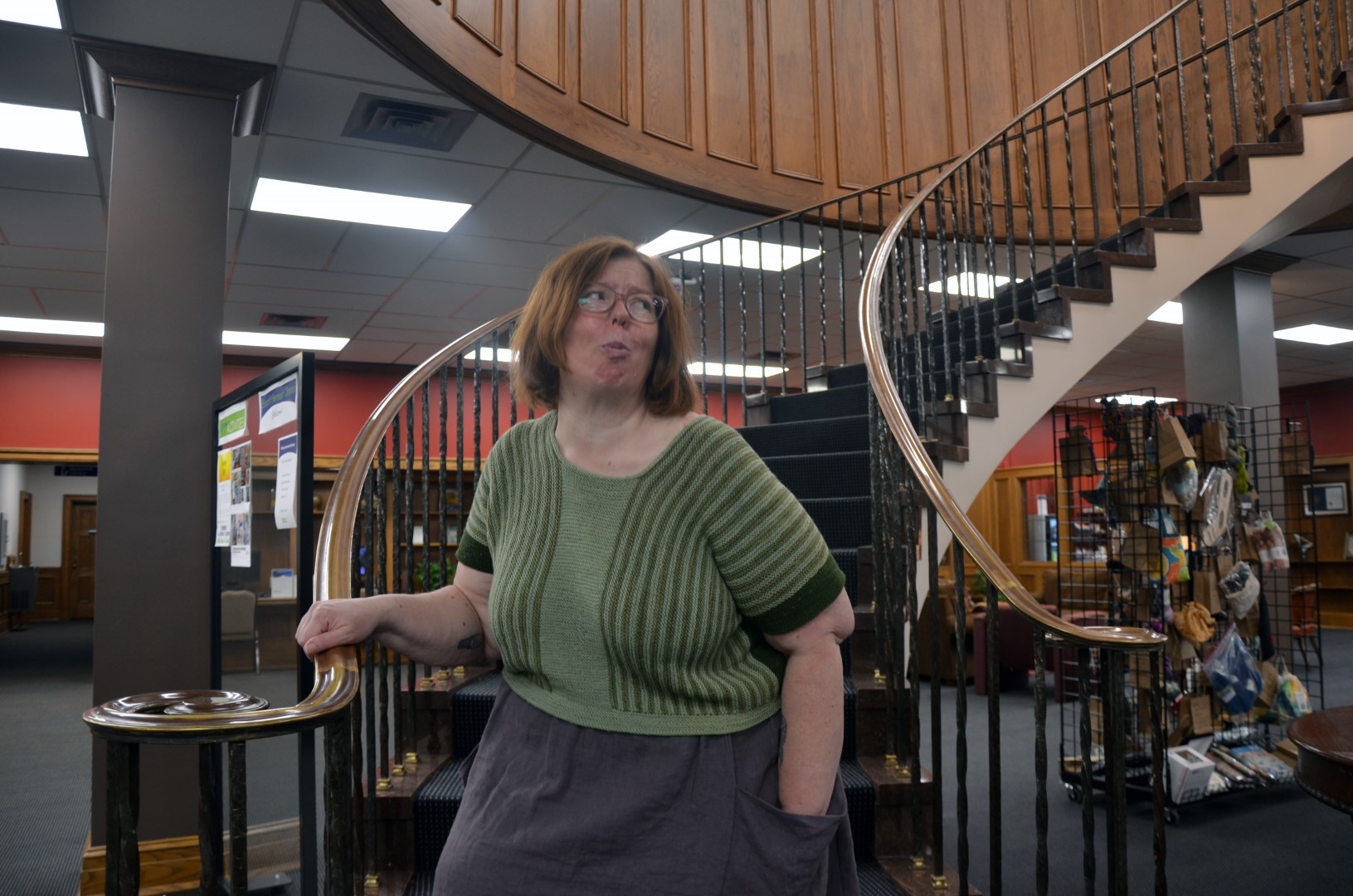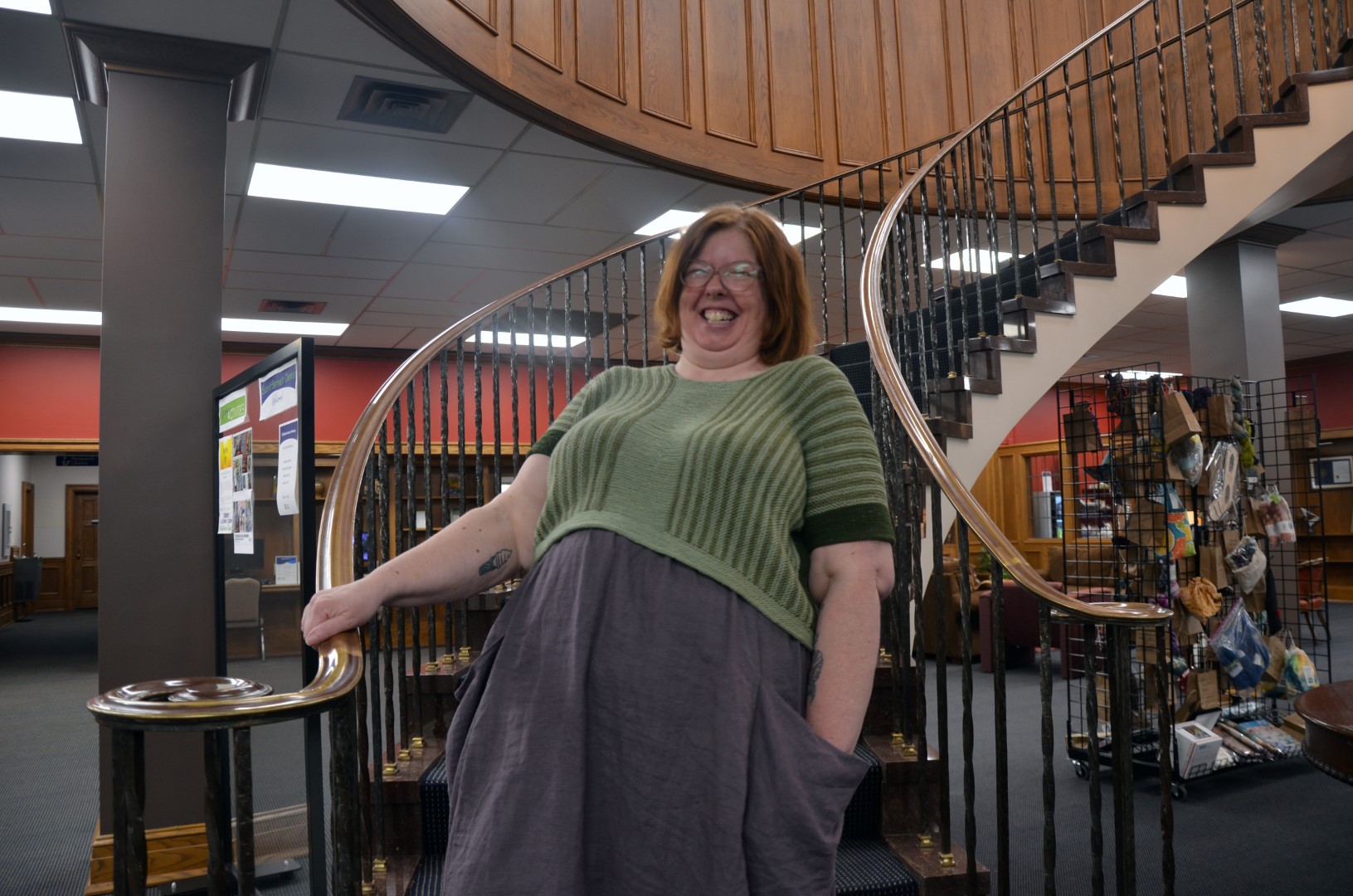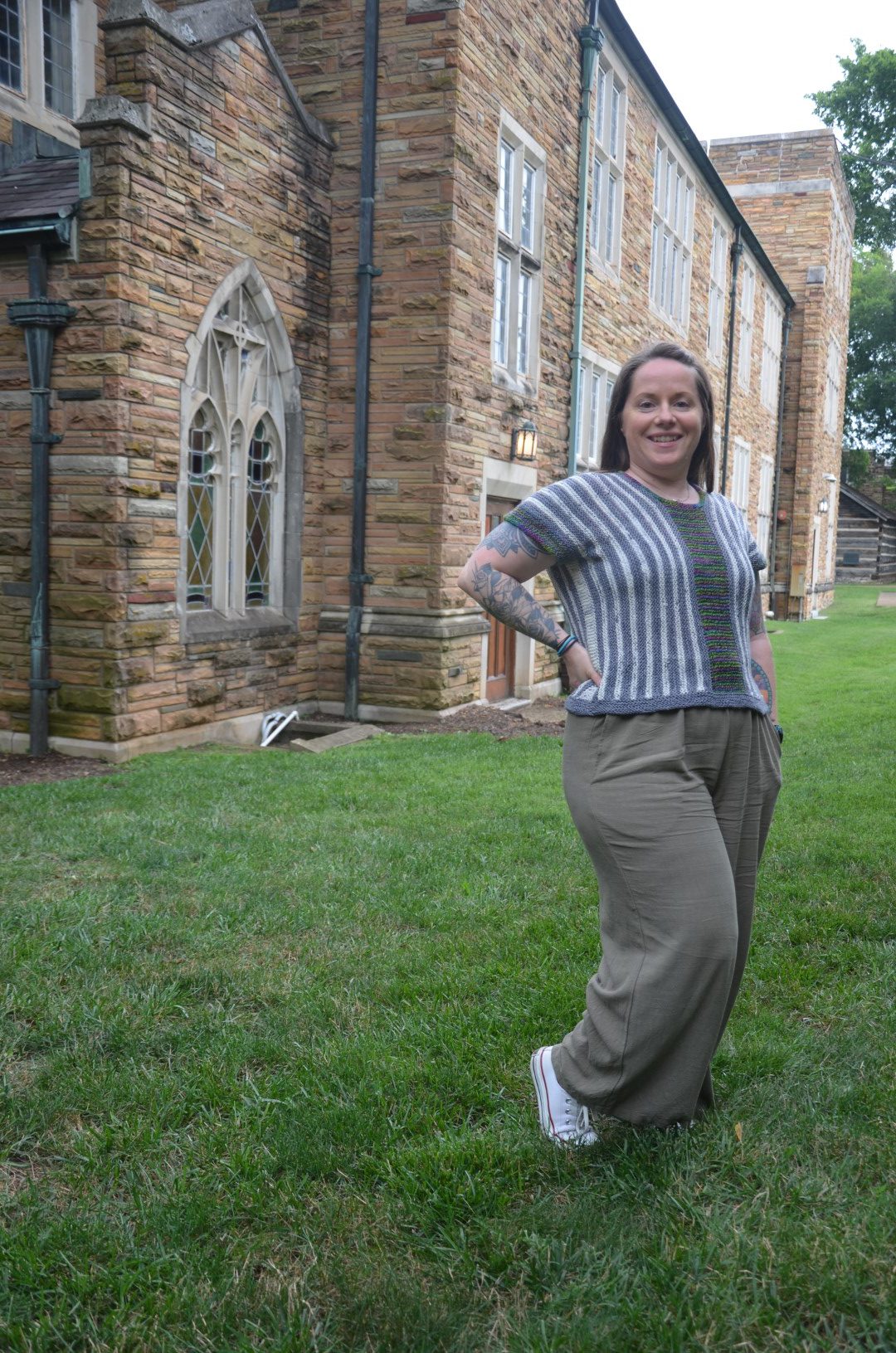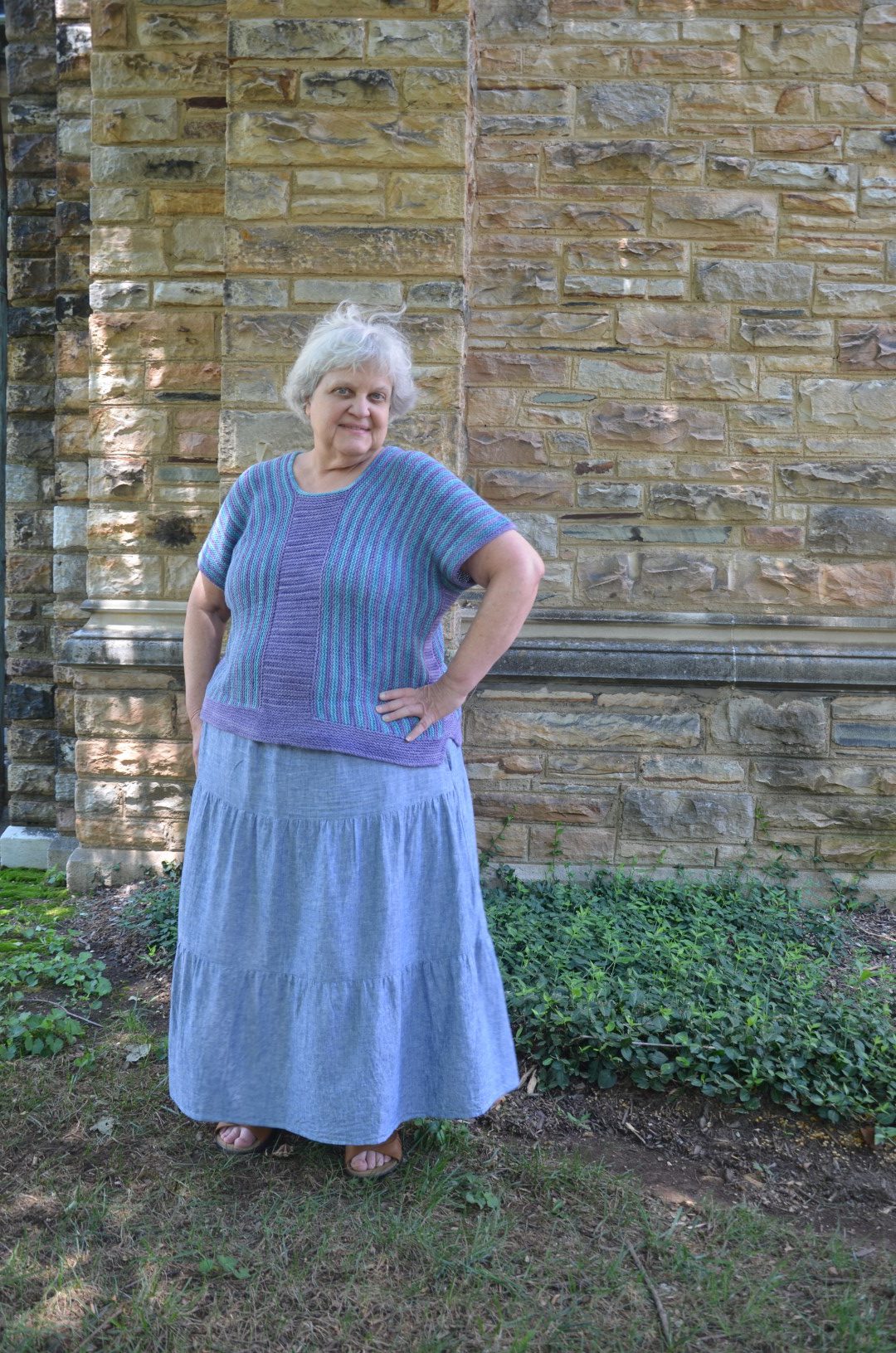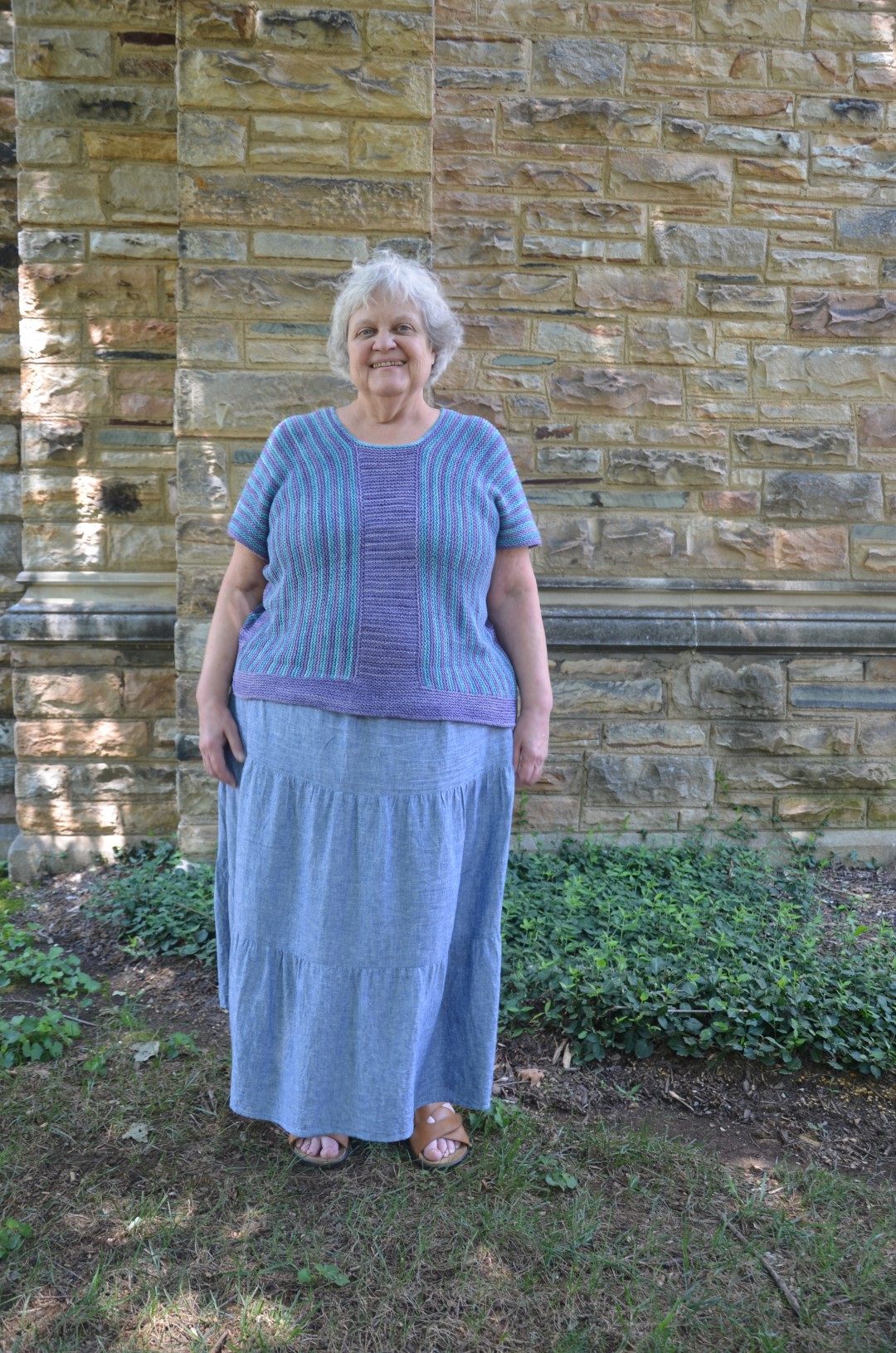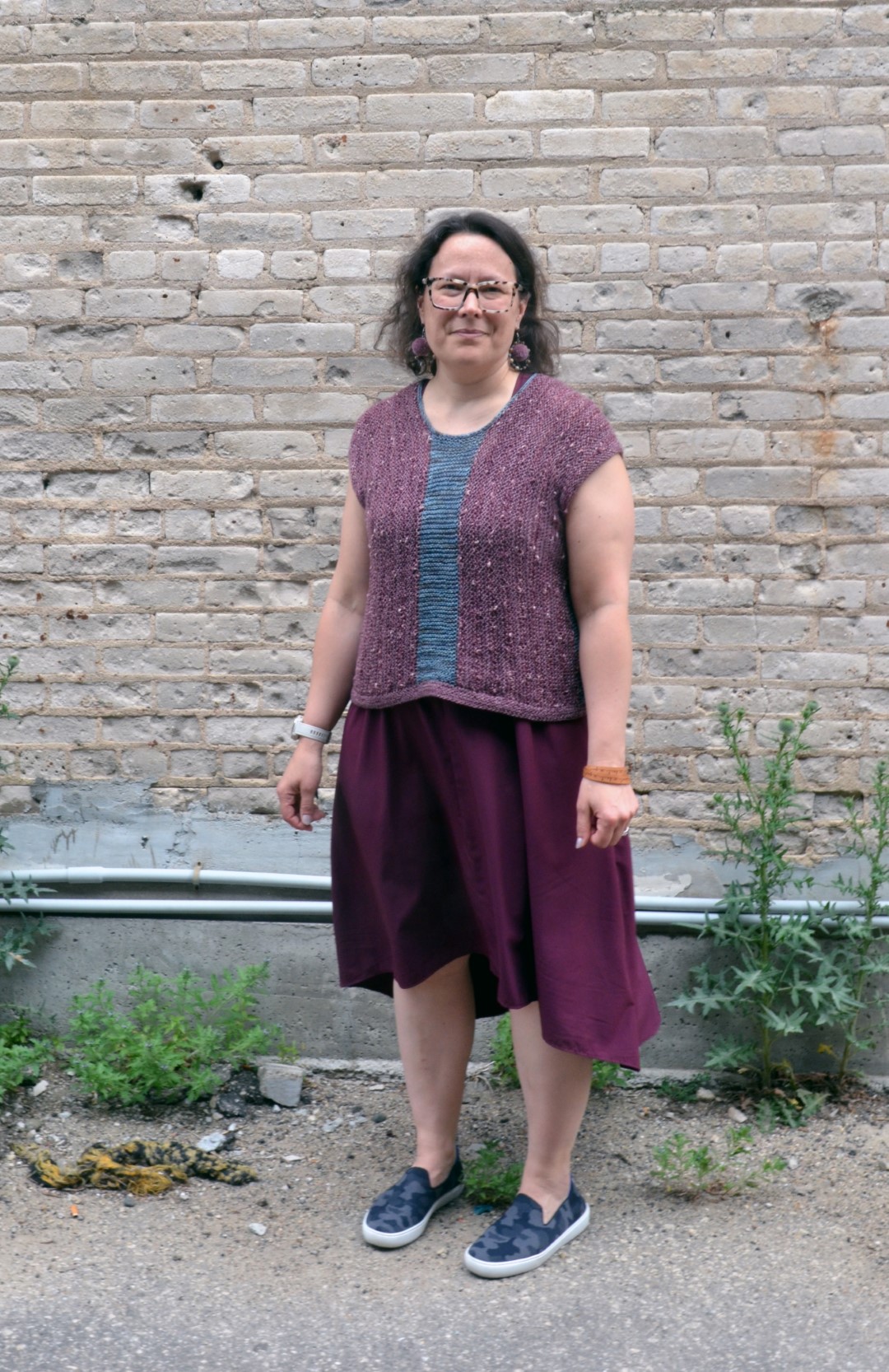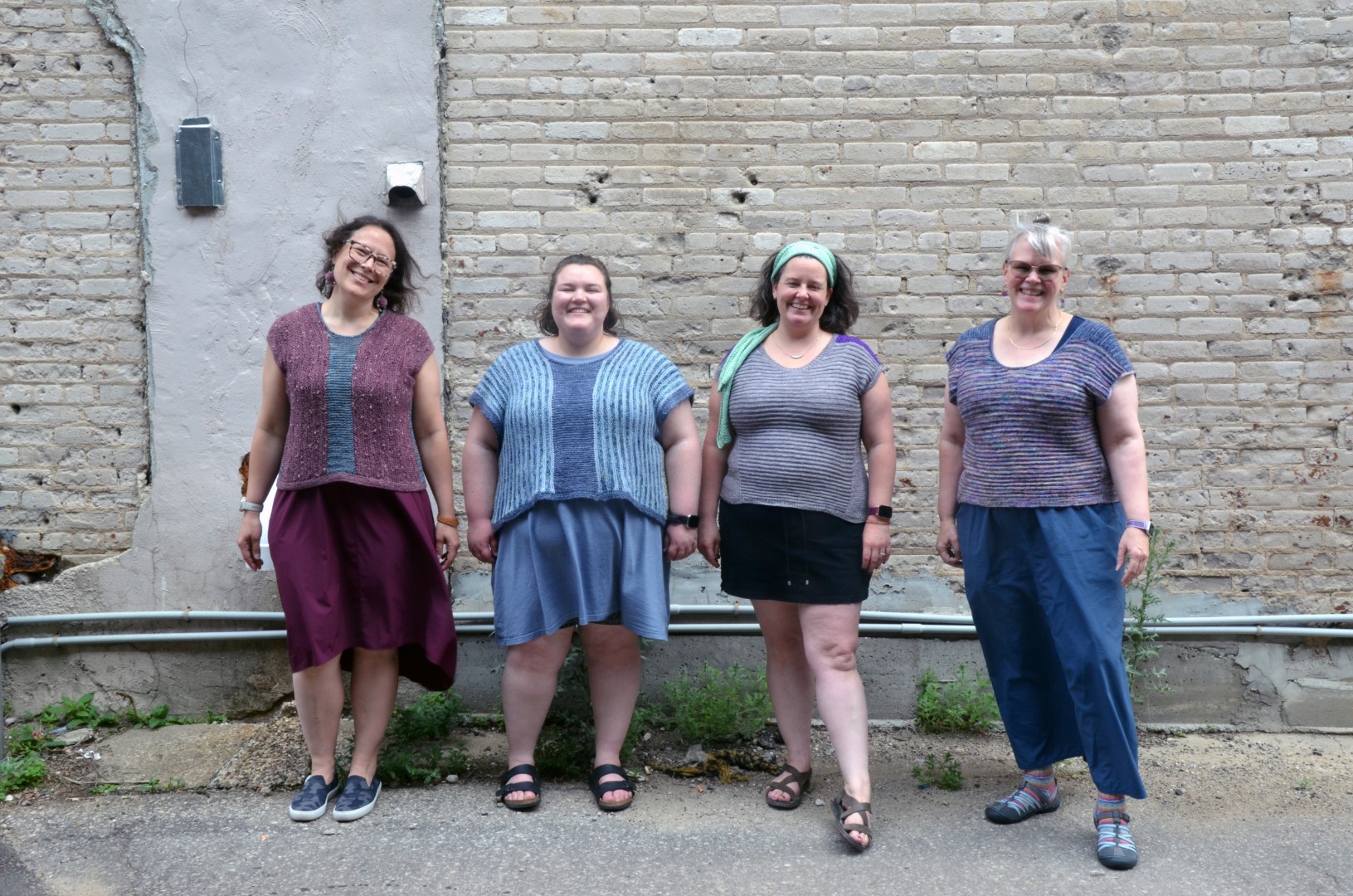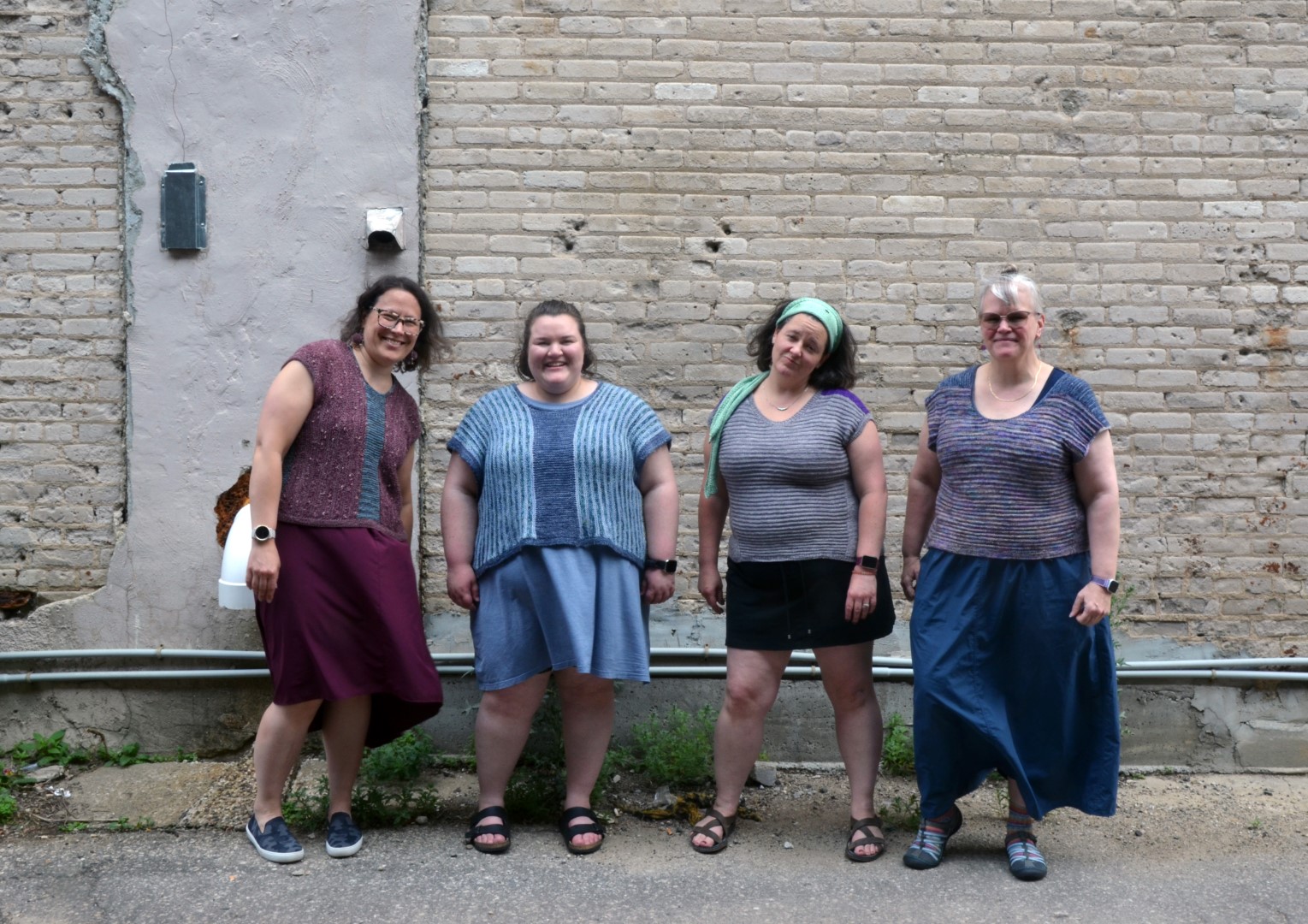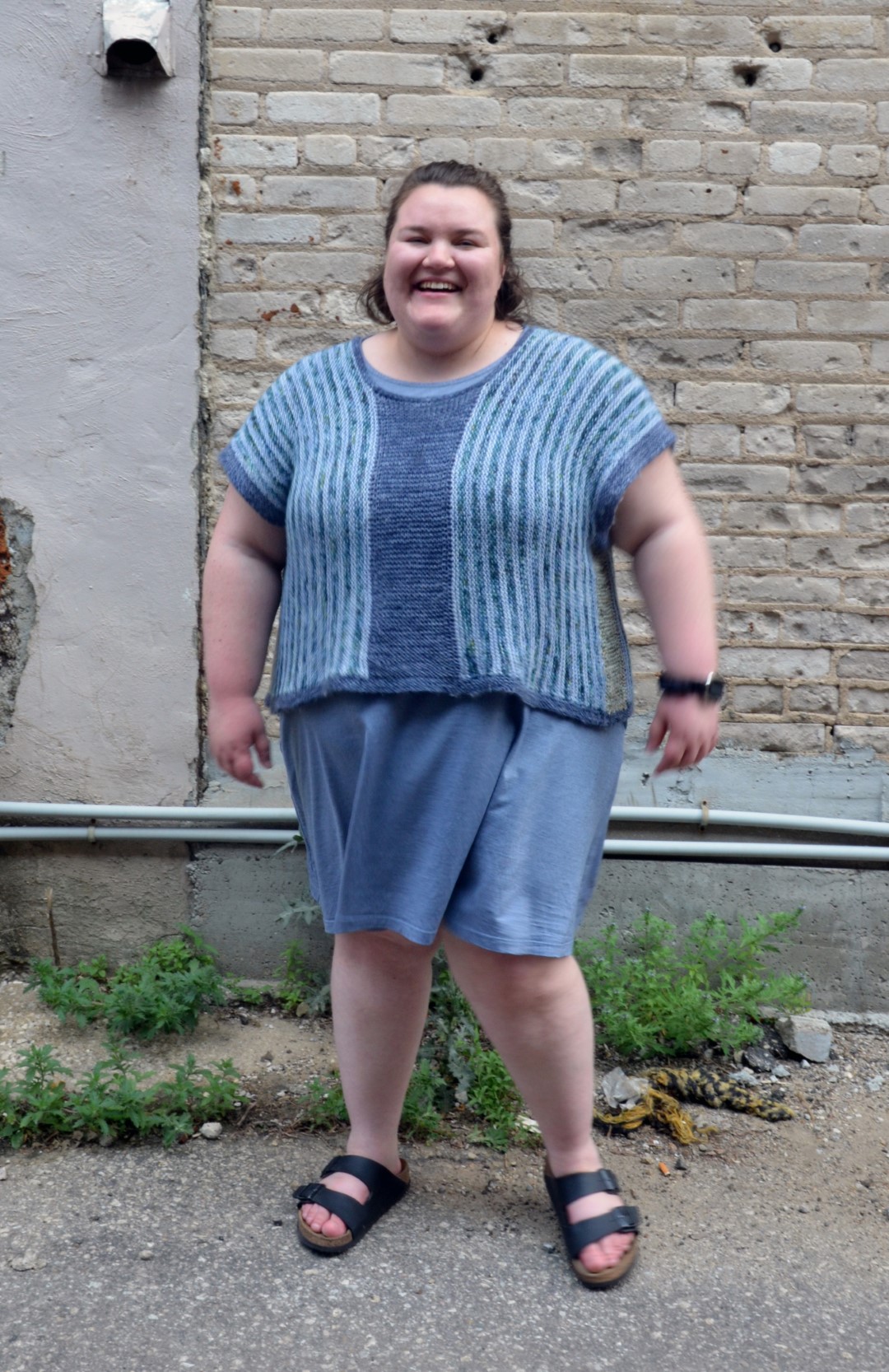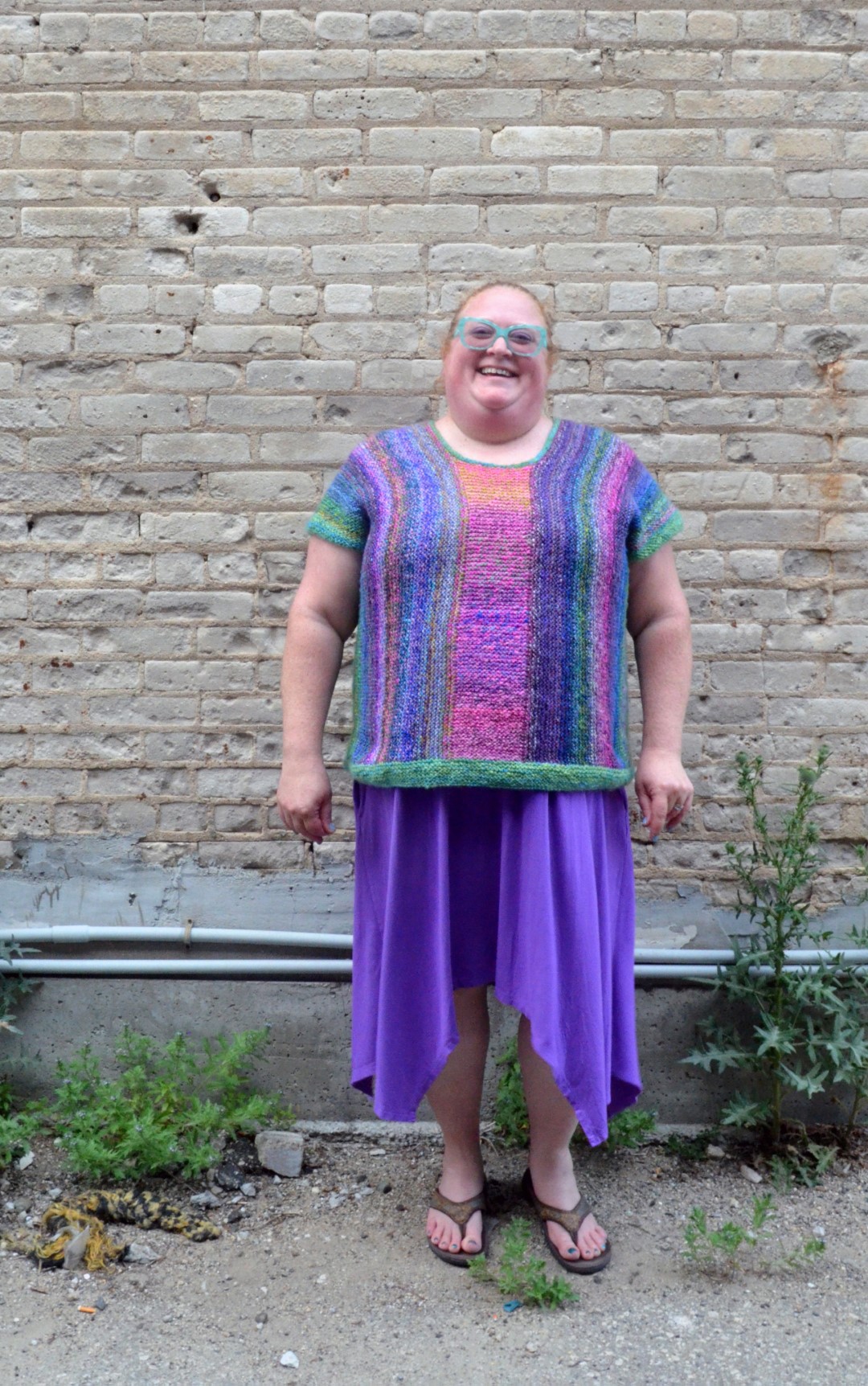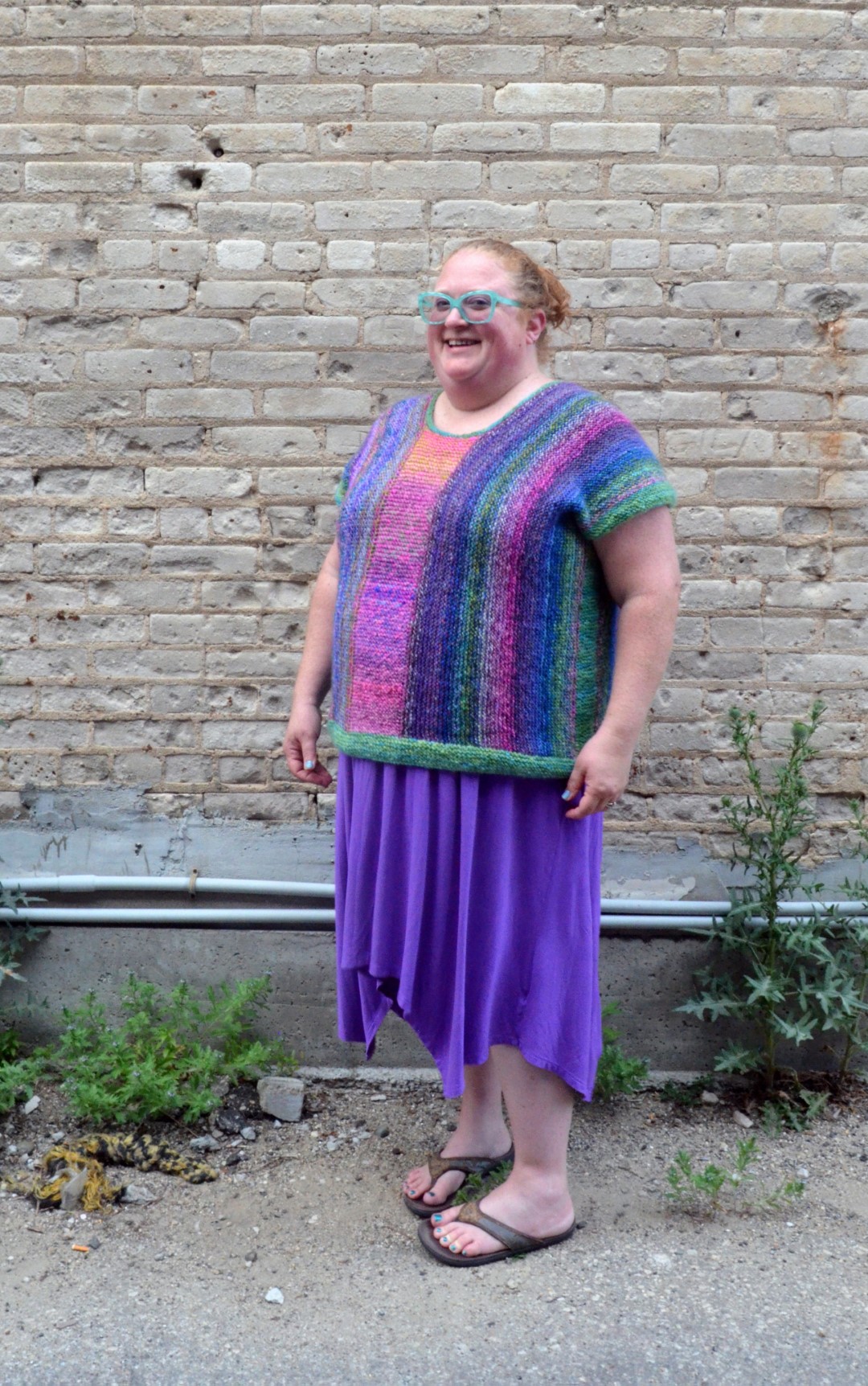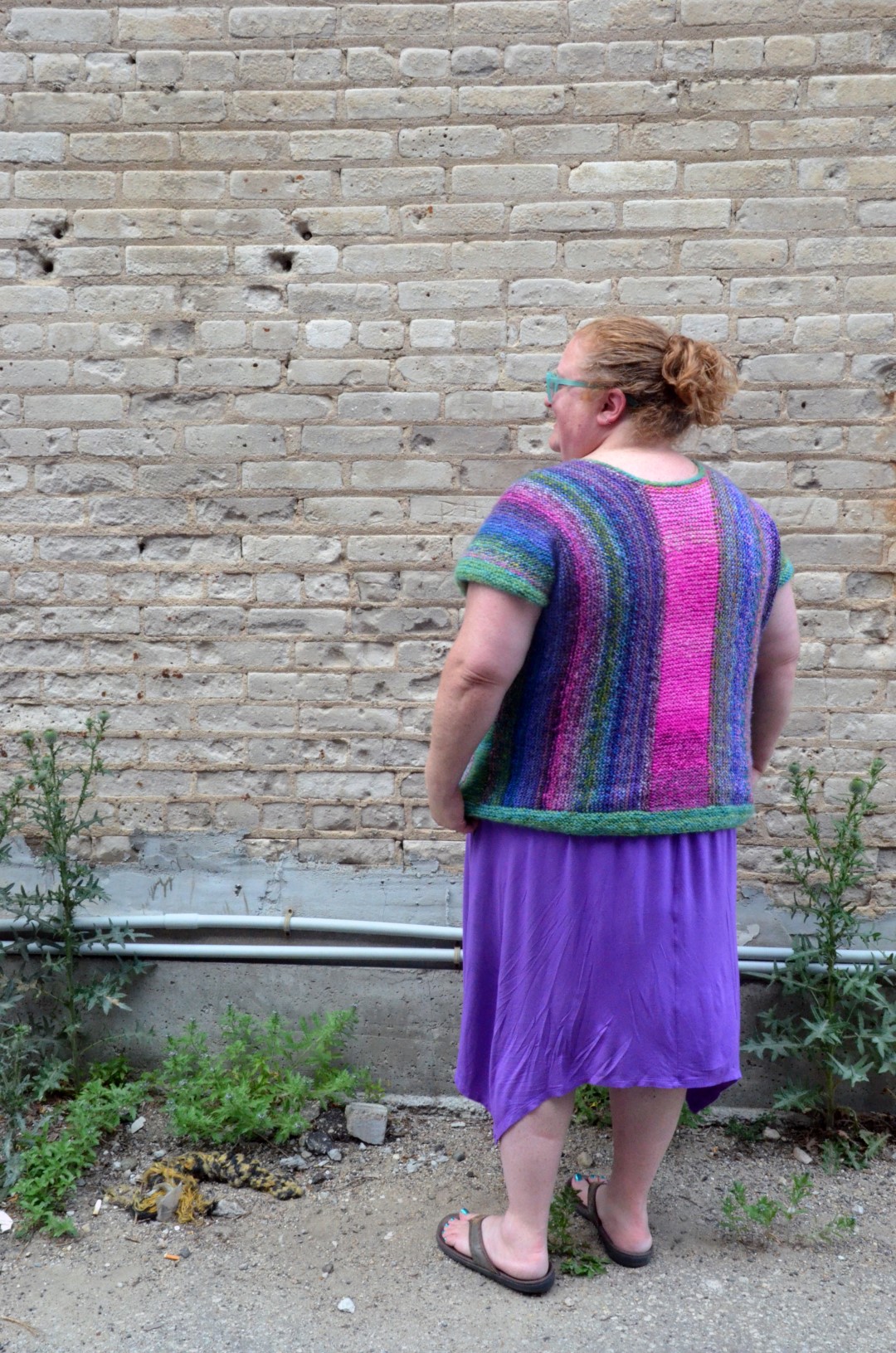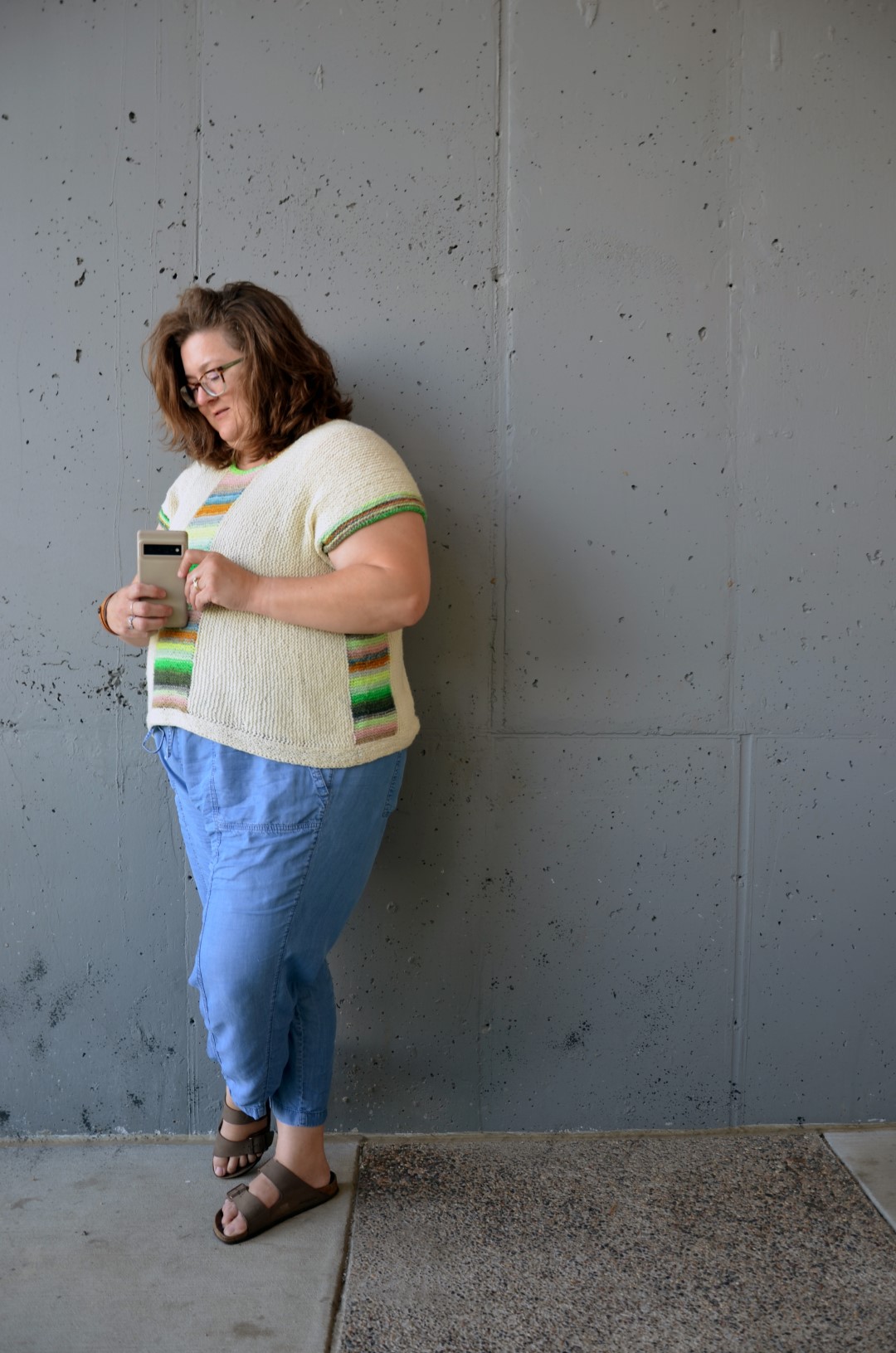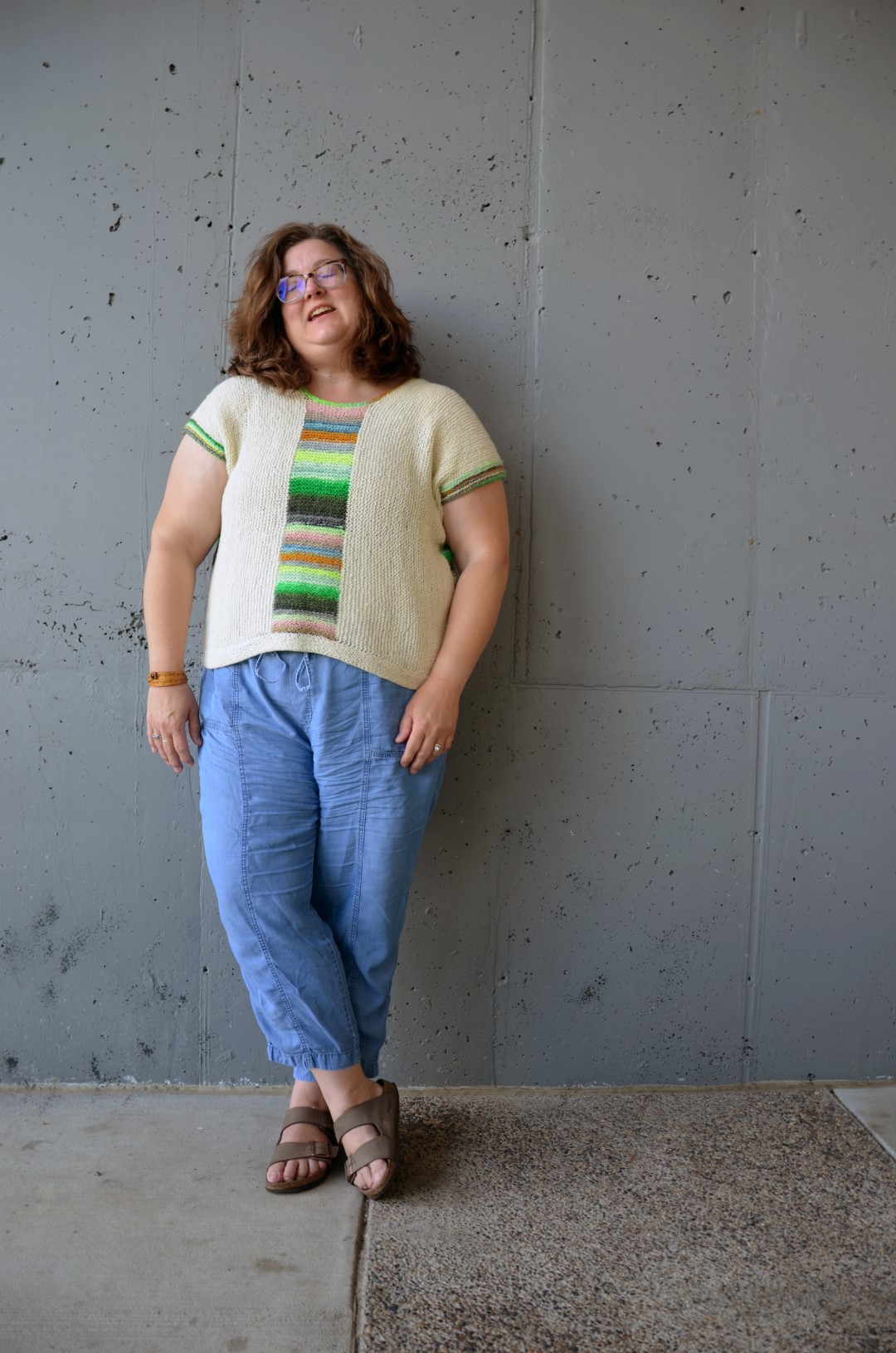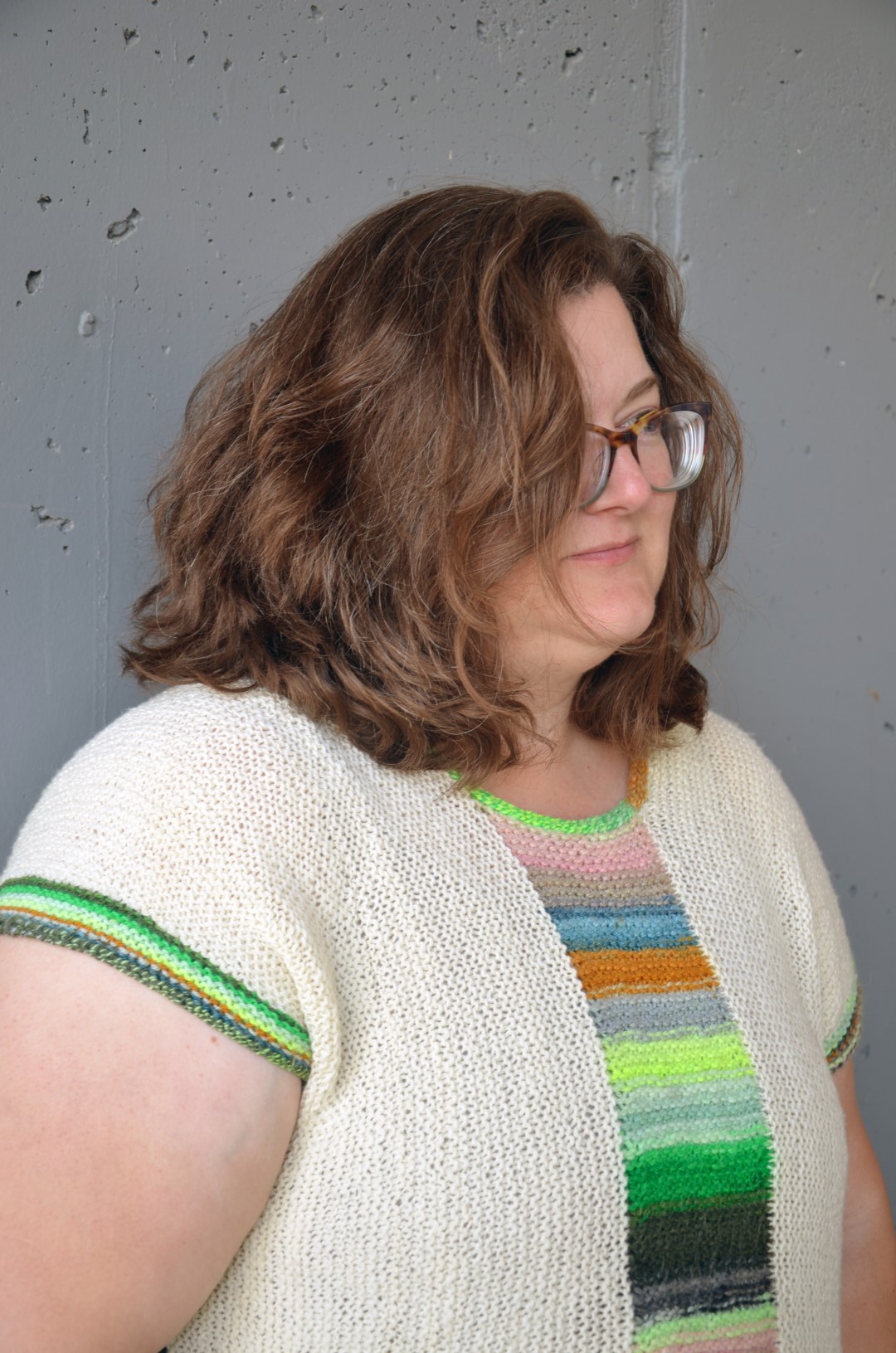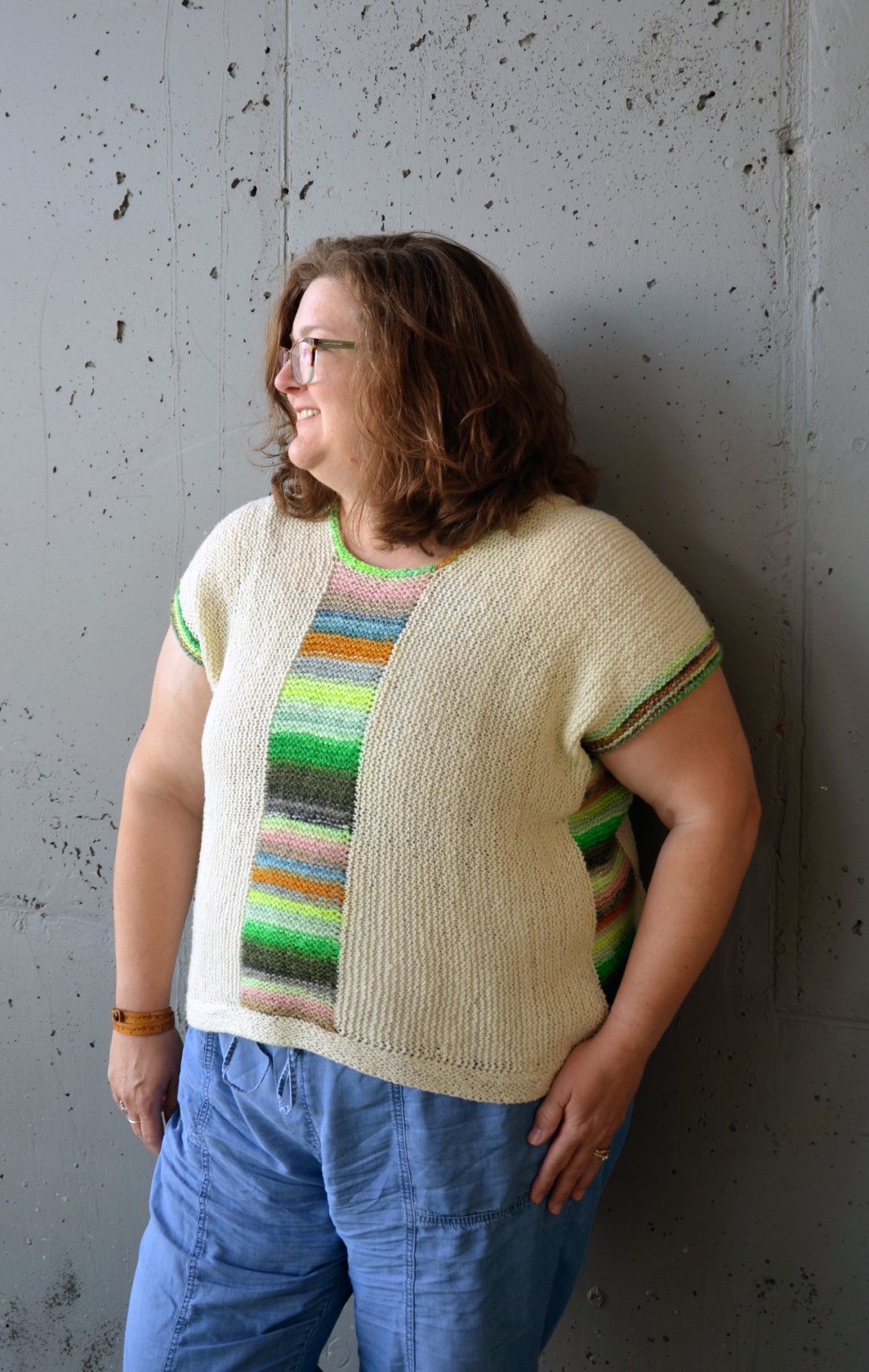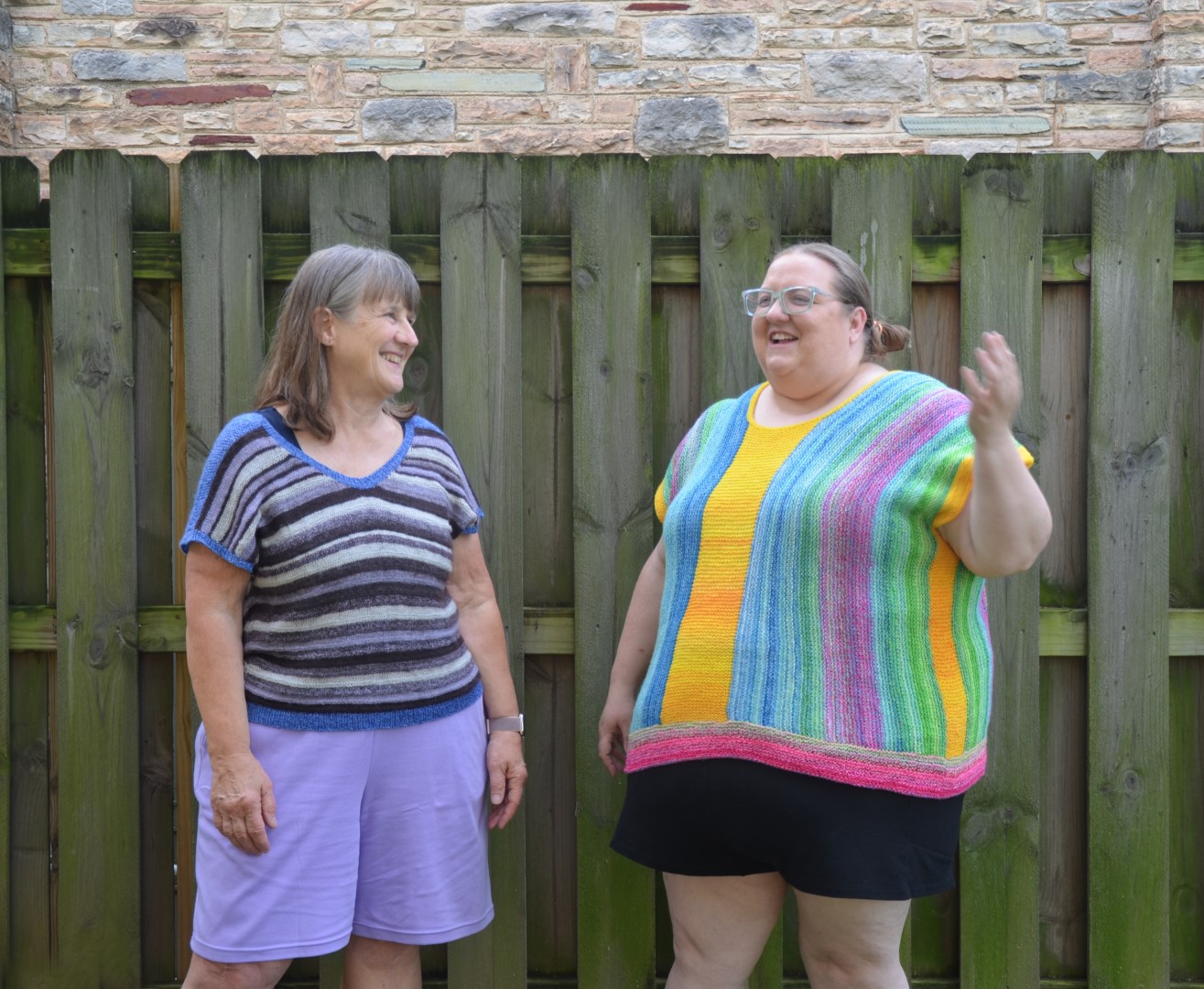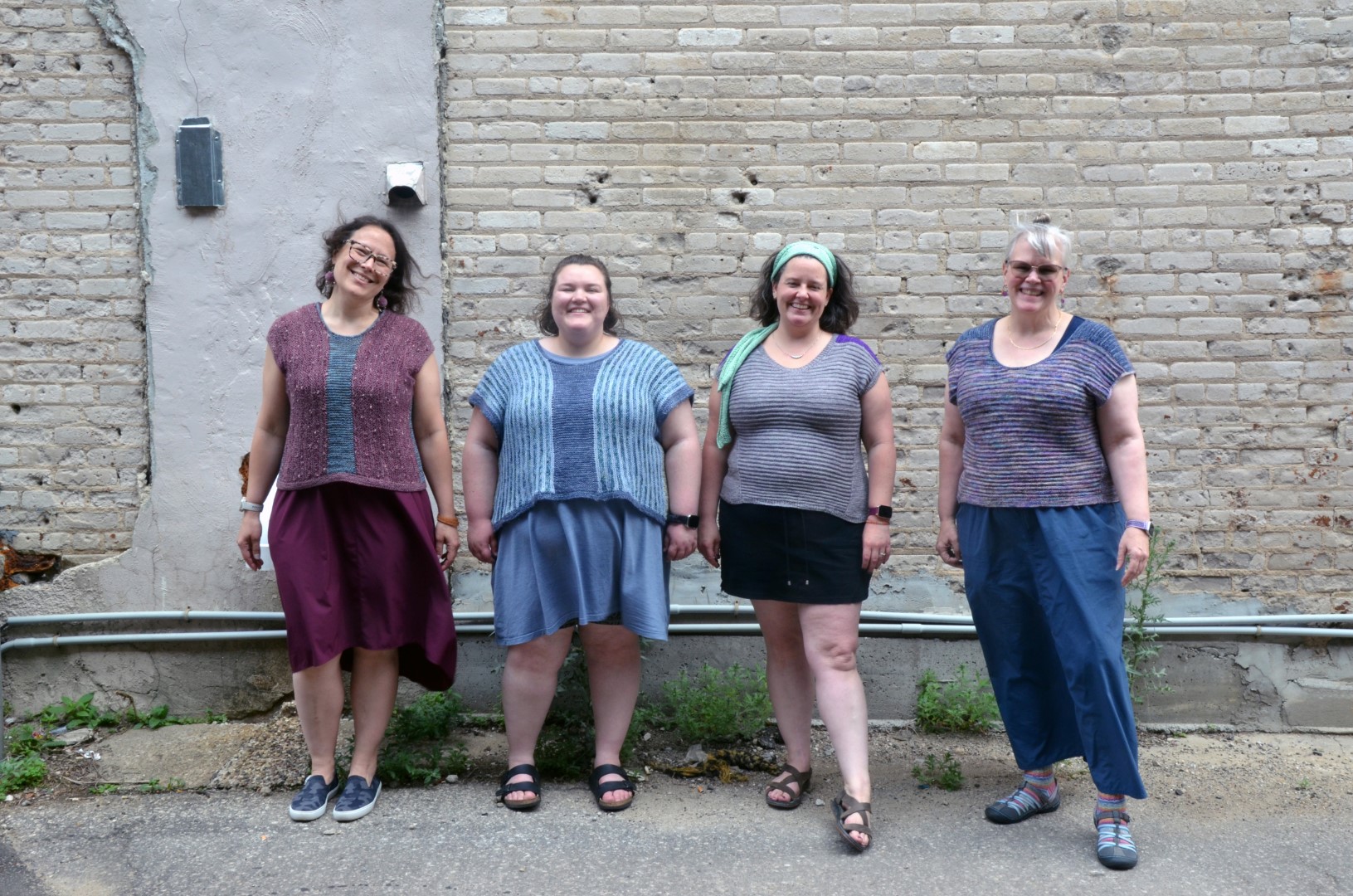 Recalibrate is a reversible modular fingering weight top knit at a loose gauge. 9 finished bust circumferences are provided, each with 2 length options (hip length or full length, 4" (10 cm) longer). There are a total of 18 sizes.
This pattern is beginner friendly, and great for using up leftover bits of fingering weight yarn. Testers have been knocking it out of the park with amazing color combinations and striping patterns. They have mixed different fiber contents throughout their pieces, and recommend experimenting with swatching to see how different fiber content behaves together. Some test knitters found they preferred to use softer fibers for sections in direct contact with their skin, such as the underarm panels and sleeve cuffs.
Pattern includes directions for how to adjust dimensions to make a perfect fit. I include photo tutorials of techniques as well as video explanations of style and fit. The pattern includes a full schematic and a blank coloring page.
This size inclusive pattern has been professionally tech edited and every single size has been test knit!
Excerpt from the pattern page:

RECALIBRATE is a loosely knit garter stitch shirt designed with a casual fit. It uses fingering weight yarn and a modular join-as-you-go technique. This knit can handle personal adjustments to suit the wearer's needs. It is designed in a way to allow the maker to fit in those little tweaks that truly personalize a piece. So far I've made 5 in the design process, each time making those subtle adjustments to allow the garment to really develop its own personality. I can't wait to see how you RECALIBRATE this piece to make it your own.
Find full gallery images here.
YARN
Suburban Stitcher Sock, 75% Superwash Merino, 25% Nylon, 460 yd / 421 m per 100 g
Suburban Stitcher Slub Sock, 90% Superwash Merino, 10% Nylon, 438 yd / 401 m per 100 g

Knit Picks Lindy Chain, 70% Linen, 30% Cotton, 180 yd / 165 m per 50 g

Any fingering weight yarn can be used for this project, and it is a great one to use partial skeins, changing up the striping pattern!
SIZES
1 (2, 3, 4) 5, 6, 7, 8, 9
CIRCUMFERENCE
34.25" (38", 43.25", 47") 52.25", 56", 61.25", 65", 70"
87, (97, 110, 119.5) 132.5, 142, 155.5, 165, 178 cm
TOTAL LENGTH – HIP LENGTH
19.75" (19.75", 20.75", 20.75") 21.5" 21.5", 22.25", 22.25", 24"
50 (50, 50, 52.5, 52.5) 54.5, 54.5, 57, 57, 61 cm
TOTAL LENGTH – FULL LENGTH
23.75" (23.75", 24.75", 24.75") 25.5", 25.5", 26.25", 26.25", 28"
60.5 (60.5, 63, 63) 64.5, 64.5, 67, 67, 71 cm
For more information on yardage requirements, visit the pattern page on Ravelry or Payhip.
GAUGE & NEEDLES
17 stitches and 34 rows = 4″ (10 cm) in garter stitch
US 7 (4.5 mm) min. length 32″ (80 cm) or size needed to get gauge. Many test knitters used a US 8 (5.0 mm) to get gauge. If you find your icord trim is tight, go up a needle size from your main working yarn for these portions.
TECHNIQUES
Provisional cast-on, knit stitch, join-as-you-go modular knitting, purl stitch, icord bind off, Kitchener stitch
PATTERN ATTRIBUTES
This size inclusive reversible design is a written pattern with photo tutorials, a schematic, and a blank coloring page. I've also created a video showing how the design fits in order to understand ease.
EXPLORE ON INSTAGRAM
#RecalibrateTop
Tech Editing: Bronwyn Hahn
Yarn Support: Suburban Stitcher
Test Knitting Yarn Support: Knitpicks
Test knitting: Niad A., Valerie A., Alicia A., Cadee B., Randi B., Christen C., Cindy C., Kristen D, Kourtney D.S., Laura G., Laura H., Valerie J., Amanda K., Ashley K., Jennie K., Reed K., Beth L., Heather L.. Jennifer L., Jess L., Amie M., Jo M., Mary M., Tiffany N., Hazel O., Amy P., Julia S., Lauren S., Mel S., Anita T., Katherine T., Roz T., Paula Trz, Grace W., Kristen W., and Megan W.
From Christen C.
Recalibrate was interesting and fun to knit. Designer tips and helpful schematics throughout the pattern made the modular construction easy to work.
Christen has knit and test knit many Shanalines Designs patterns including PB Sandwich Hat, Shot Reverse Shot Poncho, Air Hugs Wrap, and Recalibrate.
From Susie W.
I always find Shana's designs to be a great blend of soothing and relaxing knitting as well as interesting and engaging construction and finishing techniques – basically my favorite kind of project! Her patterns are very well-written and are as enjoyable to knit as they are to wear.
Susie has knit many Shanalines Designs patterns including SuperCape, Space Positive Wrap, Recalibrate, Shoulder Season, and Drawn Together.
From Cathy A.
I love Shana's pattern designs. I have knit at least eight different patterns (some multiple times). The patterns have unique construction and are easy to follow. Shana responds to any questions in a very timely manor. She is always very positive and wants to make sure you are comfortable knitting her designs.
The Modular Bento Bag is such a fun, quick knit! The directions are easy to follow. You can't stop at making just one. Try all four sizes. Makes a great gift bag.
Cathy has knit and test knit many Shanalines Designs patterns including Seeking Balance, Moduloncho, Recalibrate, Semantics, Side Hustle Wrap (Light), Switching Stirpes Hat, and Modular Bento Bag.